During the early summer of 2021, EATMT were delighted to meet with local musician, broadcaster, folklorist and author (to name but a few roles), Pete Jennings who kindly donated several vinyl and CDs specifically relating to East Anglia as well as a Jig Doll made by craftsman Vernon Rose (see article When Ivy and Albert Met Sally).
Chatting to Trust Administrator Alex Bartholomew , Pete talked about his introduction to traditional singing at the age of around 11 when he met, quite by chance, Suffolk singer Bob Roberts. Pete kindly offered to contribute an article to the EATMT website about this Life in Folk.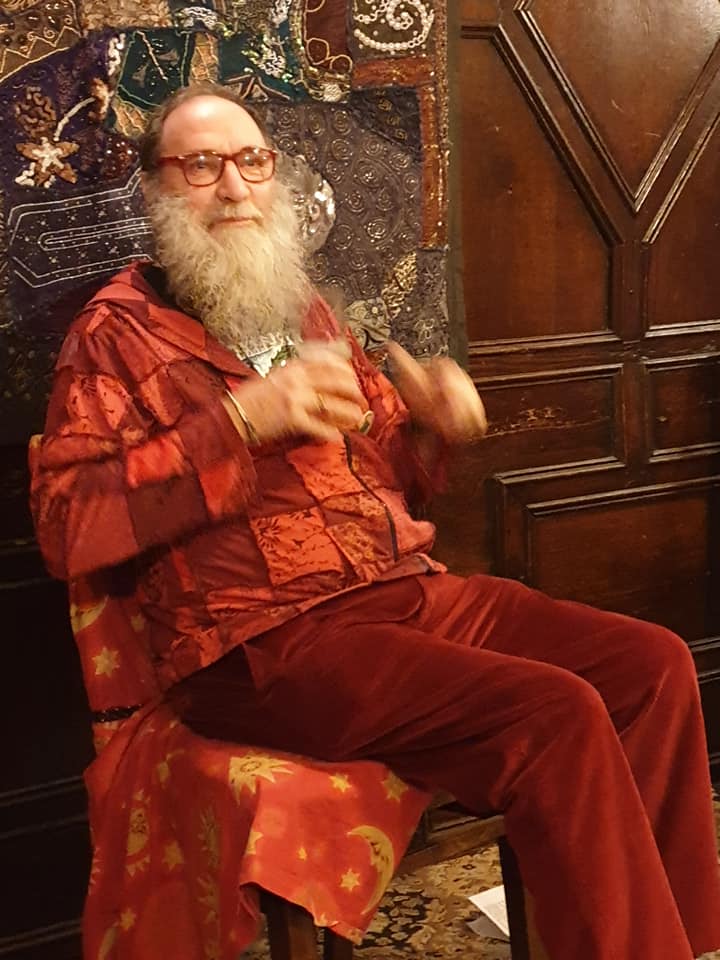 (credit P Jennings; B Sheul/EFDSS)
I was born in Ipswich in 1953 to a family resident in Suffolk back in the 1600s on both sides. As a child, I was fascinated with sailing ships, and a family friend took me to see them in our area. One day we visited Pinmill to see the Thames Sailing Barges, and Bob Roberts agreed to show us around his vessel, the Cambria. As he did, he sang a song to himself. "Is that a sailors song, Mr Roberts?" I asked.
"Oh yes, why, do you like singing?" he asked. Then, having assured him that I did, he taught me 'Candlelit Fisherman.' I scribbled some of the verses in my notebook.
[This song appears on the topic record Bob Roberts – Songs from the Sailing Barges. You can hear it HERE]
A few weeks later, I revisited Pinmill. It was just after 2 pm, and he and some other older men were sitting on the bench outside the Butt & Oyster pub. "You larnt thet song bor?"  When I nodded, he instructed, "Gew on then." I was sitting on the ground beside him. I got a word wrong at one point, and he clipped my ear, but I corrected myself and kept on to the end. The ear stung, but I was determined to finish. He had been a bare-knuckle boxer in his youth, as well as a journalist! Years later, I reflected that the beauty of an oral tradition is that there is someone there to correct you if you get it wrong, unlike learning from a book or disc. Like many other older singers I encountered, Bob was pleased to pass on his songs to a younger generation, after years of rejection by the 1950s generation who preferred rock and roll and cinema for their entertainment.
When I was at Northgate Grammar School for Boys (1965-70), some older lads started a folk club, and I was one of the younger pupils involved. The attractions were both the music (mainly sixties Dylan and Baez plus bluegrass) and a girl I fancied from the school next door that were allowed to attend. I never got off with the girl, but I ended up forming a folk group called 'Rope' with some other lads from my year. We mainly performed at retirement homes where the audience couldn't escape. At the same time, I was also interested in pop and rock and became a disco deejay at 13 and singer with a couple of short-lived local rock bands. A couple of years later, I attended the folk club at the Gardeners Arms run by John Goodluck and saw some professional touring acts. It was there that I found out that my 'Mr Roberts' was well known as a source of East Anglian traditional songs and that I had learnt songs from him without even realising that they were classed as 'real traditional folk' as opposed to the contemporary material I had heard.
With a friend who could drive, I started seeking out folk elsewhere and gravitated towards the scene around the Blaxhall area. I got to hear Bob Hart, Percy Webb, Phoebe Smith, Billy Bennington, Percy Ling and many other traditional singers and musicians, but the one that impressed me most was Cyril Poacher, a cowman from Snape. He wasn't as 'flashy' as some of his contemporaries, but I appreciated his straightforward delivery and diverse material the most. I also collected LPs of other East Anglian singers and musicians that I could not see, such as Harry Cox, Walter Pardon and Sam Larner of Norfolk, plus Jumbo Brightwell of Eastbridge.
In the 1970s, I became one of the resident singers at the Ipswich Folk Club at the Rose & Crown (where there were professional guests most weeks) and occasional outings to Everyman at Kelsale, Colchester FC, Waveny FC in Oulton Broad and a few festivals and sessions. I was also one of the regular singers at the best folk session I have ever come across: Sunday nights at the Butley Oyster. Loosely run by Vic Harrup and Brian Foster, the room would be chock full of singers and musicians, who were usually respectfully quiet for every performer. Going around the room in the warmer months, you may only get time to sing one or two songs each. Annually we would send a team, or even two teams to the Chorus Cup Competition at Felixstowe Folk Weekend. We won so often that we were asked to give others a chance, and landlady Vera would give the victorious singers a drink of specially concocted punch on our return. It was a dubious reward with the properties of rocket fuel.
Having spent a stint playing bones, bodhran and using a jig doll for the Wolsey Folk Dancers and the Horkey Band for barn dances, I formed Bunkas to tour a folk musical I had written about the Margaret Catchpole smuggling story. It ended up being recorded for Radio Orwell & Saxon Radio, where I had taken over the folk programme from John Goodluck. 'Margaret Catchpole' ended up being broadcast in Australia as well. The radio show eventually finished when the station went to a Top 40 format, but I later found a new home at the new BBC Radio Suffolk. I spent about 20 years broadcasting folk shows until the BBC nationally defunded evening and weekend programming.
I made many friends on the folk scene at that time, including the late Des Herring. He is best known as the 'Oss for East Suffolk Morris, but was also a barn dance caller and recorded some singers in the 1950s. He lent me his recordings of Emily Sparkes of Rattlesden.
The radio show was a great experience, and I made a point of having local acts on to perform and publicised every local folk session, morris side, ceilidh etc. We also made some memorable recordings of concerts and Old Glory Molly Dancers and Musicians. I am still the Wren Bearer every Boxing Day for Old Glory at Middleton Cutty Wren ceremony, and for many years before that was the Green Man for East Suffolk Morris when they danced up the Mayday sun at Felixstowe.
In 1987 I joined the song band Wysiwyg with Chris Holifield and Howard Matthews. We played over 100 gigs in a couple of years and made two albums. By then, I had created the Real Music Club to replace the old Ipswich FC., which had lost its venue. I promoted monthly professional concerts for a couple of years, initially at the Toad & Raspberry and then the Golden Lion. I was also involved in organising folk events with local bands at the Black Horse, where Wysiwyg had a residency and the Corn Exchange Horkey Bar. I also worked with others to present more significant events at the Shotley Regatta, Snape Maltings, Felixstowe and Ickworth. It was a great time to be involved in folk music! When Wysiwyg folded, my final band was Pyramid of Goats, a rock outfit with some folkish ingredients, but I did form the Magic Mummers in Chelmsford before I finally quit the stage.
Well, as they say, all good things come to an end: I have lived just over the Essex border for the last 25 years with my second wife, Sue. I am nearly 68, and my voice is past its best, so I no longer perform. However, I am pleased to say that my daughter Ann who used to sing as a girl at Everyman, Butley and the Golden Lion, did inherit the bug and continues to perform in the North of England where she lives nowadays. As for me, I retired from being a social worker three years ago and occupy myself with re-enacting, painting, lecturing and writing books. I have written a couple of dozen over the last twenty years. Details of them plus other stuff about me can be found at www.gippeswic.org I am very conscious that the music scene has altered out of all recognition since my heyday, and I didn't want my collection of East Anglian LPs and CDs to end up in a skip when I die. I have therefore left them in the capable hands of the EATMT together with the jig doll carved by Vernon Rose and some other odd documents. This rich East Anglian heritage must be preserved for future generations. If anyone that knows me from 'the olden days' wants to get in touch, I can be contacted at gippeswic@btinternet.com.
Pete Jennings June 2021