Billy Bennington
by John Howson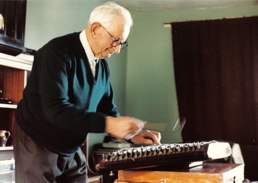 This article in our series of portraits of singers and musicians from East Anglia comes from John Howson, co-founder of EATMT, who recorded the masterful Norfolk dulcimer player Billy Bennington in the 1980s. In more recent years, the incidental conversations on these recordings have proved fertile ground for further researches into the dulcimer, some of which was presented during EATMT's Playback project in 2005. Inspired by Billy's playing and companionship, John and Katie Howson's research into other dulcimer players and makers in East Anglia continues to develop, even 25 years after his death.
Billy Bennington was born in 1900. His mother played melodeon and his father played tin whistle but it was his grandmother who gave Billy his first instrument, a glockenspiel, when he was about six. He first heard a dulcimer when he went to Hingham show where Billy Cooper was playing. His father had taught him and subsequently taught Billy Bennington. Mr Cooper also played euphonium in the Hingham and Watton Band and as Billy said 'He taught me in the band master style. He used to stand by the side of me with his little baton and if I went wrong I got a tap. Of course me being a boy, I was a bit nervous of him. I used to bike to Hingham and I was so afraid I was going to make a
mistake I used get off about a mile before I got there and get into a gateway, take the dulcimer off my back and have a tune at the side of the road.'
After the First World War, Billy Cooper lodged with the Benningtons, who then kept the King's Head in Barford. The two Billys used to go around to different villages, to play for village hops and other social occasions, together with the fiddler Walter Baldwin. The three of them travelled in a motorbike and sidecar, with the two dulcimers and fiddle in a basket and Billy Bennington standing up at the back hanging on for dear life! At other times Billy would cycle with the dulcimer on his back, and with the ends of it sticking out above his shoulders, earned himself the nickname of the 'Barford Angel'.
Billy had a variety of ways of playing the dulcimer, the more usual one being striking the strings with cane beaters, but for some particular tunes, he would pluck the strings with the nails of the first finger and thumb. He was a gardener and diligently wore plastic gloves for any task that might threaten to break the nails of his dulcimer-plucking finger. He played one particular tune, Lovely Lucerne, by plucking with one hand and using a beater in the other hand. He knew a wide range of tunes, including hornpipes for stepdancing, polkas and schottisches for couple dancing, a jig or two for the Norfolk Long Dance and also played song tunes and a number of marches and more complex pieces. In his later years, Billy taught several people, and also gave pairs of traditional cane beaters to many more. These beaters, bound with wool, give a very distinctive mellow sound, and a number of Billy's are still in use today.
In the early 1980s, we went out with Billy a lot, and we always seemed to have some adventure or other! As well as performing at his local folk festival in Norwich, he was also a guest at Sidmouth and Dartmoor festivals in Devon in 1982, accompanied by his ever-supportive wife, Iris. They were the most elderly of the party we took that year, but never lacked in energy when it came to playing music! The dulcimer was Billy's life, and he welcomed interested visitors to his home, Rose Cottage, where Iris supplied the tea and home made cake while Billy supplied the talk – and, of course, the music! Billy died on 18th October 1986 and we are unlikely to see his kind again.
Click here for a "Personal Portrait" of the Old Hat Concert Party with whom Billy played on many occasions in the 1980s.
Click here for a video of Billy playing on a visit to Swindon in 1983, with the Old Hat Concert Party.