We welcome all of you interested in traditional music to join our Friends group and support and secure our East Anglian music, song and dance traditions for the future.
Some benefits of being a Friend of EATMT
– you will have the satisfaction of knowing that your donation is helping to support and sustain the traditional music, song and dance of East Anglia and provide events and resources to nourish our traditional culture in the future
– you will have opportunities to get more involved, meet new people and play a more active role in supporting traditional music in East Anglia
– you can take advantage of priority booking schemes, receive regular news updates and other special offers
It's all about friendship.
So much of the joy of our traditional music comes from sharing it. Whether you get actively involved as a singer, musician or dancer or just get pleasure from listening, watching, attending events or simply keeping in tune with tradition through the EATMT newsletters or website, we really appreciate your interest, encouragement and support. It's what keeps everything going. Well, almost… unfortunately there are also financial costs incurred in most our our work.
What can I do to help?
Join the Friends of the East Anglian Traditional Music Trust!
Fees are outlined below. Membership runs for 12 months from the date of joining, and you will receive an renewal notice.
It would be fantastic to think that some of you might consider 'upgrading' to our "All Singing & Dancing" membership package: for little more than a pint of beer per month, this new level allows us a bit more flexibility to build on our enviable record of producing professional and successful projects, and allows you to enjoy an additional number of benefits. Friends making a regular donation at or above this level will automatically become "All Singing & Dancing" members.
Many thanks in advance to you all.

Membership costs from £15 a year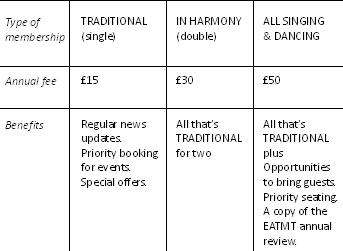 Complete and send with your cheque (payable to EATMT) to:
East Anglian Traditional Music Trust, The Old Stables, Museum of East Anglian Life, Stowmarket, Suffolk IP14 1DL
If you would like to pay by standing order, you can fill out the appropriate bit on the membership form, send it to us and we will do the rest.
For any enquiries about Friends' membership, please email friends@eatmt.org.uk.
We send out newsletters by email four times a year. To receive our newsletter, please click here. You can unsubscribe at any time.