The 'Playback' project ran throughout 2005 in Norfolk.
Playback focused on three important aspects of Norfolk traditional culture: the dulcimer, the fiddle and the rich heritage of song. There were four day events, with a mixture of workshops, concerts, displays and talks, and some major research into the dulcimer in particular, is continuing after the end of the project.
A mobile exhibition of photographs and information toured the market towns of the county from May to November: see below for dates and locations.
Song Day
This took place in King's Lynn, run by Chris Coe, focusing on songs collected by the composer Ralph Vaughan Williams from the fishermen of the North End of King's Lynn exactly one hundred years ago in the year this project ran.
Vaughan Williams collected a large number of songs, including the rare song 'The Captain's Apprentice' from James 'Duggie' Carter. The workshops on 14th May were held in the atmospheric setting of the True's Yard Fishing Museum, a few minutes from the delightful centre of ancient King's Lynn.
At the end of the day, we moved next door to St Nicholas' Chapel, the fishermen's church, to sing together and raise the rafters!
During the day, people were able to have a look at the museum itself and see the Playback exhibition.
Meanwhile, in St Nicholas' Chapel, EATMT had an information stand and there was live music during the afternoon, and the Craft Connections exhibition (run by Creative Arts East) featuring traditional and contemporary crafts was also on show.  For more information about how this project developed see HERE.
Dulcimer Day
This event took place in the wonderful setting of the Roots of Norfolk museum in Gressenhall, near East Dereham.
Norfolk was a prodigious place for dulcimer players, with a distinctive regional style, partly due to the bent-cane beaters used in this part of the country.
A celebration of regional styles, including instrument exhibition, concerts, talks, music sessions, video showings, and an opportunity to try playing the instrument etc.
A fantastic setting at this unique museum which has plenty to interest all the family, including a traditional farmstead, plus the Craft Connections exhibition and live demonstrations. Featured musicians included Reg Reader (East Anglian style) together with his grandson Tom Knight, Fred Woodley from Birmingham (plucked style) and the multi-talented Chris Coe (hard-hammer style).
There were workshops on making bent-cane beaters in the East Anglian style, and a chance to have a first go on a dulcimer with Ian Clabburn and his collection of instruments.
Owners of dulcimers were invited to bring them along and play, discuss, put them on show.
Click here for a further information and photographs. There is a short article about the Norfolk dulcimer player, Billy Bennington here.
Fiddle Day
This took place in Shipdham, near Dereham, celebrating the heritage of Walter Bulwer who lived in Shipdham, and had a lasting influence on English country music today.
The day included a practical fiddle workshop on English style led by Pete Cooper (director of the London Fiddle School) and a talk by Dr Reg Hall, who played with and recorded Walter Bulwer.
The Playback Exhibition was on view, and in the afternoon there was a chance to play together (or listen) in an informal session. Click here for further information and photographs.
Norfolk Traditional Music History Forum Day
A day for all those interested in the stories behind the music, the history and practice of traditional music and song in Norfolk, with talks from experts in this field and a chance to share information or listen to the latest news from traditional music researchers and historians working in the area.
This event was of interest to anybody actively engaged in research into Norfolk traditions, and also anyone interested in finding out more about the history of local music and musicians, songs and singers and dance and dancers.
Guest speakers:
Dr Reg Hall: 'Local Lads Make Good' – Billy Cooper and his musical circle.
Hingham was Billy Cooper's home, and he played regularly in the old 'Ringers' pub. (Unfortunately, Reg Hall was indisposed, and a talk was given in his absence by John Howson, Des Miller and Chris Holderness.)
Chris Heppa: 'Traditional Singers in the north-east Norfolk Broads' – Harry Cox and his friends.
John Howson: 'The Dulcimer in East Anglia' – the fruit of recent researches.
The event was chaired by Malcolm Taylor OBE, of the Vaughan Williams Memorial Library at the English Folk Dance and Song Society.
The Playback exhibition was on display, together with other information displays about Billy Cooper, singer Walter Pardon and fiddlers Walter Bulwer, Herbert Smith and Fiddler Brown.
In the evening, in the Lincoln Centre, there was a final celebratory concert to mark the Playback project, with a fantastic array of stepdancers, singers, story-tellers and musicians playing dulcimers, melodeons, fiddles and other traditional instruments, featuring songs and music from Dickleburgh to Blakeney and from Winterton to King's Lynn.
Touring Exhibition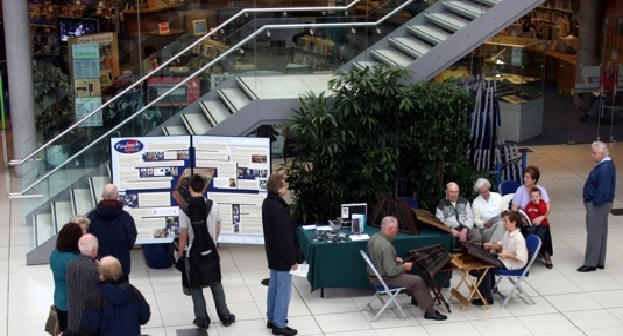 The Playback exhibition of photographs and information about traditional music, song and dance in Norfolk was on display for nearly seven months in 2005. The photograph above shows it at the Forum in the centre of Norwich, where live music was provided by dulcimer players Reg Reader, Tom Knights and Frank Read. The exhibition was also on show at the following locations:
King's Lynn, True's Yard Fishing Museum
King's Lynn, St Nicholas' Chapel
Downham Market, Library
Fakenham, Library
Gressenhall, nr Dereham, Roots of Norfolk Museum
Hunstanton, Library
Erpingham, nr Cromer, Alby Crafts
Sheringham, Library
Great Yarmouth, Library
Loddon, Tourist Information Centre
Swaffham, Library
Thetford, Library
Shipdham, Community Centre
Aylsham, Library
Norwich, The Forum
Diss, Library
Hingham, Lincoln Hall