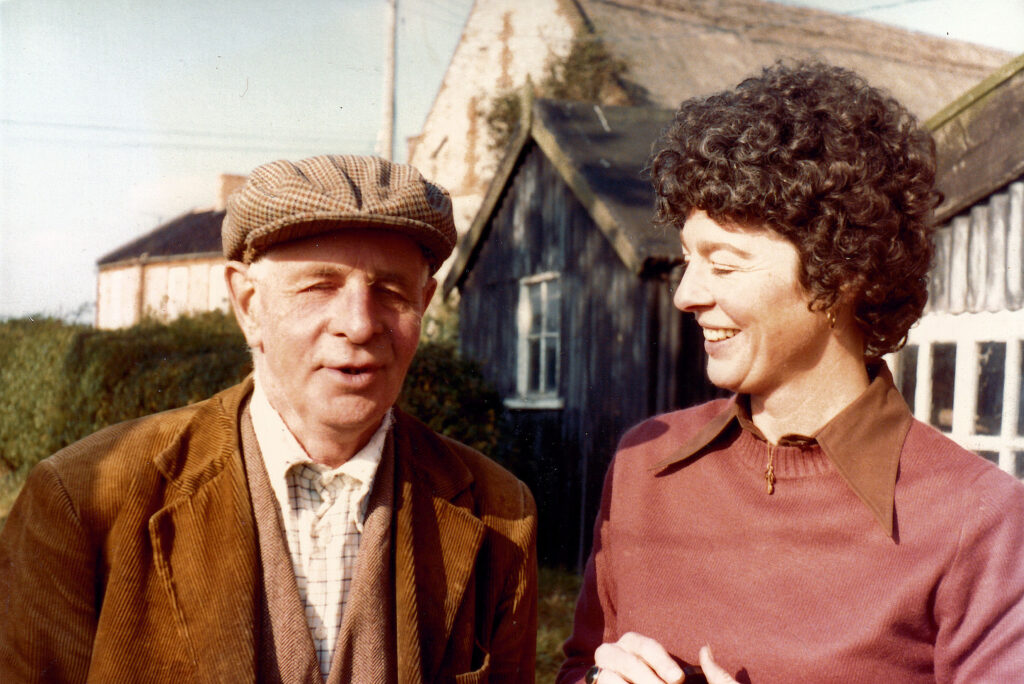 Jim Carroll and Pat Mackenzie met in London in 1969 as members of The Critics Group, a singers' workshop run by "charismatic singer, songwriter, actor, playwright and collector, Ewan MacColl, a formative influence on us both". They started recording musicians and singers from the Irish travelling communities living in and around London in 1973, which led to their visiting Ireland and recording singers and musicians there. Jim took up the role of recording and Pat with the photographing.
It was in 1975 that the couple met Walter Pardon striking up an immediate friendship for the next twenty years. In that time they also recorded Walter extensively – talking as well as singing. Walter died in 1996 and Jim and Pat were involved in organising a memorial concert that was held in the Conway Hall, London the following year. Proceeds from the concert contributed to Walter's headstone which lies in Swafield Churchyard, North Norfolk. Pat and Jim moved to Milltown Malbay, Ireland in 1998.
It was in June 2021 while we were compiling articles to commemorate the life of Norfolk singer Walter Pardon twenty five years after his death that we stumbled upon a wonderful find on Facebook. Collector Jim Carroll had just begun to post photos, copies from Walter's notebooks, links to songs and recollections of his and partner Pat Mackenzie's 30 plus years of collecting, photographing and recording singers and their songs.
A posting on June 4th 2021 caught our attention – it was about Walter Pardon.
Walter Pardon was the English last big-repertoire source singer. He was a close friend for over twenty years. He was a 'simple countryman' (see our article on him on the Academia site) This 'simple countryman' introduced me to the works of Dickens and Thomas Hardy (he had read the full works of both at least half a dozen time. He once told us, "The worst crimes ever committed in literature was the hanging of Tess and the drowning of Maggie Tulliver" – a truly great man and an example of how, all-too-often our singers and musicians are under-rated.

Jim Carroll, facebook post 5th June 2021
Scanning back through Jim's posts, it seemed that regular postings about his and Pat's collecting had started in May 2021.
You may know that Pat and I were members of a singing workshop, London Singers Workshop, for around 15 years, during which time we assembled a considerable sound archive; when the workshop ended, as archivist, I inherited it.

I have since used it as my own archive and passed on recordings to whoever wants them.

I have also continually added to it with material given to us – the radio programmes and films are part of it – it is now fairly massive.

Everything (more or less) is now digitised and listed (sort of!!!).

I am now looking for places where duplicated copies of it can be taken and used – a traditionally-based club would be ideal.

Most of the stuff it validly held – radio programmes and commercial albums could only be openly used by an official body for legal reasons, but this doesn't mean they can't be used by others circumspectly – I'm a great believer in Walter Pardon's statement – "It's not mine or your music, it's everybody's".

A copy is housed in Dublin with ITMA and a partial one with Na Píobairí Uilleann; eventually, The National Sound Archive will receive one – all these adhere to the 'lock it away for posterity' policy. To be honest, that's not enough for me – I want the stuff to be freely available to anybody who will treat it with a degree of respect and use it to further an interest in our "Music of the People".

Ireland is fine, as far as this goes but in the UK, I have had no luck in finding it a home.

Jim carroll, 15th may 2021
EATMT got straight in touch with Jim and Pat after Jim's June Facebook postings. After several months of email conversations, Jim and Pat finished off digitising their Norfolk collection. We sent the largest USB stick we could find in the post to Ireland and a few weeks later, a large box filled with some of Walter Pardon's personal effects and the full USB stick was delivered to the EATMT office in Stowmarket.
The majority of the archive contains sound recordings made up of talks (plus transcriptions) and song of Walter Pardon made by Jim and Pat. There are also Walter's own recordings he made as well as other peoples' recordings that Jim and Pat had been given.
The digital photographs in the collection include those that Pat took, plus photographs of Walter taken by other collectors as well as Walter's family photographs. Of the personal artefacts, there are songbooks and notebooks, family medals, newspaper cuttings, family photographs and two one row melodeons both in boxes Walter made. One is a Diana one row in D and the other a small Boys Brigade one row in A.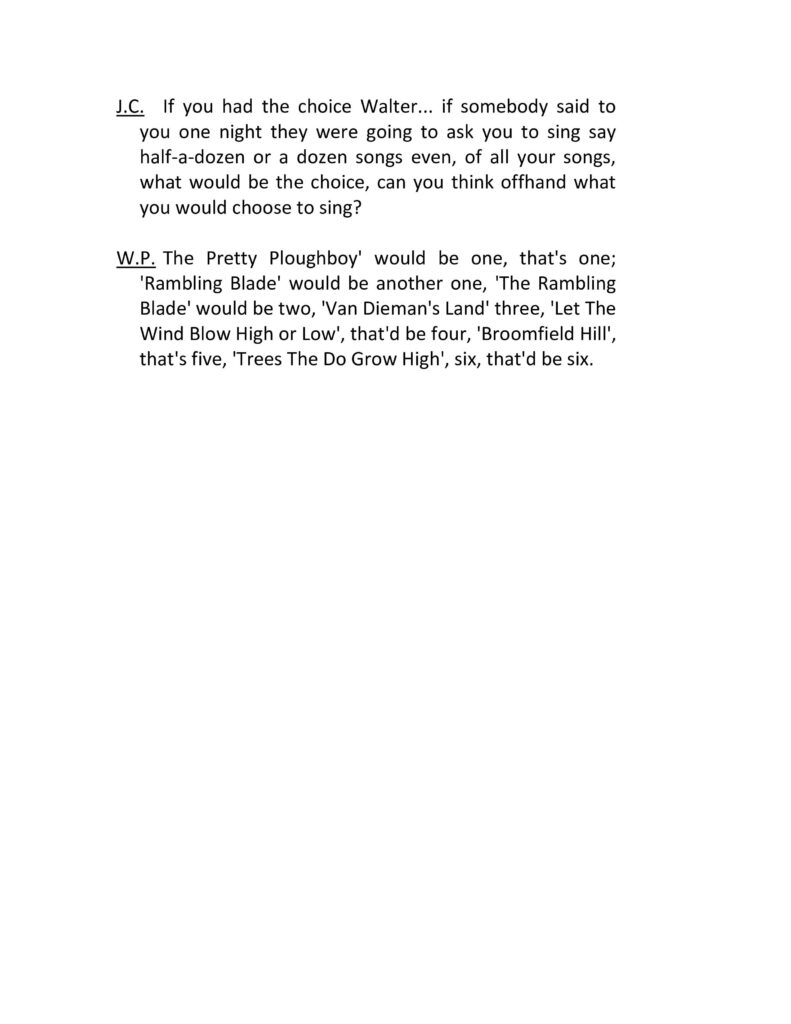 Walter's Song book 1 dated 1948
The recording of that particular talk and the singing of
Cupid the Ploughboy will be uploaded to the website in due course
The digital organisation of recordings, photographs, belongings (including Walter's notebooks) and transcripts were a joy to behold and we knew instantly that we have been gifted an incredibly special archive and we need a properly funded project to give it the justice it rightly deserves.
For now, we will endeavour to list everything in the archive, uploading a small selection of photographs, transcripts and recordings and will make this fully publicly available as soon as we are in the position to do so.
Included in the vast amount of archive are recordings of Sam Larner and Harry Cox passed to Jim and Pat by Peggy Seeger from her recordings in Beckenham, Kent and by Bob Thomson.
Find Jim Carroll on Facebook HERE. Jim and Pat's archive of Irish musicians and singers has been given to the Irish Traditional Music Archive (ITMA). For a biography about Jim and Pat see HERE – compiled by VWML assistant librarian Clare Gillingham which features in Living Tradition online magazine. You can also read about them HERE on the Clare County Library website.