2022 – Forthcoming events
Moving out and in of Covid restrictions, and then around "guidelines" makes life challenging when it comes to planning and running events. Thinking outside of the box is becoming a way of life in order to keep the Trust's mission alive. Please rest assured we will continue being mindful of the concerns of our audience and follow Government restrictions. We also need to be mindful about not incurring financial costs to the Trust so please try and support our efforts if you feel comfortable about attending live events.
Music, Book and Instrument Sale – Saturday 12th March 1-4pm, STOWMARKET
After our successful sale in September, we will be holding another in the spring. If you have an instrument you would like us to sell on your behalf we will be happy to do this for you. Do get in touch PRIOR to the event if so – info@eatmt.org.uk or ring 07495 054669. We will aim to upload a listing of instruments for sale in the weeks leading up to this March event.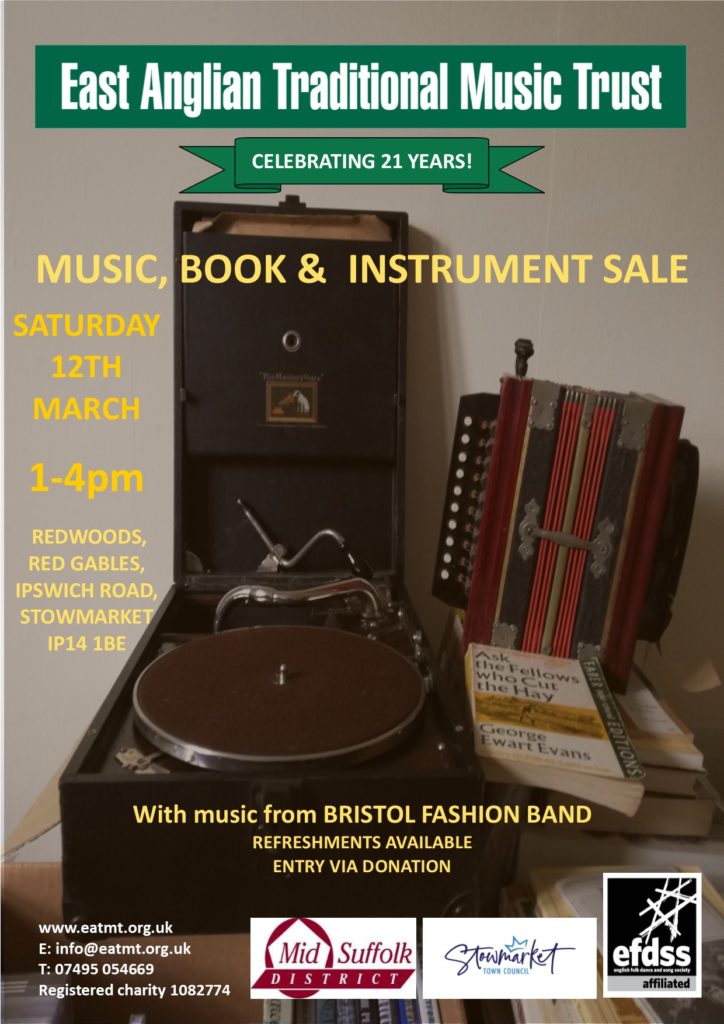 Community Musical Cafes – March 2022
Watch this space! We will be bringing a Community Musical Cafe to East and West Suffolk during March 2022 as part of a Suffolk County Council funded project specifically aimed at enabling Cultural organisations to continue in these difficult times. More details to follow shortly!
Mardles' Workshops – Wind and Strings – Saturday 7th May 2022, The Geldeston Locks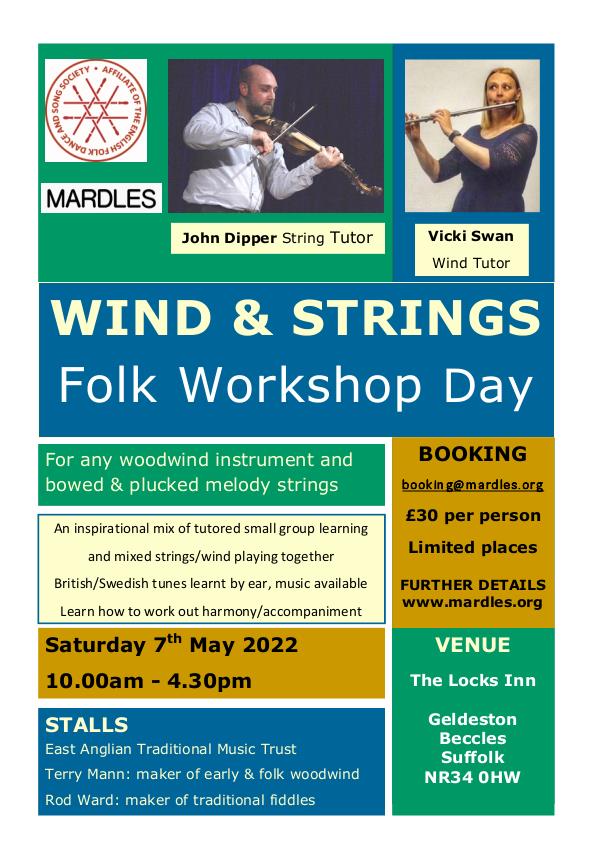 More than Melodeons – Saturday 28th May 2022, Wingfield Barns
Also in the planning stages is the return of a day of workshops. EATMT is working alongside Judy and Eammon Andrews and the team at Wingfield Barns to produce this multi instrumental workshop day. Tutors and Workshop details will be out imminently.
Traditional Music Day 2022 – Saturday 10th September STOWMARKET – save the date!
A site meeting took place in Stowmarket in October 2021 with Artistic Director Alan Bearman and Trust Administrator Alex Bartholomew with regular Festival stage manager Fiona Davies joining us for the site visit and planning meeting. The various venues within the town were visited and plans discussed which are continuing to be developed with artists being approached and timetables being formulated. As more details are firmed up, we will add further information to the website.