September 2021
Wingfield Barns Harvest event – Sunday 10th October

EATMT have a stall at this new event. We will be bringing Jig Dolls and some of our hire instruments and books and we will be joined by local musicians from the Company of Horham Old School. In the evening Harbour Lights will be playing at a Harvest Supper. See Wingfield Barns for more details of the whole event including how to buy tickets for the evening event.
The Yarmouth Hornpipe – Saturday 16th October 3pm – Great Yarmouth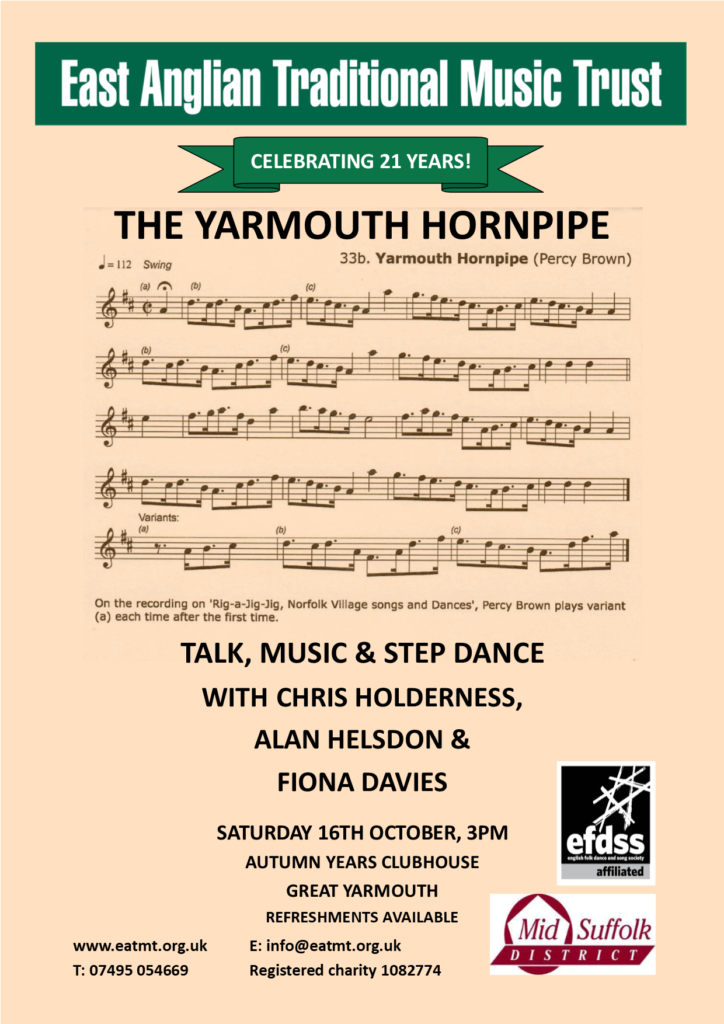 Join Chris Holderness, Alan Helsdon and Fiona Davies for an afternoon of talk, music and stepdance (possibly even a social dance…) on the Yarmouth Hornpipe. Our venue is The Autumn Years Clubhouse. Tickets are £10 each and the booking form is available below.
September 2021-March 2022
We are currently working on the idea to run several smaller scale events between September 2021 and March 2022 to celebrate our 21st year. As we see how people react to the lifting of restrictions in July, we will act accordingly and try to organise a variety of small events in different areas of the region being mindful of the concerns of our audience and following Government guidelines whilst also not incurring financial costs to the Trust should further lockdowns come into force.
Traditional Music Day 2022 – Saturday 10th September STOWMARKET – save the date!
Please bear with us while we pull information on future events together – it will be updated as and when we have more information to share.