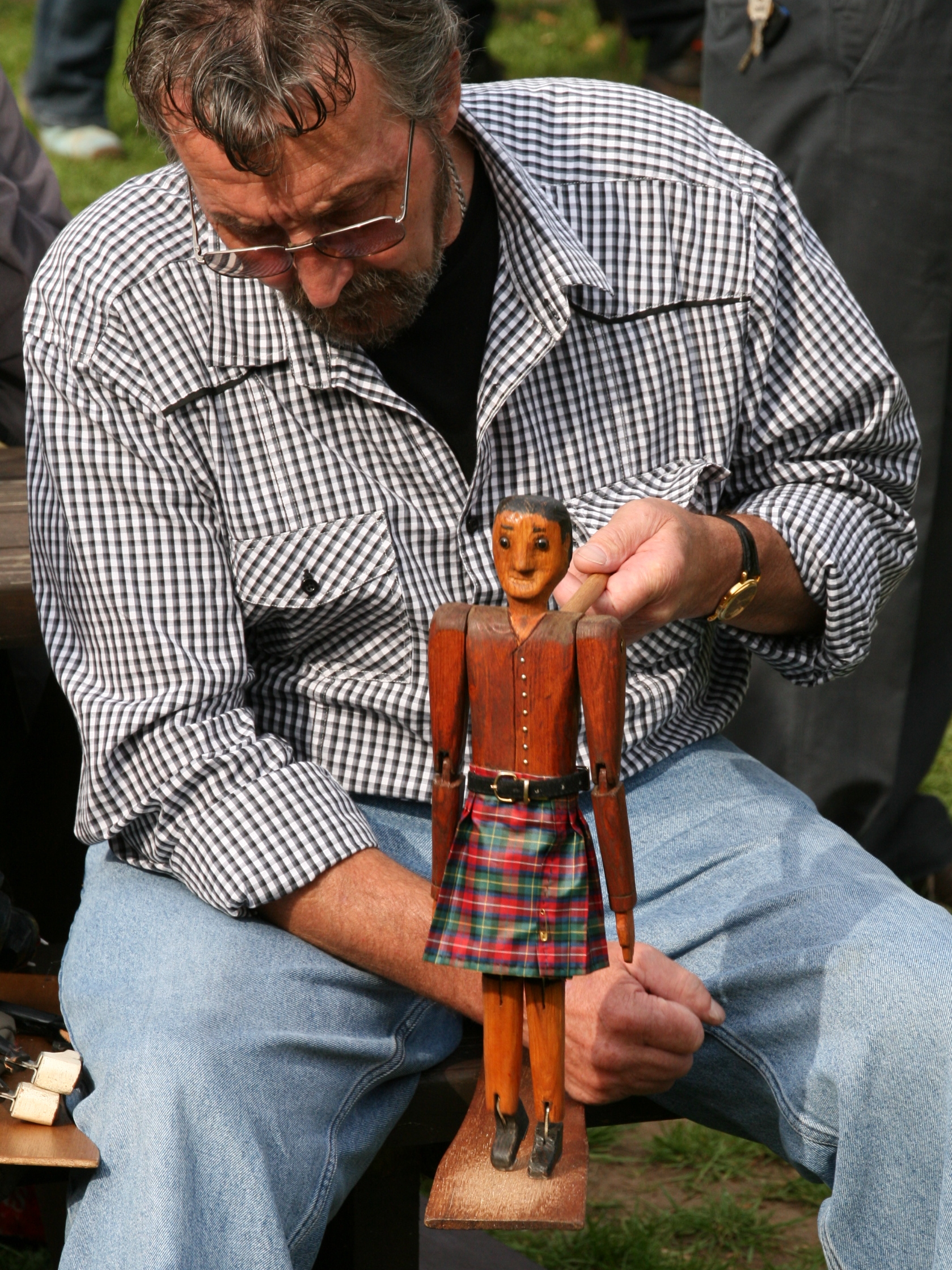 History
Dancing dolls have been used for at least the past one hundred and fifty years in Great Britain, and are also known in Ireland and north America.
They are by no means exclusive to East Anglia, but, as with singing, stepdancing and music-making, the tradition seemed to survive in this area better than in many others: we have come across numerous examples, and they are still being made in the region.
The earliest known model is now in Cliffe Castle, Keighley, Yorkshire, and was apparently exhibited at the Great Exhibition in London in 1851. It is a female figure dressed in skirt, petticoat, bodice and shawl. Apart from this, most existing dolls date from the first half of the twentieth century. Patents for the commercial production of dancing dolls of various models exist from the late 19th century on both sides of the Atlantic.
An older model, known as a "poupee a la planchette' was operated by a string attached to musician's leg, on a board placed on the ground. This is well documented in historical illustrations and appears to have been popular in Europe as well.
A typical jig doll is between 20cm and 30cm in height, although there are examples from Suffolk of both smaller and larger ones, and has jointed arms, hips and knees, and also in some cases, ankles, allowing a movement which mimics step-dancing.
They were not designed to be children's toys, and in the past were owned by adults, and used for their own entertainment in pubs etc, and sometimes for grandchildren, nieces and nephews to watch. During a musical evening, they would be brought out if there was some live music, in much the same way that a live stepdancer would contribute to the proceedings. They were also popular with street musicians and buskers, as their great visual appeal invariably attracts a fascinated audience.
They are usually three dimensional and carved or painted as a particular character – sailors being the most popular, and several soldiers and clowns have also been found. In the Bethnal Green Toy Museum, there is one modeled as a First World War soldier – 'Tommy Atkins', said to have been made in the trenches.
One model was made commercially in the early 20th century, and is known as Mr Jollyboy. There is a story that an employee of the Strangers Hall Museum in Norwich found a cardboard box containing one of these jig dolls on top of a dustbin and removed it to the Museum: this doll was displayed at the Big Jig exhibition in 2004 (see photograph below).
Jig dolls have been made for centuries, usually in garden sheds and on back-doorsteps, and used for entertainment at home, in pubs, on board ships and on the street. They are wooden dolls with jointed arms and legs, and a stick protruding from the back which is held and the doll 'jigged' up and down on a narrow board of flexible wood. Each doll is decorated differently, sometimes just painted, sometimes with fabric and additions such as 'segs' to the shoes, which create a dramatic clattering sound. They are a great visual attraction, and in skilled hands they also provide percussive rhythmic accompaniment. If you've got one, or know of someone who has, please do get in touch.
Big Jig Event
During the Traditional Music Day on 4th September 2004, a unique exhibition was on display (see photographs below). It featured nearly a hundred different examples of dancing dolls. A dancing doll, or jig doll, is a home-made puppet designed to step-dance on a narrow wooden board, and operated by holding a stick in the back and bouncing the board lightly. Pat Pickles, author of two books on the subject, brought her collection of over 60 items, and many individuals brought along their own jig dolls for the day as well. Amongst the collection were historical dolls such as the Harry Lauder look-alike and the primitive sailor figures made in Stowmarket, as well as more contemporary designs including one of ex-Prime Minister John Major stepping all over an image of Maggie Thatcher on his board! There were also dolls which had belonged to Harry Cox and Fred Whiting, well-known traditional singers from the region, and photographs of some examples which were not able to be actually displayed.
The East Anglian Traditional Music Trust has also commissioned a collection of jig dolls, for use with community projects and schools work. These have proved very popular since we've been taking them out.
Photographs from the Big Jig exhibition, September 2004
Pat Pickles' & Katie Howson's eagerly awaited re edited and updated book on jig dolls, 'The Brightest of Entertainers', was published by The East Anglian Traditional Music Trust in August 2018 and is available from our online shop. This publication was made possible as a result of a bequest from long standing friend and supporter Gordon Ruddock who died in 2017. Katie agreed to finalise the manuscript in 2018 with assistance from volunteer Judy Smith and a copy of the book was delivered by Katie in person in the early Autumn of 2018 to co- author Pat Pickles who was then living in a care home in Sheffield.
In 2019, we were delighted to learn that it was shortlisted by the Folklore Society for the Katharine Briggs Award and just a few weeks before the Annual Lecture and Award Ceremony, we sadly learned of Pat Pickles' death. Her passion and knowledge of these wooden figures was infectious and we are indebted to her for helping keep this unique tradition alive.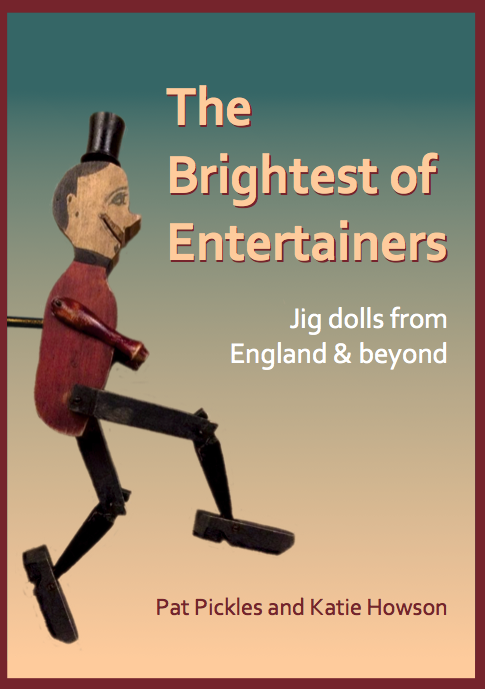 Makers' directory
We are always interested to add to this list and invite other makers to get in touch with us.
A maker in the eastern region, who may have stock in hand or be prepared to take commissions:
Chris Harvey www.jigdolls.co.uk
Volunteering Opportunities
We have a resource pack and a box of jig dolls that have been taken out into the community for the last 15+ years. They get regular outings at schools, for extra curricular groups such as Girlguiding, home schooling groups and care homes and day centres. Please do get in touch if you'd like to share the joy of these foot tapping wooden folk.
To see some footage of these characters in action, our video & audio page shows a recent outing to Norfolk. Click here. You will also find a short film clip made by our regular volunteer Paul Johnson in 2013 of Traditional Music Day guest Jeff Warner.
HERE is a youtube clip of someone making a jig doll (Alley Picked) and Val Knights dancing two dolls at the Bath Folk Festival can been seen HERE (courtesy to Bath Folk Festival)