Written by Alan Helsdon
This original tune book is held at Strangers' Hall, Norwich (ref NWHCM : 1942 105.2 – Norfolk Museums Service).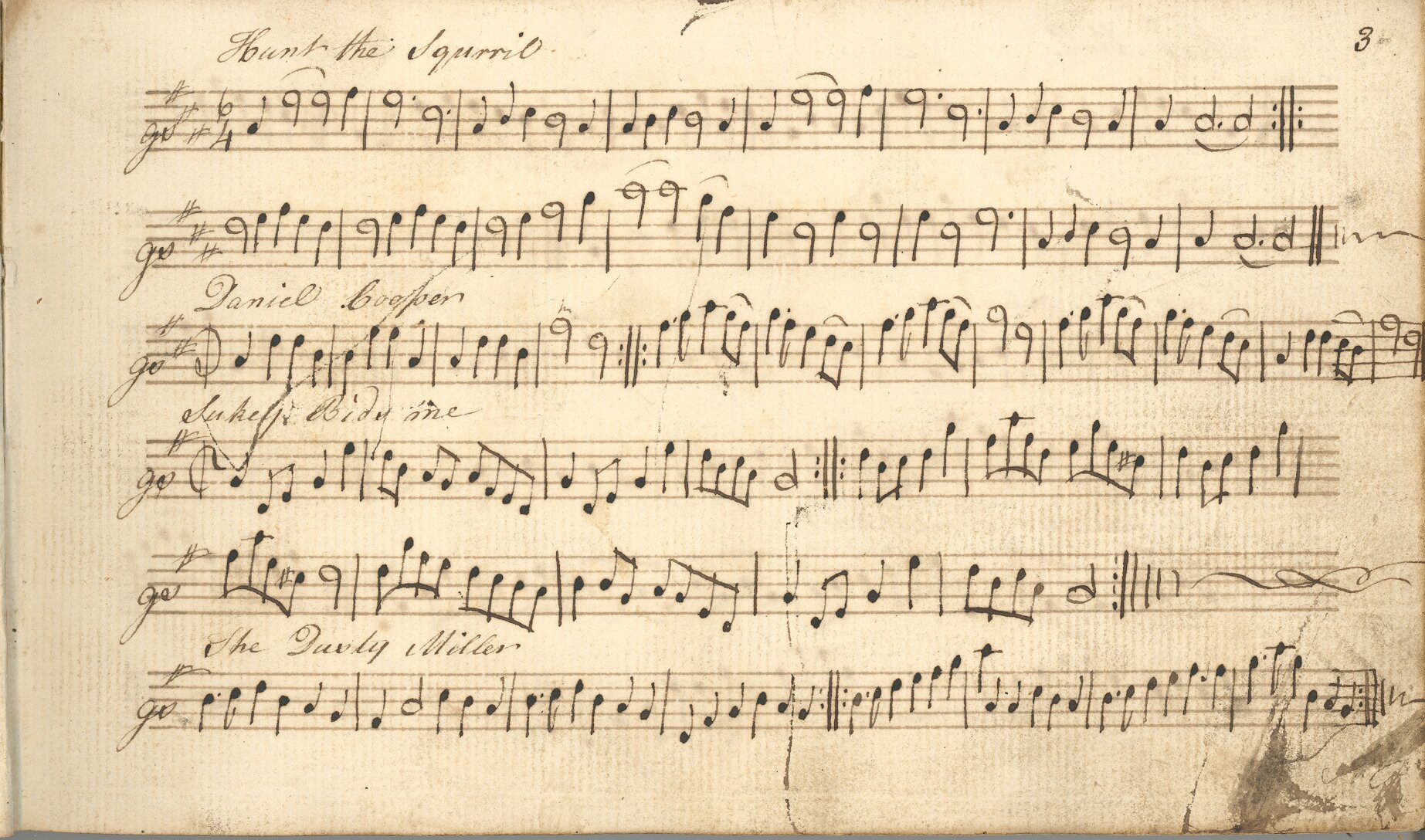 The Book
The original book is held at Strangers' Hall, Norwich and on a page at the front are the two owners' names and dates: 'John Brown His book November 16 1785' (crossed out) and 'Robert Jas Goff His book, January 27 1835'. It is this 'Goff' that gave the book its name when the research started.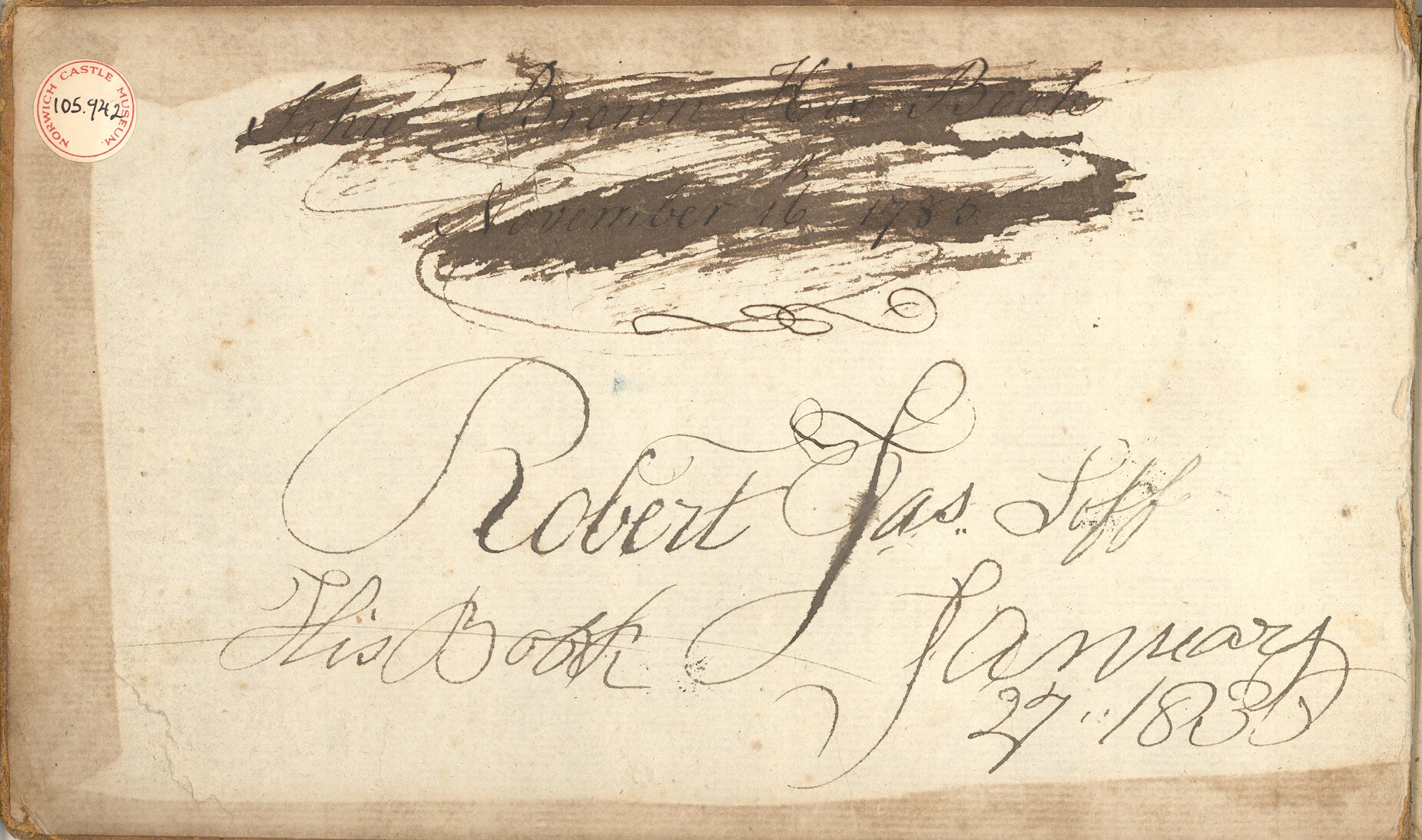 However there is a clear division within the body of the book with very different hands writing the two sections, and as John Brown was the first owner it is reasonable to assume that it was he who filled the first 13 pages with dance tunes (plus a couple of listening pieces) and that it is Robert Goff who filled the second section with metrical psalm and hymn tunes. There is a case for assuming that Goff inherited the book in some way and that he continued to play the tunes already in it as well as add material for church services, but it is still John Brown we have to thank for writing out the tunes in the first place. There is no sign of sacred tunes being added from the end of the book as sometimes happened.
Robert Goff's leaning toward the religious music may be gleaned from the fact that in 1861, after the family had moved from Cawston to Norwich, his son George was a chorister at the Cathedral under Organist and Choirmaster Dr Zechariah Buck, and that George went on to become Assistant Organist at the Cathedral and later gained his Fellowship of the Royal College of Organists and ended his days as Organist at St Albans.
Chris Gutteridge has given me a lot of help with the manuscript. The dance tunes are hand-written however and not without missing or wrong notes, missing or wrong time and key signatures and ambiguities in pitch and rhythm. I've done my best to provide 'correct' versions which are, above all else, playable. Thanks to Alex of EATMT for the sound files for ear-players and readers alike and also to Cathy Terry, curator of Stranger's Hall for helping with some of the missing pieces.
Chris's thinking is 'that the book is more likely to come from a village than from the city, where more sophisticated styles of worship would be the norm.' It was not uncommon for village musicians to hand around manuscripts of music played in their villages and this was a useful line of enquiry and investigation to follow. When originally researching the one time owner Robert Goff, my findings led me to the village of Cawston, 11 miles north by east of Norwich. Researching the name John Brown was always going to be a tall order but my findings have located two potential John Brown owners born in Cawston in 1769 and 1770 which may allow me to start piecing the jigsaw together.
The manuscripts were originally displayed, surrounded by the instruments of the village it came from, in St Peter Hungate Church. This church was declared redundant in 1936 and was the first church nationally to be repurposed. Until 1995, it was a very popular museum of church art. In 2009, it became the home of Hungate Medieval Art which celebrates Norwich's medieval heritage and art. There has been a record that this collection exists as part of the Strangers Hall collection since 1942.
When the museum in St Peter Hungate was closed, all the collections were carefully packed and moved to alternative museums storage facilities, including Strangers' Hall.
Unfortunately the Norwich Museums are currently closed owing to the Covid19 crisis until further notice. Cathy Terry is the senior curator at the museum. All enquiries about this collection should be emailed to Norfolk Museums Service email: museums@norfolk.gov.uk and they will endeavour to answer them at such time as they are able. Please bear in mind this may take longer than usual while the museums are closed.
(Strangers' Hall Museum, museums@norfolk.gov.uk, Charing Cross, Norwich NR2 4AL. Tel: 01603 667229)
Alan Helsdon, Norwich, May 2020
The Tunes
There are 27 dance tunes in the Brown Collection and they are listed alphabetically below. There is a sound file of the tune once through and a free downloadable pdf underneath each tune title. The titles of these tunes have usually been taken from the original collection, so please bear in mind that spelling was flexible.
Several tunes have debatable, alternate or wrong titles:
'Charles Street Boulk' is Charles Street Walk
'Draneon Dish' could be Draner's Dirk but is untraceable so far
'Mad Moll' is perhaps better known as Yellow Stockings
'Trip the Landry' is also known as Trip to the Lawndery
'Slingsby's Allemande' is also known as Aldridge's Allemande, and appears as such in the collection of William Clarke of Feltwell (you can read more about this collection from Mary Humphreys' research here.
'Money's March' is Captain Money's March
'Rambeer / Rambler March is Rogue's March
A few seem to have a Scottish influence about them and I am investigating that further.
Blanford Hunt
Capacheen
Captain Money's March
Charles Street Walk (Boulk)
Daniel Cooper
Death of Ould Robin Gray
Draneon Dish
Dublin Volunteer March
Dusty Miller
Easter Holy Day
Faithfull Shepherd
Hunt the Squirrel
La Malbrook
Lady Longford's Reel
Lady's Breast Knot
Mad Moll
Moneymusk
Morgan Rattler
Nancy Dawson
New Daniel Cooper
Pantheon (The)
Rogue's March
Slingsby's Allemande
Sukey Bids Me
Trip the Landry
Unknown Hornpipe
Ye Social Powers
In the Autumn of 2020, "demon fiddler and geek" Flos Headford (of Old Swan Band, the Mellstock Band, Edward II and Monty's Maggott English Ceilidh and Country Dance Band) offered to add the ABC notation to these tunes as an additional resource and we hope to upload these early in 2021.