Alex Bartholomew – Administrator

Alex joined the team in 2001 with no background in traditional music, but lots of enthusiasm. She still has bags of enthusiasm, and has also taken to folk music like a duck to water!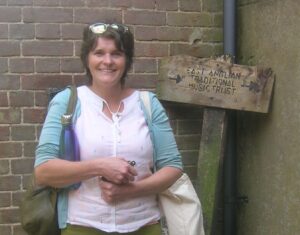 Alex is also a classically trained violinist and peripatetic music teacher, she sings with the University of Essex Choir and on occasions with the Royal Choral Society and plays in ceilidh band Skylarking who perform throughout East Anglia.
All in a day's work! Alex Bartholomew investigates an old custom at the EATMT Winter Tales event in 2004. Wassail Cup made by Hedingham Fair.