Waveney Maypole Community Project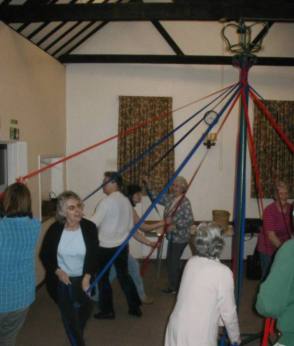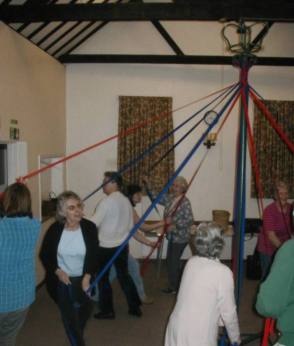 The project started in early 2004 and culminated in a performance on May Day at Harleston (Norfolk) Recreation Ground as part of the Harleston & Waveney Festival.
The East Anglian Traditional Music Trust ran community workshops for adults in Starston and Metfield, and about twenty people participated in the dance activities, of whom the majority were over 50.
Norfolk Dance, meanwhile, worked on circle dances from around the world with children in local schools, and Artwheel provided art workshops and made a contemporary maypole based on designs from community members inspired by the locality.
The adult dance groups worked on traditional maypole figures and also composed original maypole and circle dances of their own. For the performance, a starting and finishing dance were put together collaboratively.
The participating groups thoroughly enjoyed themselves and some of their members have continued to dance at their village fetes and local arts festivals.
In 2006, the project was picked up again, but unfortunately rain stopped play on the day of performance!
In 2007, EATMT worked with Diss Infant School on a variety of traditional dances, including maypole dancing, which they performed for Diss Local History Festival in front of a very proud group of relatives and neighbours.
A maypole is available for hire from the East Anglian Traditional Music Trust (within the counties of Suffolk, Norfolk, Essex and Cambridgeshire), and for communities in the south Norfolk area, South Norfolk District Council may also be able to hire theirs to you!