"Sounds like the real thing. Lovely"

Danny Stradling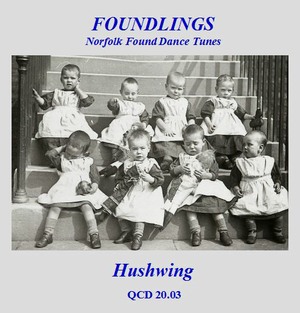 Recorded in Norwich in 2018 – 2020 by John Halliday and Alan Helsdon
Produced in 2016 – 2020 by Alan Helsdon

Richard Blake dulcimer
Cass Devlin melodeons
Dave Devlin fiddle & banjo
Alan Helsdon (electronic) piano
Chris Holderness fiddle
David Reeves fiddle
Phil Williams mandolin & whistles
You can purchase a copy of this new CD (£12 including P&P) launched 25th March 2020 from Quanting. The website has other goodies on it too including the Hawk and Harnser tunebook and for you music teachers out there, some fantastic arrangements for bands of Norfolk Dance tunes on the Evergreen page.
The first two reviews are in and they are worth a read! You can read Rod Stradling's review of this new CD on his Musical Traditions website. The second is from Phil Heath Coleman:
"For Rod to review it himself is itself something on an accolade. I can only second Danny's reaction: "Sounds like the real thing"!


Quite marvellous the way they have got everyone to 'swing' the tunes in the old-fashioned way: in particular I haven't enjoyed the 'old chestnuts' (if I may call them that) so much since I heard the old 'uns themselves play them so long ago.

As someone once said of the Grateful Dead: "It's not that they're the best at what they do – they're the only ones who do what they do."

Philip Heath Coleman
We are delighted to launch this new page with this band's new CD. Hushwing have been such fantastic supporters of the Trust for many years and have stuck by us through thick and thin. Alan Helsdon, Producer and musician, has been a volunteer at our events forever and is currently working from home archiving our Jig Doll Collection on a voluntary basis for which we are EXTREMELY grateful. And finally, this CD was partially recorded by our lovely John Halliday who we miss very much and the band have fittingly dedicated it to him.
Try before you buy!
Published by Quanting, Norwich in March 2020