by Peta Webb
The second in a series of portraits of traditional singers and musicians from East Anglia, written by people who knew them and are now carrying on their traditions, featuring the classic Norfolk singer, Walter Pardon (1914-1996) from Knapton near North Walsham.

Written by Peta Webb, herself an influential singer for several decades, and now assistant librarian for the English Folk Dance and Song Society.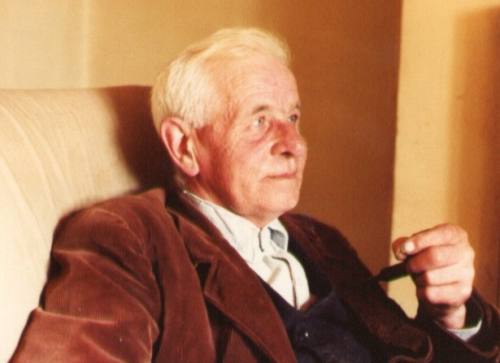 Born 1914 in Knapton near North Walsham, Norfolk, Walter Pardon was fiercely proud of his "Bright Golden Store" of songs (the title of an LP of his singing issued in 1984) and very much enjoyed sharing them and passing them on to younger singers. Walter was a shy man who did not relish the pub environment, finding it disrespectful to the songs. He preferred a quiet gathering like those he used to have with his family which was rich in singers and musicians (Walter played melodeon) and sometimes seemed rather bemused by the folk clubs and concert halls he found himself in after his "discovery" by the famous folk singer Peter Bellamy in the early 1970s.
After this, Walter appeared as far afield as the Smithsonian Institution in Washington where he was invited to take part in the bi-centennial celebrations in 1976, and was presented with a Gold Badge by the English Folk Dance & Song Society in 1983.
At the National Folk Music Festival at Loughborough University in 1977 Walter joined me as I was looking after a record stall outdoors, on a sunny afternoon. Perhaps it seemed to Walter a quiet place to sit and watch the world go by and smoke his pipe: I dealt with the occasional customer and he and I exchanged the occasional word.  However, this must have been sufficient to make us acquaintances since he seemed happy enough for me to interview him when Philip Donnellan filmed the documentary "The Other Music" for BBC 2 in 1981.  We shot and re-shot the scene where Walter had to go out and gather logs in the snow, then open the door to visitors. Patiently he went along with what must have seemed a rather pointless exercise but opened up when it came to talking about the songs and his singing style, declaring emphatically that though the songs were learnt from his mother and from his uncles, especially Billy Gee, the stylistic characteristics (such as dropping sharply down at the end of a line) were all his own. "No-one sings quite like me. I never did copy any style. They sung in all different styles."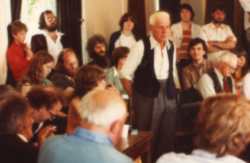 Walter had a large repertoire, 150 songs from Norfolk and beyond. Some were traditional ballads or songs of great battles, some about the experiences of young men and saucy young women (The Maid of Australia), some are from printed Broadsides (The Dark-Eyed Sailor), others are music hall tearjerkers, all sung with due respect and quiet relish.
Walter's father and uncle were active in the local branch of the Agricultural Labourers' Union and Walter was particularly fond of his Union songs such as An Old Man's Advice (sung to the tune of My Grandfather's Clock). Memorably he sang that early protest song on the plight of poor soldiers, The Hungry Army:
"Sound the Bugle, blow the horn,
Fight for glory night and morn,
Hungry soldiers ragged and torn,
Just returned from the army."
Walter was a carpenter by trade and his singing too was shaped by the patience and loving care of a respected craftsman.
It was a pleasure to be in his company and wonderful that we can still hear so many of his songs on recordings.
In 2021, to mark 25 years after Walter's death, EATMT produced a number of articles commemorating Walter's life.  You can read more information HERE