Sally Barrett lives in Norfolk. She is a Concertina tutor, the leader of SqueezEast Concertinas, she has been a member of the band Shinanikins for almost 40 years and is band leader for Fiddlesticks, a North West Clog side from Norfolk. Sally writes about the woman behind Sally's musical upbringing and the gifting of Jig Doll Albert.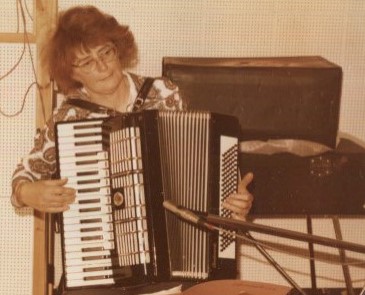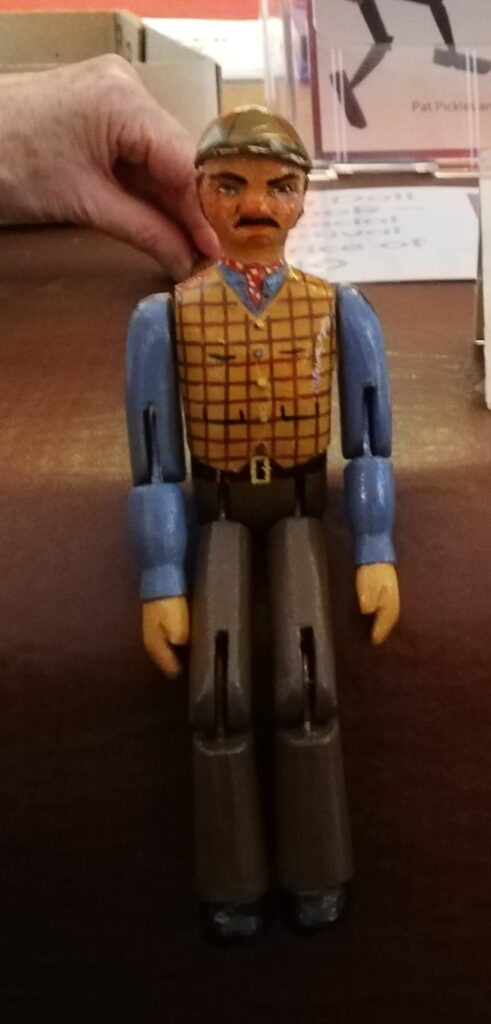 Albert the Jig Doll came to the Cider and Song event in Stowmarket in October 2019 with his "owner" Sally Barrett. Sally was one of EATMT's tutors for the "Pressing the Buttons" workshops that took place at the museum on the same day.
Albert generated a fair amount of interest when he made an appearance in the Abbot's Hall Dining Room and Sally recalled how a very special woman had given him to her. Sally had said somewhere at home was a letter from Albert's creator which she would try to hunt down. That friend was called Ivy Meachen, later to become Ivy Richardson.
In May 2020, Norfolk musician Joan Roe featured on the Musician Profile Page of the EATMT website. Sally knew that Ivy was a friend of Joan Roe and it prompted Sally to hunt down the letter that arrived with Albert the Jig Doll. Once Sally had deciphered the maker's name, the idea of an article for EATMT's website started to form.
Sally writes: 'Ivy Meachen was born in April 1931. I met her around 1960 through the scouting movement. I was a child at primary school and she was already known then to have an interest in folk music and country dancing. At this time she played both accordion and fiddle.
After a few years, during which she would have given me piano lessons (much to my disgust as I wasn't interested), our families lost touch. I had heard that she was connected to a dance club and I have recently been given access to photos torn from the local newspaper, one of Ivy playing in the Norfolk Ramblers Dance Band in 1965 and another undated, but of a similar era, playing with other musicians for an EFDSS Country Dance Ball in The Assembly Rooms, Norwich.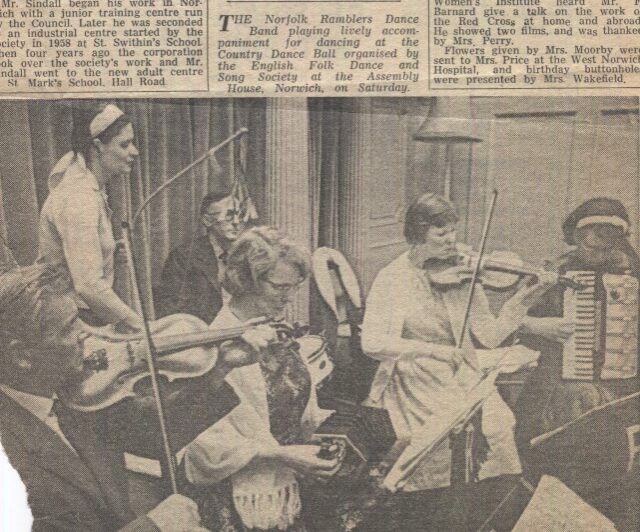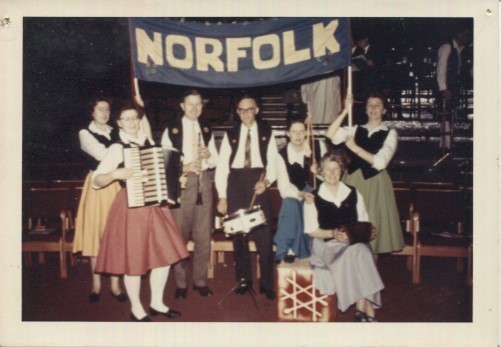 She attended the early Sidmouth Festivals, which began purely as a dance festival in 1955. As a regular visitor to Sidmouth I bought the book "The First Week in August – Fifty Years of the Sidmouth Festival" by Derek Schofield published in 2004 and I'm fairly confident she appears on p31 of the book (below) which is from 1963.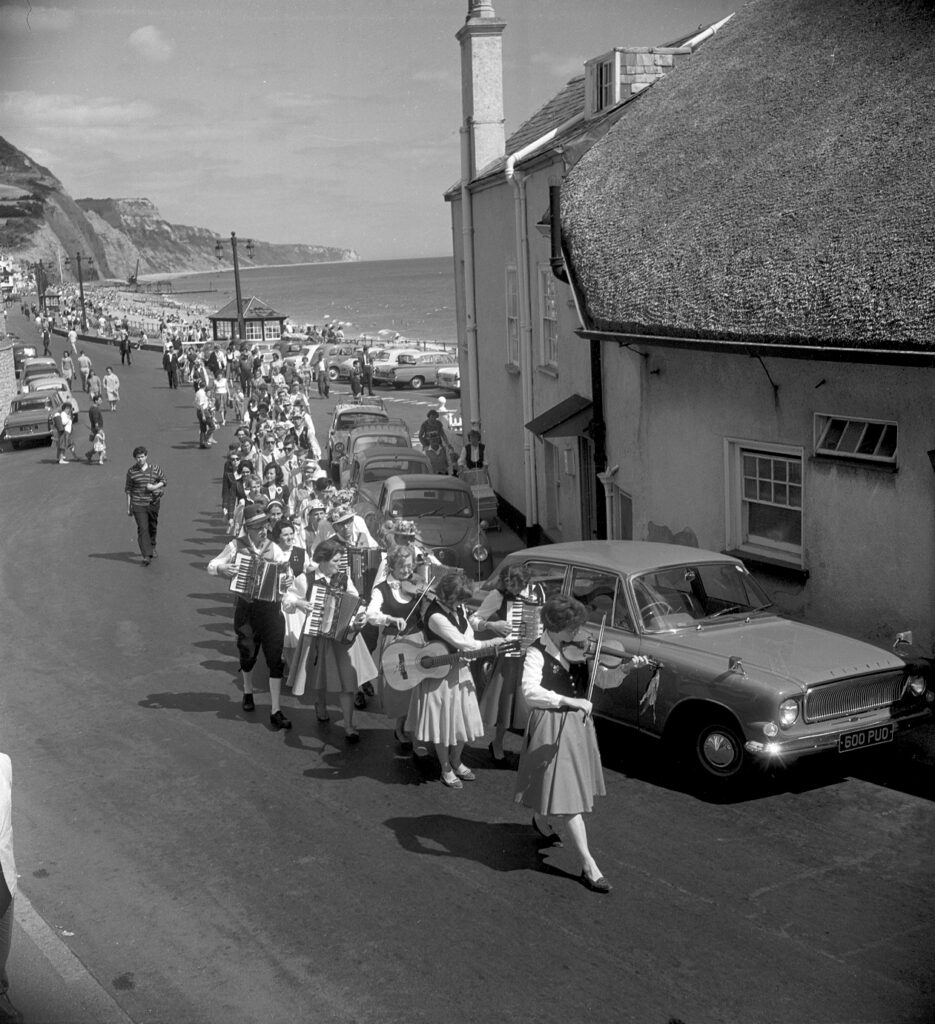 Ivy and I didn't meet up again until I joined the EFDSS Norwich Monday Group in around 1973 where I was both surprised and pleased to see her. In the summer months the Monday dance group met in the gardens of various friends and also pub gardens, where Ivy usually played for us, occasionally accompanied by other friends. The day came in 1975 when Ivy declared to those friends, "I'm going to start a folk dance band and you're going to be in it. It will be called Shinanikins, an old Norfolk word meaning 'mischief'." Well, that was the beginning of Shinanikins and the first we as a group of friends knew of her single-minded determination!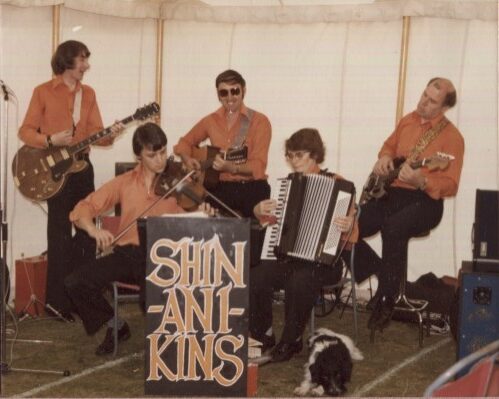 Ivy remained a member of the scout movement and was also a devout Christian, well-known for leading services within the Methodist Church, until a deterioration in health made her give up. In either situation she took every opportunity to include some aspect of the folk world, whether it was teaching longsword and morris, or maypole dances to cub scouts at weekly meetings or special activity days, or leading church services with Shinanikins playing for the hymns, several of which were sung to traditional folk tunes. This was Ivy, through and through.
After being made redundant in middle age from her office job, she worked firstly for a local music service based in Norwich until it ceased to be, when she continued freelancing, visiting old people's homes, day centres and the like, always with her accordion and a stash of percussion instruments so people could join in. Along with other elements there was always the ever-presence of Ivy's real love – traditional folk music.
I first played with Shinanikins in 1981, very nervously, having taught myself concertina for some years but playing little outside my own home. This occasion was an event arranged by the dance group to celebrate the wedding of Prince Charles and Lady Diana, so relatively low-key. As I sat beside Ivy she asked what I could play. I simply didn't know as I'd only ever played on my own! Ivy flicked through her music folder, found the dancing version of Waltzing Matilda and began to play v.e.r.y. s.l.o.w.l.y., encouraging me to join in when I could. She gradually increased the speed to a reasonable dance speed.
I was literally shaking but managed to squeeze out a few notes. With each new dance included during that evening and thereafter, Ivy took great care in explaining the geography of the music, all hand-written by her as she would not break the copyright rules and use the new-fangled photocopiers that had become available. This was my first real experience of the depth and length of the support Ivy was to give to me in the future. I know she was equally as generous with her support to anyone else who showed an interest.
Along with her generosity of time and knowledge, Ivy also gave me the confidence in myself and the confidence to apply for a job with Musical Keys, a charity based in Norwich, then working with children with special needs. A job I loved and continued with for nearly eight years.
Along with the experience and knowledge shared, she also gave me a jig doll which I had previously seen in her home and whom I was fascinated by. He came to me with the letter that had accompanied him from the maker, and some time later, while away on a Fiddlesticks tour I named him Albert. He has since given me, and those watching him dance, much pleasure. Especially the day he danced so vigorously that an arm fell off! Although much admired I had no idea he was made by such a talented and respected craftsman, and I am very proud to have become his owner'.
Albert and Vernon Rose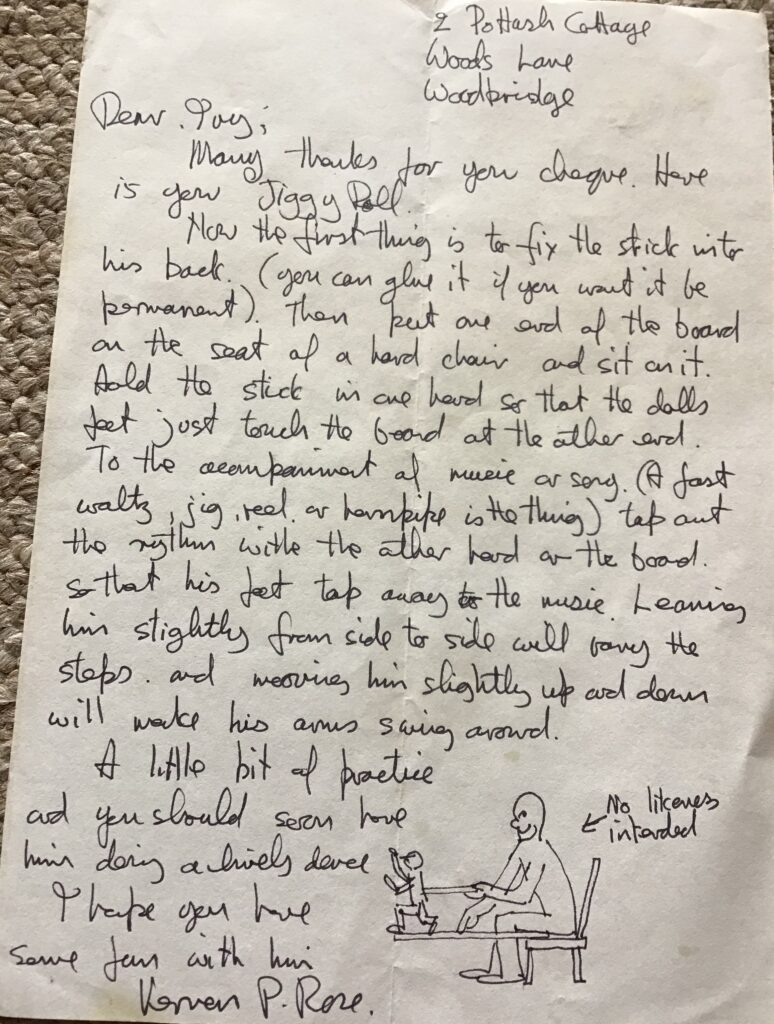 Vernon Rose 1930-2017
Vernon Rose was born and grew up in Manchester attending the Manchester School of Arts to study sculpture. He moved to St Ives, Cornwall after college and lived there for over twenty years as a sculptor, painter, musician, singer, poet, Punch & Judy "Professor" and novelist. In the 1970s he was famed for his "Celebrated Theatre of Delights" – making the theatre, puppets and props. He was an influential figure in the revival of this field of arts touring the UK and Ireland for over 15 years. He was described as an icon of the Cornish Folk Scene.
A talented craftsman, he also made toys, musical instruments, props for TV show and dolls houses. And Jig Dolls!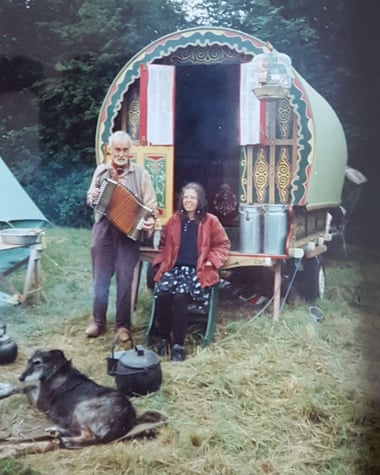 Vernon moved to Suffolk in 1981 (first to the Deben District and then Halesworth) where he joined storyteller Taffy Thomas's 'Magic Lantern' – a community arts company (now based in Cumbria), and it is Suffolk where he spent the rest of his life creating and crafting even after he was registered blind in 2004 claiming "I then ignored such restricting trivialities as perspective, relative size and viewpoint".
(REF:  Vernon Rose Obituary, by Suffolk Craftsman Bob Pendered in The Guardian; Suffolk Artists).
In May 2021, Sally was relaxing on holiday and came across an article in the Daily Express written by broadcaster and EATMT patron Libby Purves. The article was written about Libby's house downsizing task and in the article we learn that Vernon Rose was a great friend of Libby. She writes:
"The kitchen is pretty much lined with boats and harbours by Vernon Rose, a good friend who died a few years ago: he was a gipsy, an intricate, elegant painter who, when he was in old age and losing his sight, did big, barnstorming, naive paintings instead.
He disapproved of the fine art market, as I also tend to do, and said it was just a job: he used to charge exactly the same per hour "as if I was putting putty in your window frames."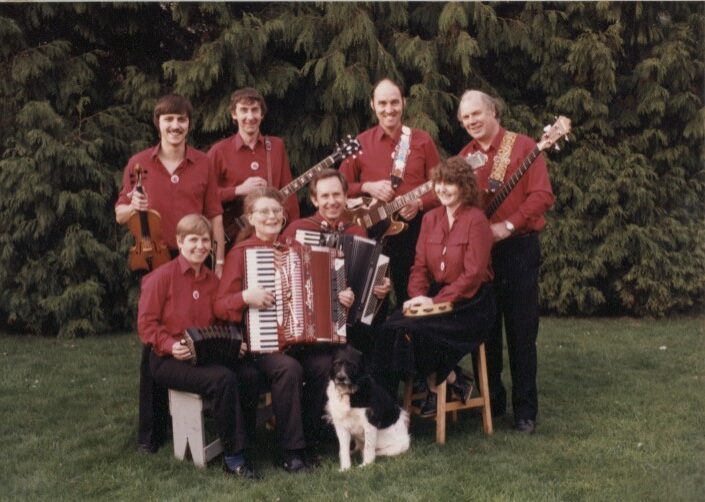 Sally continues: 'Ivy's knowledge and understanding of the music had been accumulated over many years and we members of Shinanikins often said that she had probably forgotten more than we would ever know. One thing she would always insist on was that the music was played in the traditional way. She was a friend of Joan Roe and had several tunes in her repertoire that came directly from Joan's collection. In her later years she became especially fond of music from the North, firstly from Northumberland and moving on to music from Scotland. She insisted that Shinanikins played 'the Scottish snap' exactly as it should be!
In the early 80's Shinanikins played at a weekend festival where in an off-duty time, some of us sat in on a session where the MC mentioned the Norfolk Long Dance, saying he had only ever come across one person who could play for it properly, with the gradual increase in speed at exactly the right pace. Her name was Ivy Meachen. Little did he realise that Ivy was sitting at the back of the hall!
Ivy was meticulous in her planning, especially with church services and Shinanikins concerts, when every piece was timed to the second and in last-minute rehearsal time she would sit on the floor with all her music spread about her, 'just making sure.'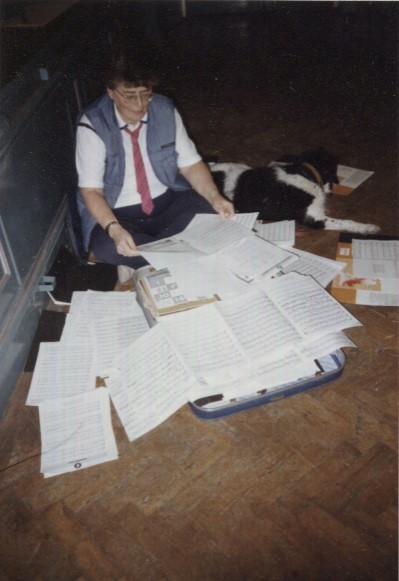 After many years of courtship, in 1981 Ivy married Jack Richardson, another scouter and member of the Methodist Church. Jack had been a faithful partner and supporter to Ivy in all her activities, from long before their marriage until his increasing frailty put a stop to it.
She retired from Shinanikins in her seventies, due to hers and Jack's failing health, but still maintained her interest in folk music and the feeling of 'belonging' and support of the band she had formed. Some time after Jack's death Ivy moved to live in a nursing home where twice Shinanikins spent a happy hour or so entertaining the residents with folk dance music, taking along percussion instruments just as Ivy had done for many years of her adult life. On one of those afternoons we played nothing but tunes she had written over the years. Outwardly she was modest but we could tell that inside she was thrilled.
It was while Paul and I were away on a May Bank Holiday tour with Fiddlesticks in 2016 that we received the phone call to tell us that Ivy had died. This was just as we arrived in the coach park of a stately home for our next dance spot. As we walked from the coach park towards the hall we heard the distinct sound of a bagpiper… playing one of Ivy's favourite tunes which we'd often heard her play on her accordion. It was as if she had come with us and I was sufficiently moved to stop and explain to the piper what had just happened. Thankfully he appreciated the profundity of the moment.
It goes without saying that the organised Ivy had planned her entire funeral service, anticipating that Shinanikins would be available and willing to play. It was a lovely occasion with the little chapel and the side room packed with her friends from all walks of life. At the end of the service we played her out of the chapel to the awaiting hearse, with her arrangement of the well-known processional dance tunes from Padstow. What an ending!
Ivy was a fascinating lady, 'a bit odd' in many people's eyes but a fount of folk knowledge and she gave me so much encouragement. I owe her a great deal. I'd never have done what I do now musically if it were not for Ivy. Never in a million years'.
Sally Barrett, Autumn 2020. Updated August 2021.