Joan Roe, born in 1910, was a musician and folk song collector from Norwich.
This article has been produced with thanks to contributions from Joan's adopted daughter Bernadette Bates née Groom, Frank Pond (a member of Joan's music ensembles) and Alan Helsdon who visited Joan in 2004 in Berkshire.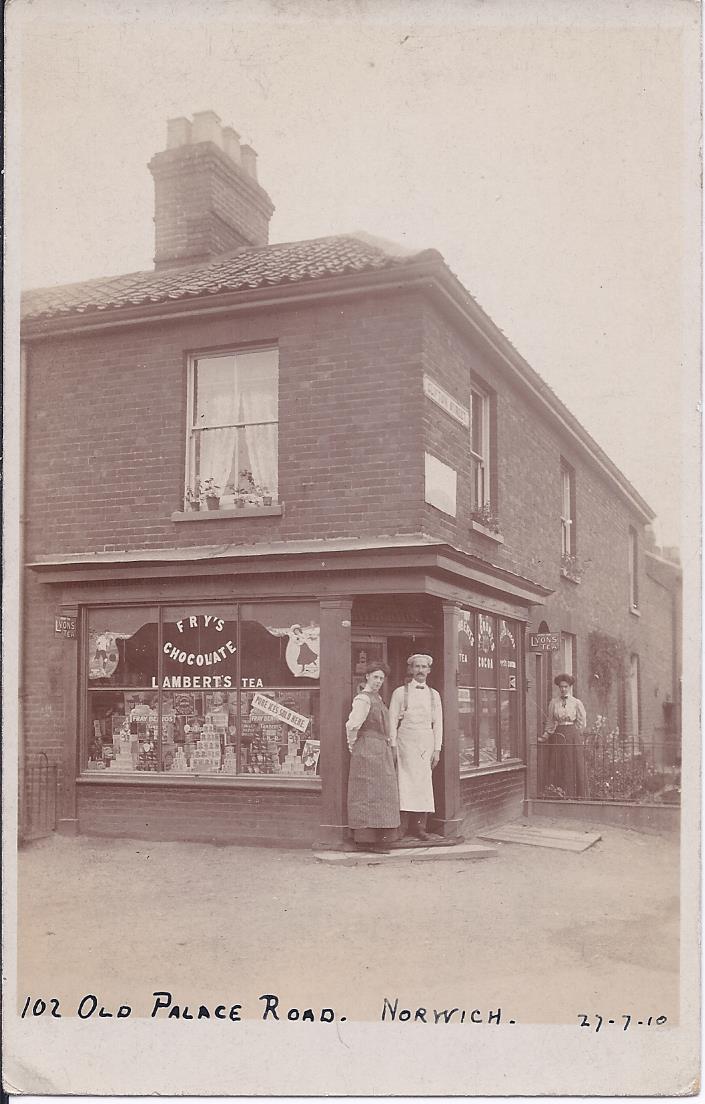 Joan Roe was born in Old Palace Road, Norwich in 1910, daughter of Arthur Roe – baker and Freeman of Norwich – and Alice Annie Roe (nee Hutley) formerly a seamstress from Writtle, Essex. They later moved to Winter Road where they had a shop. Here Joan had a piano in one of the upstairs rooms.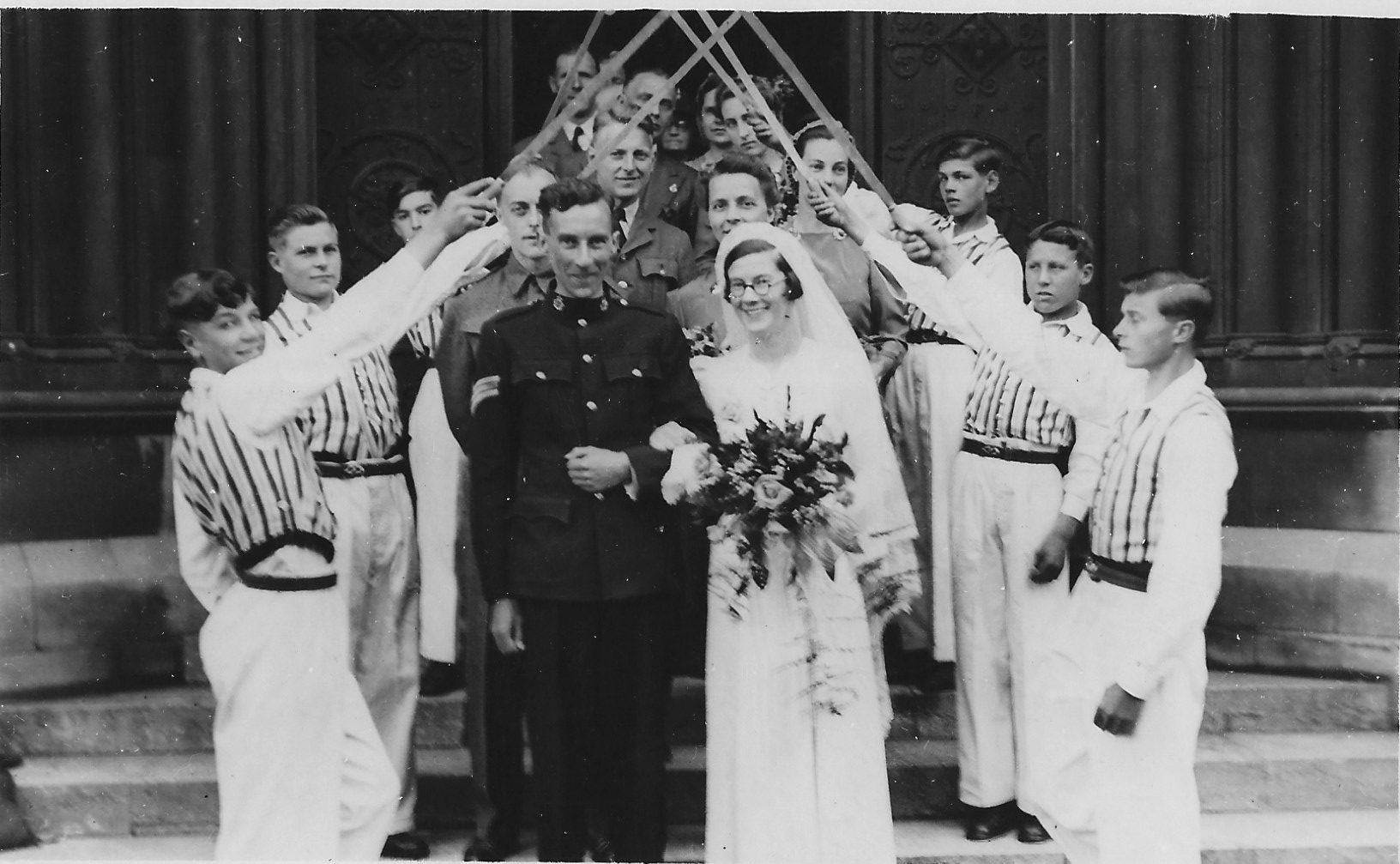 Joan married William Groom and lived most of her life in Norwich. They had an adopted daughter, Bernadette. She was well known locally in Norwich as "Miss Joan M Roe, LRAM, ARCM, teacher of music – pianoforte and theory" (Kelly's Directory of the City of Norwich) living round the corner from her childhood home in Earlham Road. In later years, she moved to Langley, near Slough to live with her daughter but even in her late 80s, played the organ at her local church.
Of the wedding photo, Bernadette writes: "This is a photo of mother's wedding on 29th May 1943. The guard of honour were from Red House Farm school which was a Borstal (for Young Offenders). Mother had taught them country dancing. The photo was taken by the Eastern Daily Press and it says she was the Hon. Sec. I presume of the EFDS (English Folk Dance Society) in Norfolk".
On a trip to Berkshire in 2004, Alan Helsdon visited Joan then aged 93 where she was delighted to impart details of her musical life.
"Joan's interest in Folk Dancing was initiated at the age of about 18 by playing piano for a Girls' Dancing Club. She remembered one evening when the Organiser's dog gave the piano leg a thorough chewing before anybody noticed! Her love of Country Dance tunes grew when Margaret de la Hay was sent to Norfolk as EFDS (not yet 'and Song') Branch member. Teacher Joan was taken out to visit country musicians to write their tunes down as Margaret could not do that. She transcribed straight onto the stave with very few corrections and fair copies were then made and sent to the EFDS".
During the 1930s she was usually driven to various villages at the request of local keen dancers in particular a Mrs Gay and Mrs Grimbly. In 1935, Mrs Gay introduced Joan to her gardener, Herbert Mallett where she notated 5 jigs including the Perfect Cure, which later appeared in the English Folk Dance and Song Coronation Book. Chris Holderness, for the Rig-a-jig-jig Norfolk music project has written more about Joan's summer visit to see Herbert and you can find it here on the Musical Traditions website.
copies of Joan Roe's notebook no 11 from her visit to Herbert Mallett in 1935
According to Frank Pond, who played cello in one of Joan's musical groups and writing in 1980, he only found out about Joan's collecting side of her musical career from Norwich morris dancer and founder of Kemp's Men, Norris Winstone. Norris had kindly written out his collection of Norfolk folk tunes for Frank, which had mentioned that several had been collected by Joan. When Frank enquired further into Joan's folk tune collecting, she sent him her notebooks of her collected tunes where he could see she had taken down the tunes "painstakingly…as they were sung or played". In fact, Frank learned that "Joan had sent these books to Ralph Vaughan Williams for his views as to their authenticity, and you can see from the copies I made that comments 'Yes R.V.W.' 'No R.V.W.' and 'Rather attractive R.V.W.' appear". Frank also noted that during the 1930s, Joan was very active in the Norfolk Schools' Folk Dancing Festivals which she accompanied.
Frank promised Joan he would send a copy of these music note books to the Local Record Office.
Joan's notated manuscripts send and commented on by Vaughan Williams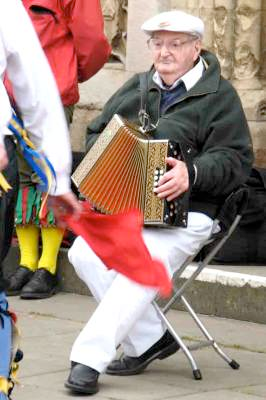 It is worth noting that Frank Pond, born in 1924 in Norwich where he still lives, is a composer (having composed a cello lament which he has played annually at the Holocaust Memorial service in Norwich for several years) and he is also an artist and member of the Norwich20 group. Norris 'Win' Winstone learned to morris dance in 1928 and was one of the founder members of the Kemp's Men Morris based in Norwich. For over 80 years Win passed on his passion for folk and traditional dance and music and was recognised in 2009 for this by being awarded an MBE for services to folk music and dance. He died in 2011, aged 98.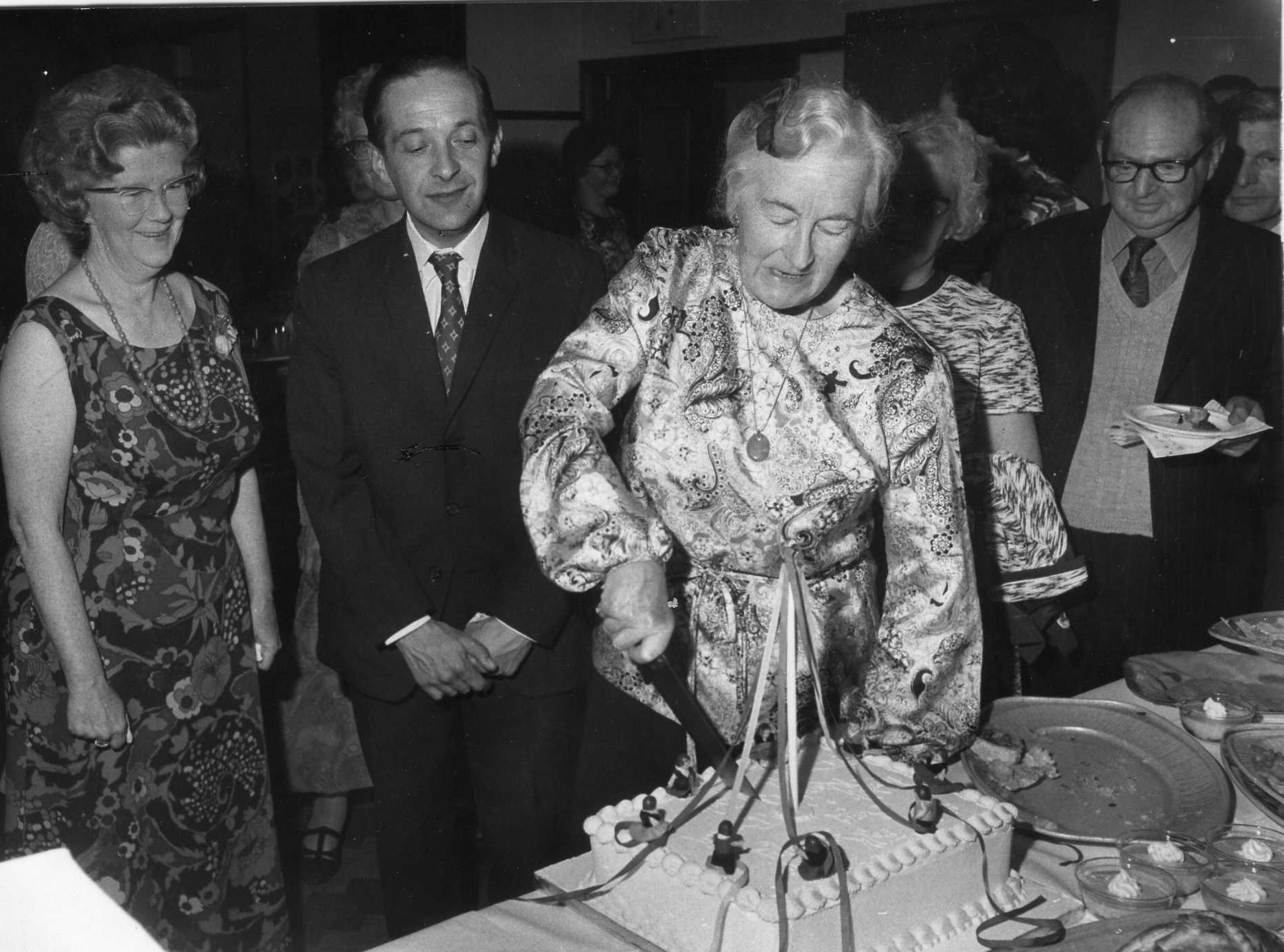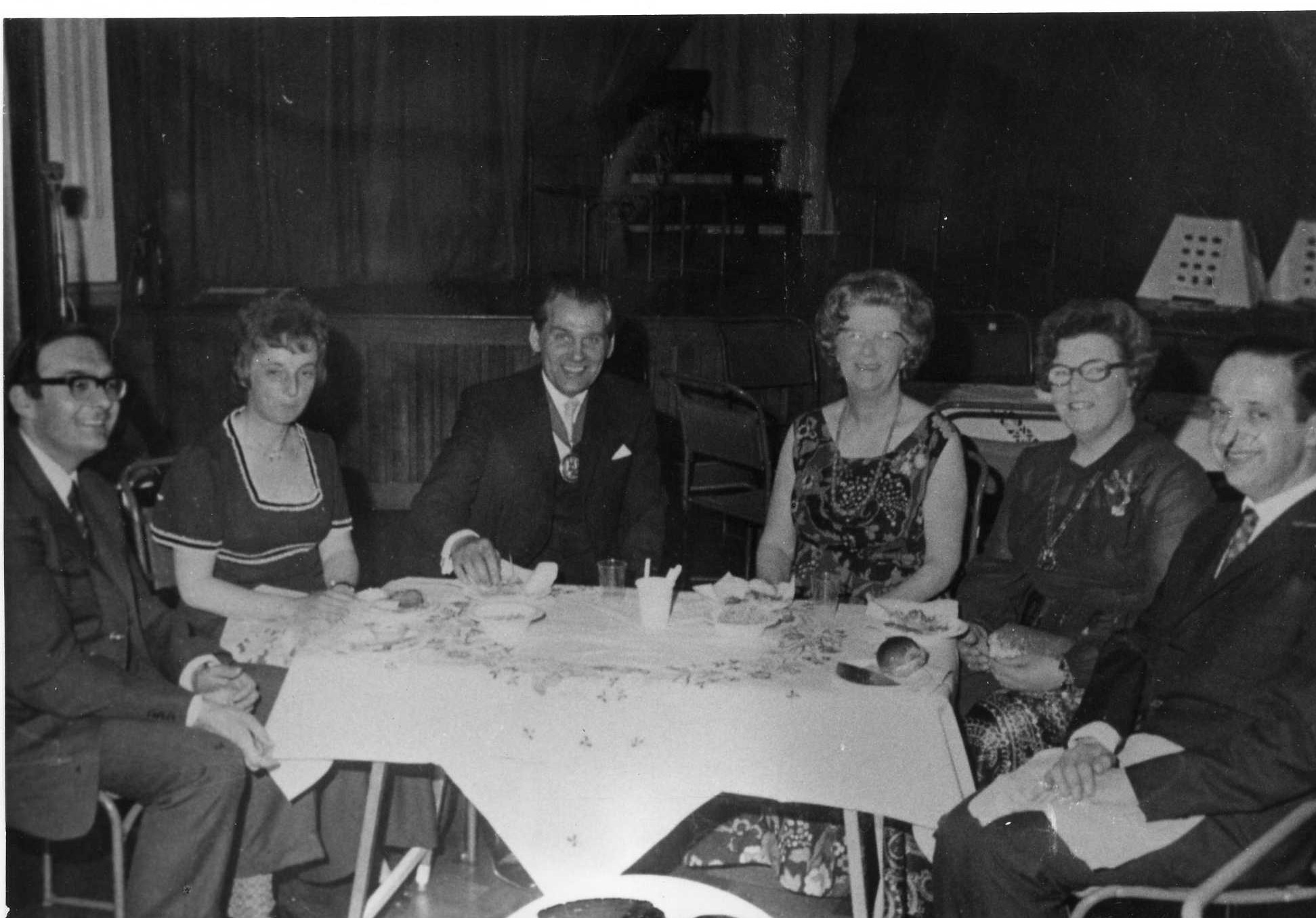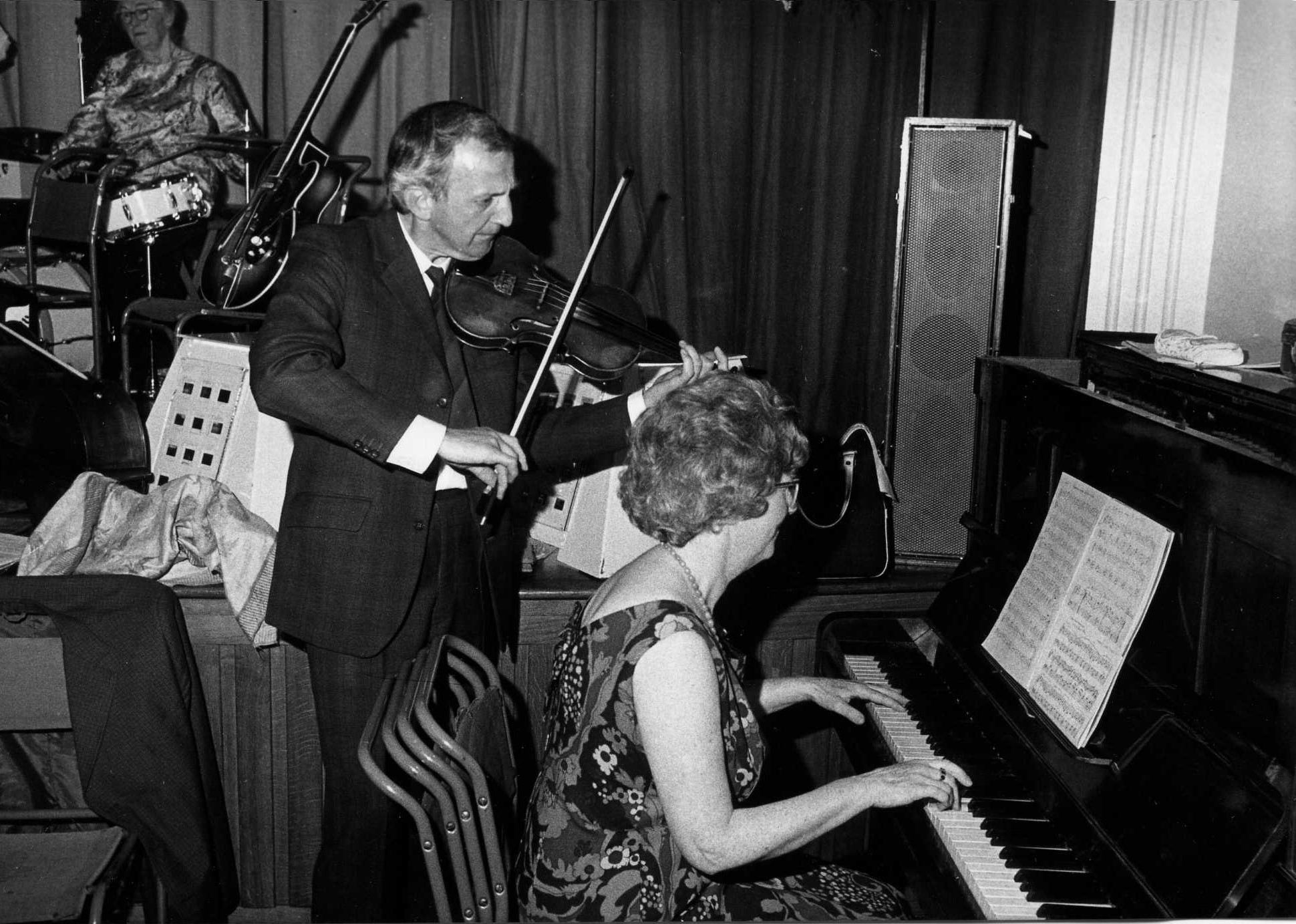 These photos were taken at an EFDSS branch event in Norwich. Joan in the 'Maypole cake photo' is on the far left. Next to her is David Radnedge. Norris Winstone is on the far right with a plate of food. At the round table, Robert Girling is seated on the left, Jenny Radnedge is next to him. We don't know the gentleman next to Jenny but the next lady is Joan and the man on the far right is David Radnedge. Thanks to Sally and Paul Barrett for adding names to these photos.
Back in Berkshire, Alan's visit gleaned more information from Joan:
"She gave talks about folk music and folk dance to various Clubs and Societies and illustrated them at the piano. She also played the whistle and recorders and played them for dancing too. She was at large a gathering of dancers at Eaton Hall near Norwich in 1932 and 1934 and there are photos of her playing whistle with two other ladies for dozens of dancers – without any amplifiers in sight!
In the 1930's and 40's at Country Dance Parties, where proceedings were directed by an MC, not a Caller, Joan played piano and led a small group of (usually) ladies playing violin, viola, cello and drum. Frank Pond (as mentioned above) played cello with her for a while. She wrote out several versions of a Long Dance Set for Piano Trio and told me that the practice of speeding up during the dance was her idea for a bit of fun once the dancers had got used to the dance.
While putting together the CD Sinkers and Swimmers in 2005, where I recorded current, local players of, mostly, Norfolk tunes, I used Joan's arrangement of one of the Long Dance sets she had used in the 1930s – 1950s and got Frank Pond, who had played cello in Joan's Trio, to play it again and make sure we got it right. Joan, he said, could be very severe on inaccuracies. To replace a Norwich piano teacher with an interest in folk tunes, I asked Jenny Roberson, a Norfolk piano teacher who also played in Shindig, a ceilidh band I called for at the time. We recorded in Jenny's front room and I hurriedly burned a CD of that one track as I was due to leave for Slough the next day to revisit Joan on her 94th birthday. We had to borrow Joan's grand-daughter's 'ghetto-blaster' to play the CD, but the look of delight, and the tears on her face made it all worthwhile:
The long dance set that Joan and Alan discussed contains Aldborough Long Dance Tune (usually known as The Perfect Cure*), the Buxton Long Dance Tune, Mallett's Jig No 2* and Starry Night for a Ramble. The sound clip above is taken with permission from Alan from Sinkers and Swimmers CD – Norfolk Traditional Dance Tunes which you can purchase here and it is the original recording that Alan played Joan on that return visit which just so happened to be her 94th birthday .
I asked Joan which piece of collecting she was most pleased with and she replied:
'George and Harry met in the pub and George said to Harry, "I hear you've bought yourself a Billy goat". "Tha's right", said Harry, "that was a real bargain". "But where do you keep it?" asked George. "You hint got no room in that little old cottage garden o' yours". "We keep it indoors", replied Harry. "In fact the only place we could keep it is in our bedroom". "But what about the smell?" asked George. "Oh", replied Harry, "that don't seem to mind a bit!"'.
Joan died a year later, in 2005 aged 94. A life-long Catholic, she had asked to have her Requiem Mass in St John's Cathedral in Norwich and her daughter Bernadette asked Chris Holderness and myself to play Starry Night for a Ramble on fiddle and keyboard during the ceremony which we happily did".
* These two tunes feature on The Foundlings CD launched Spring 2020 which you can read about here and you can read about the Perfect Cure in our Tracing Tunes article.