October 2019 saw the Museum of East Anglian Life's second Cider & Song event. EATMT were invited to programme the music side of the event.
We programmed over 14 hours of music which involved over 40 musicians and over 20 volunteers and had free drop in sessions for singing workshops and instrumental have a go workshops during the Saturday day event as well as performances programmed throughout the weekend.
We were delighted to have on board two of our young Bursary musicians – singer/songwriter/musician Samuel Taylor and Lauren Peck. They took to the small "Food Wars" Stage on the back lawn and took it in turns to perform alongside Nigel the sea shanty singer and other musicians who took their turn for a spot during the day.
Company of Horham old School and Friends kicked Cider and Song off on the Friday night with a very enjoyable session. With Richard Cove as MC, Company of Horham provided us with a mixed programme of music and invited people to take a floor spot throughout the evening. Bursary musician Lauren and her two pals from Aldeburgh Young Musicians took to the stage for the first time as 'Copperfield' with some newly arranged traditional tunes and they didn't stop performing all weekend. Their excitement and enthusiasm was infectious and people are still talking about them now!
The Likely Lads, two local gentlemen of Stowmarket took to the floor and added storytelling to the evening. We later found out that this was their debut performance too – you would never have noticed. If you see them out and about, do go and see them – they were very entertaining.
Saturday's day event saw song workshops from Sound Tradition and Capstan Full Strength and have a go sessions with Jig Dolls, Melodeons, Concertinas and Dulcimers. There were performances from Sound Tradition, Capstan Full Strength and Potiphar's Apprentices and a cracking lunchtime session run by Stumpy Oak Ceilidh Band. Trustee Lindsay Want was the Marquee's MC for the whole day which finished with a spotlight on Stepdancing and the presentation of the trophies from July's Stepdance Day.
Saturday evening's event saw a Trio of Trios – with Copperfield once again taking to the stage to kick the evening off, followed by The Harbour Lights Trio who entertained the crowd with their varied programme and completing the evening's line up was the energetic Sam Kelly Trio. MC for the evening was Shirley Harry – taking to the stage after having been working as Duty manager for the Pressing the Buttons workshops.
We were able to involve musicians and dancers from across East Anglia and we are grateful for everyone's involvement in helping the Trust fulfil their role in this event. It was lovely to see familiar faces who came to support the Trust as ticket holders and we thank them for their words of encouragement. The final word has to go a very special group of people. Without the offers of help from our hardworking and eager volunteers, the music side of this event (and all other events) would not have been possible and we are indebted for their continued support.
FRIDAY NIGHT
Below are photos from Ian Trouse of the Friday night session led by the delightful Company of Horham Old School with Richard Cove as MC with additional floor spots from Libby and John Byne-Grey, George and Eileen Monger, Helena Cooper and Colin Messer and debut appearances from Copperfield and storytellers The Likely Lads.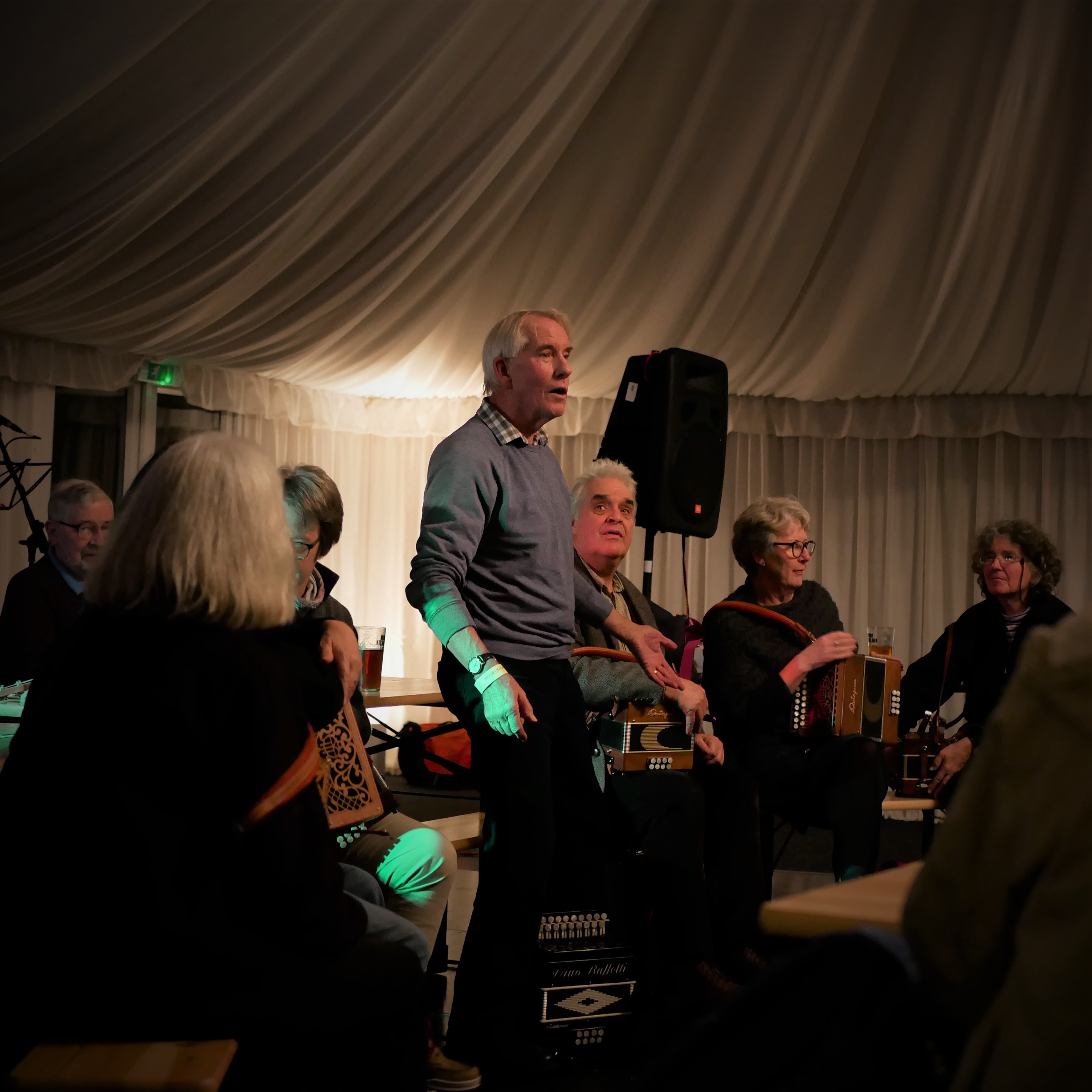 The Saturday daytime event with photos from Ian Trouse, Gayle Wade and EATMT
SATURDAY DAYTIME – The Dining Room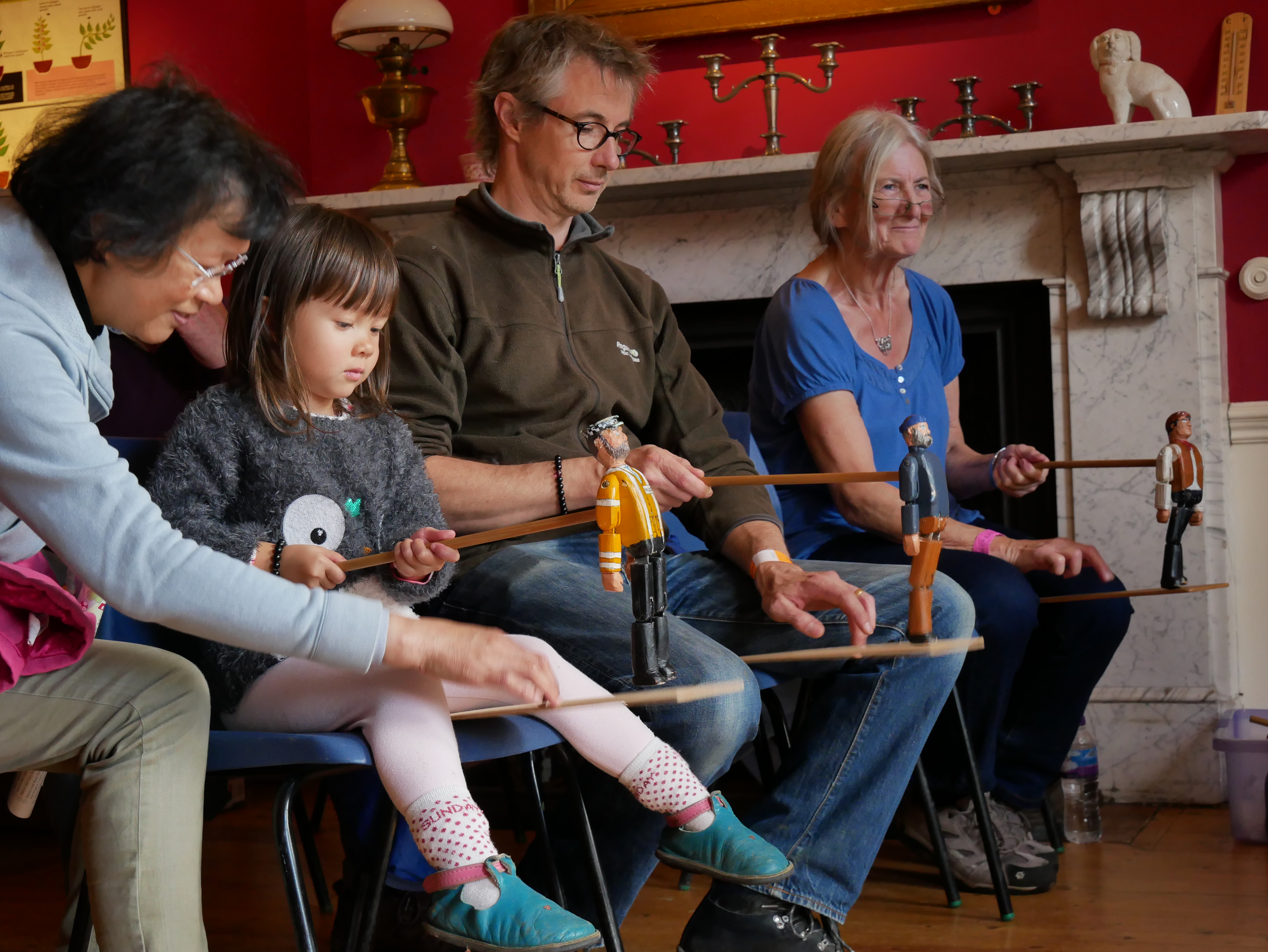 SATURDAY DAYTIME – Food Wars Stage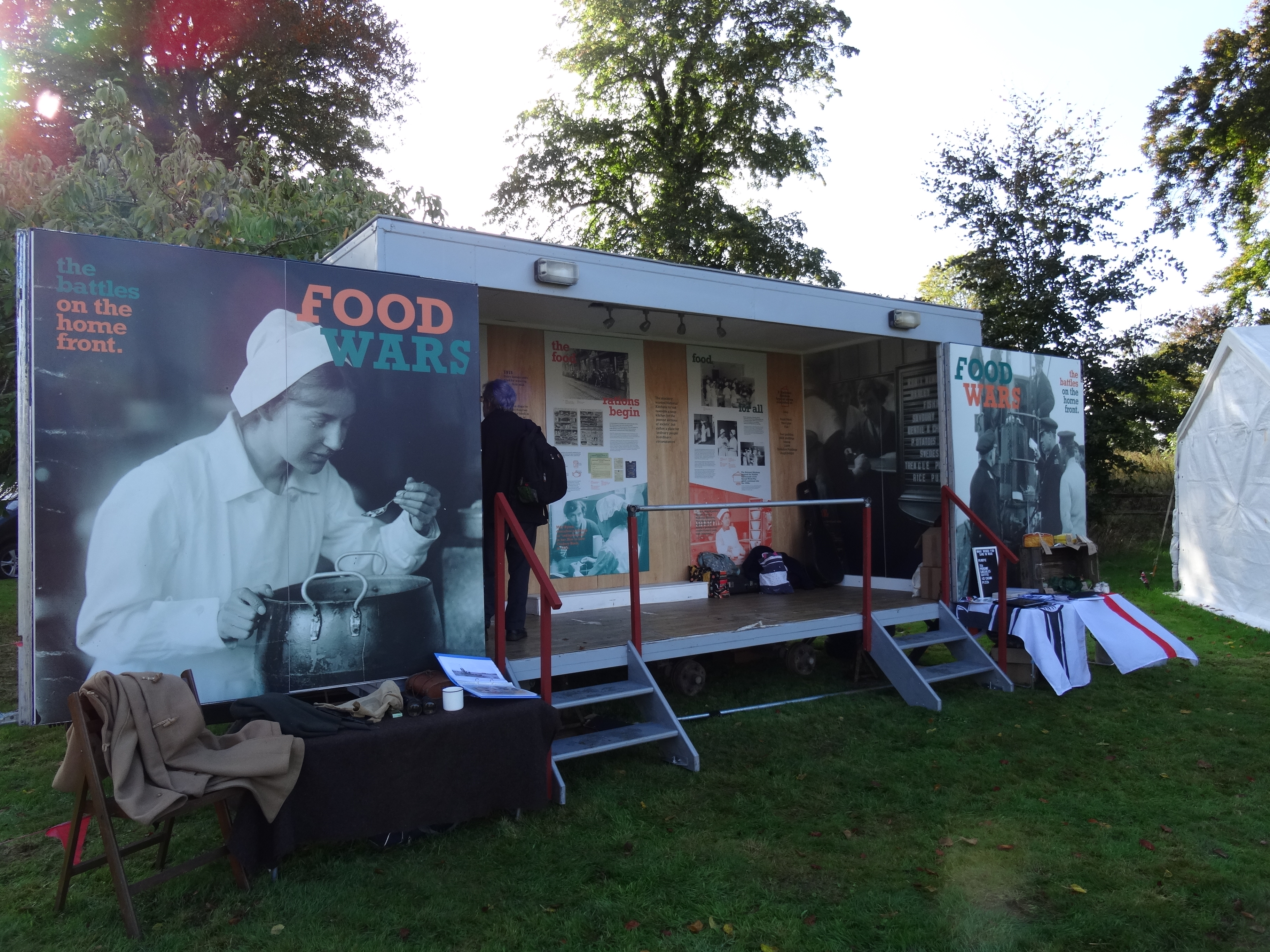 SATURDAY DAYTIME – The Marquee
With Trustee and musician Lindsay Want as MC for the daytime events, the Marquee had a day packed full of workshops, performances, a lunchtime music session, a stepdance showcase and an impromptu stepdance workshop.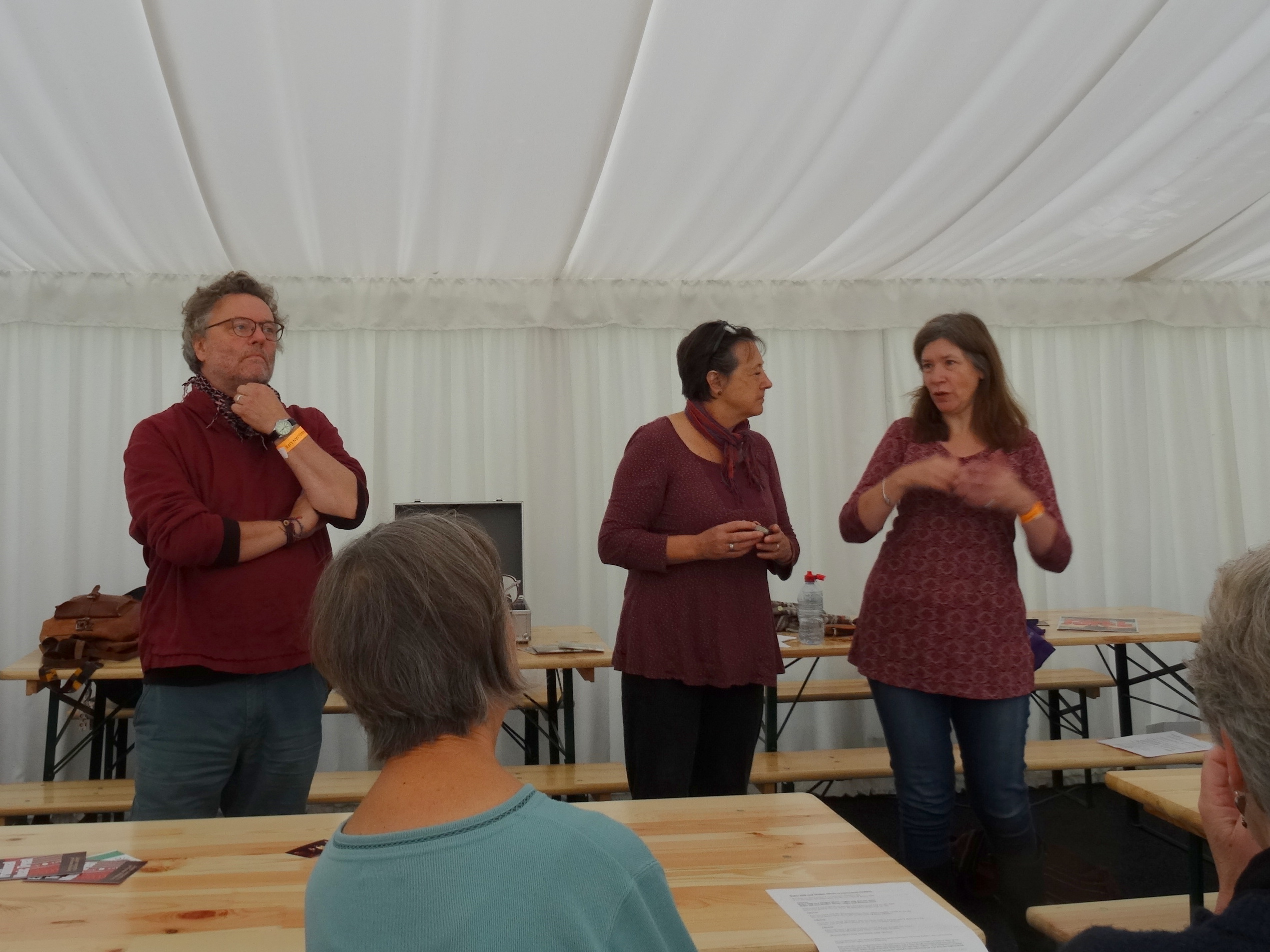 SATURDAY EVENING – A TRIO OF TRIOS
The day time event closed down at 5pm which allowed time for museum staff changeover and soundchecks with our resident Sound Tech Dargan Mosesson. MC for the night was our daytime Duty Manager for Pressing the Buttons, Shirley Harry.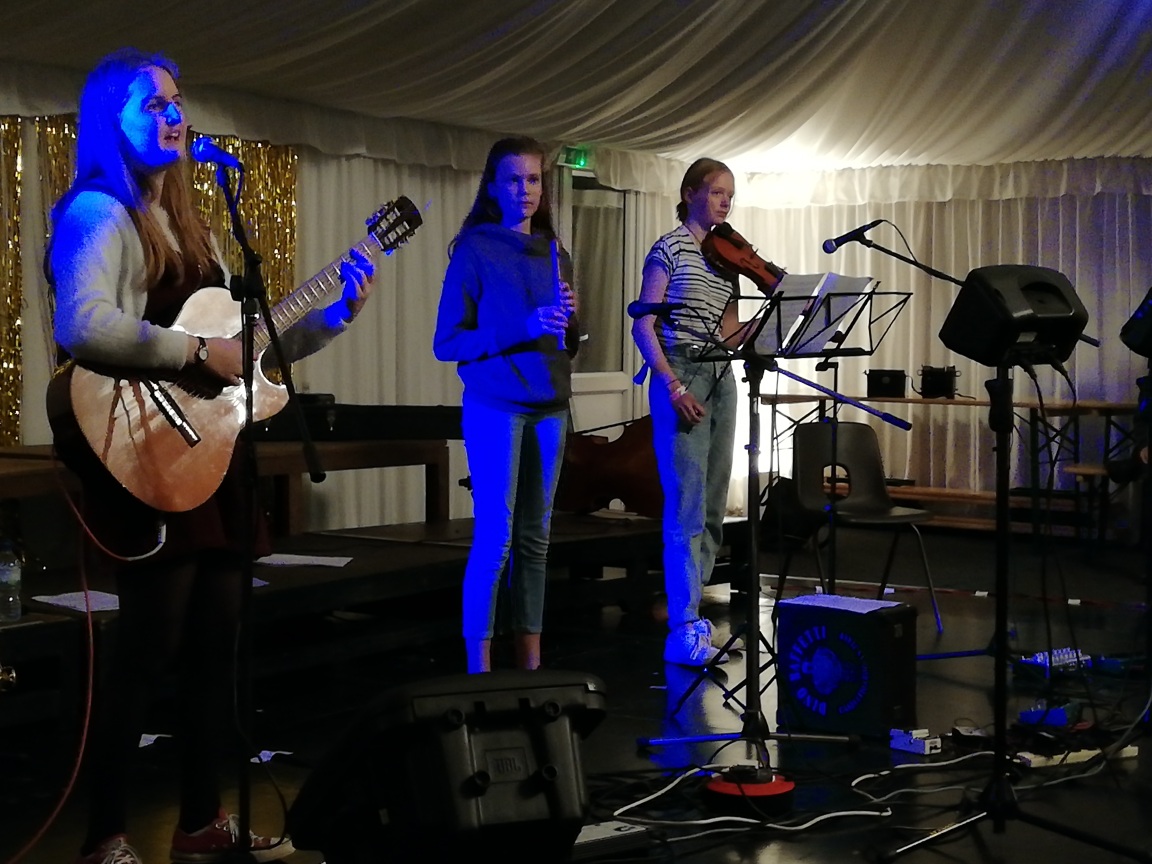 Copperfield kicked the Saturday evening off. Throughout this event, they had worked, reworked and introduced new performances as if it were the most natural thing in the world. Aged just 14 and 15 years of age, this delightful new band won the hearts of Cider and Song goers wherever they performed.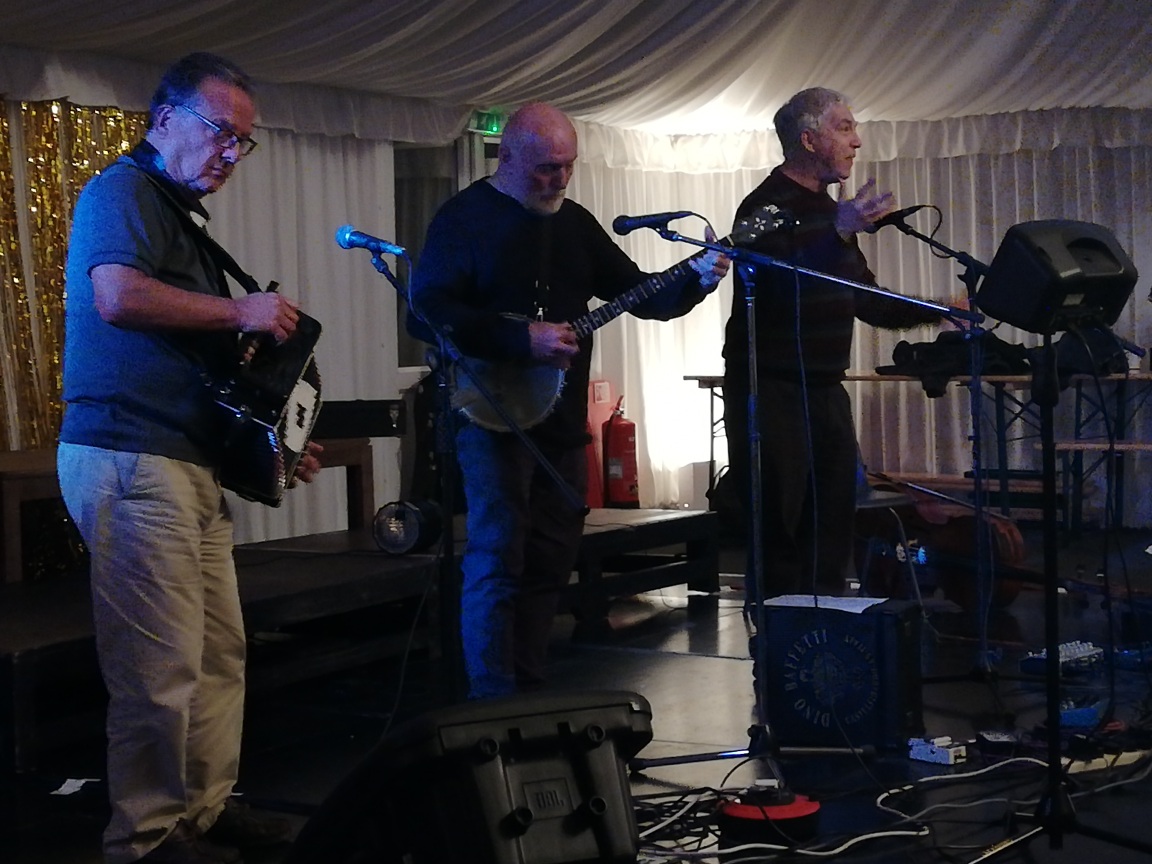 These three popular performers never fail to disappoint. The Harbour Lights Trio were next up and they provided an hour of a superb mix of tunes and songs and all round good banter.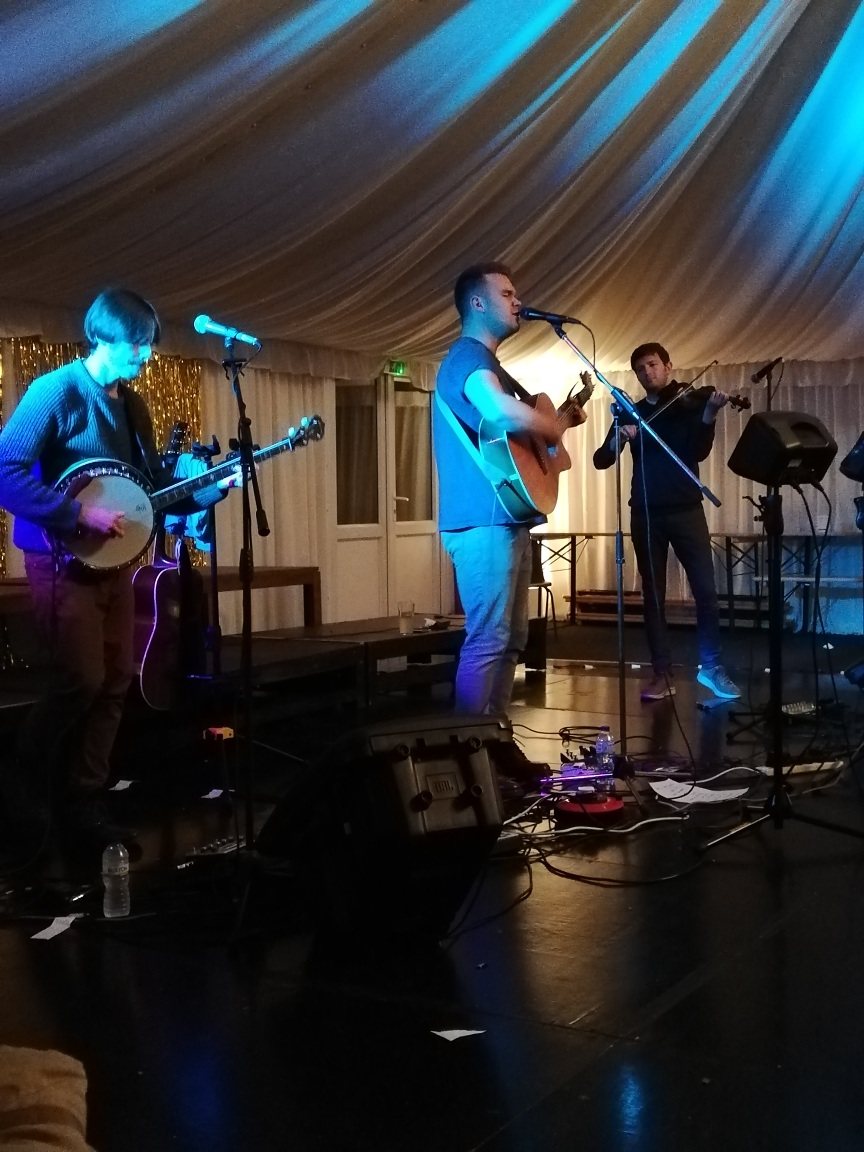 With Sam on guitar, Jamie on banjo and Toby on fiddle, The Sam Kelly Trio rounded off Cider and Song 2019 perfectly with a great mix of tunes and songs. We were delighted they were able to fit us in to their fairly hectic UK wide fixture list.
The meet and greet museum staff were on their feet all day and were a real credit to the museum.
We were delighted with our East Anglian choice of performers and we're so pleased they were able to be part of the event and we thank the Museum for inviting us to get involved again.