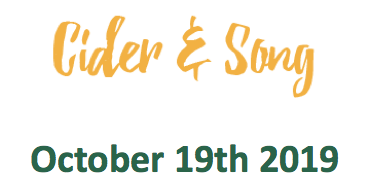 Photos I Trouse, G Wade, EATMT
Since the decision back in 2017 to call it a day with Melodeons and More, the Trust has had lots of requests to bring back a day of workshops and the opportunity to test the waters arose on the site of the Museum of East Anglian Life alongside the weekend of Cider and Song in October.
Under the guidance of Steve Dumpleton, we set up workshops for Intermediate and Improving Melodeon players and workshops for English and Anglo Concertina players with Steve, Otis Luxton, Sally Barrett and Alan Day respectively agreeing to tutor for the workshops.
Helen Knock and her team at the Osier Cafe on the museum site provided our registration area first thing on Saturday morning where participants were able to breakfast like Kings and take their caffeine hits in readiness for the hardworking day ahead of them. Shirley Harry took up position as Duty Manager for the day and did a sterling job for EATMT. Shirley was also involved in the lead up to the event working hard behind the scenes at Trust HQ. Pete Ward of Acorn Instruments set up shop in the house and was on call for minor melodeon repairs as well as sales and Mike Acott brought along his toolkit in case of any minor concertina issues. We are very grateful to the Museum for letting us use the site on a day that was already busy for everyone.
We had a smashing group of workshop participants from across the UK – some familiar faces and plenty of new faces. Their evaluation and feedback has been so positive that we are now working on reinstating our March workshop day for 2021 – taking on board comments of what people would like to see more of including a wider variety of instruments and a Come Join the Band workshop. We're delighted that Steve Dumpleton has agreed to come on board as the Artistic Co-ordinator for the workshops.
There is much planning to do which is why we are looking at having a workshop event in place for March 2021. Whilst we do that, we are still looking at ways we can make classes work and we also have some demand for a Maintenance Workshop day for melodeons and concertinas. We are interested to hear if this is something that you'd like to see – do drop us an email over the autumn – info@eatmt.org.uk.

Pressing the Buttons
EATMT Melodeon and Concertina Workshop Day
Saturday 19thOctober 2019
TUTORS and WORKSHOP details
Steve Dumpleton has been playing the melodeon and anglo concertina for over 30 years. He specialises in playing for dancing, performing with Sheffield women's dance team Lizzie Dripping, Fenland-based Ouse Washes Molly Dancers and local ceilidh bands.
He is an experienced teacher of both instruments and an accomplished workshop tutor, appearing regularly at Whitby Folk Week, Melodeons at Witney and Wensleydale and at Sheffield-based folk events. Steve was a regular tutor at the Trust's Melodeons and More workshops and has been involved for many years with other events run by the East Anglian Traditional Music Trust.
Steve is also a seasoned classical musician, bringing the grounding and discipline of over 40 years as an orchestral clarinettist into successful fusion with our long-standing folk traditions. Steve's style of playing, expressing rhythmic vitality coupled with melodic phrasing, is firmly rooted in the English dance tradition, notably from East Anglia, Lincolnshire and Northumberland. Working in West Wales has also developed his love of Welsh traditional music.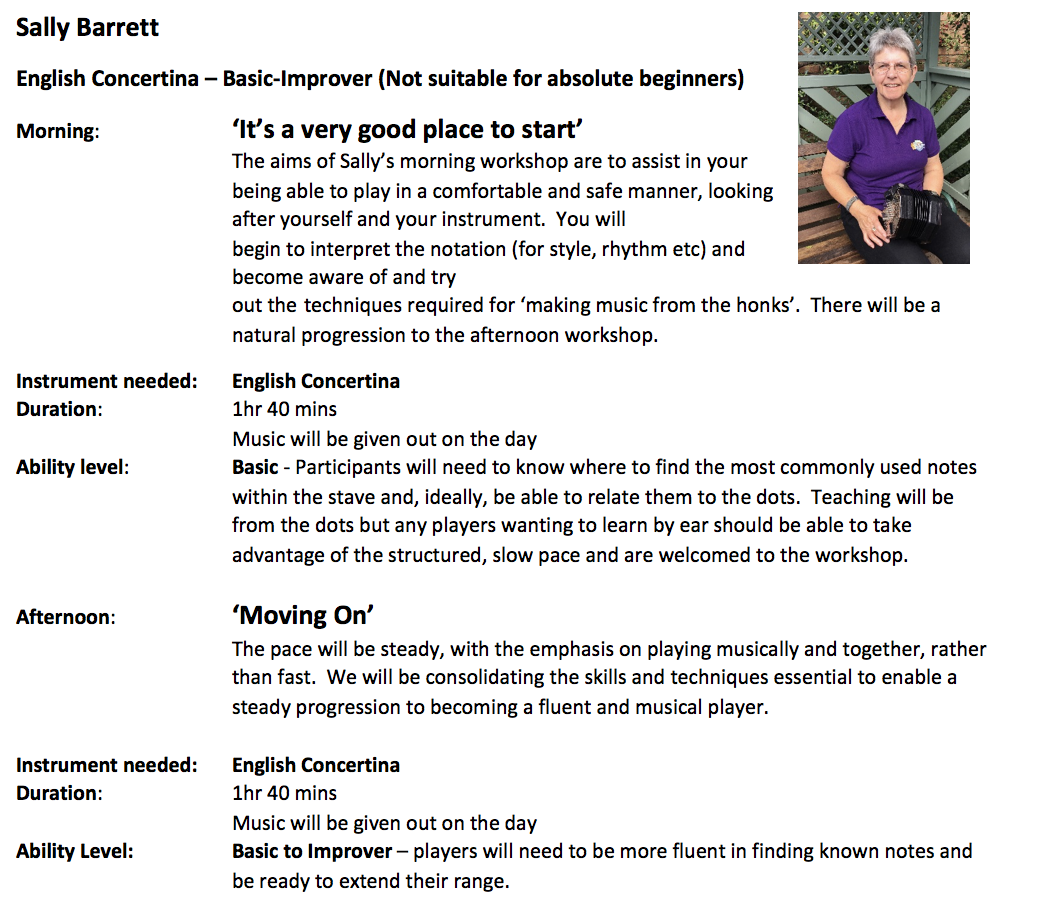 Sally Barrett is self-taught, 'coming out' in 1981 when she joined the ceilidh band Shinanikins. Around 20 years ago she joined The West Country Concertina Players, regularly attending their residential weekends both as a participant and as a tutor. She also tutors at their Sidmouth workshops which run alongside the famous annual Folk Festival. Sally lives in Norfolk and loves playing in concertina bands, leading SqueezEast Concertinas and the Fiddlesticks Women's North West Morris band.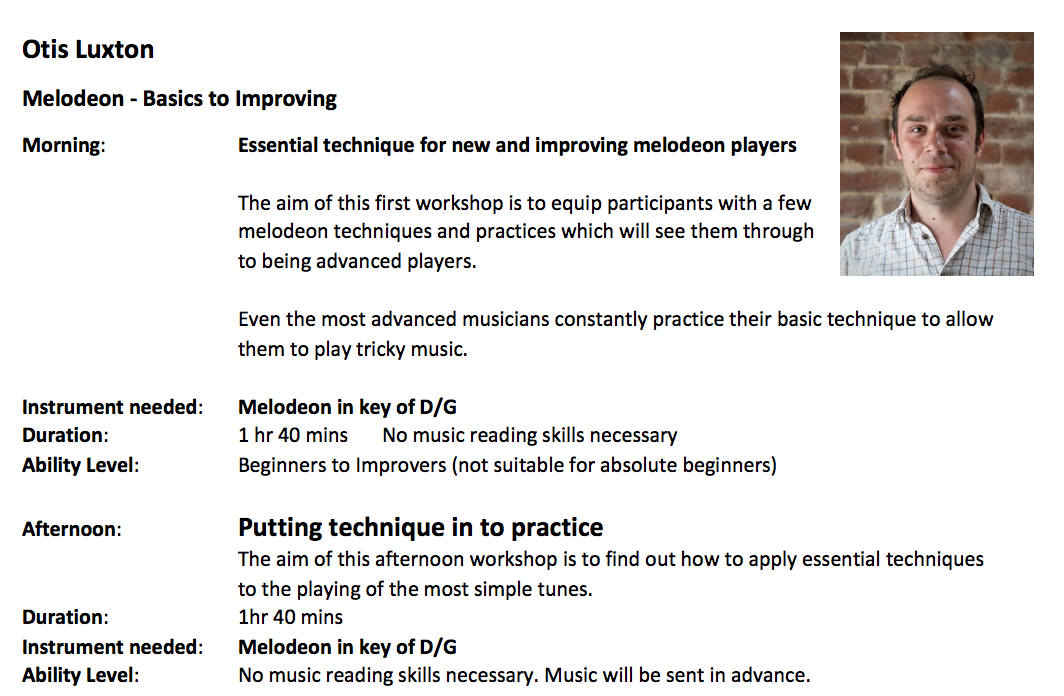 Otis Luxton is a melodeon player and woodworker with his roots firmly grounded in East Anglia. He studied melodeon at Newcastle University before embarking on a career in luthiery, as well as working in music education at Snape Maltings. Otis is influenced by contemporary accordion players from across the world and is most happy when playing in sessions or for dance.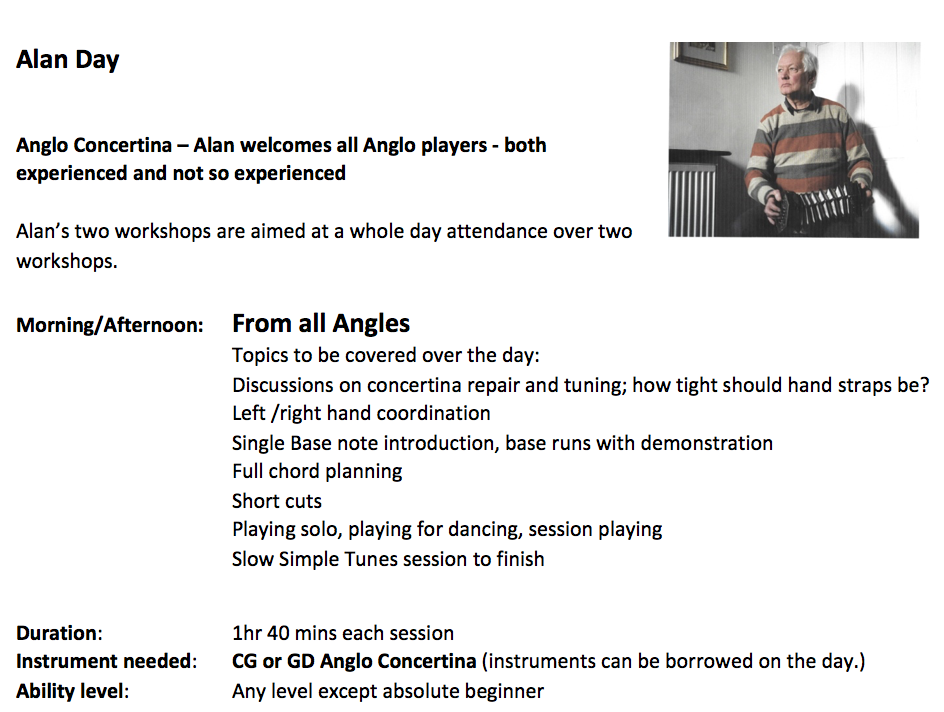 Alan Day started playing the Anglo Concertina when he joined the Broadwood Morris men of Horsham in Sussex. One of their members played an Anglo and Alan was hooked! He bought a cheap Hohner CG with big white buttons and started to teach himself how to play. There were no tutors available then – only John Kirkpatrick recordings. He went on to play for barn dances with the Broadwood Band before joining the Biggest Trio in the World which metamorphosed into Rosbif, one of the first English-based French dance bands playing French, English and Breton music. They also ran French dance workshops, travelling to a number of UK and French music festivals. Alan also was repairing, tuning and renovating concertinas for Hobgoblin Music at the time. Alan can often now be seen playing in Suffolk sessions, drawing on his own compositions and his experiences of playing jazz, blues, French, English and Music hall for many years.