Cyril Poacher
by Keith Summers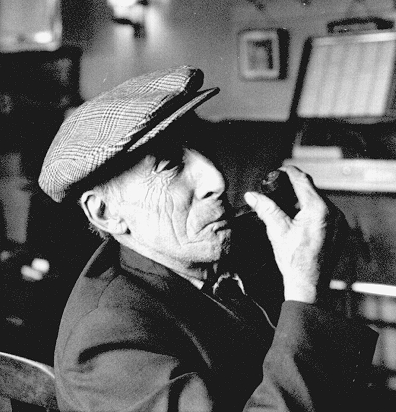 This article in our series of portraits of singers and musicians from East Anglia is taken from the book 'Sing Say or Pay' written by Keith Summers about his visits to Suffolk to record singers and musicians in the 1970s, published by Musical Traditions magazine in 1976. Although the book is now out of print, it is still available on the Musical Traditions website and a longer article about Cyril, taken from the notes to the CD 'Plenty of Thyme' is also published on the same site.
Cyril Poacher was born at Stone Common, Blaxhall in 1910. He worked on local farms until moving to Snape on his retirement in the mid 1970s. It was at this time that recordings were made of his singing by Keith Summers and Tony Engle for the Topic Records album 'The Broomfield Wager'. He was also recorded by musicologist Ginette Dunn, and featured in her book about the Blaxhall singing tradition 'The Fellowship of Song' (also out-of-print). Some of Cyril's best known songs such as The Nutting Girl and Nancy of Yarmouth were songs he'd learned as a little boy at his grandfather's (William 'Cronie' Ling) knee and his mother, Alice Ling, taught him A Wager, a Wager. Cyril started singing in the Ship at Blaxhall in the late 1920s and learned songs from the older generation of singers he heard there.
Keith Summers wrote the following about Cyril:
"I first met Cyril in the summer of 1971 on my first visit to Blaxhall Ship. He was a charismatic, forceful performer in the classic declamatory Blaxhall style that drew out all the drama of those great old songs. There was nothing flippant, nothing playful about his singing. This was his legacy, he knew it and he meant it. He was a living link to a tough and vibrant past and made no concession to the cosy village character image that others may have sought from traditional singers. No – Cyril was one serious character.
"Now Cyril loved the old fruit machines and always involved the entire company in his success or otherwise and here he proceeded to play for about three hours. In the summer of 1977 I had booked a fortnight's holiday to go recording in Suffolk where Taffy Thomas had kindly loaned me one of his caravans near Chillesford. The first weekend got off to a disastrous start when I managed to lose virtually every penny I had for the fortnight playing poker dice in Dennington Bell. Strange, really – because I won the first three games! The next day I drove to the Ship and explained my plight to
Cyril. "Never mind boy – there's work on at Iken Cliff – potato picking". Cyril, who had just retired and was a bit short himself, organised the job, organised the lift (me) and for the next five days I picked him up at 5.30am and drove to Iken for six hours of back-breaking work picking the smallest spuds I have ever seen. Come Friday – payday – and I arrived at Cyril's at midday only to be told "No he's gone to pick up the money". Off I sped to the potato field – "No he's gone down the pub". So there in a deserted Butley Oyster is CP playing 'the 'bandit'. Eventually I had to ask about the money. "Well boy, it's like this. I've lost half the money – and it was your half!" Stone-faced, Cyril milked the moment just long enough to test my normally placid nature before saying "just a joke, boy". How I laughed!
"I loved Cyril's singing and always enjoyed his company but it must be said he could be a cantankerous old bugger on occasion. Even when in the company of younger people who genuinely appreciated his singing he was often aloof, uninvolved and occasionally awkward. With hindsight I put this down to his knowledge that along with his cousin Geoff Ling he was the last bearer of a grand tradition of village singing and that our appreciation was at best a poor substitute for the acclaim of his peers – Bob Scarce, Jack French and Arthur Smith."
Cyril is also featured on five of the 20-set series 'Voice of the People' issued by Topic Records in 1999, and has one song on the Rounder compilation CD Songs of Seduction (RCD 1778).