Harry Cox
by Shirley Collins and Chris Heppa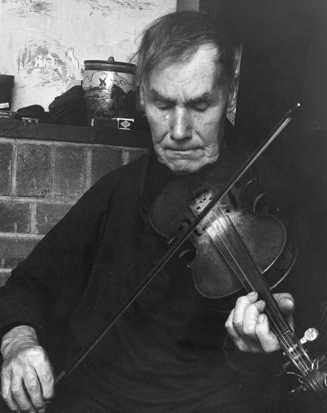 This article in our series of portraits of singers and musicians from East Anglia features the legendary singer Harry Cox, from east Norfolk. Shirley Collins, also a legendary singer from another generation, and president of the English Folk Dance and Song Society has kindly contributed some of her memories of Harry.
The article also draws on work by Chris Heppa, who has written at length about Harry and his singing companions for the EFDSS Journal. EATMT keeps copies of the EFDSS journals and other articles, press cuttings and books about East Anglian musical traditions: anyone interested in consulting them can email or telephone us.
Harry Cox was born in 1885 in Barton Turf and his family moved to the Potter Heigham / Catfield area in the 1890s, where Harry remained for the rest of his life, working at various farms and singing in pubs such as the Windmill Inn and the Catherine Wheel, both in Sutton, the Falgate Inn and Railway Tavern in Potter Heigham and the King's Arms and Baker's Arms in Ludham and the Catfield Crown.
The composer and folksong collector E.J. Moeran visited Harry as early as 1921, a 78 rpm record of his singing was made in 1934, the BBC made an early outside broadcast from the Sutton Windmill in 1947, and a number of further recordings were made of Harry's singing and music (he played both fiddle and melodeon) until shortly before his death at the age of 86. Harry sang many 'big songs' – ballads such as The Bonny Bunch of Roses O and Edmund as well as lighter songs such as The Old German Musicianer and The Bold Fisherman. He had a prodigious memory, and claimed that he could trace at least one song (Betsy the Servant Maid) back 200 years in his own family.
Shirley Collins writes: "I met Harry Cox just once in my life, back in the 1950s at Cecil Sharp House (home of the EFDSS, in London). I was a teenager, so you might think that sitting listening to an elderly man singing unaccompanied songs wasn't the most thrilling event – and yet it was! I had grown up listening to my beloved Granddad singing old songs, I had heard the great old Sussex singer George Maynard, and with Harry I felt that same sense of affection and admiration, and a conviction that this was the right and best way to sing. A year or so later I listened to all of Peter Kennedy's recordings of Harry, and the more I heard, the more convinced I was of his absolute greatness, how melodious and graceful was his singing and how perfectly paced. But he was never dull. He could make you smile with The Maid of Australia or move you with Polly Vaughan and his Death of Nelson is one of the most touchingly mournful songs I ever heard and does that great hero honour.
"Harry convinced you with every song that he sang. He was modest in his demeanour in spite of all the praise that was so rightly heaped on him, but he had learned and sung the songs, not to impress, but because he loved and valued them, and that was conveyed in his performances. Harry Cox had a rare grace and a genuine sweetness in both his person and his singing. I met him once and treasured it all my life."
In 2021, Chris Holderness wrote an article titled "The Broads Bros" for EATMT which is an article about musical brothers Harry and Fred Cox which you can read HERE and an extended article about Harry Cox, written by Phil Heath Colman, is available on the Musical Traditions website, with soundclips of his fiddle playing.
2021 marked the 50th anniversary of Harry's death and so in recognition of this great singer, an additional article which includes 2 previously unknown recordings of songs sung by Harry in the last few years of his life.  To read that article (published in May 2021) click HERE and for Chris Holderness' discography of Harry Cox click HERE (also added to the website in May 2021).  In October 2021, an article was added to the EATMT website about Harry's big sister Laura and her song book which has been researched as part of the Full English Project within the Vaughan Williams Memorial Library.  You can read that article HERE.
Photo: courtesy of Eastern Daily Press.