We remember the legendary Norfolk singer Harry Cox, 50 years after his death (6th May 1971)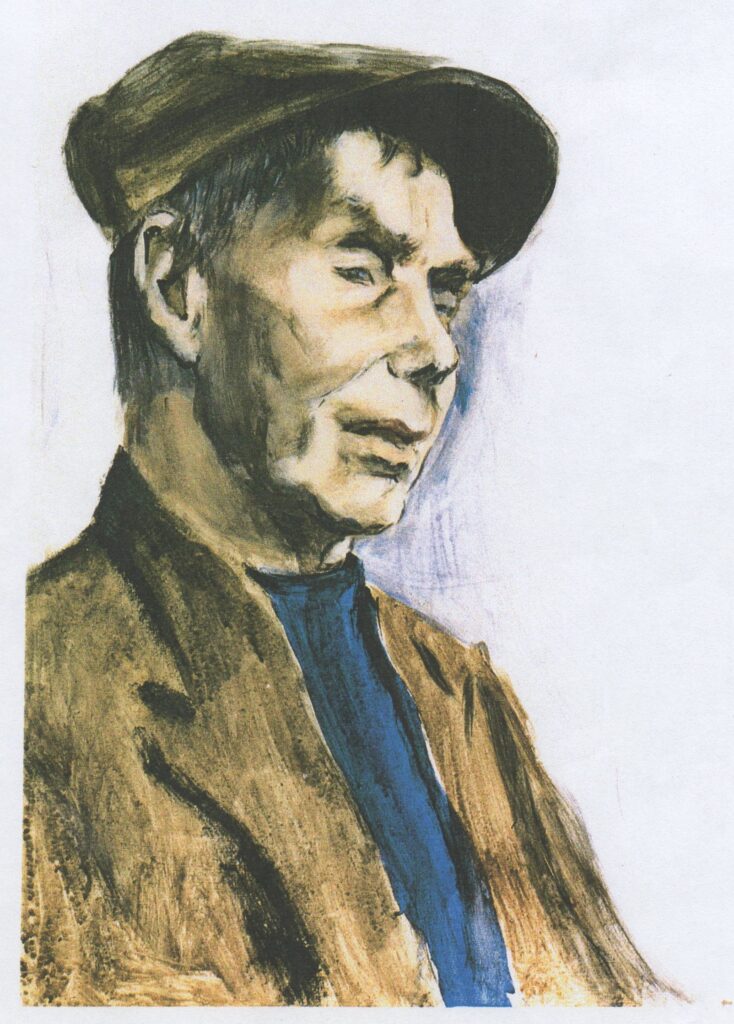 It's been a hive of activity with our Norfolk friends and volunteers over the last few months who have been busy sharing, writing, digitising and contributing to this article which remembers Harry Cox who died 50 years ago.
With thanks to Rita Gallard, Alan Helsdon, Chris Holderness, Gemma Khawaja, Bruce Lindsay, Sheila Park and Steve Roud for sharing, working together, advising and making this possible.
Chris Holderness has contributed another article to the EATMT website which features a Discography of Harry Cox which you can read HERE.
During the summer of 2020, John Halliday's family, following his house clearance, delivered a couple of boxes to EATMT which contained books, CDs and a variety of recordings he had made in East Anglia spanning some 50 years. Most of these are in a mini disk or CD format with a handful of reel tapes. On one of his volunteering trips to Stowmarket, Alan grabbed the reels and took them back to Norwich and to Rita who listened to the recordings. With help from Bruce, Rita was able to label, much to our delight, one of those reels with "Harry Cox and others at Sutton 'Windmill', 1968." This set the ball in motion for the Norfolk team. Alan contacted Gemma and asked her if she would be able to digitise this previously unknown recording and she was of course, delighted to be asked.
The recording of John's has approximately 40 minutes of Harry Cox with other singers from the Sutton Windmill. Gemma transcribed and digitised the reel and noted "the audio recording quality is poor and environment is noisy; Harry's voice sounds cracked and less tuneful than other recordings I have heard…. Applause, laughter interjections and noise between and sometimes noise during songs sometimes plus some chorus joining in".
In spite of this, we have selected one of Harry's songs from John's recording, The Barley and the Rye. We know that E J Moeran collected it from Harry in 1927 but Steve Roud confirmed it does not appear in any recordings made of Harry.
John Hallidays's recordings led Alan to ask Sheila Park, a known collector of Harry Cox (some of whose recordings feature on The Bonny Labouring Boy Topic TSCD512D (2000)), if he might borrow her reel to reel recordings with the view to selecting possibly additional recordings not used in the commercial CDs to add to this article. Sheila very kindly obliged. First stop was with Rita who kindly catalogued the reels in March 2021, adding to Sheila's notes. The reels were returned to Sheila and then Gemma arranged to collect them to digitise.
Click HERE to watch a clip of Gemma's visit to Sheila on the Trust's YouTube page.
The best sound from the reels (which includes a ticking clock in the background) is that of a recording of Harry made with just Sheila Park and Peter Coleman present in around 1969/1970.
Sheila remembers"Harry didn't always welcome everyone but he liked us". One of her biggest regrets with the recordings was not letting the tapes just run. Because the reels were so expensive, Sheila would, like many others, stop the recording for the talking bits and start again for the singing. She realises how much she missed about the tradition by doing that. For example, Harry used to explain how he learned his songs. When casual workers arrived in the local pub and sung new songs not known by Harry, he would pay them to hand over the words and tunes to these songs.
Of the songs recorded on that occasion, Gemma has selected Barbara Allen. Steve again confirms this has not been used for any commercial recordings of Harry.
Laura Cox, a family member, had recorded the lyrics in an exercise book full of songs (dated on the front cover 6th Jan 1905) which collector Leslie Shepard had bought from Harry and following Leslie's death, was bought by Steve Roud and so is in safe hands.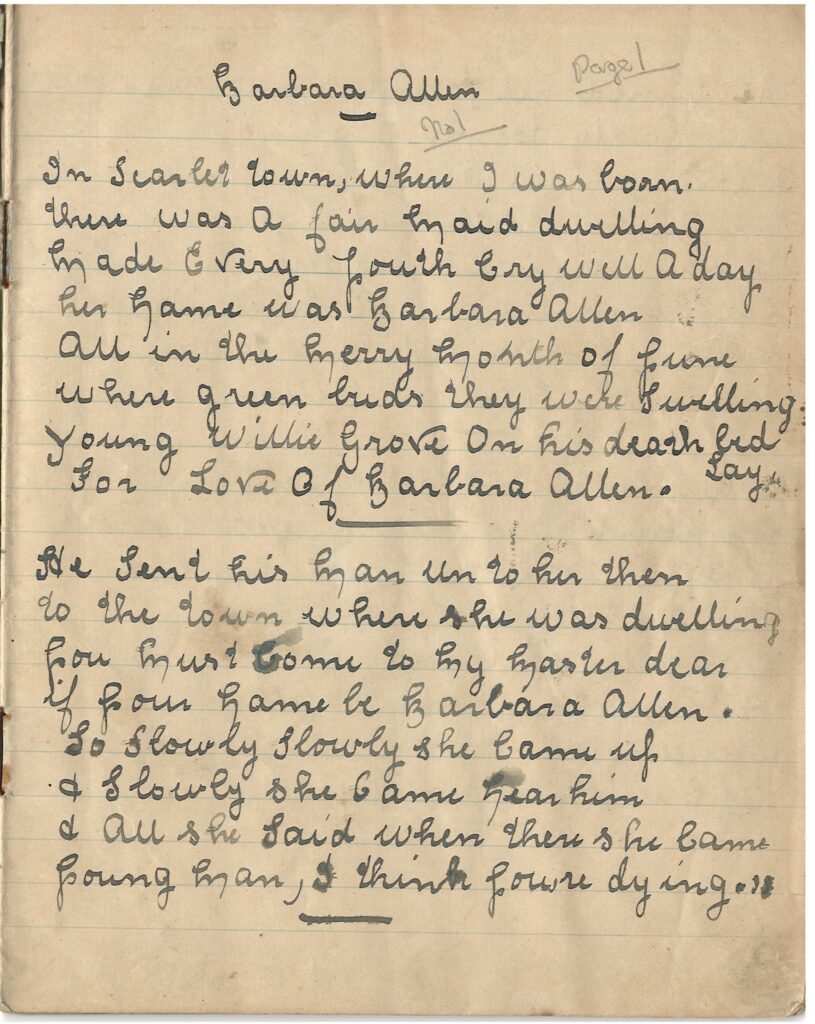 Steve says "'Barbara Allen' is easily the most commonly collected of the old ballads – but Harry's version is particularly fine, and has some very unusual features. Interestingly, it's not the same as the version noted by Laura".
Gemma has also selected a song sung by Sheila – a fine singer herself. The audio link below is of Sheila singing Rosebud in June on the same occasion as the above recording with Harry. She says she learned the song from the paperback book of songs, 'Marrowbones' – her sister, who was able to read music, played the tune for her to learn. Sheila, who hails from Norfolk, discovered traditional music when she was in her 20s and was immediately drawn to it. Through meeting Cliff and Pauline Godbold a timid Sheila was coaxed to sing at a local folk club and she eventually ended up being a resident singer at The Singers' Club in London.
After several years' break from singing, a couple of years ago, Sheila started up again and enjoys travelling to Ireland and taking part in sessions there. She's looking forward to going back there once Covid restrictions lift.
EATMT is extremely grateful for the generosity given by everyone who has contributed to this article. Do refer to Chris's discography as mentioned at the start of this article.
Please note: The recordings shared on this page (and indeed website) are there for your enjoyment only. If you wish to use the recordings for anything else, please contact EATMT in the first instance.
If you would like to read more about Harry Cox, look no further than Bruce Lindsay's recently published book "Two Bold Singermen" which looks at the lives and songs of both Harry Cox and fellow Norfolk singer Sam Larner. Chris Holderness has also written a review of the book for EATMT and you can read that HERE.
For an article about Harry's older sister Laura and her song book, see HERE.
May 6th 2021