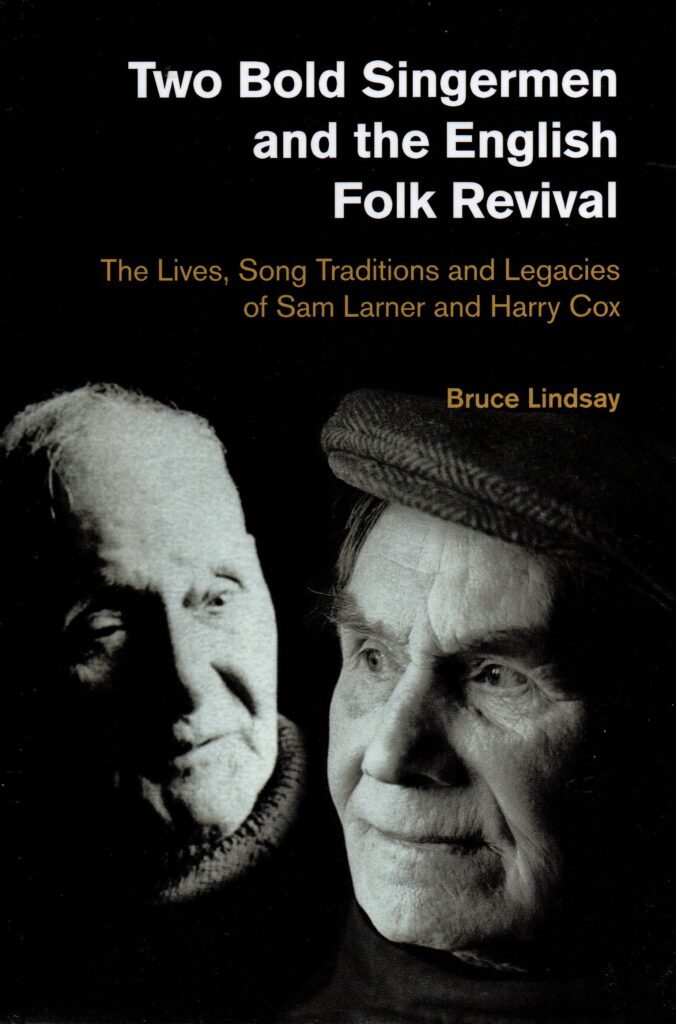 Book Review by Chris Holderness, March 2021
A great deal has been written about Harry Cox and Sam Larner, the two Norfolk singers who were so influential, both in their lifetimes and posthumously; this is particularly the case with Harry Cox. Both men were revered, rightly, for their consummate skill as singers and for the depth of their repertoires. Bruce Lindsay's book, subtitled The Lives, Song Traditions and Legacies of Sam Larner and Harry Cox, offers an in-depth study of the lives of these two men, both of whom were regarded as amongst the very finest traditional English singers. As such, it is an engaging read and essential for anyone interested in the topic.
The book gives very detailed information about the two men's lives, drawing on a wide variety of sources, some already published, and many interviews with family members and others. The places they lived in and visited are dealt with in considerable detail in fascinating pen portraits. For example, Barton Turf, where Harry was born – in 1885 – was a small place, described as lacking any geographical feature of note and certainly a place which was not affected by the burgeoning Victorian tourist trade. It had no pub, the usual venue for singing, although there was a small off-licence at the staithe, known incidentally as the Hole in the Wall, which gives an idea of its size. Likewise Winterton, Sam's home village – he was born there in 1878 – is given a vivid description: a fishing village with the dangers of Winterton Ness, where Sam, as a six year old, saw four drowned sailors washed up on the beach. The book continues in this vein, giving the reader an excellent picture of the places where these two men grew up.
This comprehensive portrait is also interspersed with references to songs the men sang. The lives of both of them are investigated in great detail, different as they were in so many respects. The biographies are very detailed and give a revealing insight into the two men and the differences in their personalities. With Sam, it's something of a warts-and-all description: the consummate showman and also a man who was given to boasting and was somewhat contrary in nature, as witnessed by his nickname 'Funky.' Harry comes across as much quieter and introspective, although he seems to have been much more ebullient in his younger days. Sam's experiences as a performer in Shetland are detailed with interesting and sometimes amusing anecdotes. Harry's character is revealed with, for example, his evasive response to folklorist and collector Alan Lomax's insistent probing about his sex life, including Harry's reluctance to sing Long Peggin' Awl (although he sang it anyway). In all, these early chapters in the book give a comprehensive and very informative account of the two men's lives, personalities and communities, as well as short histories of the places they grew up in and lived in all of their lives. Bruce Lindsay has seemingly left no stone unturned in this respect.
And so to the revival – or rather revivals – as the two men came into contact with people outside their environs who were interested in their songs. There is discussion of singing styles, with Martin Carthy giving an emphatic rebuttal of the notion that there is something that can be defined as an 'English' style of singing. Sam and Harry were, of course, very different in their singing styles and delivery. Likewise, a discussion of the thorny issue of what constitutes the 'tradition' and what is the 'revival.' Much space is devoted to composers who sought out the singers, in particular E J Moeran, who visited Harry and his singing friends regularly in the 1920s, often with colourful companions such as Philip Heseltine (Peter Warlock) and Augustus John. These men got on well with the locals. In 2005, Holt-based company Capriol Films made a picture about the life of Peter Warlock: Peter Warlock – Some Little Joy. The film includes a pub scene with Moeran and company in Sutton Windmill (actually Warham Horseshoes) collecting in a singing session. Norwich singer Peter Coleman, who knew Harry well and was the last person outside his family to see him alive, plays his part, appropriately.
The book moves on to the late 1950s and the 1960s and the singers who visited Sam and particularly Harry; in the latter's case some were welcome, some less so! Also the two men's exposure to the wider world in general with recordings issued as LPs, performances in London, radio broadcasts and a film, The Singer and the Song. Once again, there is a wealth of detail here. More too on the men's lives as old age had well and truly descended upon them. Peggy Seeger gives honest and sometimes amusing insight into what it was like to have met and recorded Sam, for example. Harry's disdain for the skiffle movement is given too, with his well-known quote of dismissing any music he didn't approve of as 'squit', and his comment about the burgeoning hootenanny scene at the time. The men's families' reaction to the thorny issues of royalties, or lack of them, for record sales and performances is discussed too. In particular it was felt that Sam had signed away rights to what was recorded from him for a pittance, a grievance which still rankles with his family today.
The final part of the book deals with the continuing influence of the music making of both Sam and Harry, with reference to younger performers. All well and good but, of the two bands mentioned, one openly admitted that they hadn't heard of Sam or Harry – an odd choice perhaps for inclusion. One glaring omission is the complete lack of any reference to the countless nights, lunchtime sessions and performances that have taken place on both sides of the Waveney for decades. These have featured local music, song and step dancing, with a great many performers, such as Peter Coleman, who learned so much from Harry, as well as many other 'traditional' musicians such as Ray Hubbard, Reg Reader and about half a dozen step dancers, many of whom have sadly now passed away. It seems a shame that such a continuing of local traditional music was not mentioned in the book, given that it ties in completely with the sort of convivial activity which the two men were engaged in, and in much the same sort of places for the most part.
This is a minor quibble. Bruce Lindsay's book is informative, very deeply researched and engaging, in portraying the lives of Sam Larner and Harry Cox. For those who already know something of these men and their music the book will provide a wealth of further information to round out the picture; those new to the topic will find it a treasure trove and a wonderful starting point. Highly recommended.
Ref CH B11-8