Reg Reader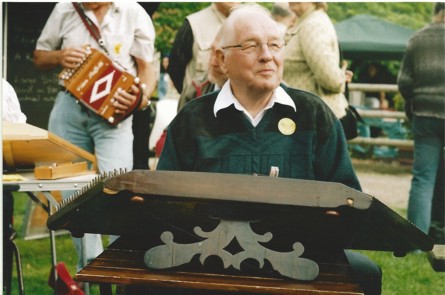 This is rather different to the rest of this series, as it has been produced shortly following Reg's death in April 2014 and incorporates tributes from some of the many people who were influenced by, and friends with, Reg.
These follow the more formal obituary written by Katie and John Howson, co-founders of EATMT.
Click here for a link to a 1983 video of Reg playing with the Old Hat Concert Party, made on a visit to Swindon.
Reg Reader, traditional dulcimer player from Suffolk died on 6th April 2014, just a month before his 77th birthday.
Reg's early life was spent in the east Suffolk village of Yoxford, where he met and married his wife Eleanor in 1960. They then lived in Cambridgeshire for a few years, but soon moved back closer to the family home and lived in Knodishall outside Leiston for more than forty years. Family ties with Yoxford continued throughout Reg's life: he and Eleanor celebrated their silver wedding in Yoxford Village Hall, and Reg remembered his grandfather Charlie Philpot (who inherited the dulcimer from his father James and later left it to Reg) celebrating his golden wedding in the Griffin in the early 1950s.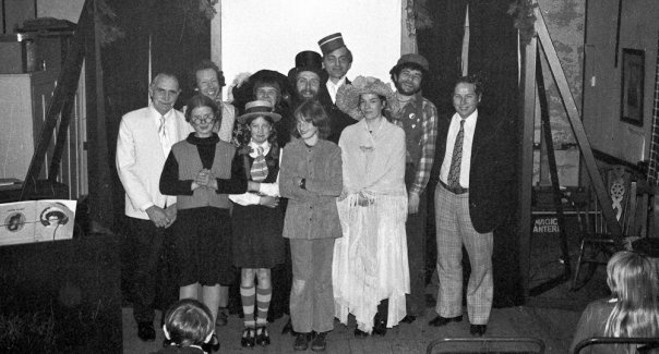 Reg worked in engineering for Garrett's in Leiston for many years and then for Pegg's in Aldeburgh where he worked until his retirement in 2002. Reg devoted the remaining years of his life to his twin passions – his music and his family. Despite frequent bouts of ill health, he was often out playing four or five nights a week at local pub sessions and community events.
His dulcimer first came into the family via his great grandfather, James Philpot, who had bought it whilst living in Halesworth. The instrument was acquired from a neighbour, Robert Howard and may have been made by William Chilvers, a known dulcimer maker who had resided in the same street a few years earlier. The story goes that James Philpot already had a larger dulcimer which he swapped for this one – the deal included a pair of boots, as James was a shoemaker by trade. The instrument then passed to James' son Charlie, Reg's maternal grandfather.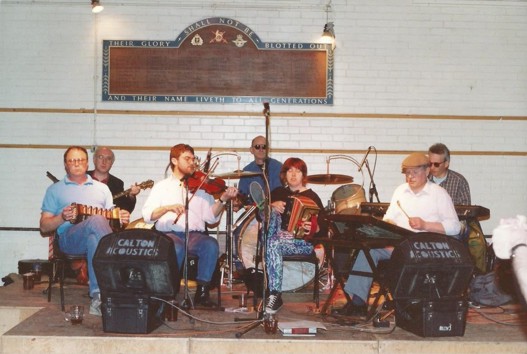 Reg was close to his grandfather and would sit alongside him as a young boy, picking out tunes. He died in 1965, while Reg was living in Cambridgeshire and although Charlie left him the dulcimer, Reg hardly touched it for the next ten years or so. He started taking it more seriously due to encouragement from friend and neighbour Phil O'Dwyer who put him in contact with Leiston Folk Club and Magic Lantern, most of whose members who lived nearby at the time. Jeannie Harris tuned the dulcimer and Taffy Thomas invited Reg on outings around the country together with melodeon player Oscar Woods and singer Percy Ling. Keith Summers met Reg on one of his musical forays into Suffolk and made recordings which were issued on the seminal 1977 vinyl album "Sing Say and Play".
Reg's repertoire consisted of a few tunes played by his grandfather such as Cat Among the Tails, local traditional tunes – some of which he'd picked up in his teens when playing piano in local pubs alongside musicians such as Charlie Kerridge, supplemented by popular songs such as China Doll or South of the Border and tunes learned in sessions and with the bands he played with for ceilidh dancing from the 1980s onwards. He played by ear and picked up tunes quickly – one of the reasons he really enjoyed pub sessions. He had a real swing to his playing and enjoyed syncopating the rhythms and was a masterful player of old-time country waltz tunes such as Peggy O'Neill and Wild Colonial Boy.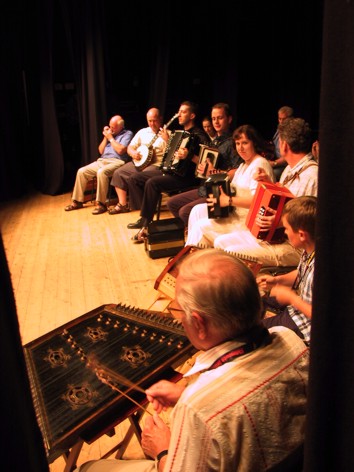 We first met Reg at the English Country Music Weekend in Cricklade and when we moved to Suffolk in August 1978, the very first outing we had, with our bikes and tent, on the train, was to see Reg and go to the Blaxhall Ship in his company. During the ensuing thirty-five years, I must have spent hundreds of hours sitting next to Reg: in Simon Ritchie's words – "What a privilege it was to sit next to him when no one else could see what he was doing." Watching his hands holding the cane beaters was a mesmerising accompaniment to my own melodeon playing.
In 1980, we set up the Old Hat Band with Reg, Jeannie Harris and Adrian Turner, as a ceilidh band. From 1981 onwards we organised outings which became the Old Hat Concert Party: this always included Reg alongside a variety of other traditional singers, musicians and stepdancers from Suffolk and Norfolk. One of the most regular members in the early 1980s was Billy Bennington, who proved a great inspiration to Reg as well as a good friend. Reg was always at the heart of all the Old Hat line-ups over the ensuing years, which included Old Hat Dance Band with Barry Coope, Chris Wood, Mel Dean, Ted Stevens and ourselves, and Old Hat with original members Jeannie and Adrian alongside Rob Neal and Simon Ritchie. Rob was a member of our other band, Katie's Quartet, which again Reg was a founder member of and played with for nearly twenty years before retiring from gigs in about 2007; Simon Ritchie then took his place. Although Reg curtailed his playing for dances he continued to have a very active musical life, often playing at four or five pub sessions a week, and in latter years he and a group of session friends formed the band Shipshape who were, and still are, at the heart of many sessions which include good old East Anglian tunes.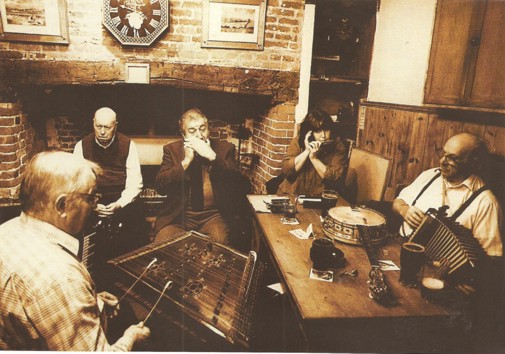 Dulcimer players from all round the world would call on Reg, share some music and ask his advice on tuning. He was a quiet, self-effacing man, generous with his time, and his influence on other musicians and dulcimer players is widespread and deep. In addition, Reg leaves another legacy: his grandson Tom Knight is an enthusiastic and able dulcimer player who is keen to carry on the family tradition and his young great grand-daughters, Tom's second cousins, show considerable interest too!
Katie and John Howson
Tributes from other musical friends
Jeannie Harris:
I first got to know Reg when asked by someone from the Everyman Folk Club in Leiston if I would help Reg get started on this old hammered dulcimer that had belonged to his grandfather, Charlie Philpot. A meeting was arranged and I met Reggie and his wife Eleanor at their home in Knodishall. It became apparent very quickly that he was somewhat of a homemade wine buff and I soon got to sample a variety of fruit, flower and vegetable wines. I recall that bullace was my favourite with its beautiful opalescence and he thought it was a particularly good batch. Upon remembering what I had come for we looked at the dulcimer, newly down from the attic, and I roughly worked out what tuning and patterns it was in. After consulting with my sister (Sue Harris) and armed with a tuning fork and my melodeon a return visit was arranged whereupon I set to tuning up. Reggie wanted to play with someone to start off with while he was finding his way around the instrument and gaining confidence. Old favourites were learnt and played such as Golden Slippers and Redwing and then we went for a daring little set, which included Yellow Bird, it amused us greatly but then that could have been the homemade wine putting a rosy glow on everything!
Chris Foster:
I got to know Reg and Eleanor and their family when I lived just up the road from them in the late 70's. As well as the music, we had our socialist politics in common. We had many happy times at sessions around Suffolk and occasionally further afield. Furthest we went was around Easter 1980, when along with Flowers and Frolics, Bampton Morris, Rod Stradling and Taffy Thomas, among others, we went to a festival in Italy in a town called Bra, near Turin. Reg and I were teamed up to busk in the streets, hammered dulcimer and acoustic bass guitar, turned a few heads. I don't think the locals had ever seen anything quite like it. Ever since those days I harboured an ambition to play hammered dulcimer. I finally got one at Easter a couple of years ago and I always think of Reg when I play.
Taffy Thomas:
In the 1970s when my community arts group Magic Lantern was living in East Suffolk and working on the community festival that was 'Leiston Week' our sanity in the evening was retreating to Knodishall to enjoy the company of Reg Reader and his wife Eleanor and family. Lubricated by Reggie's homemade country wine (pea pod was a speciality) we put the world to rights. Gentle, but with a touch of mischief, I recall Reggie's delight when – in the middle of a Tory heartland – Leiston returned a Communist Town Council, when the Conservative agent failed to meet the deadline to register his candidates. Reggie's comment was merely "They may be Commies, but they can't be worse than the last lot". The highlight of every evening came when Reg started to rearrange the furniture, erected a card table and produced from behind the sofa his grandfather's dulcimer to regale us with either Redwing or Pigeon on The Gate. We made sure he knew he was special, traditional English dulcimer players being as rare as hen's teeth. Reg was aware of Billy Bennington in Norfolk and later Jimmy Cooper in the New Forest but he remained proud of his own family tradition. In later years, I recall Reg proudly introducing me to his 6 or 7 year old grandson Tom. Handing Tom a set of hammers, the grandfather and the boy stood one each side of the instrument and played Redwing together. Tom: keep playing that instrument, the Reader family tradition is in your hands now – true immortality for the gentleman and musician that was Reggie Reader.
Steven Kennard:
I first met Reg back in the mid 70's. He and Eleanor invited Taffy Thomas and me into his home. He had his dulcimer there, although he hadn't played very much in public at the time. He played a bit for us and we encouraged him to play publicly with us. He was always very shy and reserved then and probably lacked confidence. It was great to see him come out and share his music with us and to see him develop his recognisable, unique style. It's always easy to know when you are hearing Reg's dulcimer playing. Although I have had very little contact with him for many years my memories of Reg always take me back to those early years. What a kind, humble, lovely guy. He was a real gentleman.
Carole Pegg:
It was in the early 1980s, when I was doing fieldwork for my PhD, that I lived in Blaxhall and took part in 'tune-ups' in the Ship and other pubs in the area. Reggie was part of the 'good company' that included Oscar Woods, Font Whatling, Fred 'Pip' Whiting, Geoff and Percy Ling, and Cyril Poacher. In tune-ups, Reg and Oscar often worked together, taking turns to lead the next tune. Never seeking the limelight, Reggie was always kind to those in the company – willing, for instance, to encourage a 'stranger' like me to sing by tapping out on his dulcimer Flash Company and saying quietly 'How about it Carole?' And it was Reggie who often helped my research by filling me in on a tune's background. He was proud that he carried on the tradition of his grandfather Charlie and great grandfather, explaining it in interview for my video film 'Tune-up at the Ship' and to Sue Macgregor when we recorded for 'Woman's Hour' at The Jubilee Hall in Aldeburgh. His favourite story was how his great grandfather had played The Bells of St Mary with the dulcimer upside down and the strings covered by a silk handkerchief, a feat he'd never quite managed to match. He didn't have to. Reggie's unassuming and kind presence rings on, together with the tones of his dulcimer, in the memories of those golden times.
Dave Hunt:
I had the pleasure of sharing music with Reg for many years, firstly with Old Hat Concert Party and at the Old Hat Music Nights, then when I called with Old Hat Dance Band and Katie's Quartet.He was a wonderful musician who went about it in a calm way – no overtly flashy stuff, but my, couldn't he play! That measured approach was backed by a formidable musical ability. He was always a lovely man to be with – again, always calm and gentle. I never heard him say a bad word about anyone…and I never heard anyone say a bad word about him! A true gentleman.
Chris Coe:
We first came across the East Anglian hammer dulcimers and the style of playing when we met Reg at a festival. He was such a skilled, lovely player and I was drawn to the lightness and rolling rhythm of the style so asked him for some help with technique which he generously gave. We tried – we really did, but by then I was trained in the Jimmy Cooper School of NO BOUNCING! and used to playing with heavy sticks controlled with the wrists and held firm. My East Anglian canes flopped about or flew across the room and when I did manage to hold them, I invariably thrashed the strings to compensate for my weedy striking. We ended up laughing and accepting (kindly) that I was a vandal and East Anglian finesse not likely. Reg couldn't get the bounce he needed from my hard sticks. Sticks flying in all directions. Comparison of the 2 styles was really interesting. I've always loved playing with Reg and his rolling canes but never did manage to roll them myself!
Jenny Coxon:
I met Reg Reader on a few occasions. The first time was at Farnham Folk Day in 1983 in the Ultimate Hammered-Dulcimer Workshop featuring Reg with Billy Bennington, Sue Harris, Chris Coe and Jim Couza. The workshop was packed; the players were closely surrounded. They talked about their involvement with the dulcimer and demonstrated their individual playing styles. I next saw Reg performing at the Museum of East Anglian Life Dulcimer Day in 1987. We met again 18 years later, at the EATMT Dulcimer Day in 2005 at Gressenhall Museum. It was there that I thought of organising a weekend with Reg and grandson Tom, and Fred Woodley from Solihull with grand-daughter Laura in 2005. We all went to the wonderful Dulcimer Special at the 2006 English Country Music Weekend at Bishop's Castle, and again at the Ampthill ECMW in 2010 where Reg and Tom and I sat together and enjoyed playing tunes in C! I'd asked Reg if he'd set up my original dulcimer with chessman bridges in East Anglian tuning. He was happy to oblige but didn't want paying for his work, so I enquired if he'd be happy to have a token of my appreciation, and if so, what was his favourite tipple? He replied "A bottle of Bell's", so that's what we agreed upon!
Jill Palmer Swift:
When I was beginning to play the dulcimer, I went to the Blaxhall Ship, to I think a May Bank Holiday session in 1982. I had already met Reg and he had mentioned the session where I would meet people like Oscar Woods and the Ling family and Font Whatling. I was told in no uncertain terms that I couldn't sit here, or there or there as Oscar sat in one special seat (near the door) and various others in their special places. It seemed very daunting and I wanted the floor to open up and suck me in ……..and then in came Reggie and sorted me out, introduced me and saved the day. I think I would have crept away if he hadn't come in!! That was the kind of person he was and he always had time to have a chat and help with dulcimer matters, over all those years!
I owe a lot to him and I am glad I thanked him in a general chat about 2 years ago. Thank you Reg, you were one of the special gentlemen of this world and you played that old dulcimer so beautifully!
Richard Blake:
Reg was always helpful and never condescending. His positive encouragement when I showed him my first dulcimer all those years ago was really the first step in learning to play and wanting to know more.
June & Mike Crisp:
It has been my great privilege to have got to know Reg very well over the past ten years. Throughout this time, whilst I have been learning to play the dulcimer, I have been so fortunate to have had Reg to help and encourage me and to teach ourselves and our friends so many of the vast collection of tunes which he had played over the years. Some five or so years ago, after a period of playing as "Reg and Friends" seven of us, with Reg as "leader" changed our name to Shipshape and since then we have played as a group at many local village functions and societies as well as the very important pub sessions! The enormous pleasure I have had from playing alongside Reg over these years is something I will always treasure. Reg will always be in our thoughts when we play "his" tunes.
Sue & Adrian Carlton:
We first met Reg about seven years ago when we moved to Suffolk and have had a wonderful time playing with him since. Of course we had been listening to him on recordings for many years before and reading about him in Traditional Music magazine. Some of our happiest evenings have been spent listening to Reg playing all the old popular songs and tunes from his youth which he played so well, he remembered the words to most of the songs. He entertained us often with his reminiscences about other local musicians and also about his other music heroes such as Patti Page and the evening as a teenager he helped her unload her van when she came to perform locally. One evening last November he started playing Heart of My Heart which he recalled Font Whatling often liked to begin with, this was one of the last song tunes we were learning to play with him. He has definitely influenced our taste in music and we will always hear his dulcimer in our heads when we play the tunes we learnt from him.