Bob Roberts
by Anne Roberts and Jill Bennett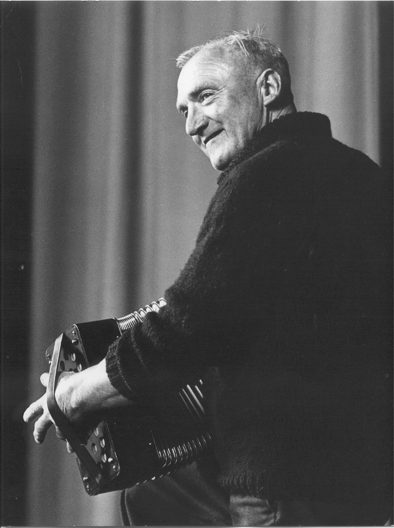 Bob Roberts was a characterful singer with many songs about the sea, who is associated particularly with the Suffolk coast, and was known and loved by folk aficionados and sailing-barge enthusiasts all over the country.
This article is written by Bob's daughters who are both active on the folk scene in the eastern region – Jill plays fiddle and dulcimer and Anne plays melodeon – and gives us an insight into the man behind the songs.
Ask people what they remember about Bob Roberts, and they'll tell you he was a 'great character'. He was proud to be a bargeman – a dying breed even when he first stepped aboard a spritsail barge in the 1930s; a man who loved sailing both for work and pleasure. He was a singer who could get audiences roaring choruses to songs he learned trading round the East Anglian coast and a master storyteller: a former Fleet Street journalist who could make bargemen's seafaring adventures come alive.
His broadcasting brought their songs to a wider audience; his appearances at folk festivals, on radio and television, linked a modern generation to the music of the days of sail.
Bob was born Alfred William Roberts in 1907. His parents were teachers: his father, brought up in North Wales, played piano, church organ, melodeon, concertina and fiddle. He ran Hampreston village school in Dorset and was visited by Ralph Vaughan Williams, maybe through his interest in folk music, maybe because he ran the church choir and played for village dances. Bob left Wimborne Grammar School (where he had a choral scholarship) at 17 and after several unsatisfactory jobs became a journalist, starting on the Orpington Gazette, and progressing to Fleet Street as a sports reporter on the Daily Mail.
But his passion was sailing. He left the Mail twice for long voyages of adventure, complete with ship's cat and melodeon. His early songs like Haul Away Joe reflect his deep sea ambitions.
Back in England Bob couldn't settle in what he called the musty offices of Fleet Street. He loved the pageant of sail in London River and left to work on a sailing barge. Over the next 35 years he was in eight barges: three as mate, five as skipper. He picked up songs from East Anglian bargemen and countrymen, adding to his repertoire.
Bob married Amelia (Toni) Roberts in 1940 – they'd met in the late 1920s – and in 1949 they moved to Pin Mill in Suffolk. He worked as a sub-editor on the East Anglian Daily Times, but then he was offered the barge he made famous: F.T. Everard and Sons' Cambria, and couldn't resist going back to sea. However, the handsome Cambria didn't entirely support a wife and two daughters. So hours waiting for wind or tide were spent writing books and articles on his battered old Corona portable typewriter.
In the 1950s he met Peter Kennedy, who was making field recordings for the BBC and the EFDSS. They recorded singers Bob knew in Suffolk for the programme 'As I Roved Out'. When the BBC opened in Norwich, he worked with producer Tom Wisdom on 'Down to the Sea'. He appeared at folk festivals and clubs, where his vigorous, straightforward singing had instant appeal – as you can still hear from Kennedy's recordings.
By 1971 Cambria couldn't survive in the modern world of transport. She was sold to the Maritime Trust and Bob bought the motor coaster Vectis Isle. He left home to live on the Isle of Wight. When Toni died in 1978 he married his second wife Sheila. His two last records were made there, and he still enjoyed a pub sing song or a local radio interview.
He died of a heart attack in 1982, aged 74. (One of his last public performances would have been in Suffolk, at the English Country Music Weekend in Snape Village Hall in the summer of 1981, where he enjoyed the stepping and the 'craic' as much as the audience enjoyed hearing him sing and play – Ed.)
Four of Bob's books are still in print, now published by Seafarer Books of Rendlesham, Suffolk, but the one with most references to songs, 'A Slice of Suffolk' is no longer available.
Photo: Brian Shuel, courtesy of EFDSS.
For some video footage of Bob in Pinmill in the 1970s (made by the BBC) click HERE