Sam Larner
by Martin Carthy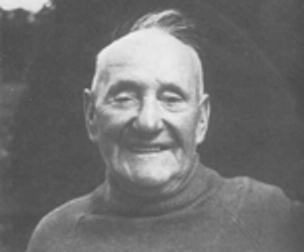 This article in our series of portraits of singers and musicians from East Anglia includes a contribution from Martin Carthy, one of the most well-known folk singers of our times.
Sam Larner was born in 1878 in Winterton, Norfolk. Sam first went to sea when he was only eight, and signed on as a 'peggy' (cabin-boy) at 12. He learned many songs from his father and other fishermen and first performed in public at the age of nine, singing for pennies to coach parties passing through the village. Later, he sang at fishermen's smoking concerts in ports along the coast from Shetland to Cornwall, as the fishing fleet followed the annual migration of the herring. "We used to have some good old times when we used to come home from sea. We used to get in the old pub, have a pint or two around, give 'em the four-handed reel… A drink, a song and a four-handed reel. Round we'd go and up we'd go, and we used to have a rare old, good old time."
Martin saw Sam perform only once, when Sam was 80, but it made a lasting impression on him, as he recalls: 'I think the year was 1959 when I was seventeen. A friend had been booked by the writer and folk singer Ewan MacColl to sing at the Ballads and Blues in a long since demolished pub close to the Metropolitan Theatre Edgware Road in order to provide "something of a contrast" to a man described by my friend as Some Old Bloke With No Teeth. My friend's performance was as lousy as his judgement and Ewan turned to presenting his favourite English singer. My knowledge of traditional English singing was just about nil. Of songs I knew a little, most of which came from Sharp's Folk Songs for Schools. My idea of English music started with the Elizabethan church music of Orlando Gibbons and his contemporaries and continued from there. Beautiful stuff but quite distinct as I soon saw when Sam Larner stood up and sang. His impact was immediate and electrifying (and something of a contrast indeed). This was a man in command and utterly accustomed to performing. He pointed at his audience, he teased them, he pulled words out of the air. Ewan in turn teased information and stories out of him, laying out a banquet of this man who he so admired. The performance of O No John, which I thought I knew, was riveting and at the same time instructive of how to have fun with an audience. After a couple of verses he turned to Ewan and, looking very serious, asked "Am I to go on?" provoking raucous giggles from the audience. The straight face never cracked once as he asked the same question three or four more times before the end of the song. Apart from one other song – which I also had thought I knew – this is the only song I remember from the evening, but I took away an impression of someone absolutely at home with what he was doing, for whom every song was personal – and imbued with a passion which sent me home walking on air. The other song which I remember was the final song of the night, which I still think of as a masterstroke of programming by Ewan. The song was Sam's way with the Henry Martin story Lofty Tall Ship. What I heard back then as a terminally weird tune with apparently endless variations (in every single verse) was as exotic as anything I had ever heard and left my head spinning. Later I understood that that evening truly was a personal watershed, but immediately I knew that I had been privileged to have been in the presence of genuine greatness.'
An extended article about Sam is available on the Musical Traditions website, written by Chris Holderness, with soundclips of several songs.