Bob Hart
by Vic Harrup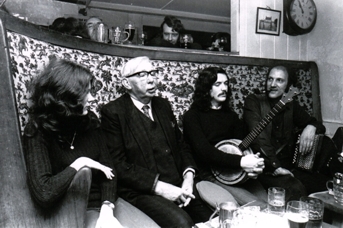 This article in our series of portraits of singers and musicians from East Anglia comes from Vic Harrup, lynchpin of the old Butley Oyster folk sessions for twenty years. Bob Hart sang regularly at those sessions and at the long-running Everyman Folk Club (then in Leiston), where he was pleased to find a new audience. He had a great fund of songs, and sang in a clear, sure voice.
Bob Hart was born in 1892 at Sotherton, near Southwold. He left school at 13 and began work on his grandfather's farm at Wrentham, but at 15 he ran away to sea on a Lowestoft trawler and it was whilst working as a fisherman that he learned many of his songs. Bob must always have had a yearning to express himself in song, since, as a boy, he would remember his grandfather's shopping lists in song form! He first sang in public aged 14, when he went with his father to a pub in Kessingland. An old sailor asked to hear Tom Bowling once more before he died, and Bob obliged.
After five years on trawlers and drifters, he was brought home with pneumonia, and told to give up drink, cigarettes and the sea. He took the best way out and gave up the sea! He joined up with the 9th Suffolk's and saw action at Loos, Ypres and finally the Somme in 1916. It was here he received the wound to his jaw that kept him from returning to the Front again.
Bob settled again at Snape, and worked at the Maltings until he retired nearly forty years later. The flow of visitors to the Festival gave him many opportunities to sing his favourite songs at the Crown. He loved to entertain in his strong, rich voice, undiminished by his wound or his age. He also sang at the Everyman Folk Club in Leiston and Butley Oyster, and I remember driving him and Percy Webb to the former, and hearing them indulge in friendly verbal rivalry over the records they had made. Only on one memorable occasion did he sing in the Festival Hall at the Maltings; the Spinners were booked and during the interval they sent to the Crown for Bob to come and sing at their concert. It says something of the strength of his voice in that he eschewed the use of the microphone!
He learned some of his songs, such as The Banks of Sweet Primroses at Grimsby, but others he first heard sung by local Suffolk men, Jack Harling and Bob Scarce. Like many singers of his generation, he did not differentiate between folk songs and Music Hall ones. However he was reluctant to sing any risqué verses on a Sunday in the Oyster! When he recorded Cod Banging and the transportation song, Australia in 1972, his versions were believed to be the only ones extant. The reason so many of his drinking pals had party-pieces, perhaps of only a single song, might be explained by the couplet Bob used to relate, as follows.
"A man who will not sing, according to his call,
Will have to stand a quart, or be bumped against the wall."
Many friends attended his 86th birthday party in Snape Crown in January 1978, but he was clearly unwell, and the landlord remarked how he said "Goodbye" and not "Cheerio" on leaving. A week later he was dead. The Oyster folk collected enough money for a wreath and a rowan tree to plant on the little green opposite the Crown. It is rather hacked about now due to a wire of some sort being strung immediately above it, but this is the folk world's memorial to Bob Hart.
More details about Bob Hart can be found on the Musical Traditions website.
Photograph courtesy of the East Anglian Daily Times.