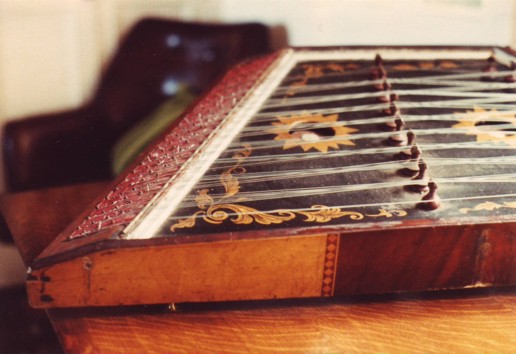 What is a dulcimer?
A dulcimer is a large stringed instrument, trapezoid in shape, and dates from at least the late 15th century.
The strings run in courses of 3-6 strings, tuned in unison, and it is played with beaters of varying design, or sometimes plucked with plectrums or fingernails.
Related instruments are found across the world including the north-eastern states of the US, with the hackbrett (Austria, Germany & Switzerland), salterio (Italy, Spain & Mexico) cimbalom (Eastern Europe), santouri (Greece), yangqin (China) and santoor (India, Iran).
In the British Isles, the dulcimer is known to have been made and used in the Midlands, Scotland and Ireland as well as East Anglia.
Until recently little was known about the regional variations and history of this instrument – the late David Kettlewell had a very comprehensive website but that no longer is accessible. However, his thesis from 1976 was deposited with Loughborough University in 2016 and you can access that HERE .
In the 1970s, the instrument was taken up by a number of people in both Britain and the USA, as part of the folk revival. In North America, it became known as the "hammered" dulcimer in order to distinguish it from the "mountain" or "Appalachian" dulcimer, and it is now frequently known by this name on this side of the Atlantic as well, although older British players referred to it just as a "dulcimer".
Dulcimers in East Anglia
The instruments played in East Anglia vary in their tuning method to those from other areas.
The instruments from this region also have a distinctive styling, painted black with gold decoration, and with a small stand to enable them to be played while sitting at a table. They were played with cane beaters, bent and bound with wool.
The best instruments have five (or, in a few cases, six) strings per course, tuned in unison. They come in a couple of different sizes, with either two or four soundholes and are usually constructed from everyday timber with individual bridges shaped like pawns in a chess set.
Some are very finely made whilst others are clearly hand-made by enthusiasts with less skill!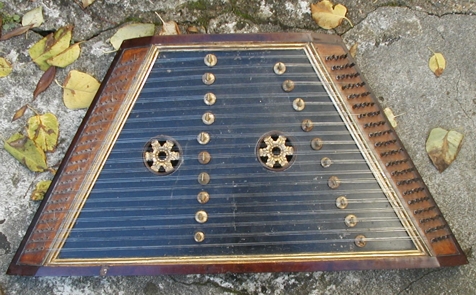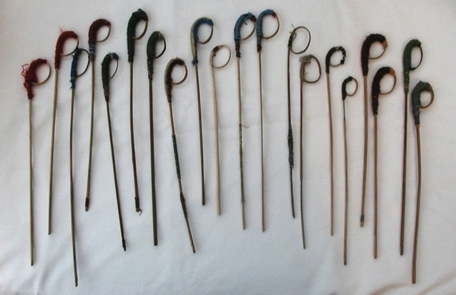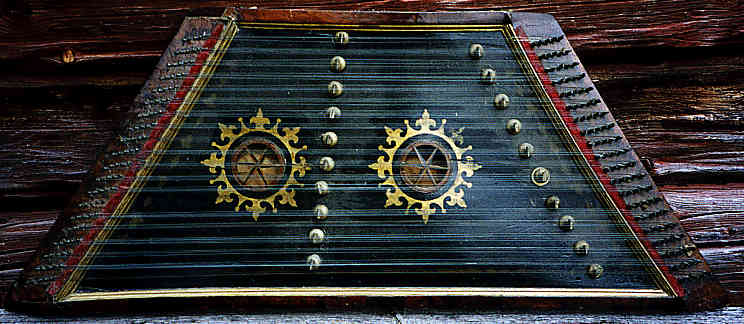 Dulcimer players in East Anglia
From the early 1960s, recordings were made by folk music enthusiasts and collectors, of the older generation of traditional musicians, and these included two masters of the dulcimer, Billy Bennington and Billy Cooper, both from the same area west of Norwich. Our research has revealed around 100 other players in the eastern counties from about 1850 onwards, most of whom were never recorded. This research has started out from small snippets of information, interviews, photographs and sometimes clues from the instruments themselves. Some of this research was presented to an international audience at the Dulcimer World Congress in Malvern in October 2015.
Norfolk
The most well known players are: Billy Cooper (Hingham), Billy Bennington (Barford) & Mollie Whittaker (Wells-next-the-Sea). Our recent researches have revealed many more players in Norfolk, which was a veritable hotbed of dulcimer playing between 1850 and 1920. Currently Richard Blake (Melton Constable) is carrying the baton for the Norfolk tradition of dulcimer playing, and plays with Rig-a-Jig-Jig. Richard's fellow musician Chris Holderness writes articles for the Musical Traditions website and has written one about Walter Jeary, another north Norfolk dulcimer player. Here's a sound clip from the article, of Walter playing the Sheringham Breakdown, recorded in 1958 by Russell Wortley.
Chris also includes information about dulcimer player (and fiddler) Herbert Remmington in his article on Briston & Melton Constable, again in north Norfolk.
Suffolk
The single most well known player was Reg Reader (1937-2014, Leiston) and his family: great-grandfather James Philpot (Halesworth), grandfather Charlie Philpot (Yoxford) & grandson Tom Knight (Oulton Broad). Reg Reader came to prominence in the late 1970s, and continued to play regularly until his untimely death in April 2014. He has acted as mentor to many other players, including grandson Tom Knight, who plays many of the old family tunes. Reg learned to play from his own grandfather, Charlie Philpot and the dulcimer came into his family through his great-grandfather James Philpot. June Crisp now plays many of Reg Reader's tunes, having played alongside him in recent years.
Cambridgeshire
Around the Thriplow / Haslingfield / Comberton area there were several players – brothers George and Will Lawrence, who together with George's son Herbert, played at the Fairs and village feasts, and Willis Barnard. Barnard, and the two Lawrence brothers all made dulcimers.
An instrument made by George Lawrence is on display in the Cambridge Folk Museum.
Essex
Oswald Stammers from Saffron Walden played a dulcimer he inherited from his aunt, that was made by his grandfather Jimmy Stammers in Westhall Suffolk c. 1880. Jill Palmer-Swift is the currently the most active dulcimer player in the county.
Museums
The Museum of East Anglian Life (Stowmarket), Rural Life Museum (Gressenhall), Stranger's Hall Museum (Norwich), Diss Museum and Time and Tide (Yarmouth) all have at least one dulcimer in their collection, but they are rarely out on display. A dulcimer made by George Lawrence is on display at the Cambridge Folk Museum.
Research news and developments
Interviews and correspondence from Billy Bennington have provided many clues to further researches. EATMT also holds notes and correspondence relating to dulcimers from the researches of Dr Russell Wortley in the 1950s and 60s, thanks to his widow Diana Hillman.
In 2005, as part of the Playback project, we began a more in-depth research into the makers and players of the instrument, initially in Norfolk, but this has spread into the neighbouring counties of Cambridge and Suffolk, and also Essex. Our researches continue, with a vast amount of ongoing internet based investigation. Anyone with an old dulcimer is invited to get in touch with us.
Dulcimer Links
Much of the research by Katie and John Howson has resulted in their comprehensive website East Anglian Dulcimers.
The Nonsuch Dulcimer Club was established in 1990, and their website has much of interest.
The Dulcimer World Congress came to the UK in October 2015 – click here for details.
New Norfolk Dulcimers
Richard Blake has lived in Melton Constable for many years, and has finally combined his skills of playing the dulcimer and cabinet-making to design a new Norfolk-style dulcimer which, from 2013 is being produced professionally at Marcus Ashby's workshop in Norwich.
Here is Richard's story: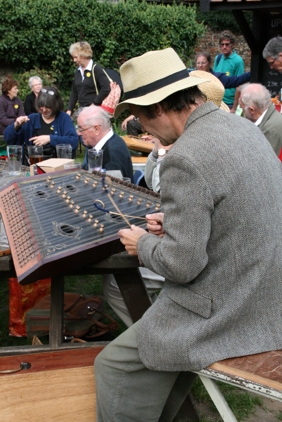 'Sometime last year, my brother, who is much more knowledgeable with computers than I am, suggested that he could turn the measurements that I had made, some ten years ago, of the dulcimer at Gressenhall Museum, into full size working plans that could be used by any cabinet maker.
At about the same time I found Paul Hasluck's 'Violins and Other Stringed Instruments' * (published 1907) on the internet, this gave an accurate description of how dulcimers used to be made.
Putting the measurements that I had made together with Hasluck's description we were able to take the plans to Marcus Ashby in Norwich who had the machinery to make the first prototype.
This looked good and, when strung and tuned, played well. Most importantly it sounds like the real thing! Satisfied that the whole thing works, I have had the first batch of six made, which I am now fitting with strings and chessman bridges. I insist on tuning them the 'Norfolk' way: if, like me, you wish to play like Billy Bennington or Billy Cooper*, then you really do need those chromatic notes that the old tuning provides.
As well as being essential for the two Billys' repertoire or the music from the Watson manuscript, it means that the rare classical dulcimer repertoire is also playable.
The dulcimers cost £700 each with an extra £50 for a soft case. I will also supply cane beaters in the traditional style.'
It would be great to see more people playing the wonderful local style of dulcimer, and the production of this new model makes that more possible! The dulcimers can be obtained from Richard.
*Further information on source referred to above:
Paul Hasluck's 'Violins and Other Stringed Instruments' – www.wkfinetools.com in the 'Masters Library' section.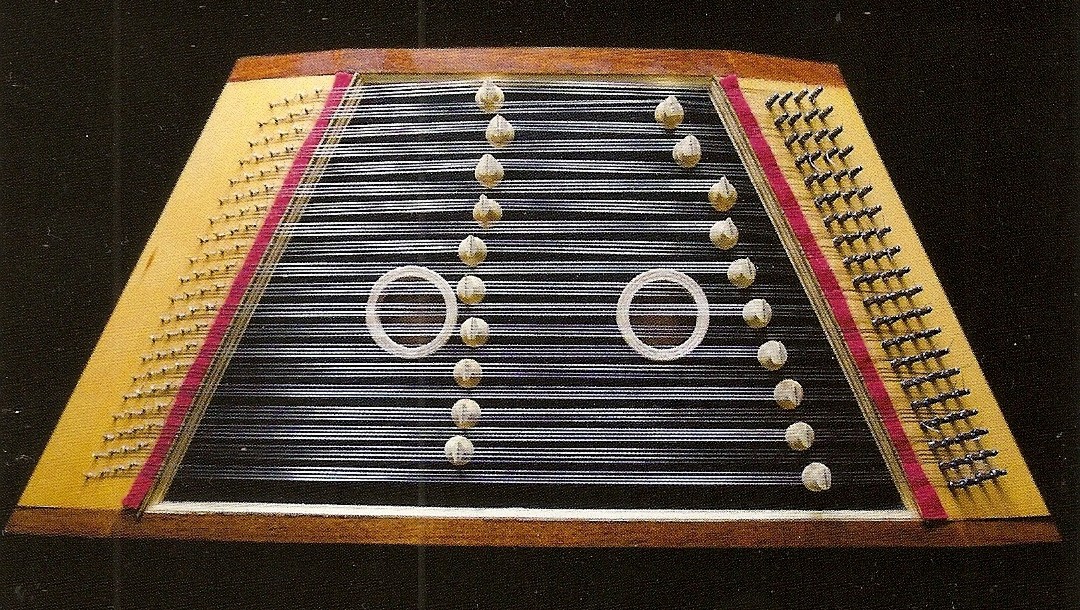 EATMT Dulcimer Days
In 2005, EATMT ran a year-long project in Norfolk. This included a Dulcimer Day, with concerts and workshops as well as a display of privately-owned instruments. An account of the day and photographs can be found here.
In 2016 we ran several dulcimer events and talks related to the new website www.eastangliandulcimers.org.uk run by EATMT founders John & Katie Howson.