Billy Cooper
by Reg Hall and Chris Holderness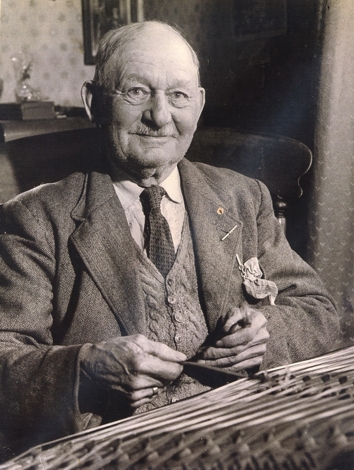 This article in our series of portraits of singers and musicians from East Anglia features the master dulcimer player, Billy Cooper, from Hingham, near Wymondham in Norfolk. It is compiled by Chris Holderness of Rig-a-Jig-Jig, a group who research and play the traditional music of Norfolk. He and Des Miller have interviewed a number of people who knew Billy, and for this article Chris talked to Dr Reg Hall, who is one of the few musicians still around who actually played with Billy, and who was involved in making recordings of him in the early 1960s that subsequently inspired and influenced new generations of musicians.
Billy Cooper (1888-1964) was well remembered in his community and wherever he played. He learned to play the dulcimer from his father and although by trade a grocer, he perhaps regarded this as secondary to his music making, playing most lunchtimes and evenings in one of Hingham's several pubs, as well as elsewhere.
He tended to play in pubs rather than in village halls for dancing, although he certainly knew a lot of country dance tunes. After the First World War he regularly teamed up with Walter Baldwin (playing fiddle) and Jack Bunn (playing autoharp and, later, guitar),the three travelling all around the Hingham area to play, as well as making frequent excursions to Wells-next-the-Sea.
Reg Hall met Billy Cooper three times and played with him, and musicians Walter and Daisy Bulwer in the Bulwers' Shipdham home. He recalls that Billy had an amazing musical ear; very quick to pick up music played to him. On the first hearing of a tune, he would be able to vamp along, whatever the key; on the second hearing he would play a second part to the tune; on the third hearing he could play the tune
in its entirety. This was of course to great advantage for these recording sessions, as these musicians of several generations met for the first time to play through old country dance tunes.
Reg also recalls that Billy once played a long medley of hornpipes to himself and Mervyn Plunkett – the man who had set up the recording sessions. This is unsurprising, perhaps, as he seems to have had the nickname 'The Hornpipe King' at some point, although, somewhat surprisingly with that title, nobody in his family remembers him playing for step dancing.
Billy had several dulcimers and would repair others for other players, "all over Norfolk" as he told Reg Hall. He had two instruments tuned to the piano in Hingham Eight Ringers. Each one had over 120 strings and when he played in Shipdham, Reg recalls that he had to re-tune one to Daisy Bulwer's piano, a task he completed in 15 minutes, happily reversing the process to play in the pub in the evening. For dance tunes he struck the strings with cane beaters and for song tunes and waltzes he plucked the string with his first finger and thumb. Reg also remembers him trying out a concertina he found in the back of Mervyn Plunkett's car; an instrument he once played regularly as well as the dulcimer.
A highly regarded musician in and around his home area, Billy's recordings – made very late in his life – exposed his music to a much wider audience than his local community in Norfolk.
Billy also has a single track on each of: Hidden English (TSCD600) and First I'm Going to Sing you a Ditty (TSCD659). There is a longer article about Billy by Chris Holderness on the Musical Traditions website.
Photo: ECNG, courtesy of Ray Keeler.