Season's Greetings!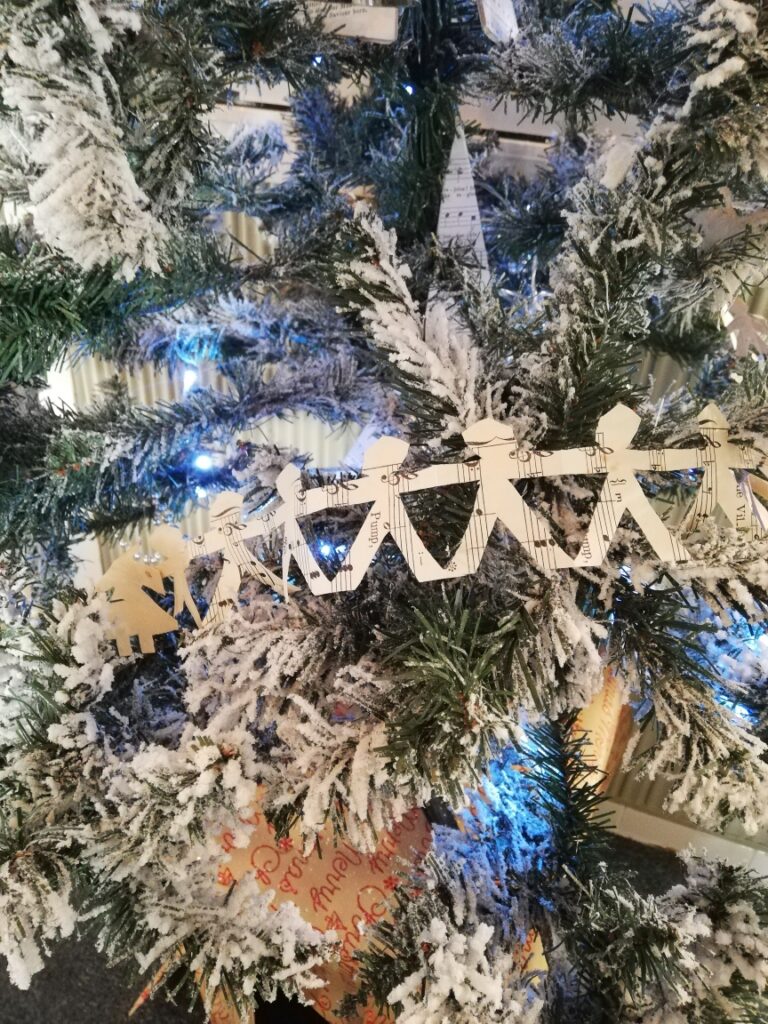 What a busy few months we've had. So much so that as we came to compiling the Winter Newsletter, we realised we hadn't written the Autumn Newsletter!
Susan Calman's Grand Day Out in Cromer, Channel 5
Our summer filming trip at the White Horse Inn in Cromer as reported in the Summer Newsletter was aired on Channel 5 and our Norfolk team of musicians, stepdancer and jig doll dancers were shown on the first episode of Susan's 3rd series. You have to sign up to My5 to view the current series.
Updates on events run from August 2021 to now
The running of events since restrictions were lifted have had mixed fortunes. Full updates and reports with photos can be found the website under "Past Events/2021".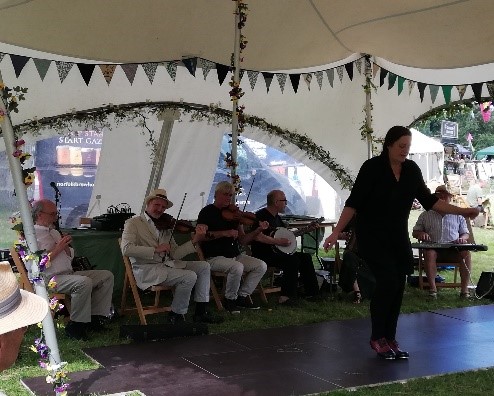 This was our first proper outing in 2021 and our thanks go to Hushwing and in particular Chris Holderness, who organised on the Trust's behalf a session of music and stepdancing in the dance tent. It was well received and it was lovely to see familiar faces. The whole event was very well thought out and mindful given the ongoing stresses and strains of Covid 19. We were delighted to be asked to get involved again and a full report of the afternoon with photos can be accessed HERE.
What a very different beast it was this year but one in which EATMT and Stepdancing featured across the weekend. Thanks to Fiona Davies, the whole region was represented by dancers from across our region who got involved and demonstrated their particular style of stepdancing to the audiences. Workshops were run daily and the weekend ended with a brand new Stepdancing competition created especially for Folk East. The first Folk East Champion was Ethan Beal who won the Copper Kettle – donated by FolkEast's organisers John & Becky Marshall-Potter.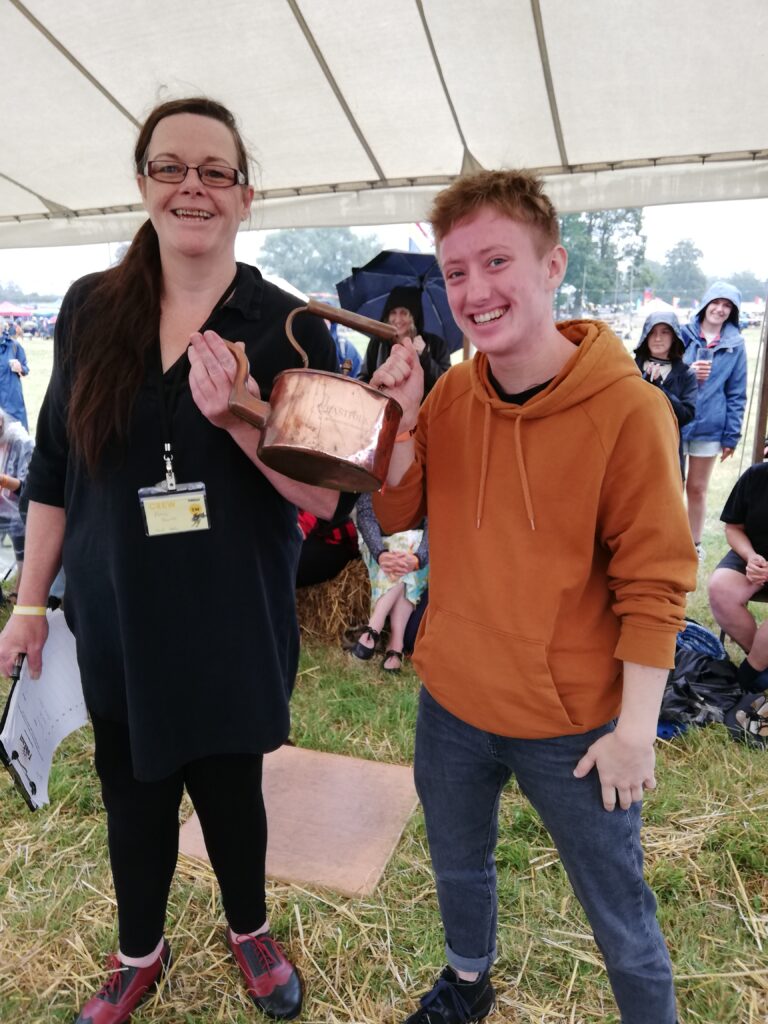 We were very grateful to all who took part in the dancing and to our wonderful judges, Pam Ross, EATMT Patron Gloria Buckley and James Abbott.
Our stall ran throughout the weekend and we couldn't have been more pleased with the number of visitors who came to say hello, bought books and hired instruments. Read our full report HERE.
Sale and Song day
Our own events run on 4th September was a game of two halves. The instrument, music and book sale was a great success and drew in a good number of visitors and with music from Bristol Fashion the atmosphere was delightful. As ever, we were grateful for help from a team of willing volunteers who manned stalls and served tea and cake. We will be running another sale on the afternoon of Saturday 12th March 2-4, again in Redwoods Library. A report on the day can be found HERE.
A popular request was for EATMT to sell instruments on supporters' behalf and this is something we are now looking at offering for this next sale. Do get in touch if you might be interested. There will be live music too!
Sadly, our evening of Song took a hit with the cautious return to concerts affecting ticket sales and so we sadly had to make the decision to cancel this evening event.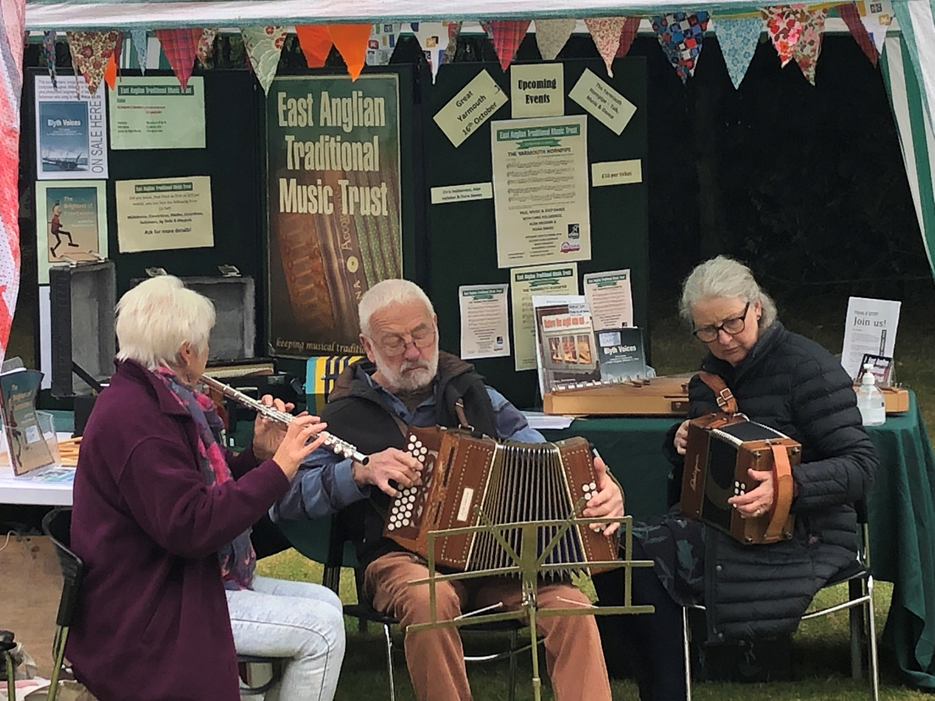 As illness hit Alex's house leading up to this event, we were extremely grateful to Trustee Eammon Andrews who pulled all things EATMT together to enable the Trust to have a stall at this event. Huge thanks also to fellow Trustee Lindsay Want, Judy Andrews, Andrew & Angela Collins, Sarah Hall, Jill Parson, Ron & Pam Ross and Tracey Wisdom. Eammon's report on the day can be found HERE in the Past Events section of the website.
Yarmouth Hornpipe Talk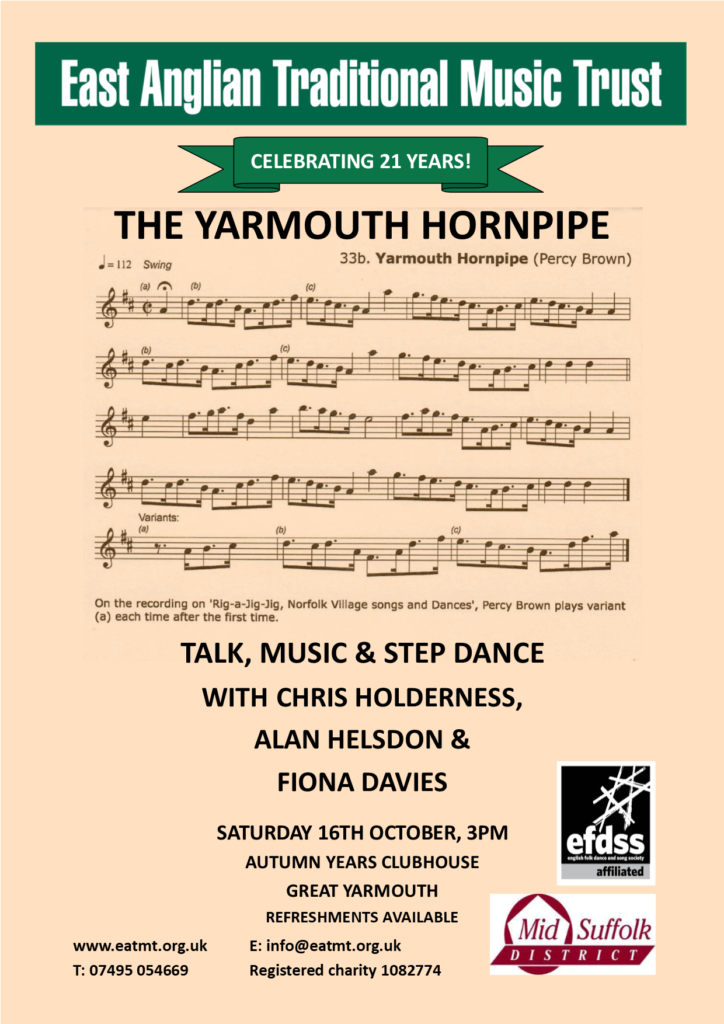 Again, ticket sales were poorly affected by continuing covid restrictions and concerns regarding attending concerts so we decided not to go ahead with this as an event in the week leading up to the proposed event. However, with some of our "Restart" funds we decided to hire a camera and invited young keen film maker, Katie Haines, to join the performers in Great Yarmouth where we spent the afternoon filming Chris Holderness's talk which was interspersed with music from both Chris and Alan Helsdon and with stepdance from Fiona Davies.
You can now watch the film HERE! The idea for this event came about following Chris Holderness' article "A Hornpipe by any other Name" and you can read this HERE. Also available within the article are sound files of the hornpipes and pdfs of the music notes.
Our thanks to Chris Metherill, Ben Land Media and 'Hireacamera' for their advice for enabling this idea to proceed.
Stowmarket Christmas Tree Festival
EATMT have decorated trees in 3 of the 6 venues that are taking part in this year's Christmas Tree Festival. We have an outdoor tree in the "Winter Wonderland" grounds of Red Gables. Our second tree called "In the Bleak Midwinter" can be found at the Museum of East Anglian Life – the theme here is Christmas Music and the tune for this beautiful carol was composed by Gustav Holst who lived in Thaxted and whose classical compositions were heavily influenced by the English Folk Revival Scene. Our final tree is at The Walnut pub where the theme is Community and Fellowship. There are daily events in the Parish Church and the festival runs every day from now until 1st January 2022.
EVENTS in 2022
The following events are being planned for next year. Do put them in your diary. EATMT is grateful to everyone who is involved in working to make these happen. If you are interested in volunteering at any of our events, please do get in touch! Keep up to date with news as these events develop HERE.
Music, Book and Instrument Sale
Saturday 12th March 2022 1-4pm, Redwoods Library
More than Melodeons
Saturday 28th May 2022 A day of multi instrumental workshops plus tutor concert – Wingfield
With the help of Judy and Eammon Andrews we are busy working on bringing you a day of multi instrumental workshops. Expect singing, fiddles, melodeons, concertinas, whistles…
East Anglian Traditional Music Day (EATMD)
Saturday 10th September 2022 – Stowmarket
Under the expert guidance of Alan Bearman, plans are well under way for this event. We will update you with news in the New Year.
Ruddock Bursaries 2022-23
We are delighted to be able to bring back 3 small bursaries for young musicians/artists involved in Traditional Music within East Anglia. One bursary will help towards the cost of a Burwell Bash place which is a week long summer school. Tickets went on sale on 18th December and by the end of the weekend all places were sold out. A number of young musicians applied for this place and over the coming weeks EATMT and Burwell Bash will be selecting a candidate. For the remaining two places, this will be launched at the end of January with decisions being made at the end of March. For more details see our Bursary Page.
Funding and Project News
With more pots of funding slowly becoming available and the promise of opportunities to reinstate events, time to do both is limited and so EATMT is delighted to have Nicky Stockman on board to help with our funding applications. Lockdown has brought us all much stress but for EATMT it has also brought us much hope with so many fantastic donations which need digitising and archiving. This all takes time and for some things, money (and so arts funding) is key to make sure we give these gifts the greatest respect.
The most recently successful funding application is from Suffolk County Council and their Covid Continuity Fund for Culture. Running from now (December) to March 2022 we will be purchasing more digital equipment to help us move between live and digital events, we will be looking to create our first ever podcast and we plan to run two community pop up cafes in two separate areas of the county. These pop up cafes will also give local supporters the opportunity to see what we have been doing digitally if they are unable to access the internet. We still have a number of supporters who receive our newsletters by post so we wanted to reach that audience specifically. We also are hoping to add a couple of instructional films to the website.
If you would like to get involved or would like more information about this project, please do get in touch (info@eatmt.org.uk).
Other projects are in the pipeline for later in 2022 including we hope, a good sized Heritage Fund project and we have also just found out that our local Stowmarket Town Council grant was successful. Some of this money will go towards venue hire for 2 music/book/instrumental sales that we are running (12th March is the next one as mentioned), some towards research costs for ideas on a local project and some towards volunteer expenses to help deliver the Jig Doll packs to local care homes. All of this is so helpful!
Archives
The Carroll & Mackenzie Archive
The latest precious archive that EATMT has received is from collectors Jim Carroll and Pat Mackenzie. Jim and Pat recently sent us a number of personal effects belonging to Walter Pardon including two of his melodeons along with an incredible digital collection of songs, talks, photographs of singers Walter, and recordings of Harry Cox and Sam Larner passed to Jim and Pat by Bob Thomson and Peggy Seeger. We will gradually list what has been gifted and will make this available to listen to, initially on an individual basis we think, but the plan is to turn this archive into a bigger project which then makes eventually everything freely available online. Read our new page about the collection HERE.
The Music Box Archive
The latest additions to the Music Box Archive have been added to by its creator, Megan Wisdom. Click HERE to listen to Shirley Harry and Ron and Pam Ross.
Recent Articles
We are so grateful once again to a number of people who have freely given their time and contributed to new articles which are featured on the website are:
A Hornpipe by Any Other Name – the latest article by Chris Holderness and an article that triggered the idea of the event "The Yarmouth Hornpipe" which is now also available to view as a film HERE.
Folk songs from the Eastern Counties by R Vaughan Williams – a CD review of the latest Vaughan Williams' collection released by Albion Records is written by Essex based musician Ed Caines.
Remembering Peter Bellamy 30 years on – an article about the East Anglian singer with contributions from David Bartlett, Paddy Butcher and Alan Helsdon
Puppetry by Greg Pallone
Laura Cox's Song Book – by Alan Helsdon. Laura was Harry's older sister and she kept, like Harry, a book with all of the words from songs sung by the family and wider community.
Harry, Holt and Harmony is a review of a "meet the author" event in Holt – specifically Bruce Lindsay, author of the recent book "Two Bold Singermen".
Junyi's Year with a Pokerwork Melodeon At the start of 2021, we were approached by a Masters student based at the Royal Holloway University in Surrey and she spent a year learning one of our Hohner D/G boxes under the watchful eye of musician Hazel Askew. Junyi returned the melodeon in September and kindly wrote us a short article which features on our HIRE page which you can read HERE.
If you would like to contribute an article to the EATMT website, please do get in touch with us – 07495 054669; email info@eatmt.org.uk.
Elsewhere in East Anglia
Your go to website for listings, reviews and information about music and dance in the Eastern Region. www.mardles.org
Home Stage is a relatively knew initiative that formed during the pandemic. They are based in Blakeney but work online with employees dotted all round the country. They focus on both folk music (Homes Stage Folk) and poetry (Home Stage Poetry) and Maddy Leedham runs Home Stage Folk. The aim of Home Stage Folk is to make folk music more accessible for everyone, everywhere with the hopes of inspiring the continuing preservation and evolution of folk music. As part of this they try to explore all different aspects of folk music through both online and in-person events.
Every Tuesday they release a programme called 'Tuesday Folk People' where Maddy interviews a new artist weekly, showcasing their music and stories. They try to vary the artists so there is a range of folk styles from different areas all round the world, demonstrating the versatility of the folk scene. This is streamed on Facebook and YouTube for free. There are plans to do a Tuesday Folk People tour in 2022, allowing our audience to see their favourite artists in person. Here's a link if you want to check it out: https://www.home-stage.co.uk/tuesday-folk-people
Another project they are running is called 'Folk Music, Poetry and the Environment.' For this, they are asking people to send in their folk music and poetry creations addressing the climate crisis that will then be aired in a 45 minute weekly programme. For every entry a tree will be planted. People will then vote for their favourite song & poem and the most popular will win £500. In addition, the artists with the most popular songs will be taken on a short tour in 2022, performing in venues in London, Manchester and Birmingham as well as performing at their 2022 folk festival (see below). They recognise that folk music and poetry have long been vehicles for protest, influencing and creating change for the better and feel this is applicable to the climate crisis.Here's a link if you want to check it out: https://www.home-stage.co.uk/folk-music-poetry-and-the-environment
On the weekend of the 15th-17th July they will be hosting the Home Stage folk festival in North Norfolk. More details on this will be released soon.
As well as this, they host one-off events, such as the recent Martin Simpson event. They have also previously aired interviews with Eliza Carthy, Frankie Armstrong and Jon Boden as well as a live in-person performance with Martin Carthy.
This is only the folk music side of things, there is plenty more going on with Home Stage Poetry. Here's their website for everything they do: https://www.home-stage.co.uk/
Katie has been busy investigating a series of radio programmes broadcast in the 1940s and this particular article relates to the programme that includes singing from the Eel's Foot. Read that HERE. Katie also presented this article to a recent Traditional Song Forum and you can watch that HERE (Katie appears 39 minutes in)
Vaughan Williams's Journey into Folk
Norfolk based author Caroline Davison has recently launched a series of podcasts/blogs which follow a year of Vaughan Williams' s folk song collecting.
Join me as I follow renowned British composer, Ralph Vaughan Williams, on the first year of his listening journey into folk song. You'll hear me sing the first verse of a song on the day he collected it – circa forty days between December 1903 and January 1905 – supported by info on the original singers, why and how Vaughan Williams came to meet them, background on the songs and the stories they tell.

Caroline davison
To follow that journey see HERE. Caroline's book The Captain's Apprentice: Ralph Vaughan WIlliams and the Story of a Folk Song – is coming out in August next year and is available to pre-order from the Penguin website: https://www.penguin.co.uk/books/1444958/the-captain-s-apprentice/9781784744540.html.
A NORFOLK RHAPSODY: RALPH VAUGHAN WILLIAMS AND KING'S LYNN
By Jill Bennett and Elizabeth James
To be published summer 2022 by Poppyland Press
This is a detailed account of the composer Ralph Vaughan Williams' visit to King's Lynn and nearby villages in 1905 and 1906. In the space of a week in January 1905, and a brief one day visit in September 1906, the up-and-coming young composer and folk song collector noted down 74 songs and tunes from local fishermen, sailors and others in the area.
We have traced the stories of people who sang to him, their songs and tunes and what influence their music had on a man who became one of the giants of 20th century music.
The book is illustrated by Anne Roberts' drawings and by archive and Colin James' modern photographs of the places he visited.
Chapter 1: Ralph Vaughan Williams career to 1905
Chapter 2: Folk Song collecting at the time
Chapter 3: First stop the fens: his arrival in West Norfolk and what he did here
Chapter 4: King's Lynn, the unexpected treasurehouse of song: the North End in 1905
Chapter 5: A good week's work
Chapter 6: Mr Carter
Chapter 7: Mr Anderson
Chapter 8: Mr Bayley
Chapter 9: Mr Harper
Chapter 10: The women singers
Chapter 11: Mr Donger and Mr Smith
Chapter 12: The Workhouse
Chapter 13: A day trip to Sheringham
Chapter 14: The legacy of his visit
Chapter 15: The North End of King's Lynn today
Appendices include a resume of previous researches into the visit, acknowledgements and bibliography.
The chapters include the music he collected from each singer and the words where they are given. There are also suggestions of where words he did not copy down might be found.
The North End of King's Lynn, the fishermen's quarter, its way of life and its eventual disappearance under 1960s redevelopment is covered along with an introduction to the workhouse where the composer heard several old singers from various walks of life.
The aim is to give an insight into an important week in RVW's life – and one which means that, more than a century later, the songs of those seafarers and the local community have not been lost. What is more, they are still heard in concert halls around the world through the work of this great English composer.
Jill Bennett/Elizabeth James Dec 2021
Keep up to date and ways to HELP!
Do keep checking our website over the coming months with our plans for bringing events to you. For an up to date listing of events across the region, look no further than Mardles (www.mardles.org). Keep on supporting your favourite bands and venues in spite of continued Covid restrictions and do consider joining our Friends Membership Scheme.
These uncertain times mean we all continue to be financially vulnerable.

The way this scheme works has changed! Please note that Recycle for Charity no longer accept the pre paid envelopes. Instead, you can arrange for a pre paid label directly with the company – you can still select the East Anglian Traditional Music Trust as your chosen charity and instead of £1 per cartridge, we can get as much as £2 so we urge you to continue using this scheme. There is a minimum number of cartridges you can send in order to qualify for a free postage label though this generally equates to 2-3 cartridges. Every little helps – both the Trust and the environment. For more information about this scheme, please see https://www.recycle4charity.co.uk/.
Thanks
It goes without saying that the continued annual support from our Friends is much appreciated.
We are of course grateful for the continued support of our local town council – Stowmarket Town Council – our local District council Mid Suffolk and also Suffolk County Council.
The last few months have been very demanding and without the help, guidance and support of the following people, EATMT would not be able to share its achievements with you all:
James Abbott, Mo Allum, Eammon & Judy Andrews, David Bartlett, Alan Bearman, Tom Beese, Suffolk County Council Arts Officer, Bristol Fashion Band, Gloria Buckley, Paddy Butcher, Ed Caines, Jim Carroll, Andrew Collins, Ivan Cutting, Michael Czarnobaj, Karl Daniels and the team at Stowmarket Town Council, Fiona Davies, James Delarre, Roy Emmerson at Mid Suffolk District Council, Rita Gallard, Chris Gill, Katie Haines, Shirley Harry, Alan Helsdon, Chris Holderness, Katie & John Howson, Hushwing Band, Gemma Khawaja, Nicola Lancaster, Ben Land, Pat Mackenzie, Jill Parson, John & Becky Marshall Potter, Chris Metherell, George Monger, The Team at Red Gables, Jan Robinson, Pam Ross, Candy Sheridan and her team at Strumpshaw, Miriam Stead, Nina Truin, Lindsay Want, Angela Watson, Ron White.
We hope we have included everyone that has got involved over the last few months – apologies if anyone has been missed off!
Wishing you all a peaceful Yuletide and best wishes for 2022
Alex
Alex Bartholomew, Administrator, EATMT
December 2021