I'm a graduate student studying Documenting Performance at Royal Holloway, and I've spent the year learning a few minor tracks for the D and G diatonic button accordion from Ms. Hazel. Hazel is very patient and active. She encouraged me when I was not satisfied or confident with my performance, which is also one of the reasons that inspire me to love learning Melodeon more. I love this little instrument and the style of music it produces because it always reminds me of people dancing together in medieval movies. From the moment I received it, I was willing to practice nursery rhymes (like little Star) on my own. After one year's study, I fell in love with it and enjoyed the process of learning and playing it. If I can spread it to my country, maybe more people will be interested in it.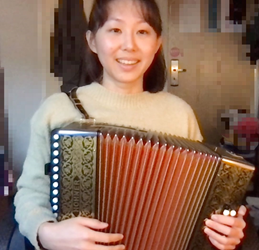 Junyi Wang, September 2021
Hazel Askew taught Junyi the melodeon as part of a course run by Henry Stobart called Documenting Performance (run at Royal Holloway University London) in which Masters students learn to play an unfamiliar instrument/genre (and document the process). Students were assessed on their performance in September 2021. EATMT was contacted and Junyi hired one of our D/G melodeons between January and September this year.