With so many things still on hold, there is still much effort to bring music to you during a National Lockdown. EATMT are delighted to be part of the programming for the John Peel Centre's involvement with Independent Venue Week which will take place online commencing Monday 25th January 2021.

Independent Venue Week (IVW) runs across the whole country for a week at the end of January and this year EATMT have been invited to programme an evening of Traditional Story and Song from East Anglia. This event has now been moved online but we are delighted that both Nick Hart and Dave Tonge, aka the Yarnsmith of Norwich, are keen to contribute to this event.
Nick and Dave will be appearing on Sunday 31st January at 7.30pm. Join them online via the John Peel Centre's Youtube Channel.
The John Peel Centre for Creative Arts has secured artists throughout the whole week commencing Monday 25th January. Do drop by over the week to watch the performances. Traditional Story and Song from East Anglia closes this week long national event in Stowmarket.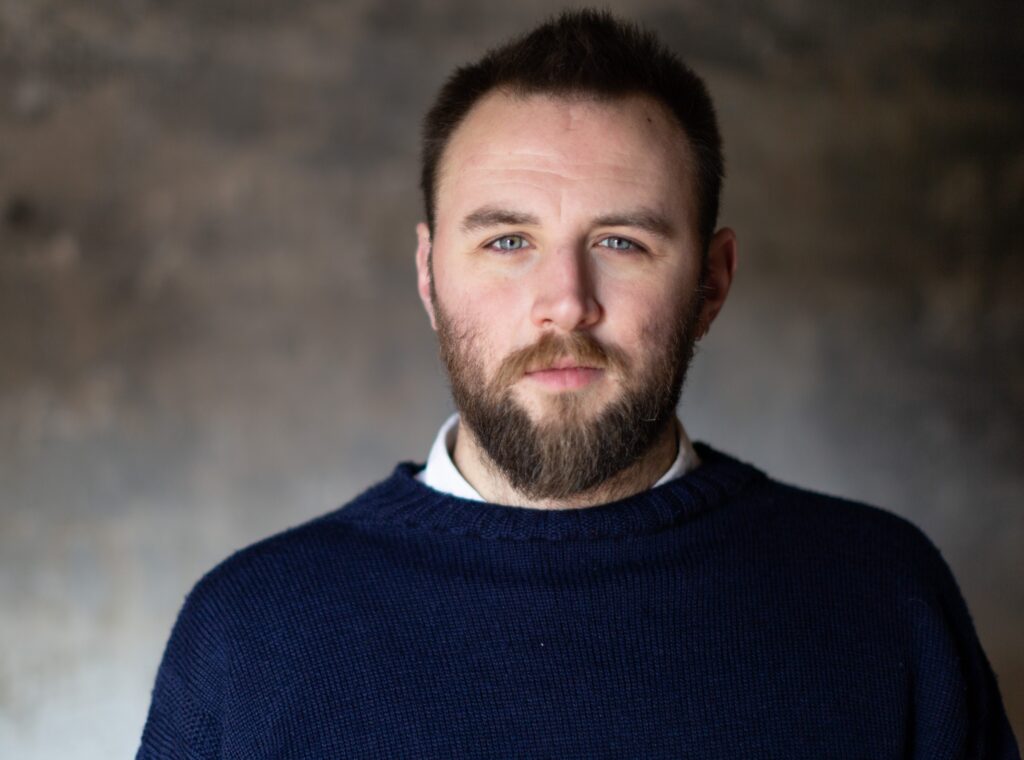 July 2021
Cautiously moving forward…
EATMT has teamed up with the Burwell Bash Online summer school – 27th-29th July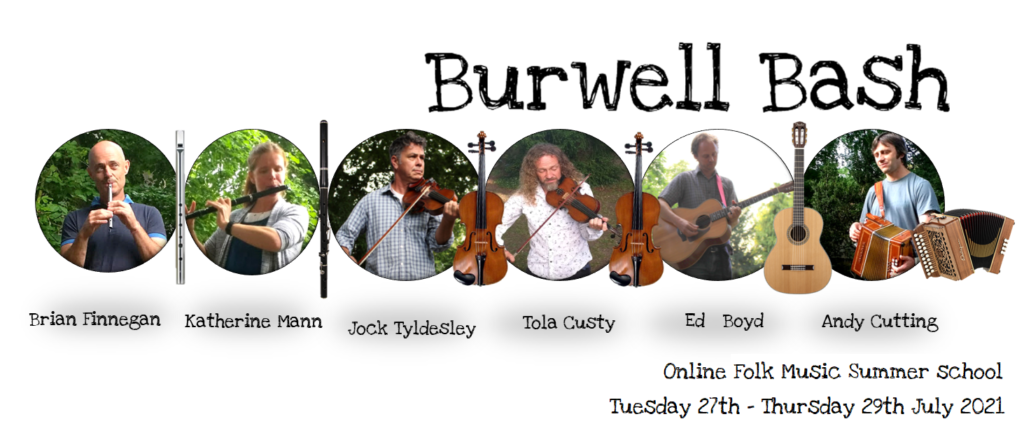 We have reached our target!
Thank you to everyone who has contributed to enable this event to go ahead online. This event has attracted attendees from all over globe – over 40 countries! The Bash Admin team are now busy finalising the technical side of this event and have been in touch with all of those who are joining the event.
Workshops will be recorded and each participant will be given a link to view these after the week.
For further details of this Folk Music Summer School which is being run online for 2021 – Tuesday July 27th – Thursday 29th July – (including how to purchase the Bash's new tunebook to celebrate the Bash's 30 years and how to buy one off tickets to the Tutor Concert on Thursday 29th July) please see HERE.
Strumpshaw Tree Fair – new date – 14th & 15th August 2021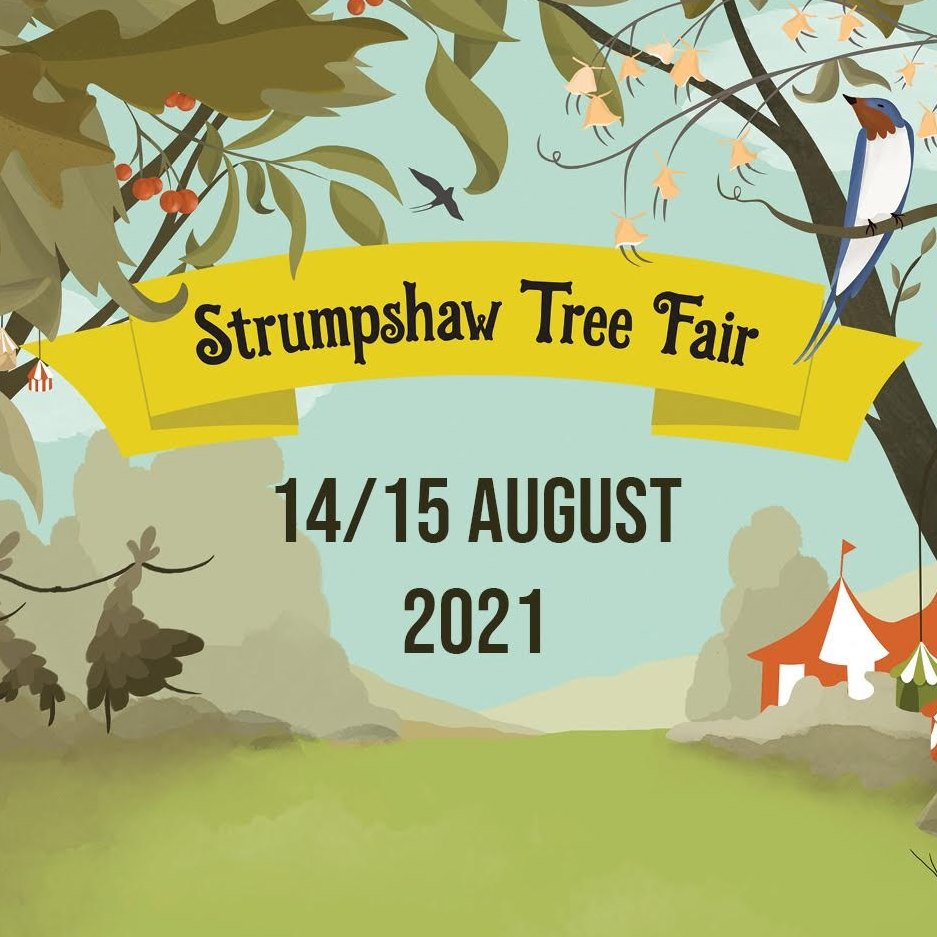 We are putting Stepdance Day on hold this year but plan to return next year. We will however have a presence there on the Sunday with Norfolk band Hushwing and a number of stepdancers. Keep up to date with this event HERE.
Read our report of our visit HERE
FolkEast – 20th-22nd August 2021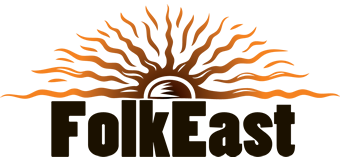 We will be based in the Instrumental area at this year's slimmed down FolkEast festival and we are delighted to be working in association with this local festival promoting Stepdancing and Jig Dolls. For details about what's on and how to buy tickets see https://folkeast.co.uk/
Read our write up from our weekend in August 2021 HERE
September 2021
Sale in Stowmarket- Saturday 4th September
Please note
that d

ue to unforeseen circumstances the Evening of Song at 8pm on Saturday 4th September has been postponed. The Sale is still taking place so do drop in and say hello!

We are delighted to be running two events on Saturday 4th September 2021 in Stowmarket to mark the returning of events, music and meeting of friends.
Music, Book and Instrument Sale at Redwoods, Red Gables – Stowmarket 2.30pm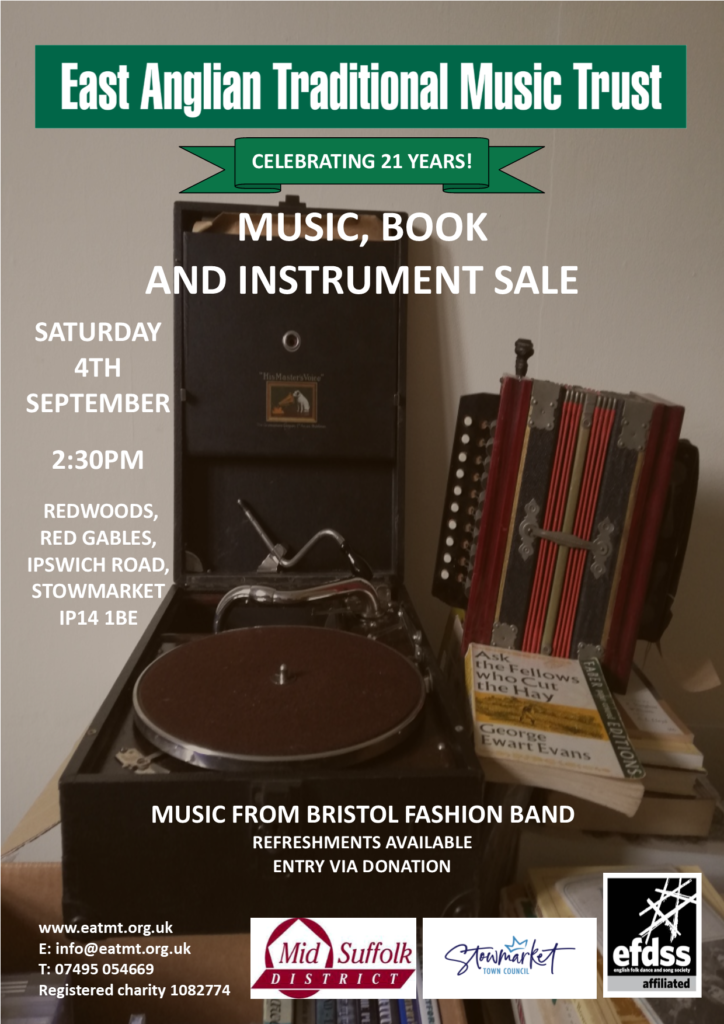 Join EATMT on the Red Gables site where we will be holding a music, book and instrument sale in the Redwood Library. Local traditional music band Bristol Fashion will be entertaining us from 3pm and teas and coffees will be on offer. Entrance is free but there will be a donation bucket that we hope you will add to.
For a report on this event, please see HERE.
An evening of Song at the John Peel Centre, Stowmarket 8pm
Due to unforeseen circumstances, this event has sadly been postponed.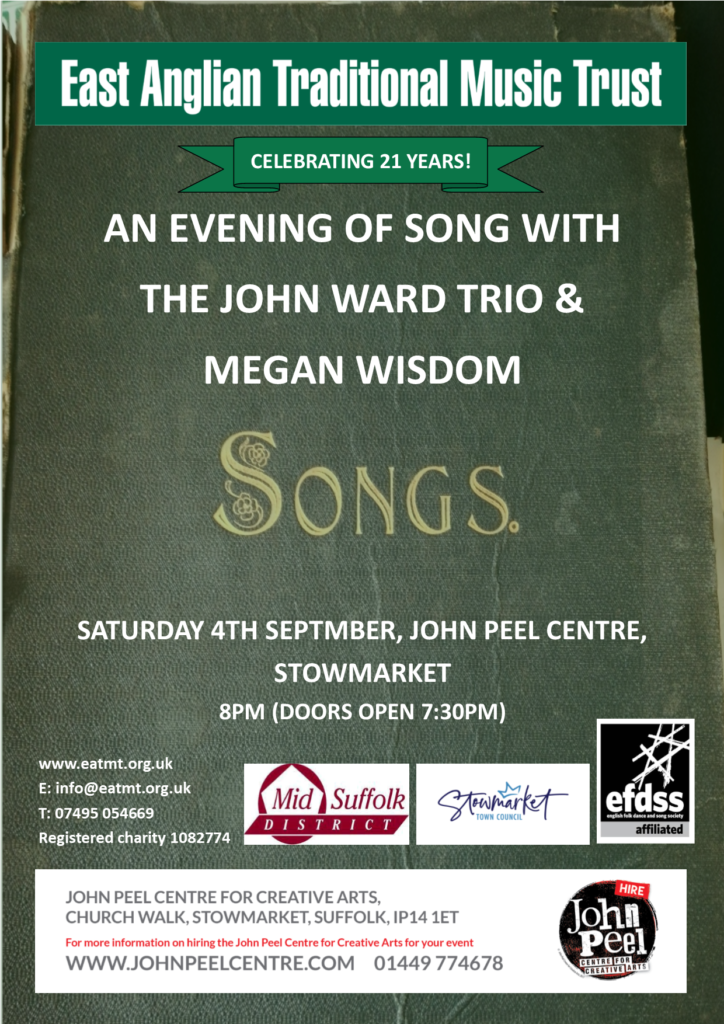 We are delighted to welcome Megan Wisdom and the John Ward Trio to the John Peel stage at 8pm. Tickets are £10 each and the booking form is available below. (now removed)
There are guidelines that you are requested to follow when visiting the John Peel Centre which will be updated regularly as we move forwards. A summary of these guidelines are on the booking forms below and in more detail on the John Peel Centre for Creative Art's website.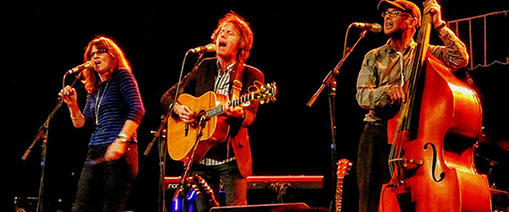 Parking in Stowmarket
There are a few disabled parking bays available at Red Gables for the Sale event in the afternoon of 4th September – to reserve a bay please contact EATMT on 07495 054669 or email info@eatmt.org.uk. There is just one disabled parking spot at the John Peel Centre so please contact EATMT if you require assistance. Otherwise there are several pay and display car parks around Stowmarket Town Centre which are good value during the day and free after 6pm. For their locations see HERE.
The nearest car park to Red Gables is Ipswich Street Car Park (3-5 minute walk) and the nearest to the John Peel Centre is the Union Street Car Park from which by foot, you follow the exit towards the Church (St Peter's and St Mary's) on to Station Road West which leads to Church Walk and the John Peel Centre (5-7 minute walk). Most of the car parks are within a 10 minute walk to both venues.
Wingfield Barns Harvest event – Sunday 10th October

EATMT have a stall at this new event. We will be bringing Jig Dolls and some of our hire instruments and books and we will be joined by local musicians from the Company of Horham Old School. In the evening Harbour Lights will be playing at a Harvest Supper. See Wingfield Barns for more details of the whole event including how to buy tickets for the evening event.
For a report of the event from Trustee Eammon Andrews see HERE.
The Yarmouth Hornpipe – Saturday 16th October 3pm – Great Yarmouth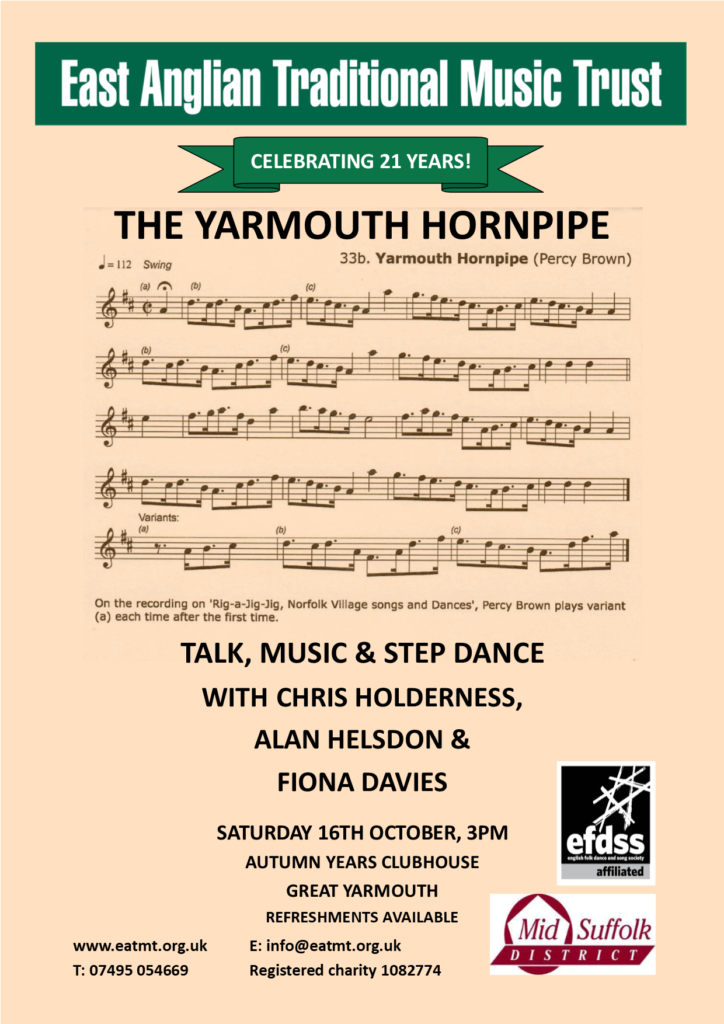 Sadly, this event was affected by the Covid crisis and so we cancelled this event as a live event in the week leading up to the event. However, we put in a plan B and you can read about that HERE.
Stowmarket Christmas Tree Festival
26th November 2022-1st January 2022
This year sees six venues within the town hosting a number of community decorated trees with each venue having its own theme. EATMT has three trees spread across the town: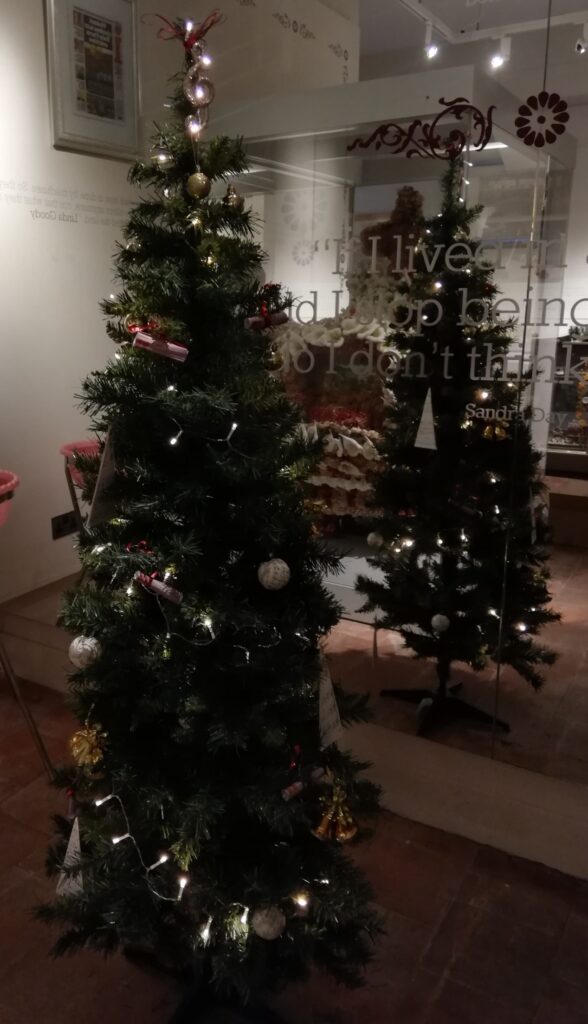 Here at Red Gables, the tree festival is an outdoor affair following its strong environmental values and many of its users have decorated the shrubs and trees already in situ. The theme here is Winter Wonderland and the only rule to follow was no tinsel or glitter. Homemade music themed lanterns (thanks AH) with lights are wrapped around an evergreen shrub.
The Museum of East Anglian Life is also one of the Tree venues and so you can see our tree in the Gypsy room. Here the theme was Music and so our tree "In the Bleak Midwinter" is adorned with scripts of the music from the carol which was composed by Gustav Holst – an English composer whose work was influenced by the English Folk Revival and who lived in Thaxted, Essex. A sparkly 'bling' treble clef tops the tree here, with more homemade decorations of a musical nature and it was decorated by volunteer Shirley Harry.
The Walnut pub in Violet Hill Road has taken the overspill of trees from the Church of St Peter's and St Mary's in Stowmarket due to ongoing building work. The theme is Community and Fellowship and we are delighted to have a tree here on display in one of the bars. On the evening of Thursday 23rd December, Bristol Fashion Band will be playing to the Walnut's punters so if you've finished wrapping your gifts and feel in need of some Christmas cheer, the Walnut will be the place to find it!
The Stowmarket Christmas Tree Festival started life in the parish church and has since grown to incorporate other venues within the Stowmarket community – as well as the venues EATMT has a presence at, there are trees at The Mix, The Library and of course the Church itself. There are events booked daily at the church throughout the festival – including a Melodeon Band performing on Friday 10th December at 11am and with our local musician Friends Maggie and Stan performing on Saturday 18th December. Check out other events taking place during the festival HERE.