Whilst Trust Administrator Alex Bartholomew was confined to barracks with a seasonal bug, EATMT were extremely grateful to Eammon and Judy Andrews who stepped in and kept the flag flying for EATMT bringing with them a team of keen local musicians.
Huge thanks from Alex at EATMT to the musicians who supported us on the day : Pam Ross; Ron Ross; Andrew Collins; Angela Collins; Sarah Hall; Tracey Wisdom; Jill Parson; Judy Andrews and Lindsay Want as well as to Eammon for pulling it all together and for writing us a report of the event.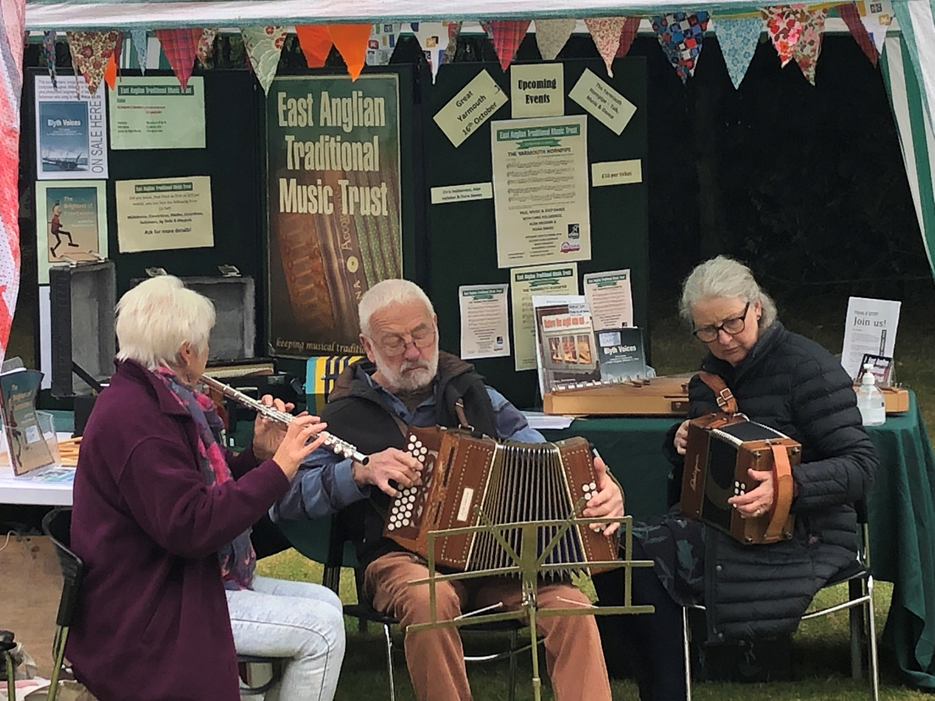 The Autumn Fair was a very welcome day out and a chance to see local craftspeople in action, including a traditional hedge layer demonstrating his craft on an old hedge behind the big barn and a working blacksmith who had fired up a mobile forge (and who also makes cider). There were various stalls including a local bakery; a display of vintage farm machinery; a fine Suffolk Punch horse, and rare sheep and chicken breeds. And… EATMT with a display of musical instruments, books and jig dolls. Musicians from the monthly traditional music and song sessions at nearby Horham Old School Social Club played outside our stand in the morning, and in the great barn at lunchtime and in the afternoon. The Horham sessions had been temporarily relocated to Wingfield Barns during the last lockdown.
Wingfield Barns has been rejuvenated in the last three or four years and is increasingly hosting events attracting wider audiences. Around 300 people came on the day, young and old, many of whom stopped by to enjoy our display, the music and to try out some of the instruments and the jig dolls. The evening's entertainment was a concert by the Harbour Lights Trio, namely Derek Simpson, Alvar Smith and Rob Neal, who gave the audience an abundance of traditional, music hall and local songs, along with a good dose of humour.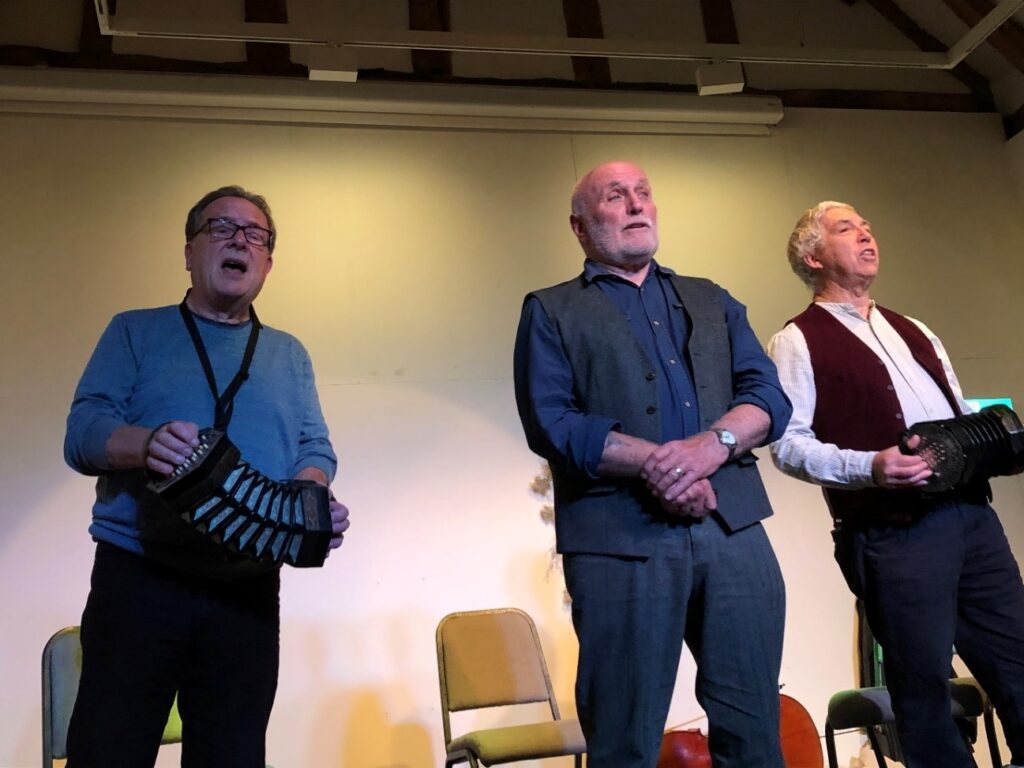 You never know what's going to turn up! Eammon Andrews, one of our trustees, and his wife Judy, in the days leading up to the event, had been separately contacted by the custodians of two old melodeons that had recently been brought to light in people's cupboards, one in Hoxne and the other in Ipswich.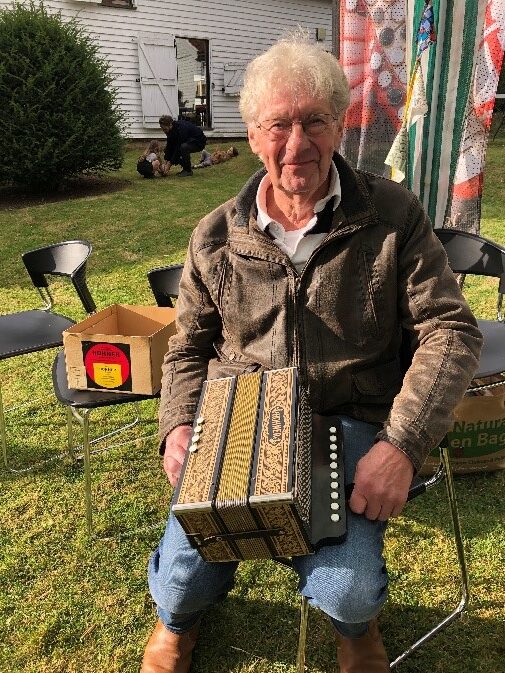 Ray Whatling from Hoxne had uncovered a one row Hohner melodeon in the key of C that had been left to him by a late uncle during the 1980s and remained in the dark in it's original box in Ray's house. Ray doesn't play, and wanted to find out a bit more about the instrument and it's value, and brought it along on the day. It was in remarkably good condition and Ray explained it had belonged to his uncle Alfred "Garson" Whatling from Flixton near Bungay. Alfred had previously had an older accordeon that he took about with him when he was in the 6th Airborne Division during World War II. Alfred bought this new one thinking he would get himself a better one to play in his retirement. Sadly Alfred never got to play it much as he passed away not long after buying it. We have since learned from Ray that the melodeon is to go to his daughter's in-laws, who are a musical couple, to be played by them and intended to be kept for the next generation. It will be staying in Suffolk.
Eammon's cousin Debbie Deere and her husband Graham turned out an older one row German melodeon still in it's box (an Engel Accordeon) whilst sorting through Debbie's late mum's house in Ipswich. This one had been played a lot by the look of it. The cardboard box still had the 35 shilling price tag on it, and the name and address "A Ablett, Mendham, Harleston", in faint pencil on the bottom. This would have belonged either to Debbie and Eammon's great grandfather or great uncle, both of whom were called Albert. It is still playable but needs some maintenance. This will also be kept in the family.
For all future events at Wingfield Barns see www.wingfieldbarns.com or ring 01379 384505
EATMT will be holding a day of musical instrument workshops at Wingfield Barns on 28th May 2021.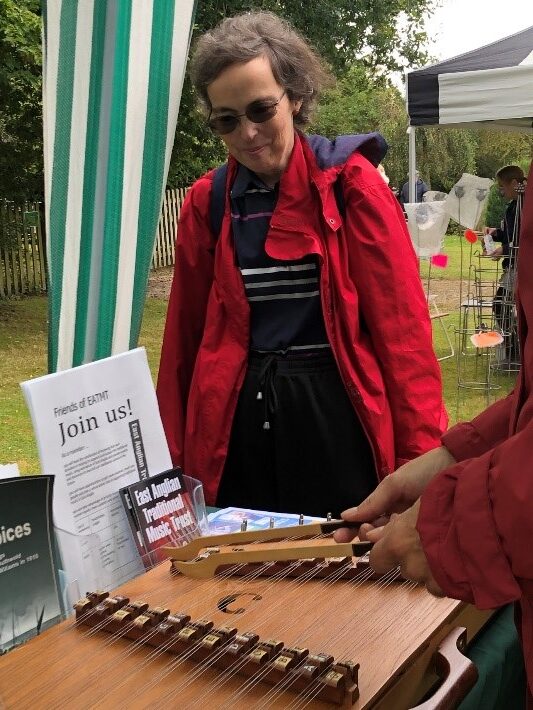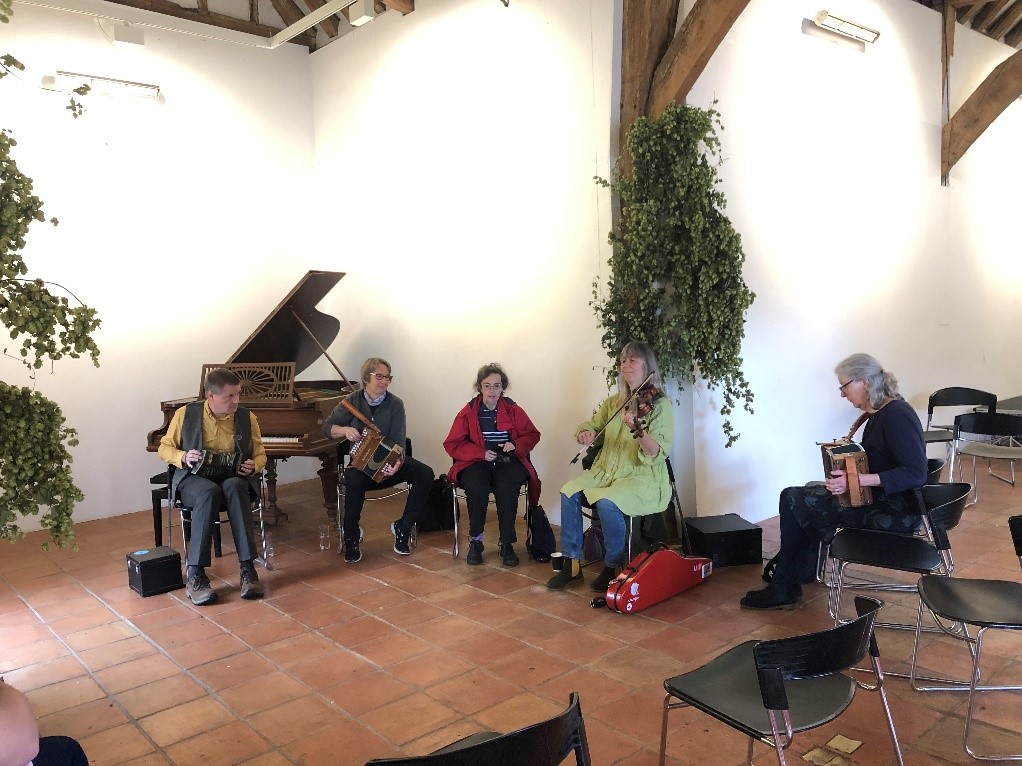 By Eammon Andrews, October 2021