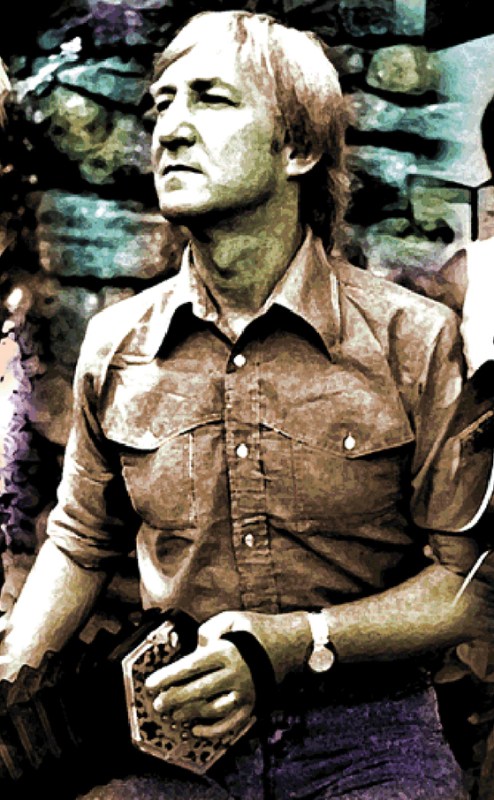 By David Bartlett, September 2021
September 24th 2021 saw exactly thirty years since the passing of one of the folk world's greatest artists. Peter Bellamy grew up in the north Norfolk town of Warham and consequently devoted his life to one thing: becoming a performer of traditional English folk music. He stayed ever loyal to this cause singing worldwide with The Young Tradition, including Royston Wood and Heather Wood, as well as starting a solo career which began later in 1969. One of his local venues was the now defunct 1960s Bury Folk Club held at what was then St. Edmund's Head (present-day Old Cannon Brewery) where he plied his trade along with others such as Jasper Carrot and Billy Conolly; they both started out on the folk circuit.
Although Peter was a devotee of traditional English folk song he wasn't averse to progression and change within the tradition; at times The Young Tradition's a cappella delivery could, atypically, be as powerful as a rock band. He saw these developments as part of a natural long-established process. Here he talks about Ewan MacColl's song 'Shoals of Herring'' written in 1960 for the BBC's Radio Ballads: "things like Shoals of Herring must be classed as folksong because of the way 'real people' – as opposed to professional folkies – have learned it, changed it… the main thing is it's passed on. It's neither here nor there whether it's 'author unknown' or not."
This article first appeared in the Bury Flyer and is reproduced by kind permission of Editor Steve Powell.
David Bartlett, as well as being known as one of the members of The Sound Tradition, David is involved with The Bury Folk Collective. Peter's contribution to folk music was celebrated at the Folk Collective's Folk Roots session on 15th September. David writes:
"We had a great evening…Quite a few people sang songs that Peter used to sing.
I'm honoured to have had his guitar passed on to me – so I took that along and
Linda [Baddeley – also of Sound Tradition] and I performed Blackwaterside, an Annie Briggs song (as far as I know, Peter didn't use the guitar that much for his performances, and I don't know any of his guitar songs unfortunately).
By Paddy Butcher, October 2021
I first met Peter when The Young Tradition were booked to play for the Bury [St Edmunds] Folk Club at The Cricketers in Kings Road (long gone). They came amongst us as exotic beings and blew us away with their powerful singing. I have no idea where the various members stayed that Saturday night, but the next morning I was on my way to the coast when, the other side of Brandon, I spotted this couple hitching & with capes & floppy hats etc, not your usual Norfolk attire – I stopped for Peter and Anthea! I dropped them off in Fakenham and so began a friendship with Peter that lasted for most of the time he lived in Victoria Street, Norwich.
To my knowledge Peter was never a driver and he used to get around with lifts and public transport. He was booked regularly to sing at the Bury club, which by now had moved to the St. Edmunds Head. As one of the organisers I used to put up guests at my cottage on a farm near Bury. So it was that next day, Peter would take the train to his next gig, or, if not too far, I would run him in the car. These after gig evenings could turn into quite a party, with much giggling, fuelled by coffee & a strange smelling herb mixed in with the Old Holborn.
I loved Peter's very own style on the Anglo Concertina and it was not much known that he was a skilled guitarist, playing mainly Blues style in open tunings. He was thrilled to acquire a 00018 Martin copy from his friend Stephen Delft for £30 and he suggested I do the same while stocks lasted. This was the famed BM Cavalier and meant a trip to London's docklands. One for me and one for a friend, Pat Lynch. It was on this guitar that he showed me a song he was working on. Not feeling happy with it, he said I could have it and I still sing it as a favourite; Fiddler's Hill. He later recorded it in America and I have heard it by George Deacon.
Peter was renowned for his suits, handmade by him from William Morris fabrics. One could also admire the WM waistcoat he made for me (below). I still have it, but it seems to have shrunk!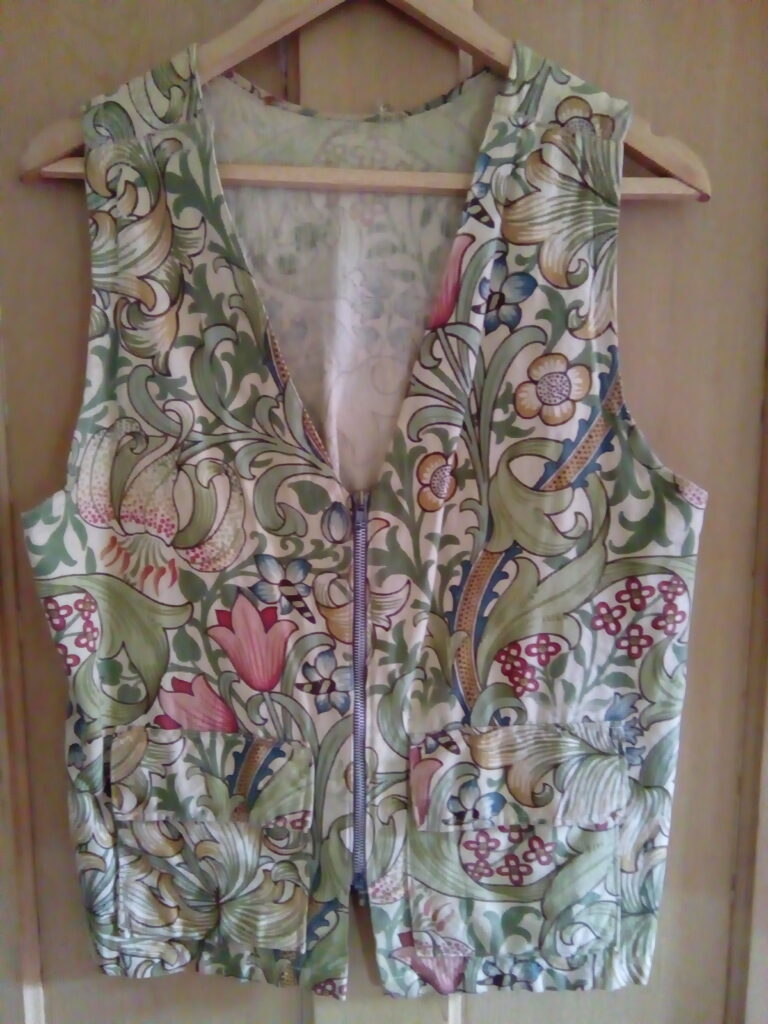 So, we have not had Pete for 30 years. But I still have the guitar, the waistcoat and the joy of my memories of this lovely Man.
For more details about musician Paddy Butcher please see HERE.
The Transports – A Folk Opera, Recollections from Alan Helsdon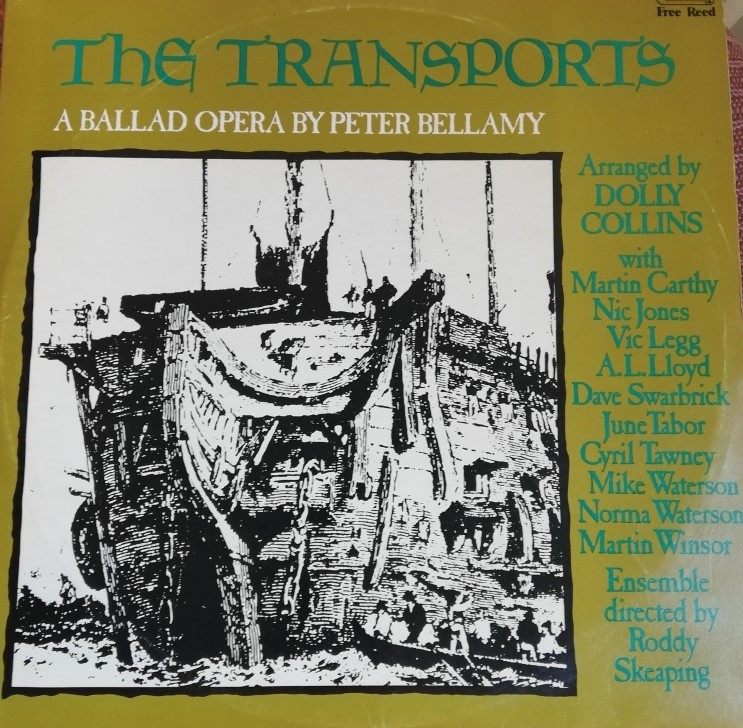 The arrangements on the original LP were by Dolly Collins (Shirley's sister).
The first ever live performance was done by Norwich Folk Club members (yours truly as Convict singing 'Norwich Gaol') and the music for this was arranged by Ursie Pank (cello) with a much smaller ensemble and much simpler music. This was the cast (with a few minor changes) that then performed in Norwich Castle (ex gaol) in 1978, Norwich Folk Festival in 1978 and Rotterdam FF in 1980. There have been various versions since then.
Peter Bellamy was at first doubtful about amateurs like us doing the show, but when he attended a rehearsal he was convinced and gave it (us) his blessing. It was all the most tremendous fun, especially Peter Coleman, mike-less as ever, belting out 'Roll Down' in a 2,000 seater auditorium in Rotterdam.
Lizzie Mathews (as she was in 1978) was the prime mover in getting the first live show under way, and then co-operated with Alex Atterson on the next performances as he ran Norwich Folk Festival and had been compere at Rotterdam FF for several years.
Then in 2013, at the Crude Apache performance in Dragon Hall, Norwich, Lizzie gave the introduction below, In that show were Lizzie's (and John Mathew's) daughter Poppy and Poppy's daughter Izzie.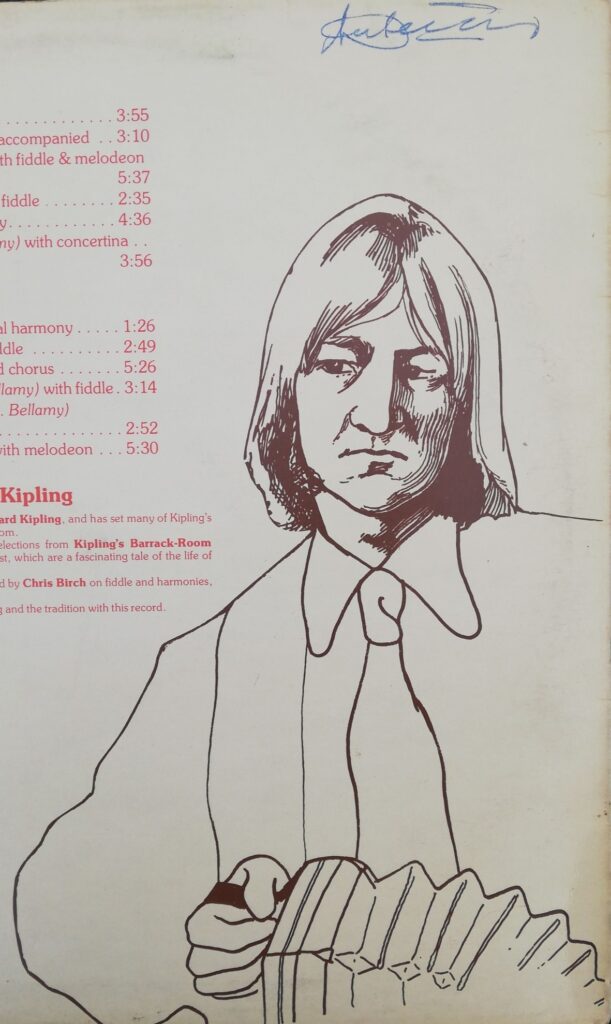 Photographs of EATMT's recent archival additions from the Dave Cooper Record Collection
For the recent Whitby Folk Festival/whitby@home, Doc Rowe created the following Tribute to Peter Bellamy which is well worth a watch. And on 17th November 2021, The Musical Traditions Club presents "Tell It Like It Was" – an celebratory concert exclusively online from 8pm.