Mendlesham – Worlingworth – Blaxhall
The following articles about villages with strong traditions of singing, dancing and music-making appeared in East Anglian Traditional Music Trust newsletters from 2011 until 2018.
Mendlesham was chosen for the first of this series, to coincide with the Melodeons and More event in March 2011, which for eight years has taken place in Mendlesham, a large village which lies midway between Stowmarket and Diss, and which has a history of traditional music, documented by John Howson in "Many a Good Horseman". The article includes the the outlying hamlet of Mendlesham Green which also had a lively tradition of music-making.
When I was out and about, recording songs and tunes and memories in the early 1980s, I spent a lot of time in Mendlesham, and it appears that all the pubs had played host to home-made entertainments over the years – at one time there were four pubs in the village itself as well as the Green Man at Mendlesham Green, which I was to hear a lot about.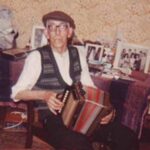 One of the first musicians I interviewed was Reg Pyett (above, left) who had worked on the Mid Suffolk Light Railway, on which Mendlesham was a stop between Haughley and Laxfield. Reg played a number of old hornpipes and polkas as well as a selection of song tunes, some of which he'd learned from the music playing on the steam-driven roundabouts at local fairs early in the 20th century.
There were tales of many box players in the village, and then a visit to the Suffolk Record Office turned up a photograph of a fiddle player, identified only as a Mr Clements (above, centre). Subsequent discussions with various Clements family members never really reached a consensus on which individual it was! He may have been known as 'Tiddles'; he may have been Sam Clements (b.1824) or Tom Clements (b. 1836) who both lived in the village up until at least 1901, but the photo may have been taken as late as 1930.
I met two great singers in Mendlesham Green, both of whom have been featured in past articles in the newsletter, Gordon Syrett and Roy Last.
The regular singing place in the early 20th century was the Green Man (above, right), which, after I had listened to all the accounts from various people, I began to think it must have been the mid Suffolk equivalent of the better known Blaxhall Ship. Gordon Syrett told me that Saturday nights would regularly include melodeon player Ted Thorpe, singer Pom Hart and stepdancers Dinkie Finbow and Arthur (photo, below left) and Walter Loveridge, whose family had a caravan parked permanently at Tan Office, near Ted Thorpe's farm. 'Tinker' Parker, whose wife was sister to the Loveridge dancers, and whom I knew as he lived in Haughley at the time I was researching, took me over to visit Gordon, and had many memories of the pub: 'Old Pom Hart, he lived next door to the pub, he'd come strolling in about 7 o'clock with a big red handkerchief round his neck and sit in the corner and he'd be the one would generally start. There was Harry Souter and old Frisk, and they died with scores of old songs, they never did write them down.'
About the stepdancing he commented, 'They'd stand on two bricks, and they could double and treble time it; that was a treat to watch. Yet they learned it themselves. There never had anyone say do it this way or that way. How they learned, they'd get a plank across a ditch with a bit of spring in it, and they'd get on that and go up and down!'
He also told how his uncle Elijah Smith challenged a girl dancing on a stage at Whittlesey, doing the 'Seven Lancashire Steps' who was dancing on a brass plate and wore taps! 'They call her good? I'd beat her on one foot!'
Ted Thorpe had a fearsome reputation as a melodeon player, particularly for hornpipes such as 'Jack Robinson' and polkas for stepping to, despite the fact he had lost the thumb and all the fingers on his left hand in an accident with farming machinery aged 4. His daughter, Blanche Neal, a formidable woman with a shotgun above the fire in the farm office when I met her in the 1980s, told the family tale that he taught himself to play as a youngster, whilst sitting by the roadside looking after the cows.
Mendlesham Green, although only a tiny community, also boasted a village band, run by William Arbon, who opened up his carpenter's shop for practices. The band consisted of brass instruments, drums and at least a couple of fiddle payers – it had grown up from the ashes of a string band that played in the Baptist Chapel. A description dating from the very early 20th century, written by Walter Tye, the schoolmaster, mentions that they wore uniforms, William's with a distinctive silver trim.
In 1983, singer Gordon Syrett (b.1887) could remember most of the people in the photo (below, right), which was perhaps taken by William Arbon himself, as this multi-talented man was also the local photographer.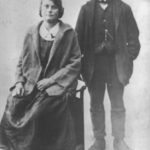 In 1984, we organised an event (English Country Music Weekend) in Mendlesham to bring local traditions to a wider audience and in 2002 it was one of four villages featured in EATMT's first community project, 'Tuning In'. The village continues to welcome traditional music and singing events.
This was written in May 2014 on the occasion of the release of 1950s recordings on 'The Barley Mow' CD and film.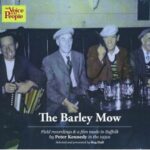 The Ship Inn in Blaxhall, near Snape on the Suffolk coast, has a special place in traditional music in England. This month, some iconic recordings from the 1950s, made by folk-song collector Peter Kennedy, have been made available once more on the Topic label's latest 'Voice of the People' CD series.
'The Barley Mow' (above left) includes the film made in 1955 as well as audio recordings of Cyril Poacher, Jim Baldry, Jumbo Brightwell, Bob Scarce, Geoff Ling and others, finishing with Jack French singing the title song.
In the film it is Arthur Smith who sings The Barley Mow and his grandson, Alvar Smith is a fine singer doing a good job of continuing the singing tradition going in the Ship and other local pubs. The film also features Fred Pearce playing melodeon and Lily and Eli Durrant stepdancing.
A few years before attracting Peter Kennedy's attention, Blaxhall had also been the focus for oral historian George Ewart Evans' first extended piece of research: 'Ask the Fellows that Cut the Hay' (1956). Evans was primarily interested in dialect and rural customs, but did record some local singers including Priscilla Savage. His recordings are in the British Library and may be found online.
In the 1970s and 80s, two ethno-musicologists studied the singing tradition in the village: Ginette Dunn ('The Fellowship of Song', 1980) and Carole Pegg (unpublished thesis).
Through the 1970s and until the licensing laws changed in 2006, the best known sessions took place on Bank Holiday Mondays. Magic Lantern and Syzewell Gap made the pub their home and welcomed the old-timers such as Geoff Ling and Oscar Woods, who was more-or less resident musicians there for many years. We had many sessions there including Old Hat Music Nights and Reg Reader played there regularly for many years (above right, with Oscar Woods' son-in-law, Jen Newson on box).
In 2007 the pub looked set to close as the owners applied for change of use. A large number of objections were lodged, many citing the important musical traditions as a reason for it to stay open. Terry Davey took it on, ensuring it remained music-friendly and it's now home to a variety of styles of music but the traditional stuff is still made very welcome.
The photo above centre shows Clive Woolnough singing to a full crowd on Easter Monday 2007 when the pub re-opened.
For a more recent article on the Blaxhall Ship see Simon Haines' article in the online magazine Mardles.
The film may be seen online at the East Anglian Film Archive website – click here for a direct link.
The Worlingworth Swan by Katie Howson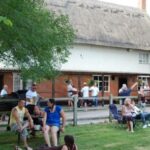 Worlingworth Swan is one of the few pubs in our region where until recently, traditional music and stepping survive much as they used to 40 or 50 years ago. Melodeon player and stepper Font Whatling lived just across the lane until his death in 1998 and played in the Swan regularly.
The pub has stood there for over 200 years, as the Ipswich Journal of July 1815 attests: "To be sold by auction that truly valuable, good accustomed and long established public house, or inn, called the Swan, in Worlingworth, conveniently situated by the King's highway with a most excellent bowling green, stabling, dairy and other outbuildings; and good arable and pasture land." In 1880 it was noted that: "Mr G Pattle applied for an extension of time for the Swan on the occasion of the Horse and Colt Show and Ploughing match." The landlord combined the business of harness making with running the pub, indicating the pub's longstanding link with all things equestrian: it is still a real hub for those who keep horses and drive old-fashioned pony-traps.
Surprisingly, it may not always have been quite the magnet for traditional music that it is now, because there used to be so many more pubs around that were amenable to a bit of music and stepping on a Saturday night.
In the mid 1970s, when Keith Summers was investigating traditional musical in east Suffolk, he wrote that the lads from Worlingworth (Font, Wattie Wright, Jack Chapman, Sam Gyford – all musicians) were more likely to head for Brundish Crown, Bedfield Dog or Dennington Bell, and in fact he found out about Font in Blaxhall Ship – another renowned music pub both then and now, about 20 miles from Worlingworth. Keith also noted that Fred Whiting had recently started playing in the Swan, and it was Fred who first took us there in the late 1970s and introduced us to Font. The atmosphere was great, with a clientele of old-timers, horsemen and country people, and surprisingly, it was much the same in 2011.
Since then, we've played in the Swan many times, including a memorable New Year's Eve with Font Whatling. In 2001, the Suffolk magazine approached us about running a major article about traditional music and we arranged a session in the Swan. In 2007, we asked the Swan if we could run Stepdance Day in their grounds, and despite changes of management, the pub still provided a wonderful home for this event for several years. In 2011, the Swan proved a superb venue for another media feature on traditional music, this time for the popular BBC TV programme "Escape to the Country". The Swan is now unfortunately closed.