Roy Last
by John Howson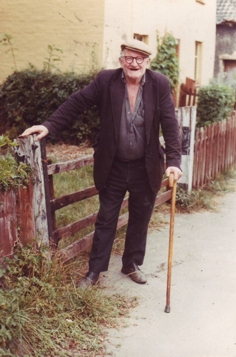 This article in our series of portraits of singers and musicians from East Anglia is written by EATMT co-founder John Howson, who met and recorded singer Roy Last in the 1980s.
Roy was born at Finningham near Stowmarket in 1901, lived in Stonham for many years, then moved to Mendlesham Green in retirement, where he died in 1990.
I first met Roy when I was visiting another singer in Mendlesham Green, Gordon Syrett. "Roy'll give you a song" said Gordon and away went Roy with John Barleycorn and that was the first of our many meetings.
At that time he rarely sang out any more, but in earlier days he had been a regular at Stonham Brewer's Arms (known locally as 'The Tap' and still visible at the point where the A1120 crosses the A140 Norwich-Ipswich road) and the Green Man at Mendlesham Green, a renowned pub for singing and stepping in the past.
Roy's grandfather was a singer and Roy learned the unusual ballad William Rufus from him – a song which tells the tale of how this ancient king of England was killed. Many of Roy's songs had interesting historical aspects to them – he also sang The Battle of Balaclava and Botany Bay as well as a fragment of a rare ballad (he called it Peter the Paynter) relating a true story of a prisoner's escape from Bury St Edmunds gaol in the 1840s. He learned this song from his auntie, who had a broadsheet she had bought from an itinerant ballad-seller.
She used to sing the song Little Cock Sparrow to Roy when he was a small boy, seated on her knee, and she would emphasise the word naughty in the following line: 'A naughty boy came with his bow and his arrow…!' He also learned songs from his father and uncle, so they were a really musical family.
Roy's variant of John Barleycorn – a song dating back around 400 years, is very unusual and he learned that from singer Bill Lockwood, who used to sing in Needham Market Three Tuns and Creeting King's Head in the 1920s.
Roy always had a fund of stories, as well as a well-stocked garden and a brewery in his shed and I would often come home from a collecting trip with several songs, a basket of vegetables and a couple of pints of home-brewed beer! I took the film maker Barry Callaghan to visit Roy and we filmed him singing and talking about his life. Although there were a few technical problems, it is fascinating footage, and we hope to show it at a future EATMT film show.
See also Village Portrait about Mendlesham and Personal Portrait about Gordon Syrett.
You can also read an article about Roy's song Peter the Paynter