Font Whatling
by Katie & John Howson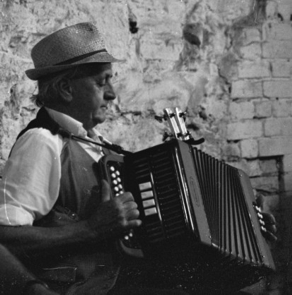 This article in our series of portraits of singers and musicians from East Anglia features melodeon player and stepdancer Font Whatling (1918-1998), from central Suffolk. Font has been mentioned in several of these articles recently, and one of the competitions held on the EATMT Stepdance Day is named after him, so it's about time he was featured here!
We must have met Font for the first time in the Brundish Crown thirty years or so ago. I can't remember the details, but the Crown was where all the traditional musicians and steppers in the area met in those days.
Font had several pubs he played in regularly over the years, another of which was the Worlingworth Swan: for many years he lived just over the road. Font had become interested in the melodeon through Walter Read, a local player who had been blinded in the First World War. Read had a tandem, and Font would often steer the two of them through the lanes to a pub that welcomed music. Later he teamed up with Wattie Wright and Eddie Woolnough as 'The Three Ws'. Font and Wattie were known for their habit of stepping together, with their arms on each others shoulders.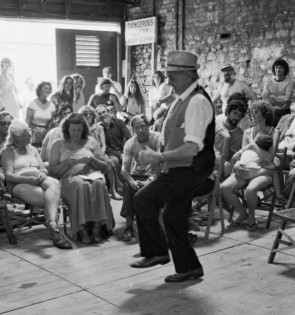 By the time we met Font, Wattie wasn't about much, and Font's party piece was to play the melodeon and step at the same time. His stepping style was very rhythmic, and is evident in the dancing of his sons, one of whom, Brian, is now a regular judge at the EATMT Stepdance Day. Font's repertoire included stepdance tunes and popular songs, along with a few polkas and waltzes. Font had a sharp sense of humour, and we spent many an evening sharing as many jokes as tunes! He endeared himself to the management of a certain B&B establishment during Whitby Folk Week in 1986 with his tale of the misplaced false teeth! He was sharing a room with singer Ted Chaplin and … you can guess the rest!
Font had first come to wider attention in the late 1970s through the 'Earl Soham Slog' LP record made by Keith Summers (Topic 12TS374) and Keith's book 'Sing, Say or Pay'. He also appeared in the Peter Hall film of Ronald Blythe's book 'Akenfield'. From 1981, he performed around the country with the Old Hat Concert Party, and all the photos here were taken on one of the first of those outings, to Sidmouth Folk Festival in August 1982. Font's legacy of tunes and stepping lives on through a new generation of local performers.



Click here for a "Personal Portrait" of the Old Hat Concert Party – this page now includes some video footage from the 1980s with Font stepping and playing.
All photos by Doc Rowe, taken in the Beach Store at Sidmouth Folk Festival, 1982.