'Before the Night Was Out …'
'If I heard a good tune, I'd have it before the night was out!'

Through the twentieth century, music has been recorded from traditional musicians in Suffolk and Norfolk, and now many of the most important and unusual of these lively dance tunes are available in a printed collection.
Tune books from various regions in England have been published in recent years. To present something from East Anglia, a region renowned for its traditional music throughout the twentieth century, has proved something of a conundrum: how to portray in written form what is essentially an oral tradition?
Before the Night Was Out aims to shed light on the way in which traditional music in Suffolk and Norfolk has thrived and mutated during the twentieth century, as well as providing a resource for practising musicians. It is therefore a rather different kind of tune book…
Polkas, hornpipes, jigs, schottisches and waltzes, including comparative versions, transcribed from recordings of more than twenty different melodeon players, fiddlers and dulcimer players
Biographies, photographs and contextual information about the East Anglian musical tradition, plus a comprehensive discography
Fascinating details about the musical, social and geographical journeys these tunes have made through time
Guidance on how to interpret and play this music
For a number of tunes, comparative versions from different players are given, and an example is given below.
This tune has become an icon of the East Anglian tradition, and was played by many, many musicians in the area through the twentieth century.
The two musicians were melodeon players Oscar Woods and George Craske: a brief biography and appreciation of both musicians may be found on this website in the Musicians Profiles section, and fuller details are in the book itself, which may be ordered from our online shop.
Oh Joe, the Boat is Going Over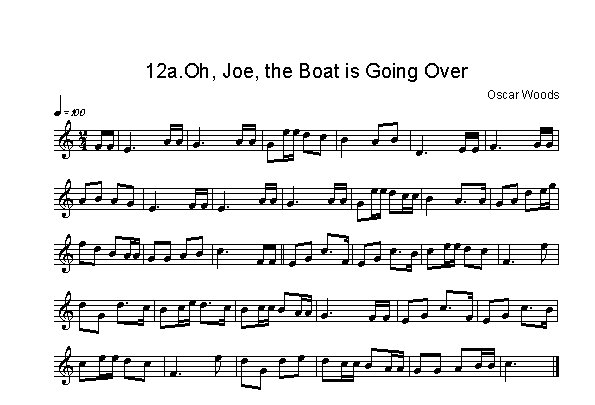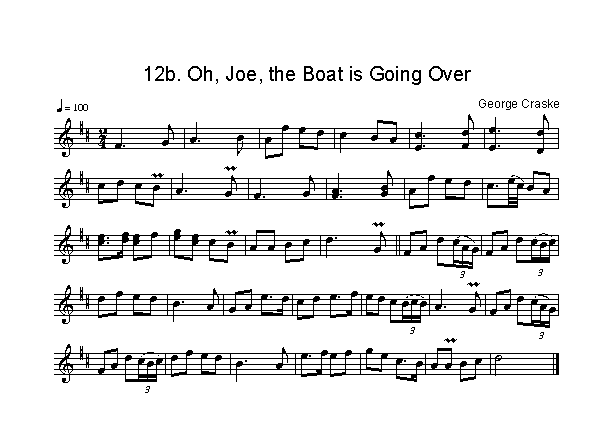 George Craske's playing of this tune illustrates his style of decoration, employing triplets using the button above the note (i.e. the note a third above, as indicated by the mordent markings) as well as the note immediately above or below.
This is a song tune, which seems to have been played by nearly every musician in Norfolk and Suffolk, often with the music for the chorus played first, as above. The choice was then open, according to context, whether to finish at the end of a 32-bar phrase, on a B music, or to finish with a chorus for people to sing along with.
You can read an article by collector Mike Yates on the song Old Joe HERE

With thanks to Steve Dumpleton and Jeannie Harris.