By Sue Carlton
After going to see the exhibition of the work of artist John Craske at Sheringham Museum this year (2019) I started to wonder if he might be related to George Craske, the melodeon player from Sustead. When my searches could find no connection I was not disappointed as it had rekindled my interest in George the musician and I thought that he and his friend and fellow musician, Frank Ward, deserved a page of their own on this site. Although George played with other musicians, it was his neighbour Frank who was with him when he was recorded in 1977 in Sustead.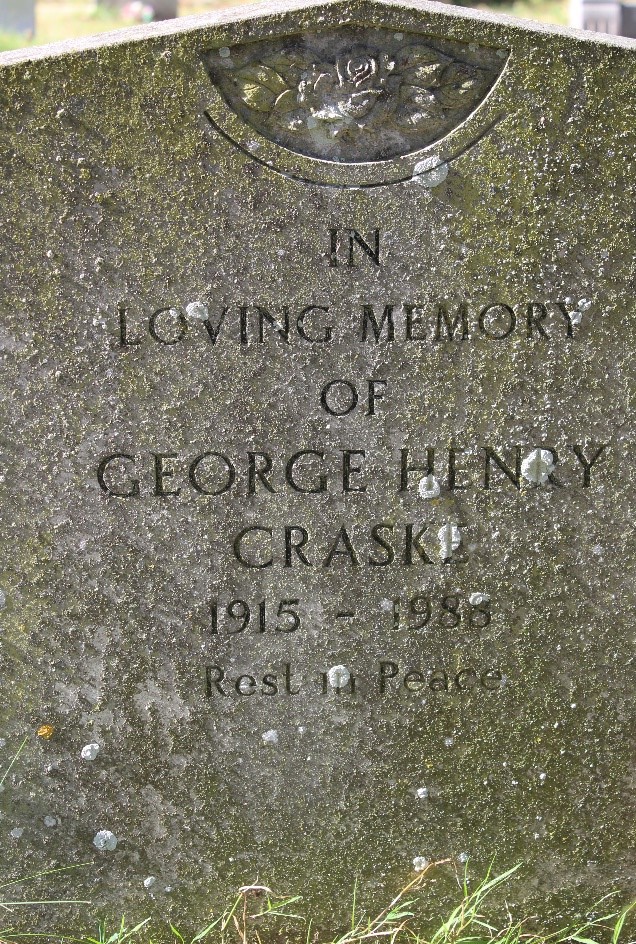 George Craske
George (known as "Gidjee") was born in Sustead in 1915. He was a farm worker like his father. No-one has been able to track down a photo of him, but John Wright from Erpingham, speaking to Chris Holderness and Des Miller in 2006 described him as a "big old raw-boned boy". He never married and lived all his life in Sustead, at first with his parents in a thatched cottage in Brick Kiln Road (now Aylmerton Road). They had quite a large piece of land attached to the cottage. His parents died in the 1950s, and later, when the cottage was sold, he was evicted and went to live with his older sister, Margery, and her husband Bertie Bishop at Chapel Cottages, where he lived until the end of his life. He was allowed to keep using a small plot of the land across the road from the thatched cottage which he called his allotment.
He learned to play the melodeon at the age of five playing alongside his father and he found it easy to pick up tunes by ear. After he moved to Chapel Cottages he could no longer play at home, his sister and her husband were much older than him and did not like "noise", so he would play on his allotment where he kept an out-of-tune melodeon in the shed (his better one was kept at his friend, Frank's house).
Frank Ward
Frank was born in Felbrigg but lived most of his life in Sustead and worked as a bricklayer. At the time the two were recorded in 1977 he lived in Bridland Cottage just across the Green from George. His wife had died in 1965.
George and Frank used to have a band, they both played melodeons (or accordions, as they called them) and they usually had someone on drums. Frank also did step dancing. They played regularly for dances in the local area, they used to cycle miles with their melodeons on their backs and a drum attached to the front. The dances at Metton often went on till daybreak and their clothes would be soaked in sweat. There were often 150 at the Sustead dances and they had to play very loudly for the music to be heard. In 1976 Sustead village hall sadly burnt down
George also knew and played for many of the local stepdancers, Dick Hewitt, Richard Davies and his father Jack Davies among many others. He played regularly in many of the numerous local pubs as far afield as Cromer.
Ann-Marie Hulme and Peter Clifton
On August 9th 1977 Archie Wright and his daughter, Marion Daniels, mentioned George Craske (then aged 62) to Ann-Marie Hulme and Peter Clifton who were conducting extensive research into stepdancing in Norfolk at the time. They went straight to Sustead the same day to find him.
Archie and Marion were connected to the Cromer Life Boat step dancers, they were, in fact, related to the Davies family. Archie was the landlord of the King's Head in Erpingham where George played regularly at weekends for step dancers, including Archie and Marion (Marion continued to add information in correspondence with Chris Holderness and Des Miller's research in 2004/5 for their Norfolk History Project – Rig-a-Jig-Jig).
They met George on his allotment where they recorded him with his friend Frank. Of the tunes recorded in 1977 many were hornpipes which were well known locally. Each stepdancer had his own tune so they referred to these as "Jack Davies's stepdance" and Jimmy Crane's stepdance" etc.
Besides the stepdance tunes there were also tunes for the Boston Two Step, for the Long Dance, the Poker Dance, the Four-hand reel, also schottisches, polkas and plenty of waltzes which were mainly song tunes.
During the visit Frank demonstrated and explained many of the dances to Ann-Marie. I have an image in my mind of George sitting in front of his shed playing his melodeon on a summer's day with Frank teaching the dances to Anne-Marie amongst the vegetables and Peter recording it all.
Ann-Marie and Peter visited George again in Oct 1977 and found him on his allotment. He said then that they had been "cheeky" to record him and that they were "pinching" his tunes. They managed to convince him that they were not going to make money out of it but he did not want to play again that day for them, possibly also because it was very cold.
Where to hear his playing
At the time the recordings turned out to be very poor quality, not good enough to be used but twenty years later they were remastered by Paul Marsh and 9 tracks were put onto The Pigeon on the Gate CD by Veteran VTDC11CD .
Chris Holderness describes George's music and style of playing: "The tunes are often just the A music repeated, stripped-down solidly rhythmic versions ideal to give the necessary accompaniment to the dancing". You can read more about George, including from interviews with people who knew him in the articles by Chris Holderness called "Sheringham Breakdown" and "The Dancing Davies" on the Musical Traditions website.
Rod Stradling reviewing The Pigeon on the Gate CD in 1997 for his comprehensive Musical Traditions Website writes: "If these nine tracks are anything to go by, he must have been stunning in his earlier years. Not only was he a great dance player, and much more 'bouncy' than most included here, but his tunes are extremely interesting. Not that it was a particularly unusual repertoire, but that the tunes themselves contain numerous little twists and turns which are remarkably melodic and musicianly. With George Craske, one is constantly exclaiming 'Oh, that's nice!'".
George often played just the A part of a tune for stepdancers. In the Hawk and Harnser tune book, Alan Helsdon has combined two of these, Jack Davies's and Jimmy Crane's, to make a 32 bar tune he has called "Jack and Jimmy's". On Alan's Quanting Evergreen website page you can read a little bit more about George and you can find a simple band arrangement for Jack and Jimmy's as a free download.
The Trust's tunebook "Before the Night Was Out" features five tunes taken from these recordings of George: George Craske's Stepdance, Oh Joe, The Boat is going over, Sustead Long Dance, George Craske's Sustead Schottische and Tommy, Make Room for your Uncle.
The audio files of the two stepdance tunes which follow here (neither of which are on The Pigeon on the Gate or on the soundbites within the Sheringham Breakdown article) both consist of a single A part so are very short but well demonstrate his style. They are different versions to two common Norfolk stepdance tunes/hornpipes.
George died in 1988 at the age of 73, he was outlived by his sister and her husband by a couple of years and by Frank who died in 1990 aged 86.
Sources and further information:
Thanks to Chris Holderness, Alan Helsdon and Rod Stradling for their responses to my questions and thanks also to Chris Metherell from the Instep Research Team for providing me with Ann-Marie Hulme's notes on the visits to George Craske in 1977. The recordings were taken from Rig a Jig Jig's CD which was made from the original recordings made by Peter Clifton for their Norfolk Music History Project. Permission from Peter Clifton to use them for the website has been granted.