Collecting musical memories in Norfolk
by Christopher Holderness for the East Anglian Traditional Music Trust
January 2021
In 2004 I joined forces with fellow musician Des Miller to form a band called Rig-a-Jig-Jig, to specialise in performing traditional music from Norfolk. The cradle of this was regularly playing music in The Nelson in Norwich, in which many people were involved. In the beginning it was a fairly fluid affair, involving many musicians, mostly from The Nelson sessions, but the band settled down to a definite line-up which lasted until 2015.
Regular members of band were: Chris on fiddle, Cass Devlin – melodeon, Dave Devlin – fiddle & banjo, Des Miller – mouth organs, Barbara Jane – ukelele, Richard Blake – dulcimer. More occasional members were: Peter Coleman – mouth organs, Alan Helsdon – piano, Chris Morley – melodeon, Karen Morley – whistles & recorder. Anyone else knowing the tune "sitting in" also got involved and there were a number of assorted steppers and singers that took part.
The band was named after a tune for the Long Dance which was collected by Peter Kennedy in 1952 from fiddler Herbert Smith of Blakeney and from the landlady of Morston Anchor, Ann Mary Bullimore, who played it on the pub piano. In fact, the tune didn't have a name and Kennedy decided to give it one, using the name of an American children's song.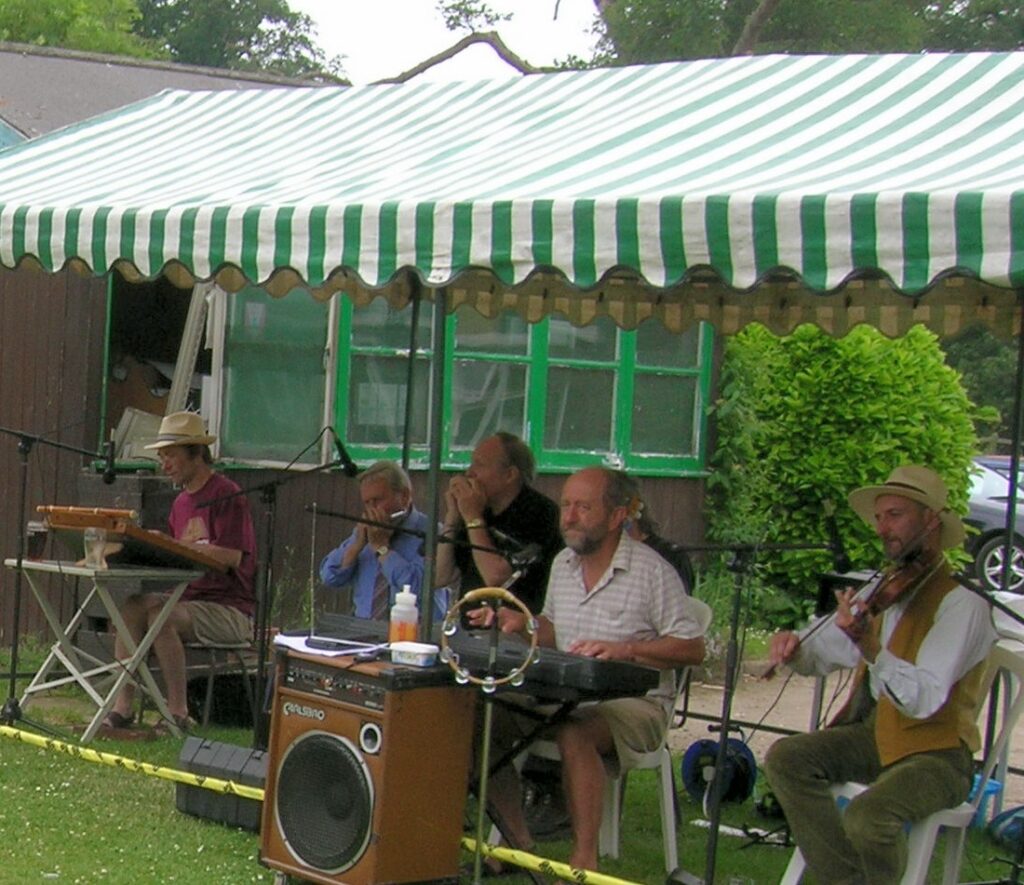 The other, and closely related, aspect of Rig-a-Jig-Jig was the collecting of people's memories of traditional music making across the county and putting together an archive of such material. The two strands of Rig-a-Jig-Jig came together in many live performances where the band was joined by traditional performers such as step dancers Richard Davies, his daughter Fiona, and occasionally her son Ben, as well as Lenny Whiting, Percy and Doreen West, and all-round entertainer Ray Hubbard. Two live CDs were recorded, both in Wells-next-the Sea: All at Sea* and All Ashore, showcasing this.
*There are no longer any copies of All at Sea left but Alan Heldson via his website Quanting Publications will be happy to reproduce at a small cost a copy should anyone be interested.
Most traditional performers had passed away, but the tradition did still exist, albeit perhaps hanging by a slender thread in many ways. Des and I set out to see what we could find as regards memories of when the tradition was much more vibrant.
We set to work. I would write letters to the Eastern Daily Press and to local parish newsletters, asking for people's memories, either in a certain area or about individuals themselves. Des and I would then visit these people, most of whom were elderly, and record them talking about what they could remember. A great many were related to, or had been close associates of, the performers: singers, musicians and step dancers. People we visited were all very welcoming and wanted to talk. In fact sometimes we had difficulty in steering their conversation to what we were looking for, as the memories kept flowing.
A useful aspect in this respect though was that it was relatively easy to build up a bigger picture of life in the area, of which the music was a part. The usual venue for entertainment, mainly for men, was the pub and there was no distinction between performer and the rest of the company. Most men could sing something, even if they only knew a couple of songs. The most accomplished singers knew a great many songs and were respected for that capability.
Most villages had a resident musician, playing dulcimer, fiddle, melodeon or mouth organ and there was dancing on special occasions such as weddings.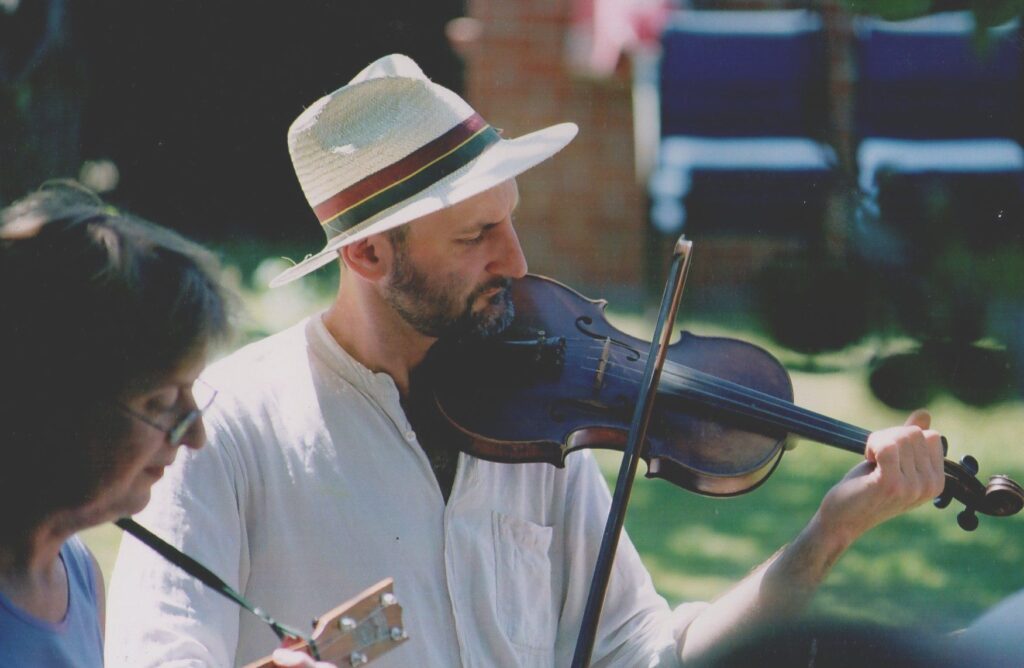 The people we met remembered this situation; most witnessed it first hand, even if they were too young to take part fully in many cases. The interview visits took place over many years in most areas of Norfolk, although the richest areas, perhaps by chance, were the north and centre of the county and the east coast. Telephone conversations also took place quite regularly, again adding to the information.
For the home visits our modus operandi was to use small hand-held cassette recorders (rather old fashioned technology by the standards of these days!) and tape everything said. We would sometimes prompt people with questions to jog memories and then see what we would end up with. The letters to the press yielded mixed results. Mostly they produced a great deal of people eager to talk to us.
A good example is the renowned Winterton singer Sam Larner, which yielded much information, photographs, and ephemera. This detailed information about Sam Larner and his singing community formed the basis for the booklet notes for the Musical Traditions* double CD (the definitive collection of everything recorded by Ewan MacColl and Peggy Seeger): Cruising Round Yarmouth (MTCD369-0) which was released in 2014. A mighty haul indeed!
*NOTE: Musical Traditions Records are now being run by Mossy Christian via his One Row Record Label though Rod Stradling of MT Records is offering to make special "made to order" copies. Click HERE for the details plus for the complete MT catalogue.
In other cases, there was sometimes some frustration, as in the case of George Craske of Sustead. Some information was forthcoming but no photograph, despite several letters to the press. His melodeon playing can be heard on Musical Traditions CD The Old Out and Homer: Norfolk Melodeon Players (MTCD204), released in 2020 and Veteran CD The Pigeon on the Gate: Melodeon Players from East Anglia (CD version released in 2008). Both releases used recordings made by Peter Clifton and Ann-Marie Hulme in 1977; both utilised information about him in some detail, but sadly with no photograph.
People we visited were very generous, not just with their memories but with a willingness to let us borrow photographs to copy. We were always very careful to ensure that these were returned to their owners safely once we had finished with them. Also, sometimes photographs were sent to us if they couldn't immediately be found or somebody had to track them down in the family. Occasionally someone would turn up at one of our gigs, if they had come to hear us play, with a photograph. It was all very helpful.
Despite the plethora of information we were busily acquiring, only once did Des and I record somebody who actually played for us, and was recorded doing so. This was Walter Newstead from Binham in north Norfolk, a retired farm manager who played melodeon. We recorded him in 2004 when he was 92 years old, and still a very good player. The recordings can be heard on The Old Out and Homer, as above. In all, we had a huge archive of material, an on-going process until new leads began to dry up by 2015.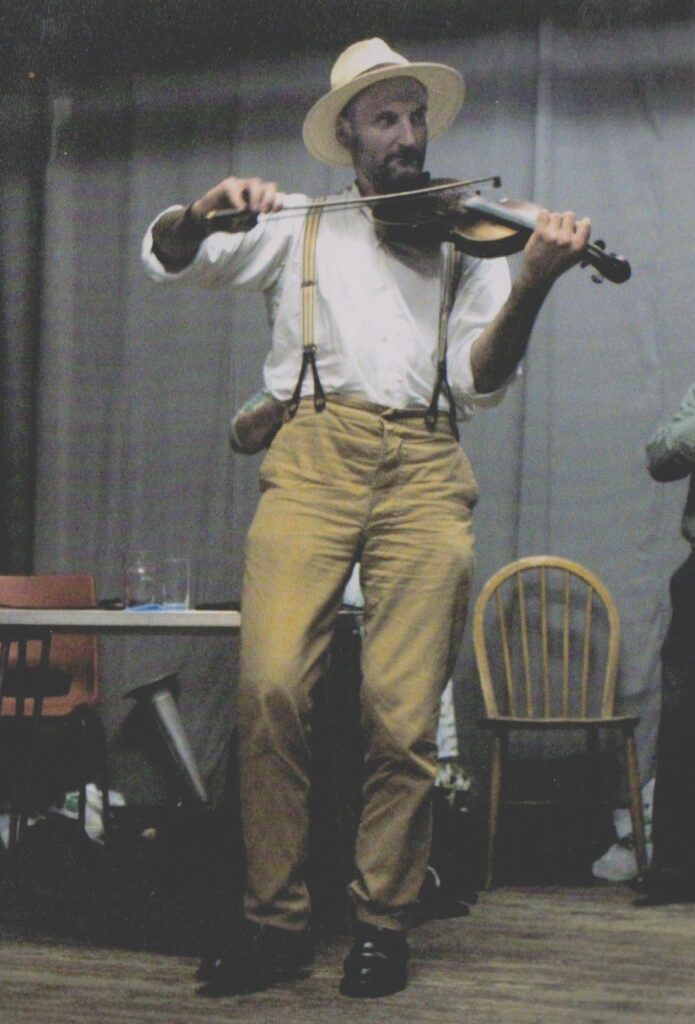 So much for the collecting. The really time-consuming aspect was transcribing the material onto the printed page, so it could be used. It fell to me to do this. Hours of listening to each few seconds of interview material and writing down the information, as well as repeatedly listening to the same bit sometimes if it wasn't clear, really did take a long time. Any spare moment was utilised: at home and quiet times at work. I once worked in an ice-cream van on the coast road outside Cley and all quiet times were taken up with transcribing onto notepaper, to be typed up later at home. In the ice-cream van there were often times when there was a flurry of activity and many customers, and there were many quiet times. The perfect opportunity: get transcription work done and stave off boredom!
Little by little the typed pages mounted up. Together with countless photographs, ephemera, newspaper cuttings and magazine articles, a huge archive was being created. It had kept me out of mischief for a long time.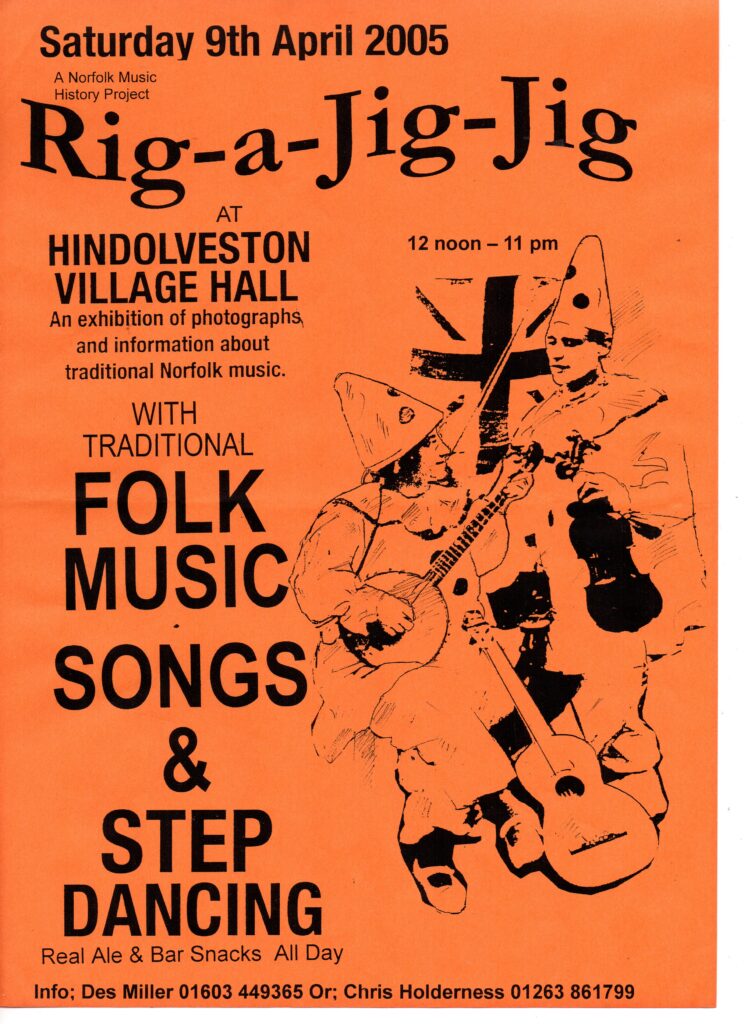 What to do with all this information? Get it into the public domain for those who might be interested in it.
I wrote many articles utilising this information for Musical Traditions internet magazine, over the years, as well as the CD booklet notes mentioned before. Aside from the booklet notes, the number of articles on the Musical Traditions site runs to twenty. They can be read in the articles section. I have recently also written two more articles for the East Anglian Traditional Music Trust. It is to be hoped that these will make the information available in coherent form for anyone who wishes to read them and find out more about Norfolk's rich traditional heritage.
Plans are afoot to make the Musical Traditions articles available on the East Anglian Traditional Music Trust website as well. Alan Helsdon has busily catalogued the whole archive and that should be made available in its entirety in course of time.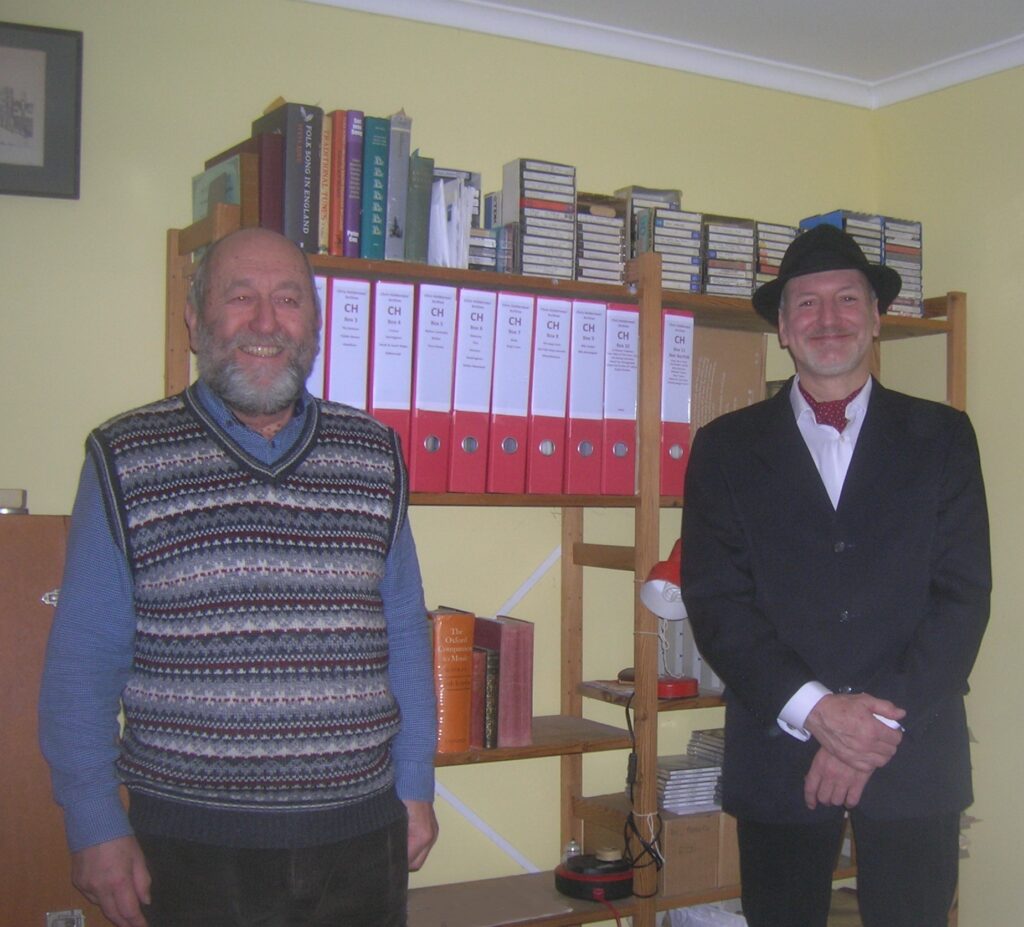 Another aspect with Rig-a-Jig-Jig was the display of photographs and other information, which accompanied the live music. 2005 proved to be a very productive year in this respect, with a launch of the project at Hindolveston Village Hall in April. The parish magazine mentioned that "Rig-a-Jig-Jig, a Norfolk music history project, will be having an exhibition of Norfolk musical memorabilia at the Village Hall in Hindolveston on Saturday 9 April 2005 from midday to late evening. There will be a display of photographs and texts from the Rig-a-Jig-Jig collection, featuring Norfolk's highly regarded traditional folk musicians".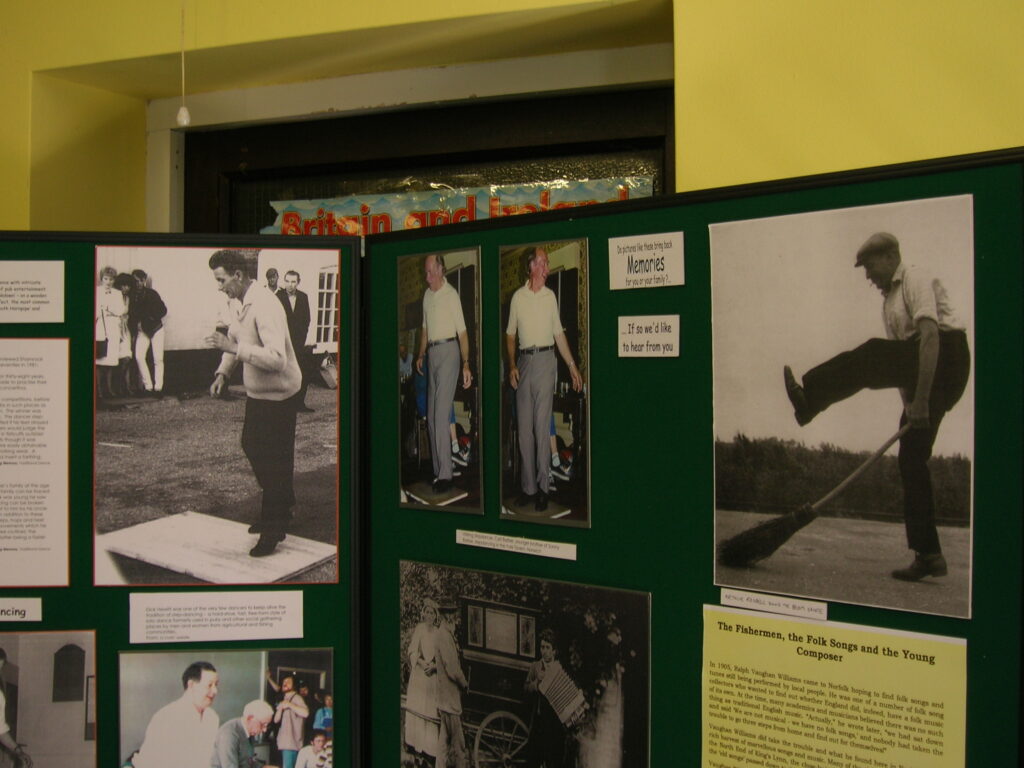 "Accompanying this display will be an all day music session with local musicians, singers and step dancers who will perform many of the old Norfolk songs and dance tunes. Rig-a-Jig-Jig hopes that the exhibition will provoke memories and stimulate visitors to reminisce about the ways that local people entertained themselves in days gone by." (Working Together, April 2005)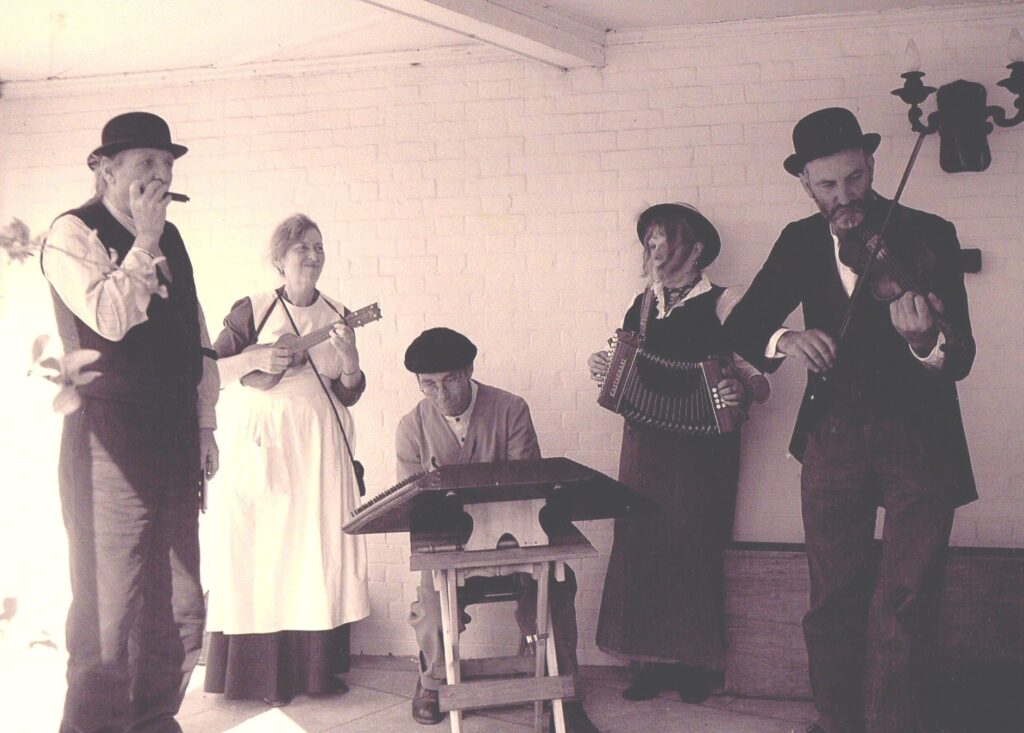 There were tune and step dancing workshops as well as much live music across the day. The day was well attended and culminated in a lively evening concert.
It was a great success and set the tone for a great many similar events from then on. Initially most of these were in north Norfolk, in places such as Hunworth Bell, Letheringsett King's Head and at Cromer Folk on the Pier festival, but in course of time the locations spread, firstly to Shipdham (several times) and regularly to Gressenhall Museum.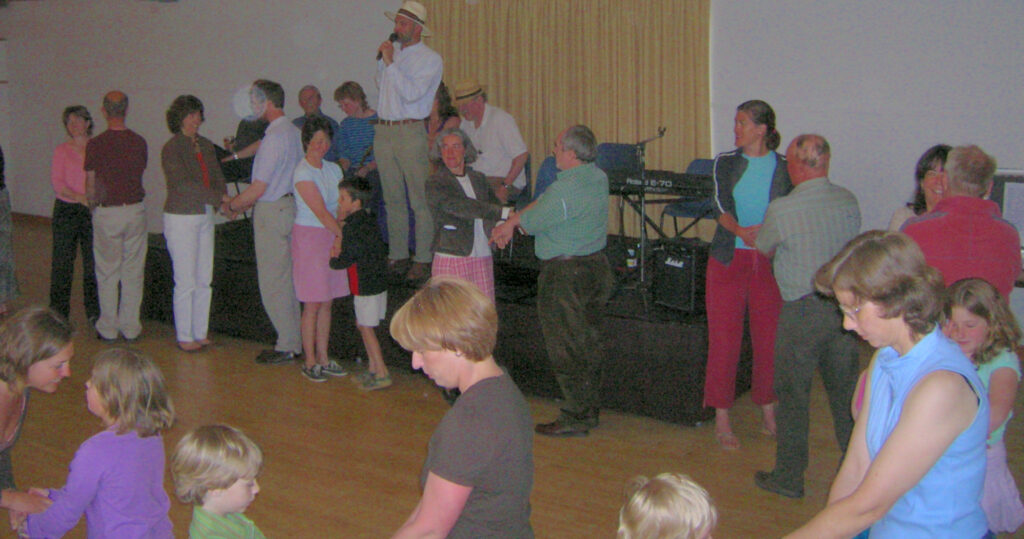 Thereafter the events spread to the rest of the county: Norwich, King's Lynn, Winterton and Great Yarmouth, to name but a few. Evening dances featuring local traditional repertoire, such as the Long Dance and Buxton Seven Steps, were added to the events, again very successfully. From 2005 there were ten years of busy activity; nobody perhaps had any idea it would last so long.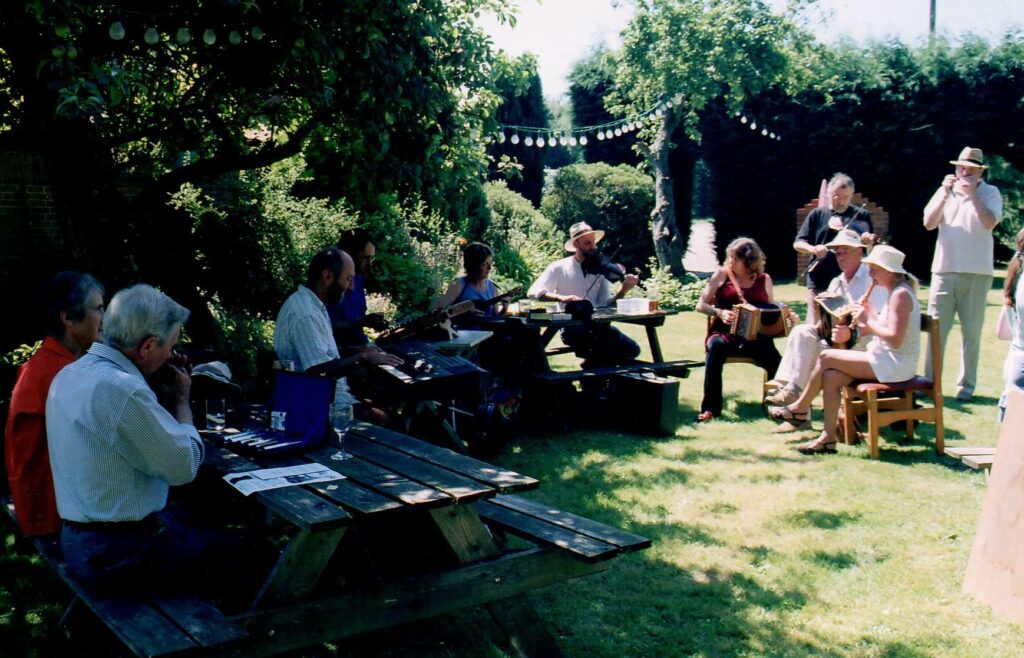 In 2015 the band Rig-a-Jig-Jig folded as two members retired. The other members became part of Hushwing, once again performing the traditional music of the county. A recent CD by the band is Foundlings, consisting of band versions of tunes collected in Norfolk which have never been released, or at least have had a very limited release. The research and the performance go hand-in-hand, as two sides of the same coin. By 2015, the collecting project had come to an end, leaving a legacy of a huge archive of information relating to the musical heritage of the county.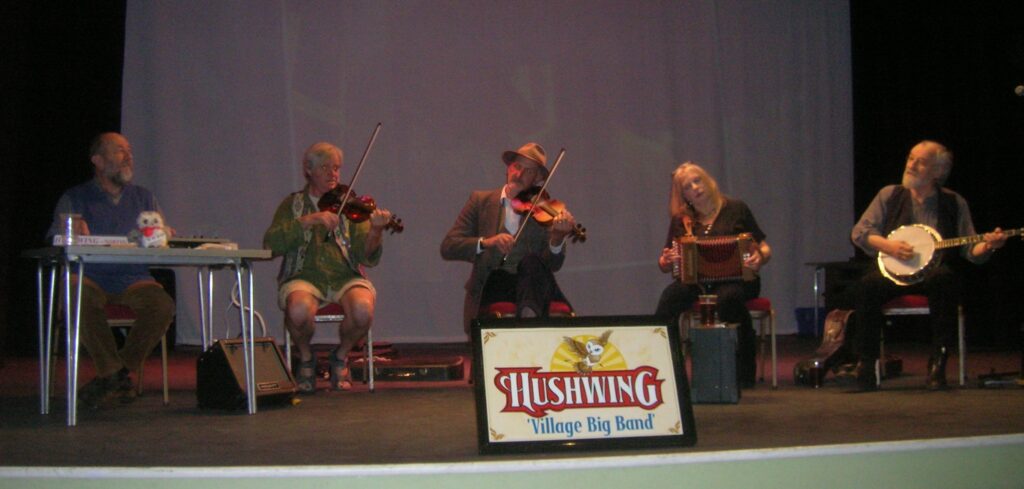 © Christopher Holderness  2021
Ref CH B11-2