Information about Stepdance Day
During Lockdown 2020, we have created this new page on Stepdance Day and will be adding details of past events to it in due course. If you spot any errors or omissions that you think should be included, please do get in touch: info@eatmt.org.uk. We also worked on a short stepdance film which was filmed over the summer of 2020 to replace Stepdance Day which should have taken place in July. You can now see the report and film here.
Until 2004, the Steve Monk Memorial Championship was run by the Delarre family in Moreton, Essex.
Steve and Jayne Delarre were members of Blackmore Morris Men and Blackmore Bull Clog (Jayne being the founder of Blackmore Bull Clog). They knew Steve Monk from Blackmore Morris Men dance outs. He would often be at the "after dance" drinks where they would regularly see the friendly rivalry between Steve and his best friend Simon Ritchie when they got up to stepdance.
In 1999, Jayne Delarre joined the Moreton village committee in readiness for a special millenium event to be organised for the Summer of 2000 – The Moreton Millenium Festival. Jayne's idea to contribute to the festival was to put on a Stepdancing display and competition so she invited Simon Ritchie to get involved. This first event was held in the garden of the Delarre's pub, the Moreton White Hart. Steve Delarre played for Simon's display and between them, Jayne recalls "we drummed up 5 dancers: A girl in flip flops, a clog dancer, my father-in- law (yes, we were desperate!) who did amazingly well, my youngest son David (14) and a tap dancer. The tap dancer won – Gary Knights, Simon judged and we printed out a certificate and handed over a pewter tankard. It was all just good fun".
The event was such a success, Jayne was asked to organise it again for 2001. In the early stages of preparations for the festival (of which the Stepdancing competition was just a small part), Steve Monk suffered a fatal heart attack and it seemed fitting to dedicate the competition to him. Together with friend Simon and Steve's wife Marilyn, the competition took on a more formal look. Rules were made and a pewter tankard and plaque was purchased which was to be awarded annually to the winner who would keep it for a year.
In 2023, EATMT learned of a video in the Essex Record Office archives of this first competition in 2001. It turned out to be a film made by our lovely friend Sue Cubbin. Thanks to ERO Sound Archivist Kate O'Neill for making this available to show at the 2023 Stepdance Day.
Over the next few years, the event grew. By 2004 it had become a weekend ticketed festival with camping. Morris teams were involved and there were concerts and barn dances added on top of workshops and the usual village fete stalls. It became too big an event for the village and the village committee called time on in it before the next event in 2005.
From the outset of this new festival, young teenagers at the time, James and Dave Delarre were involved – both playing and dancing. Also involved in dancing was Danny Crump and it was these three who founded the festival favourite band for many years, Mawkin. The band expanded and performed widely for over 16 years.
Jayne was keen to keep the Stepdancing side of the event going in order to promote the tradition and to keep the local Romany and travelling community involved but the size of it meant it needed to move. Having been a past visitor to the music sessions at the Eels Foot in Suffolk, Jayne contacted the landlord there and that's where Steppin' On the Eels Foot was born. It was a roaring success in 2005 and so plans went on for the following year but four weeks before the event was due to take place, the landlord back out. Jayne contacted Katie Howson at this point and EATMT helped rescue the Sunday part of the festival which was run at the Riverside Centre, Stratford St Andrew.
So many people had got involved in creating this weekend festival. Writing in Mardles just before the event, Mary Dickinson wrote:
Not Steppin' at the Eel's Foot – but the Steve Monk Memorial Step Dance Competition is saved
After the success of last year's event, it is a great shame that the second Steppin' on the Eel's Foot Festival, which was to have been held at the Eel's Foot pub in Eastbridge, was cancelled due to unforeseen circumstances. It was particularly disappointing as Suffolk Folk had been in full support of the festival, pledging sponsorship and assisting with advertising. Whilst there was no two-day festival this year, EATMT quickly arranged for the 7th Annual Steve Monk Memorial Step Dance Competition to be held at The Riverside Centre in Stratford St Andrew, between Woodbridge and Saxmundham, on Sunday 2nd July. Steve Monk was an accomplished and enthusiastic step dancer, as well as an adept singer and melodeon player. The competition has evolved to recognise his contribution to the folk scene, with dancers competing for the Memorial Tankard. Suffolk Folk was delighted to 'step-in' to support this change of venue, by way of a mail shot to its Members. Of course, I must mention the 20% discount off ticket prices for Suffolk Folk Members! . It would be most sad were the full weekend festival not be to resurrected next year, as everyone who made it for part or all of the event last year had a very fine time. Suffolk Folk would welcome the opportunity to offer support to individuals who may be interested in reinstating the festival. Mary Dickinson 30.06.2006
Mardles magazine
From 2007 to 2015 it was held at the Worlingworth Swan in central Suffolk. The famed stepdancer Font Whatling lived just opposite the Swan, which unfortunately closed in 2016 (see Village Portraits page for an article about the pub). In 2017, it took place on Sunday 16th July at Occold Village Hall, and in 2018 it took place on Sunday 20th July at the Blaxhall Ship Inn. In 2019 it moved to Norfolk invited by the Strumpshaw Tree Fair organisers which is where it should have also taken place in 2020.
Although the competitions are the main event of the day, stepdancing is not usually a competitive activity, and there are always demonstrations from some of the best dancers and some informal dancing after the competitions as well.
The day is usually enhanced by a few tunes, songs and even a bit of beer! There is an introduction to stepdancing at around 2pm, a workshop to anyone who wants to have a go and then there are now three competitions open to all-comers. It's a very informal day, when you are assured of seeing some of the best dancers around, and if you would like to have a go, it's a good chance to do so, even if you've never done so before!
We do not run a separate children's competition, as many of the youngsters are as good as the adults. The Steve Monk Memorial Competition has three times been won by under-16s: in 2005 teenager Jessica Chilvers won and in 2011 and 2013 it was won by Ella Beal aged 11 and 13. In 2012 eight year old Alfie Matthews won Best Newcomer.
In previous years, (except in 2006) the event has been free, but we have sold programmes and some raffle tickets in order to cover costs and maybe raise some extra for the Trust.
Simon for many years continued to be at the centre of this event, and Steve's widow, Marilyn chaired the judging panel every year until 2018. Towards the end of 2019, his daughters – Catherine and Rachel – donated Steve's concertina to the Trust which is currently being restored.
For 2019, we were invited by the organisers of the Strumpshaw Tree Fair to join them in their Dance Tent. This means our audience has to pay an entrance fee to the Tree Fair – though a modest one (£10/£5 concession/free U16s). The Trust does not receive any payment for these entry fees but we feel with a footfall of over 5,000 in 2018, this invitation gives the Trust a great opportunity to showcase a very East Anglian Tradition.
Many thanks to Steve, Jayne, Dave and Jamie for setting it up, keeping it going and passing it on!
Steve Monk Memorial Competition
Steve "Monkey" Monk's family came from the Framlingham area, and he moved back there from Essex in the late 1980s having been involved in the Morris (previously being Squire of Chelmsford Morris Men). He was a gifted entertainer, with a relaxed and humorous approach to the sessions he ran at the Compasses at Littley Green, The Cock at Castle Camps, the Sweffling White Horse and occasionally at the Laxfield Low House. He was member of the Bumpstead Boys and the Squit Band performing in various village halls around the county and he enjoyed many evenings with the Old Hat Concert Party.
In 1995 Steve made a recording of his playing. In 2000, Neil Lanham produced a fundraising CD (for the British Heart Foundation) which features Steve's recordings as well as Don Mackay's recordings from 1976 – another young Suffolk melodeon player who also died suddenly a little before Steve. You can enquire about that CD via the Oral Traditions website.
Open to allcomers – even if you've only had a go for the first time in the preceding workshop, you're encouraged to enter this competition. Dancers have a free choice of music and musician for this competition – there are always several really experienced stepdance musicians around!
Font Whatling Trophy
Started in 2008 by EATMT in memory of the Worlingworth Swan's resident musician and stepper (1919-1998) who was also for a number of years a member of the Old Hat Concert Party and became well known at folk festivals around the country. The aim of this competition is to keep the older style of dancing with hard-soled shoes going and encourage a higher standard. Entrants are not permitted to wear clogs or tap shoes, and have to dance to two specific tunes: Pigeon on the Gate (hornpipe) and Oh, Joe, the Boat is Going Over (polka) played by the same musician for all dancers.
Font lived for many years in the house just over the road from the Swan, and played and stepped here on many occasions until his death in 1998. He became interested in playing the melodeon through Walter Read, a renowned local player. Read was blinded in the First World War, but had a tandem, and Font would often steer the two of them through the lanes to a pub that welcomed music. Later he teamed up with Wattie Wright and Eddie Woolnough as "The Three Ws". Font and Wattie were known for their habit of stepping together, with their arms on each others shoulders, but Font's personal party piece was to play the melodeon and step at the same time. His stepping style was very rhythmic, and is evident in the dancing of his sons. Font came to wider attention through recordings and books in the 1970s, and through outings around the country with the Old Hat Concert Party in the 1980s and 90s. Font's son Brian was often on the judging panel for this competition.
Dancers are welcome to enter both competitions.
Judging panels include winners of last year's competitions.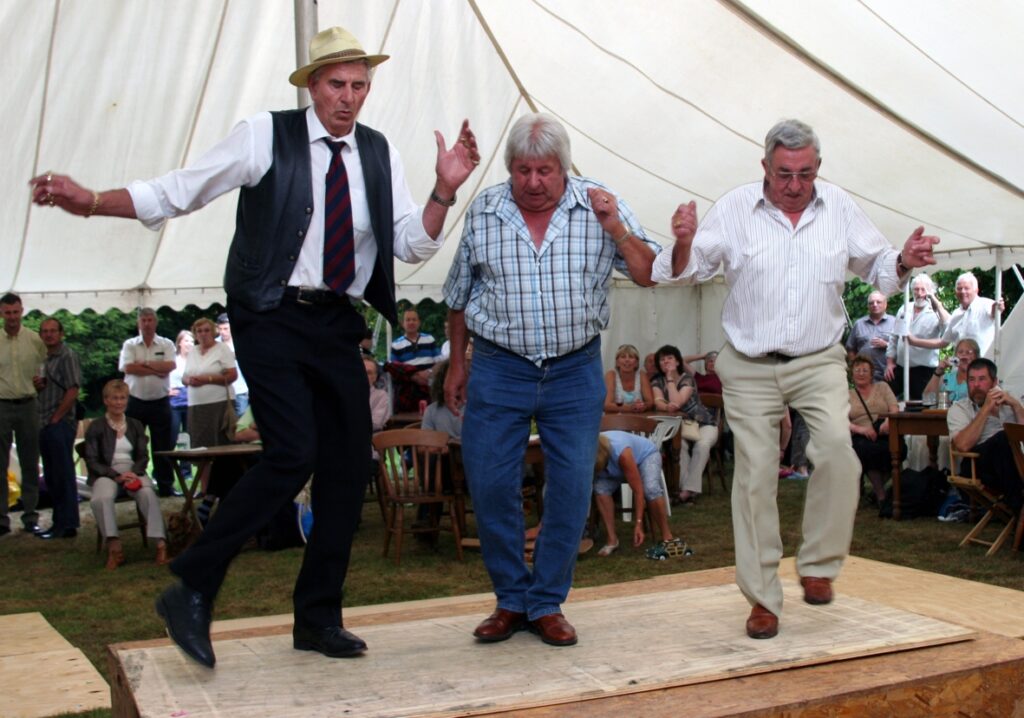 2020 Remembering Brian and Dusty
In the late summer of 2020 we learned the sad news of Brian's death. He was a good stepdancer and a regular judge at Stepdance Day. Brian was buried in Thorndon, Suffolk and Stephen Matthews, musician, dancer and singer was asked to play Font's old accordion leading the mourners into the churchyard to the Bluebell Polka. We are extremely grateful to the support Brian gave to the Trust over the years and he will be greatly missed.
In late November 2020 we also learned that Dusty Smith had died aged 85. Friend and fellow stepdancer James Abbott writes:
"My first memory of Dusty was him step dancing in the Dennington Bell when I was about 9 or 10 years old on a Sunday night. During my teens I became firm friends with Dusty and his family and spent much of my youth with them. We'd often go on horse drives organised by Tony Harvey. Font Whatling would be there with his melodeon and we'd all have a step dance or two.
Dusty was married to Val for 59 years and they had 3 boys: Shayne, Rae and Lee. I went to many a music do with Dusty and Val. Dusty was a keen horse man and drove horses for pleasure and in the show ring. He also bred lurchers and used them for coursing (back in the day). He did various jobs over his life, including tar spraying farm buildings and dealing in scrap metal.
Dusty had a real flare for life and made the most of it. He was such a character. God love you and sleep well old pal".
We hope that Dusty's great nephew Dom Smith will continue the stepdance tradition for the family.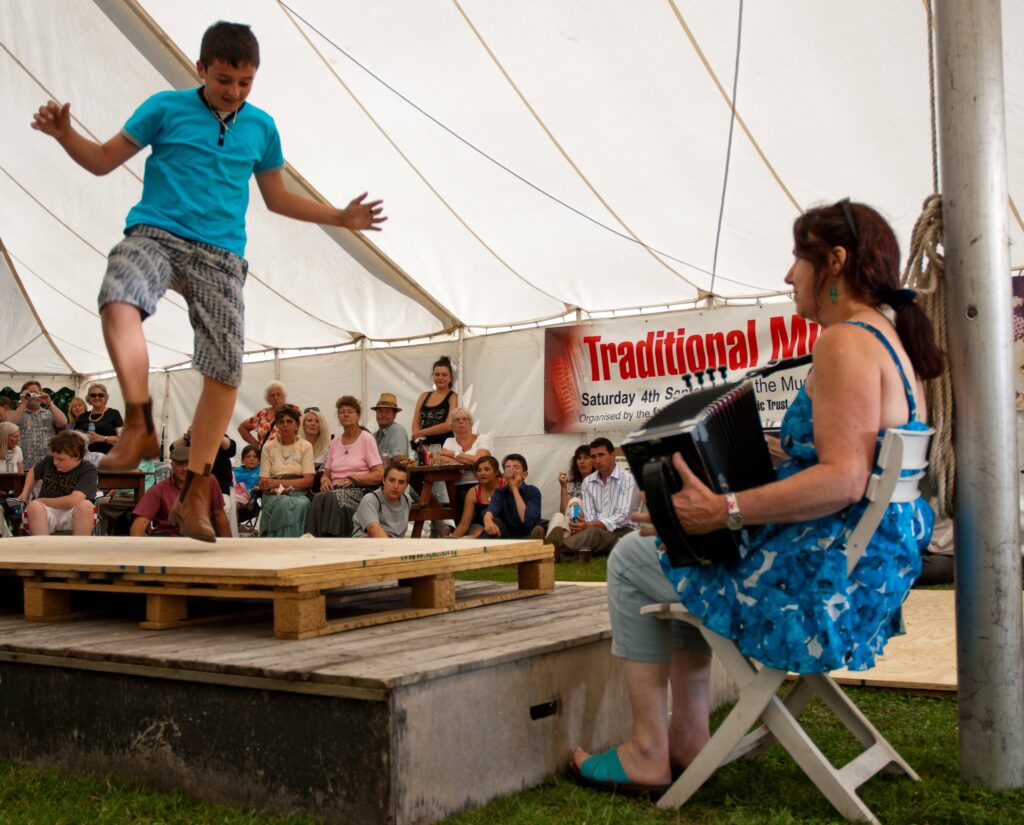 The Percy West Plate
This Plate was introduced to the event in 2016 by the Suffolk Stepper's wife Doreen and Trust co founders Katie and John Howson. This is presented to a dancer by Doreen, also a respected dancer, who she feels has particularly contributed to Stepping over the year.
Percy was one of 17 children and was born in a gypsy Reading wagon. His family (O'Connor-West) was recorded in July 1956 by Peter Kennedy where he made recordings of songs, stepdancing and harmonica playing from a number of the family and you can hear them online via the British Library (links from the Peter Kennedy Archive). Some of these recordings can be heard on a DVD produced by Neil Lanham called "The Last of Old England – A Celebration of Life" – a film set in a Suffolk pub which features several horsemen who arrive with pony and traps, musicians and dancers.
Talking in an interview with the Suffolk Magazine in 2011 Percy says he started dancing when he was about 6 years old. "My mother had 17 children: 10 boys and 7 girls, we nearly all danced. My dad's brothers, Duke and Noah, they danced, played the melodeons and harmonica too. We lived in a horse-drawn caravan and spent half our life outside". Stepdancing was a way of life and was entertainment during the fruit picking seasons with other gypsy families. The West family obviously had a natural flair for it because members of the family won competitions and featured in a variety of recordings. Percy remembered with pride his brother Nelson stepdancing (and coming second) on a talent show on the television in the 1950s.
As well as winning EATMT's competitions over the years, Percy also won the Blaxhall Ship's Sovereign Competition for several years running as his wife Doreen recalled in an interview for Mardles.org in 2018. His favourite tune to step for was Grandfather's Hornpipe. The tunes for this is below.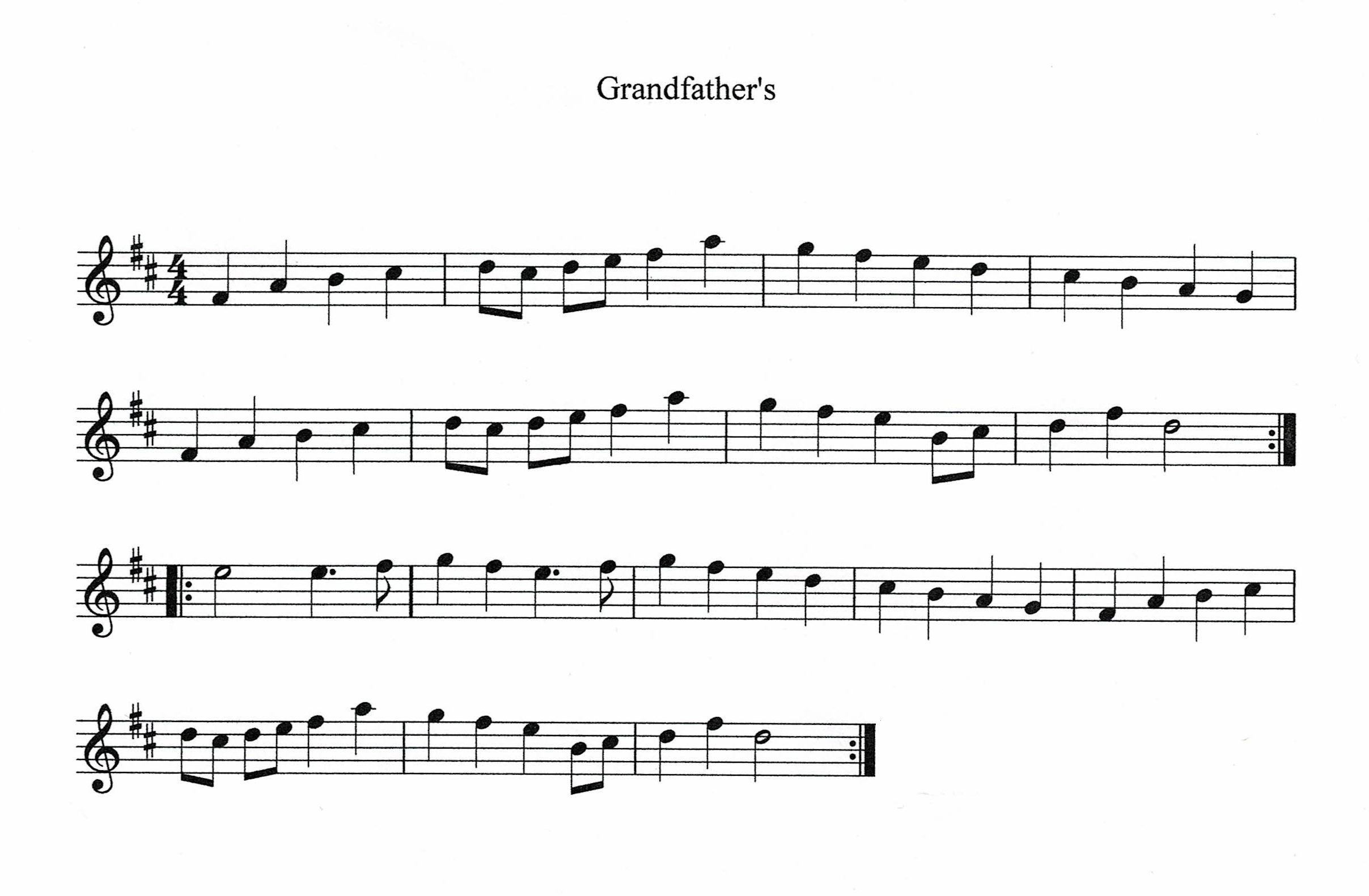 Leo's [Temple Baker] Tribute to Percy West is a delightful dedication to Percy made shortly after his death, filmed by John Haggar at the 2015 Traditional Music Day.
Marilyn Monk
Marilyn was Steve's wife and an annual judge at this event. In 2018 she was too poorly to attend the event and we are sad to announce that she passed away in the Autumn of 2018. She will be greatly missed.