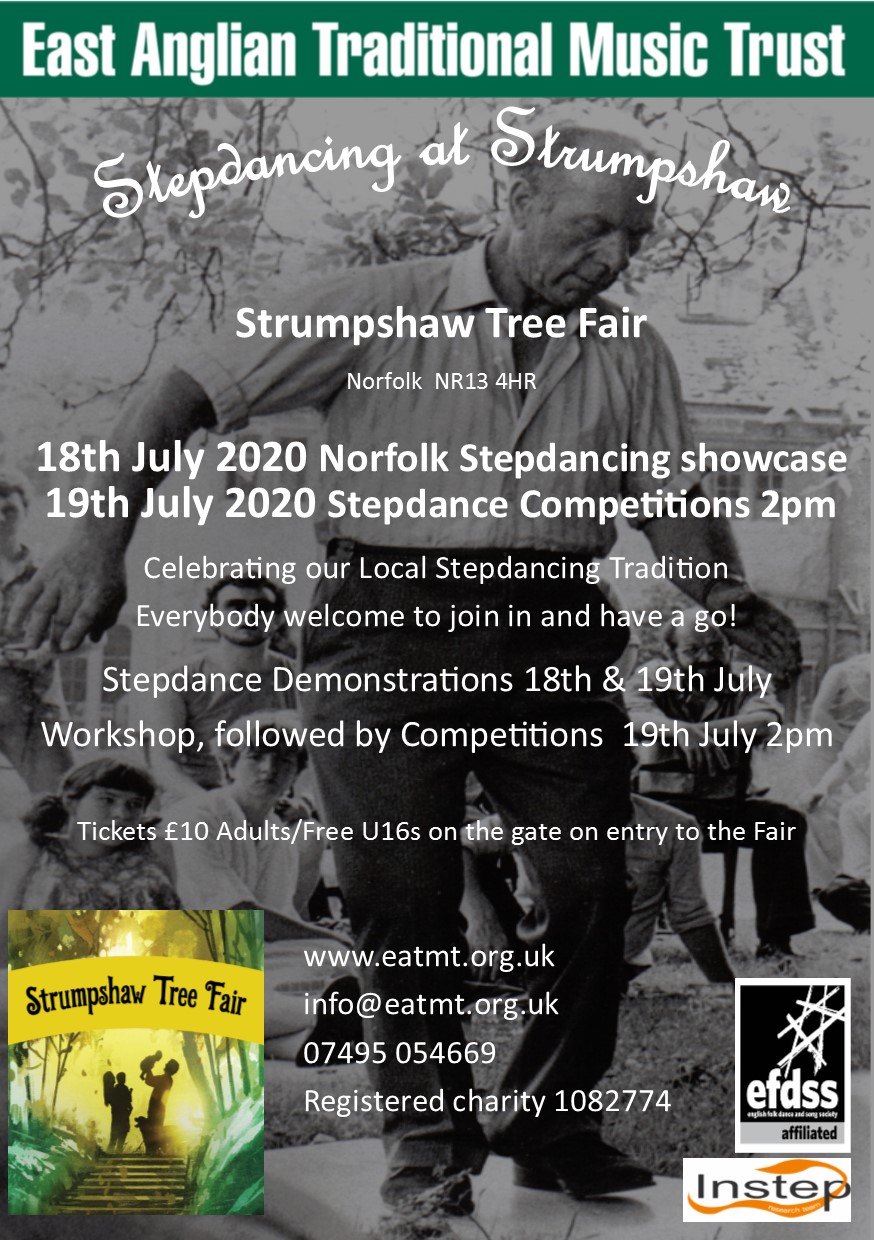 The year when everything stopped and stood still. Covid-19.
Stepdance Day director Fiona Davies was asked to produce a short film for the virtual Strumpshaw Tree Fair event which took place online on the 18th and 19th of July 2020. You can see that virtual festival here. Fiona used the opportunity to share a tutorial and together with musician Robbie Nash, this was added to the Fair's virtual programme.
Very quickly an idea formed and making contact with the Trust's Stepdance Day sponsors, the Instep Research Team, it was agreed that their grant for 2020 could be used to create a short film of stepdancing in East Anglia.
We spoke to one dancer each from the East Anglian counties of Essex, Cambridgeshire, Suffolk and Norfolk and invited one musician from these counties to get involved with this short film.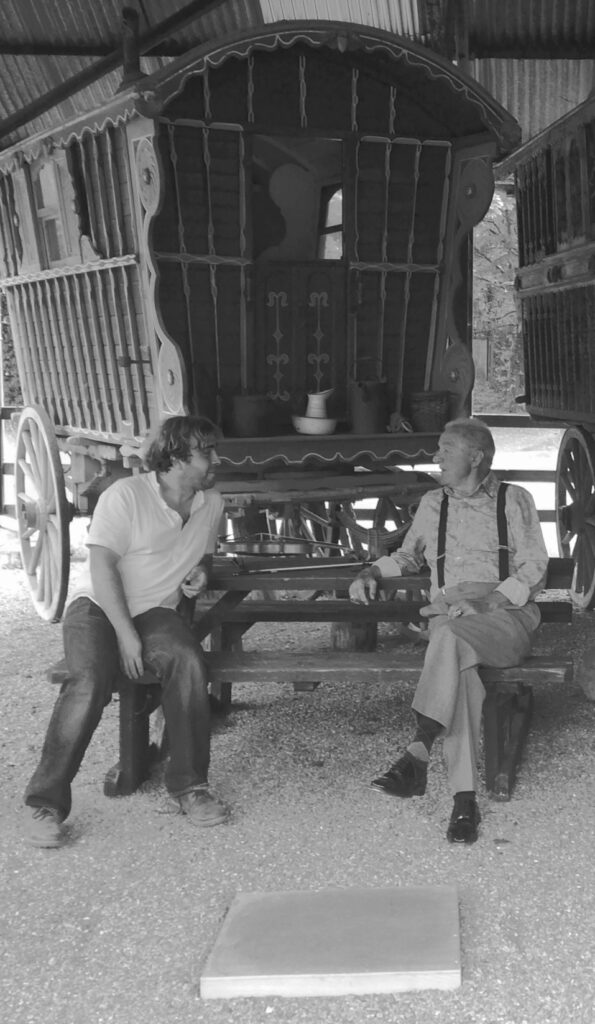 The idea was to capture some older dancers, still dancing, who also had recollections of stepdancing from days gone by. It triggered discussions about life on the road as a Romany gypsy, farm workers dancing on a Saturday night, playing for 4 generations of the Cromer Davies' Family of Stepdancers, the Worlingworth Swan pub and much more. More than we could have hoped for in truth!
In addition, the aim was also to show, that despite the way the East Anglian working landscape has changed – farming, fishing, working with horses having changed beyond recognition – the way people entertained each other is still a draw for a younger generation and the way that this tradition was passed on is still seen as an important part of our cultural heritage. Conservation rather than preservation; kindling flames rather than tending ashes.
First off with the filming was Lennie Whiting from Suffolk who did not need too much cajoling from his regular melodeon playing friend and musician Steven Matthews. There was the obvious caution over the pandemic, and this first film was made in mid July when people were just starting to step outside (no pun intended!), so it was particularly special to see Lennie keen to help. Steve very kindly allowed the filming to take place at his home, filming outside his wagon in mid Suffolk. Lennie danced to the tune 'Pigeon on the Gate'. The natural camaraderie between these two is plain to see on this film and they reminisce about previous stepdance days. An added bonus to this was that the young man behind the camera, Alfie Matthews, had himself joined in Stepdance Day for a few years from the age of about 8 years old (around 2010 onwards). Alfie, who is studying media at college, filmed and edited the Suffolk part of the film.
At the start of August, Mo Allum, stepdancer from Essex was joined by James Delarre, fiddler from Essex. A nice twist to this was that James and his family were involved in the birth of East Anglia's stepdance day and the Steve Monk Memorial Competition. We chose a beautiful summer's day to sit in the grounds of the Museum of East Anglian Life, filming amongst the gypsy wagons, Mo pointed out a Bowtop wagon similar to the one he was born in over 80 years ago on the Sicklesmere Road, near Bury St Edmunds. He spoke of his life as a travelling Romany gypsy, working in fields harvesting potatoes, peas and hops throughout the summer and he talked about the entertainment on a Saturday night. His childhood sweetheart and wife of 57 years, Lily joined in with stories once the camera stopped rolling. We could have listened to them for hours. We were grateful to James for opening up such an interesting line of discussion. James played 'Peggy O'Neill' for Mo and even persuaded Mo to diddle and step.
Next stop for the crew was the Fens – Upware, at the pub "Five Miles from Anywhere". Michael Czarnobaj, a regular attender at stepdance day since it came to Suffolk, spoke to Erin Brown about stepdancing farm workers in Cambridgeshire and Erin talked about how she got involved with stepdancing. Both then danced and played (Erin on fiddle and Michael on concertina) with Barry Watson accompanying on piano accordion. Michael danced to 'George Green's College Hornpipe' and he also explained the connection of George Green to another East Anglian dancing tradition – Molly Dancing and briefly about the recording of researcher Russell Wortley. The young Lucy makes a couple of appearances in this film.
The final film was made in Cromer, Norfolk. Fiona's plan all along was to film at the Henry Blogg RNLI museum but Covid-19 had delayed its opening to the public which delayed our visit there. It was well worth the wait. We were extremely grateful to manager Jacqui Palmer at the museum for allowing us entry to the museum on a day not normally open to the public. Under the watchful eyes of the past famous Cromer lifeboat men, Fiona's son Ben Davies flew the flag for Norfolk and accompanying him on melodeon was a well hidden gem – Plug Emery. Among these impressive portraits were numerous members of the Davies family – many of them stepdancers as well as fishermen and lifeboat men. The tune Ben stepped to was the 'Sheringham Breakdown'. Plug went on to explain that at the age of about 11 years old, during the 1950s, he played for Shrimp Davies and his brothers . In 2020 he was able to add the fourth generation of Davies' steppers to his musical history.
The film starts with Fiona's tutorial made for the Strumpshaw Tree Fair.
In between the films which Fiona has edited, are audio clips taken from the recordings of researchers and collectors Peter Clifton and Ann-Marie Hulme made on visits to Norfolk in the late 1970s. The copy of these recordings which had been passed to the Norfolk musical history project "Rig-a-Jig-Jig" were generously shared with EATMT. Thanks also must go to Chris Metherell of the Instep Research Team who contacted Peter Clifton on the Trust's behalf in order to confirm his agreement to allow these clips to be used in this project.
The film was recorded in the main on mobile phones and except for the Norfolk film, were filmed outside. At times the sound is slightly faint but if you listen through headphones or external speakers the sound is better. You can watch the film here.