Percy Brown
by Dave Arthur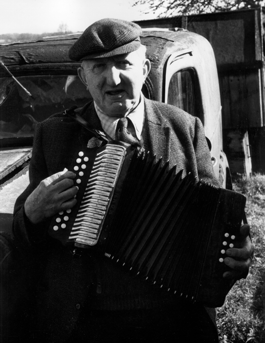 This article in our series of portraits of singers and musicians from East Anglia comes from Dave Arthur, whose own influence on English folk song and music is considerable, both through his long performing career including memorable early work with Toni Arthur and a long and notable stint as editor of the English Folk Dance & Song Society's magazine 'English Dance and Song'.
In the 1970s Dave visited Norfolk melodeon player Percy Brown and comments now: 'It was a huge privilege and joy to learn from such a fine player. His playing, and that of the dozens of other East Anglian traditional melodeon players who have passed away over the last few years, might not have been as 'clever' as a lot of current Revival players, but they had the soul of the music in their fingers, and I'd rather listen to a tune from Percy Brown than any half dozen tunes from most of the current folk revival players who frequently miss the beauty and appropriateness of these often deceptively simple tunes.' Here Dave recalls the times when he and Percy would 'get the Rayburn stoked up, have some tea and sit and play tunes and songs till late into the night.'
Percy Brown coughed a lot, smoked a lot, and played a lot, usually all at the same time. He could accurately blow the ash off the end of his ciggie into the Rayburn, and then clear his wheezing chest, without losing a beat in the rhythm of whatever tune he was playing.
He didn't suffer fools gladly. Once when walking on the front at Yarmouth with his wife, Katie, he stopped to listen to a band. The bandmaster asked if anyone had a hymn they'd like played. Percy shouted out, 'Yes! Must I go, and Empty Handed?' 'I'm afraid we don't know that one,' replied the bandmaster. 'Well that's a rum un,' said Percy loudly, 'I thought you'd a know'd that. Everyone knows that, it's an old un.'
He was less than enamoured with the folk revival. As he once said between coughs and puffs in his kitchen, 'I ain't a lover of that there folk music. Them songs go on forever, and after all, there ain't much tune in some of 'em is there?' Once, when sharing a folk club bill with Walter Pardon, he sat through one of Walter's twenty verse ballads, and as Walter came off the stage, Percy said with mild sarcasm, 'Aint you got summat a bit longer?'
Born in 1903 in the village of Felmingham, between Aylsham and North Walsham, he grew up hearing his mother and other local musicians, playing the melodeon for step-dancing, social dancing, and as accompaniment for hymns and carols. It was his mother who taught him to play his first, three button, tune, the hymn Here We Suffer Grief And Pain. Methodist hymns were always favourites with Percy, although he also played and sang a wide range of music, from the local hornpipes, schottisches and waltzes, through music-hall and variety songs, right up to present day pieces he learnt from the radio or TV such as Don't Cry For Me, Argentina. If a tune was a good one, it was good enough to play.
He is generally considered to be one of the finest melodeon players of his generation, inventive, idiosyncratic, and a musical bedrock for stepdancers such as Dick Hewitt and the Cromer lifeboatmen, for whom he regularly played. He took great care of his two two-row Hohner melodeons (tuned in C/Csharp and D/G), keeping them in their original cardboard boxes, and hardly using the bellows at all, 'All that air rushing in and out must wear out the bellows and buttons, now mustn't it?' He never got the hang of reading music, 'That there music's all right, but it flattens out the tunes.' A thing that Percy could never be accused of.
Photograph courtesy of Dave Arthur
A longer article about Percy and more photographs may now be found on the Musical Traditions website.