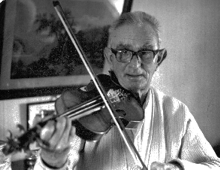 by John Howson
This contribution to our series of portraits of singers and musicians from East Anglia comes from John Howson, co-founder of EATMT, who spent much time in the company of Fred Whiting, playing music and recording songs and music.
Fred Whiting was born in Kenton near Debenham in Suffolk in 1905 and lived there for most of his life. 'Pip', as he was known, left school at thirteen, and he told me how he started work: "I went with a flock of sheep and worked seven days a week, and the only concession I got was I could knock off at half-past three on a Sunday afternoon." I first met Fred just after I moved to Suffolk in 1978. I wrote to him, and we soon met up, and he told me about the days when
he used to sing in the Earl Soham Victoria, Rishangles Swan and Kenton Crown. We started to pick him up on Saturday nights and he took us to some of the local music pubs; in particular I remember the heady nights at the Brundish Crown where we first met Dolly Curtis, Tony Harvey, Charlie Whiting and Lenny Whiting.
Fred was not only an excellent singer, he also played fiddle left-handed. He actually had it strung normally, so he played it upside down; as he said " It's no good changing the strings around because you can never play anybody else's fiddle if you play it left handed." He played masses of tunes, some learned from books, as well many local polkas and hornpipes he picked up in the pubs in his locality.
During our nights out singing and playing, Fred would get out his dancing dolls which always pleased the gathering. These were no ordinary sized jig dolls but each was a foot (30cm) high. He had three, which he had made himself, two with kilts and one dressed as a lady, and he danced them two at a time. When Fred died he left the two Scottish dolls and his board to me and the lady is in the safe keeping of Carole Pegg (see Big Jig page.)
Fred was a prolific collector of songs himself, and over the years he picked up songs wherever he went, including some from New South Wales where he spent a few years in his late teens. But it was his father who started him off singing: "I'll tell you the first song I ever learned in my life, and I learned it from my father: my mother died when I was about half-past five, and my father used to sing a song to get me to sleep, and he'd get me to sing with him. The first song he ever learned me was The Sailor Boy: it's known all the way up the east coast of England. Well after that, like any kid, I wanted something fresh when I'd learned it, and he got me onto To be a Farmer's Boy. Anyway, that's how I started my career as a singer." And what a career! I recorded well over forty songs from him, several of which have never turned up anywhere else.
In many ways Fred started our adventures into Suffolk traditional music and as well as a wealth of personal memories, he has left us all a massive legacy of unusual songs and tunes.
Look on the Musical Traditions website for more information about Fred in an article by Phil Heath Colman, plus Keith Summers' original article from Sing, Say or Pay (1977). Here's a link to him playing Pigeon on the Gate, from the MT website.