Welcome to a short "Pre Spring" Newsletter
Here at EATMT Trust HQ we've hit the ground running. January was over in a flash. Our Annual Report for 2020-21 was completed in January and the summary of that year can be accessed HERE. Grant applications were completed, the annual Charity Commission return was completed and we have also been busy co-ordinating the various strands to our Covid Continuity Fund for Culture (CCFC) project which will be delivered between now and the end of March 2022. Work on other events which are being planned for 2022 have also been worked on so now seems like a good time to highlight the 3 events taking place in March and also to give you more news on our other events.
As part of the CCFC project, we are running two pop up Traditional Music Cafes in Suffolk – one at Brandon Library on Thursday 10th March 2-4pm and one at Stradbroke Community Centre on Tuesday 22nd March 2-4pm. Our Brandon event welcomes some wonderful musicians – fiddlers James Delarre and Erin Brown, with Erin also demonstrating a broom dance and Nicky Stockman, melodeon player and CCFC project manager. Our Stradbroke event also welcomes some super musicians – Ron & Pam Ross and singer Shirley Harry. These are free afternoon events involving "have a go" sessions and a short afternoon concert. Refreshments will be available and our website will be available to browse on our laptop at both events to update our supporters who don't have regular internet availability.
PLEASE NOTE, THE EVENT AT BRANDON LIBRARY IS NOW FULLY BOOKED!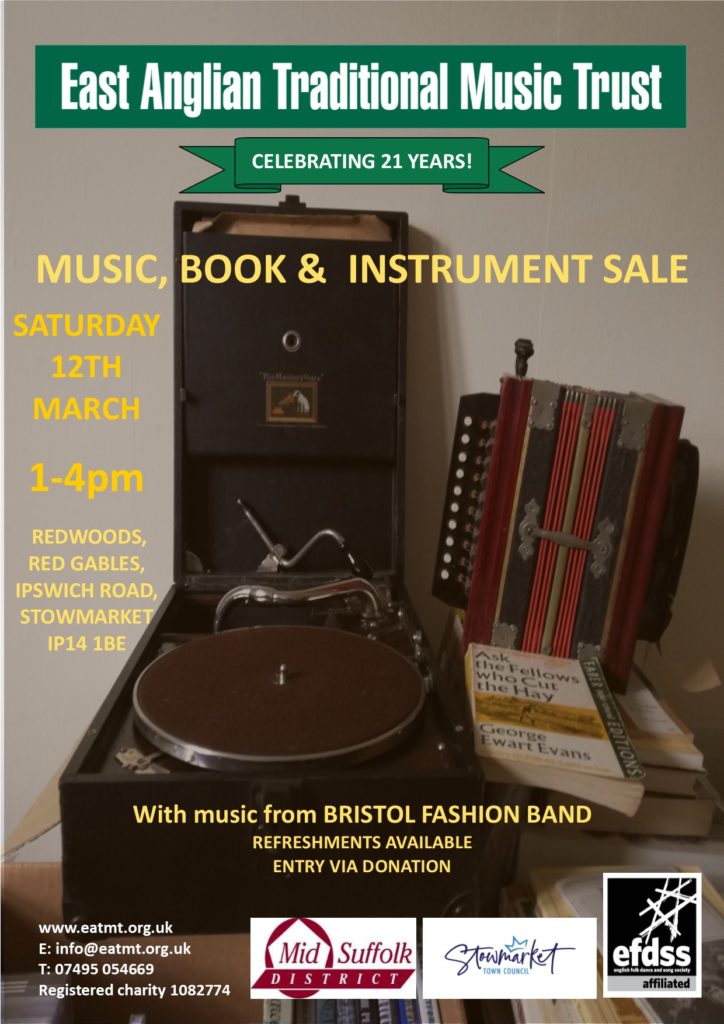 Another event in March is our Music, Book and Instrumental Sale which is being run at Redwoods Library, Red Gables, Stowmarket on Saturday 12th March from 1-4pm. Following the success of the first sale run last September, we are putting this sale on again, this time with the opportunity to offer you the chance to sell any unwanted musical instruments. We have created a sales list of particular items that are on sale which you can view HERE so do get in touch if you are interested in any of the items for sale or if you have an instrument you would like to see. Bristol Fashion Band will be providing entertainment and there will be tea and cake as well as great bargains available.
We are offering 3 Gordon Ruddock bursaries in the 2022/23 financial year. One is in collaboration with the Burwell Bash Summer School, one in collaboration with FolkEast and the other is in the form of a year-long loan of an Anglo Concertina. If you are interested or know anyone interested in getting involved in the Youth Folk Moot with the FolkEast team (Burwell Bash sold out in 48 hours in December 2021) or in applying for our concertina loan, please contact EATMT on info@eatmt.org.uk or ring 07495 054669 before 31st March 2022. For more details about the Gordon Ruddock Bursaries see HERE.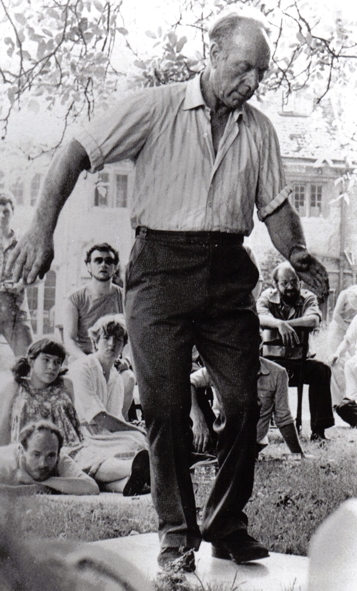 Cyril Barber July 1922- January 2022
It is with great sadness that we have to tell you that in late January 2022, at a grand age of 99 years old, Cyril Barber passed away. He will be remembered fondly. If you haven't already read our Musician's Profile of Cyril you can find that on our website. His funeral will be held at Bury St Edmunds' Crematorium at 9am on Friday 18th February (no flowers).
You can read Katie and John Howson's musician profile on Cyril HERE and see various films via THIS PAGE
Can you help?
We are on the look out for a working 2nd hand record deck and a reel to reel machine (2 speed – 3.75 & 7.5in). If you have either of these items unused and unwanted and lurking in your lofts, please do get in touch (info@atmt.org.uk) and we would be happy to give it a new lease of life!
Other events run in 2022 by EATMT
Saturday 28th May – More than Melodeons held in the village of Wingfield, Suffolk. We are delighted to be joined by some wonderful tutors offering a wide variety of workshops during the day followed by an evening concert in the Grand Barn:
Dave Shepherd – Fiddle
Jack Hogsden – Melodeon
Jill Parson – Melodeon
Sally Barrett – English Concertina
Andrew Collins – Anglo Concertina
Mim Barnes – Whistles
Janet Koralambe – Voice
We hope to have tickets on sale towards the middle of March 2022 but in the meantime, put the date in your diaries!
Sunday 24th July – Stepdance Day, Chippenham Village Hall, Cambs
Further details will be released in the coming weeks. This event is sponsored by the Instep Research Team and this year we plan to share the wonderful world of stepdancing with this East Anglian County.
Saturday 10th September – East Anglian Traditional Music Day, Stowmarket
Behind the scenes, plans for this event have been notched up a step and we will be in a position to share more details with you very soon. In the meantime, please do save the date!
Events across the region are being organised by a variety of individuals and organisations like EATMT. Mardles.org is a great source of what's happening when looking online. Don't miss their Wind & Strings day of workshops on Saturday 7th May at the Geldeston Locks Inn.
As ever, we are working on adding more articles which have been kindly contributed by EATMT supporters. The latest addition is part of January's Newsletter "Tatters" written for the good people of the Tiger Folk Club (Tiger Folk) based in the midlands. We made contact with this long running Folk Club in 2020 when we re-housed several tapes made by Dave Cooper of sessions in the 80s and 90s of the club at a time when Dave was involved. One of the club's organisers, John Bentham, contributes to the Newsletter with "Bendle's Bit" and he kindly sent it to us in the early new year because it had a reference to East Anglia, fine singers and to Neil Lanham. You can read the article HERE and if you are travelling North and passing Tiger Folk, you can check out who's also visiting there via their Facebook page HERE.
Alex Bartholomew, Administrator