It is with great sadness that we have to tell you that in late January 2022, at a grand age of 99 years old, Cyril Barber passed away. He will be remembered fondly.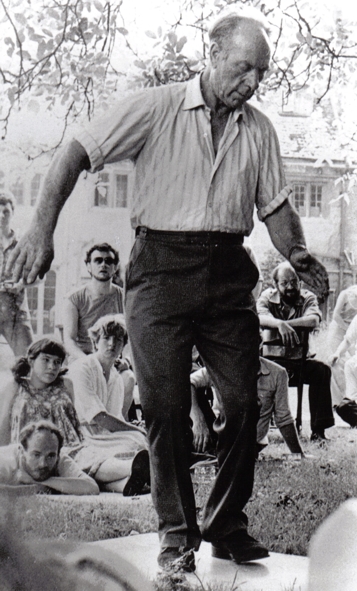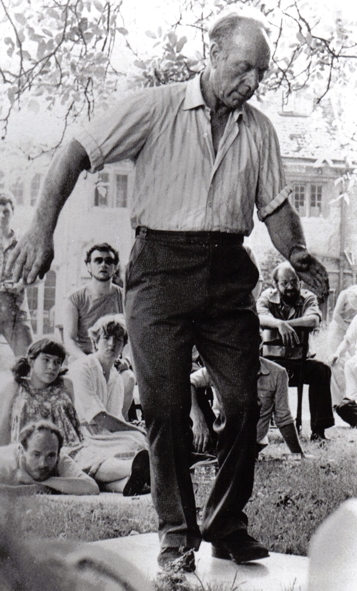 Cyril Barber
by Katie & John Howson
Cyril Barber has been a well known figure in the traditional music, song and dance of Suffolk until a few years ago when ill health curtailed his activities. However, he is still going strong at the age of 91 and looks back at his years with the Old Hat Concert Party in the 1980s and 90s with particular fondness.
Cyril was born in Wingfield in 1922, with three older brothers, Sonny, Rip and Royal, who were all musical. Both parents sang: Cyril learned The Faithful Sailor Boy from his father, and Royal remembered: 'The old man he used to stepdance and sing. Yes he'd get up and step as fast as you could play for him, that was in Wingfield in the King's Head.'
Cyril often relates the story of how he himself learned his first steps, from an old man called Mr Rumsey, on the way to school.
Sonny was the oldest brother and it was he who first bought an accordion, on which other family members would sneak a tune when he wasn't there. Cyril soon took to music like a duck to water and was a regular in local music pubs such as The Ivy House in Stradbroke.
After the War, Cyril moved for work to Cambridgeshire and returned to Suffolk in the 1960s, to Felsham near Bury St Edmunds. Gradually he more or less stopped playing the melodeon and stepdancing, as there was virtually no traditional music in the pubs in that area.
We met Cyril through Sonny, who had moved to north Norfolk in 1950. In the early 1980s we heard of Sonny through Anne-Marie Hulme who had been researching stepdancing in the area, and went to visit him in Briningham, near Melton Constable. Although a bit of a recluse by then, he is still remembered by quite a number of people today, as we persauded him to play in front of a bigger audience at the English Country Music Weekend in Snape in 1981.
We then realised Cyril lived very close to us and began to meet up with him regularly. He was delighted to find people with an interest in the old songs and tunes, and so began a long friendship, with Cyril becoming a regular at Old Hat Music Nights in pubs across Suffolk (including, for many years, the Queen's Head in his old stomping ground of Stradbroke) and travelling further afield to clubs and festivals in London, Sidmouth and Dartmoor, Loughborough and Gateshead as a member of the Old Hat Concert Party.
In recent years, he has understandably been less active. Over a period of several years he gained great enjoyment himself from entertaining people in sheltered housing schemes through an EATMT project with Suffolk Artlink.
Apart from singing old favourites such as The Old Rustic Bridge by the Mill and The Old Sow, Cyril developed a fine sense of comic timing and his storytelling became as popular as his songs.
He visited Traditional Music Day several times and in 2008 we invited him to judge the first Font Whatling Traditional Stepdance Competition at the EATMT Stepdance Day. We sensed he wasn't too keen, but didn't realise the reason was that he wanted to take part himself – of course! In 2009 he won the competition, which turned out to be the last time he took part, but by golly was he on form that day!
Further stories from the Barber family can be found in a piece written by John Howson in 1983 on the Musical Traditions website.
Click here for a video of Cyril stepdancing on a 1983 visit to Swindon, with the Old Hat Concert Party. The Old Hat Concert Party page on our website also has some video from later in the 1980s in which Cyril features too.