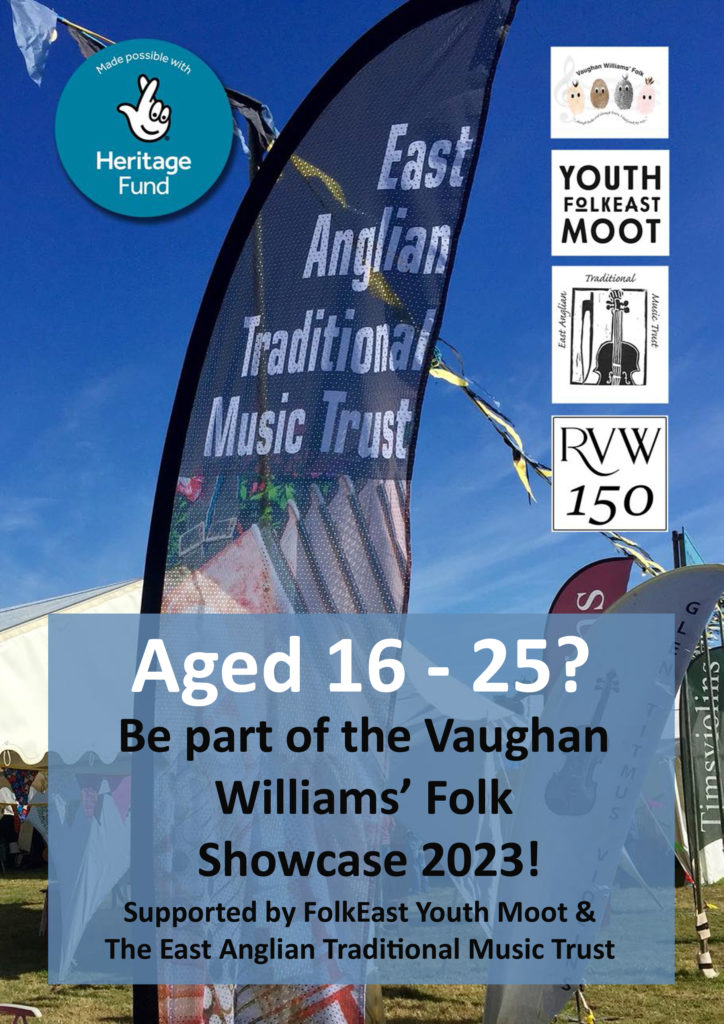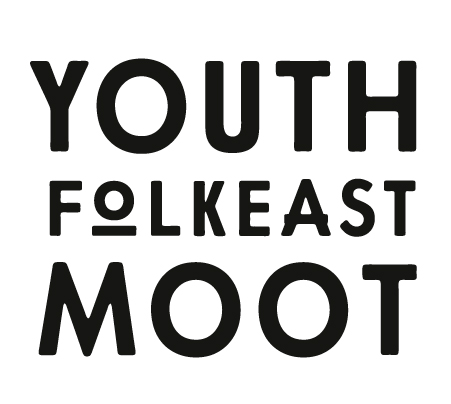 EATMT and FolkEast Youth Moot , a programme of music and art for young people, are excited to work with 8 young musicians (16-25 years) to create a musical showcase using folk music and song collected across East Anglia by Ralph Vaughan Williams. 8 musicians will be enrolled on a mentorship programme culminating in a musical showcase at FolkEast and at East Anglian Traditional Music Day 2023.
Open for applications from 10th September 2022 – 31st October 2022
How It Works
The Musicians
• We are looking for singers and musicians from any musical genre who must be between 16 and 25 years of age on 1st September 2022.
• Priority will be given to those either living in East Anglia or having grown up in East Anglia, but people from outside the Region can apply, providing that they are able to attend workshops and events, which will primarily be based in Suffolk.
• The final showcases will be on a festival or theatre stage and musicians will need to be able to play or sing their final musical piece aurally.
• In the case of instrumentalists, instruments must be transportable. We are not able to move grand pianos across a festival site!
The Mentorship Programme
The aim of the programme is to bring a group of young musicians together to create a musical showcase based on Vaughan Williams folk music collecting, which shall be performed at FolkEast and at East Anglian Traditional Music Day in Stowmarket in 2023.
• Musicians should be able to attend the following events:
o Vaughan Williams In The East Research Conference at The Mix in Stowmarket, Saturday 26th November 2022
o FolkEast Youth Moot Mentorship Day at The Mix in Stowmarket, Saturday February 4th 2023
o FolkEast Youth Moot Performance Workshop & Rehearsal, July 2023 (date tbc)
o FolkEast Festival, Glemham, Suffolk. One day between 18-20th August 2023. Each performer will receive a day ticket to the festival and an additional day ticket. Performers under the age of 18 will be expected to bring a parent or guardian to the events
o East Anglian Traditional Music Day, Stowmarket, 2nd September 2023.
• Musicians will work with a mentor during the period February 2023 – July 2023 to enable them to use Vaughan Williams collected transcripts to create a polished musical performance. There will be opportunities for ensemble work and solo work
• Reasonable travel costs will be reimbursed
How To Apply
• We are asking musicians produce a short film (on a mobile phone or similar device). This should:
o Be a maximum of 3 minutes in length, shorter is OK!
o Provide a brief description of who you are, your musical background and interests
o Include a short performance of you singing or playing your musical instrument
• Please fill in our short application form (download below) with relevant contact details.
• Films and the application form (download below) should be sent to vaughanwilliamsfolk@yahoo.com via a file transfer service such as Google Drive, We Transfer or similar. The application window will run from 10 September to 31 October 2022. Applicants will be contact by November 11th 2022
• The EATMT and FolkEast Youth Moot will not distribute this material externally, except to those involved in the Vaughan Williams' Folk selection process and shall destroy all personal records of those that were not selected by 11 November 2022 and the records of those enrolled to the programme by the end of September 2023
Questions?
Still have questions? Drop us an email on vaughanwilliamsfolk@yahoo.com.