Walter & Daisy Bulwer
by Reg Hall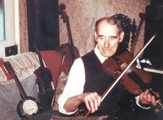 This article in our series of portraits of singers and musicians from East Anglia includes contributions from Reg Hall, revered musician and musicologist with a long involvement in traditional music in England, both in rural English traditions and urban Irish traditions. These days, many English folk musicians play two tunes known simply as Walter Bulwer's no. 1 and 2, but few know as much about the man behind those tunes as Reg Hall.
Walter Bulwer was born in 1888 in the village of Shipdham where he lived all his life, and worked as a self-employed tailor and barber amongst other things. His father had taught his two sons Walter and Chamberlain, to play the violin and read music from a very early age, and music was at the centre of Walter's life for the next sixty-odd years. Walter played the banjo, viola and mandolin as well as the fiddle, could knock a tune out of an old ten-key melodeon, and had also played clarinet and trombone in the village band. Before the First World War, Walter played with a piano player at servants' parties in the big houses in the locality. In 1916 he and Daisy married, and for the next forty years they played for weddings, Walter on fiddle and Daisy on piano or banjo.
Reg first met Walter and Daisy Bulwer in April 1959, introduced by musician and friend Mervyn Plunkett, whose sister lived not far from Walter. Within minutes of meeting, Reg and Walter were playing music together. Reg and Mervyn were amazed when after a while, Walter left Reg to play the lead, and broke off into improvised second part harmonies. Reg recalls another musical meeting in January 1960, when there was deep snow on the roads, and they didn't arrived until 10pm and says 'my fading recollection is that those first few seconds were indeed magic'.
Musical sessions continued over the next few years, and resulted in an album issued in 1965, entitled English Country Music, also featuring Norfolk dulcimer player Billy Cooper. This was to become a touchstone for the revival of interest in English traditions that followed in the 1970s and is still going strong today.
Walter and Daisy were in their early seventies when Reg knew them, and no longer played out very much, but liked nothing better than to work through their large collection of printed music during their evenings at home. They had evidently played the popular songs of the 1920s and 30s, but they also enjoyed playing the old hornpipes and polkas by ear, and some Walter used to make up as he went along! Walter played in an unornamented, rhythmic style, with no sign of dance-band conventions or jazzy inflections, and although he had a degree of musical literacy, was far from being a conventional violinist.
Reg is very aware that as an outsider, he added his own influences to the music made at the sessions with Walter, Daisy and Billy, but was very pleased to think that these Norfolk musicians continued to play together, having been introduced, so far as we can tell, through himself and Mervyn.
Daisy Bulwer wrote in a letter to Russell Wortley dated 11th September 1960: 'Walter say it will be nice if Reg Hall could get over & he make it a good band with his accordion if you think there is any possible way of getting him over perhaps you could kindly let him know we would both like to have him come.'
Photograph courtesy of Rig-a-Jig-Jig
A longer article about Walter and more photographs may now be found on the Musical Traditions website.