Piecing Things Together
We hope that this Summer Newsletter finds you safe and well and able to take steps into finding some sort of normal.

Over the last few months, we've enjoyed the continued 'musical give' from artists and musicians who have kept performing and continue to keep us entertained. The coming months will continue to be tough for the Arts industry and already many self employed musicians are turning their hands to other kinds of work in order to survive so do give generously as they pass around their virtual hats so that they may continue to brighten our days.
Re-thinking outside of the box
Two planned projects/events had a rethink over the summer. The first was relating to Stepdance Day which was due to be held in July at the Strumpshaw Tree Fair. Co ordinator Fiona Davies agreed to make a short video on the Trust's behalf which showcased Stepdancing and included a short talk and tuition. This video was included over the weekend on the Strumpshaw Virtual Tree Fair here.

On the back of this, in order to secure our Stepdance Day funding from the Instep Research Team we decided to take this a step (no pun intended!) further and make a short film. Keeping our visits to a minimum and being mindful of the social distancing guidelines, we decided to focus on one dancer and musician each from Essex, Suffolk, Cambridgeshire and Norfolk endeavouring to capture the essence of this East Anglian Tradition. Fiona's tuition will also feature. We are in the process of now editing that film and hope to have it available to watch during the Autumn. Thanks go to: Lennie Whiting, Steve Matthews, Alfie Matthews, Mo and Lily Allum, James Delarre, Michael Czarnobaj, Erin Brown, Barry Watson, Robbie Nash, Plug Emery, Ben Davies and Fiona Davies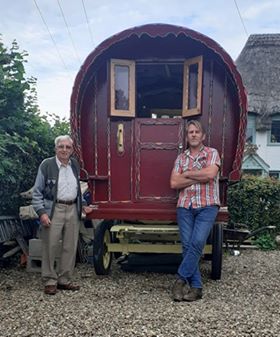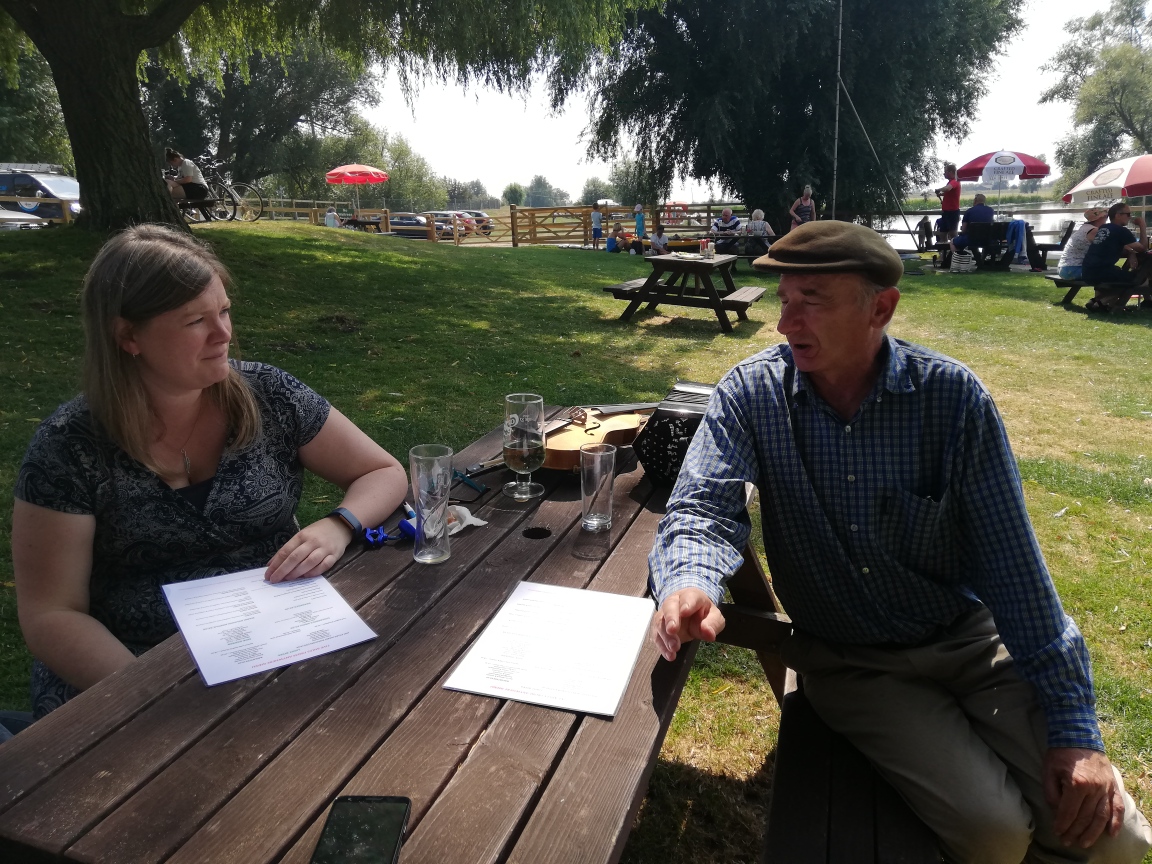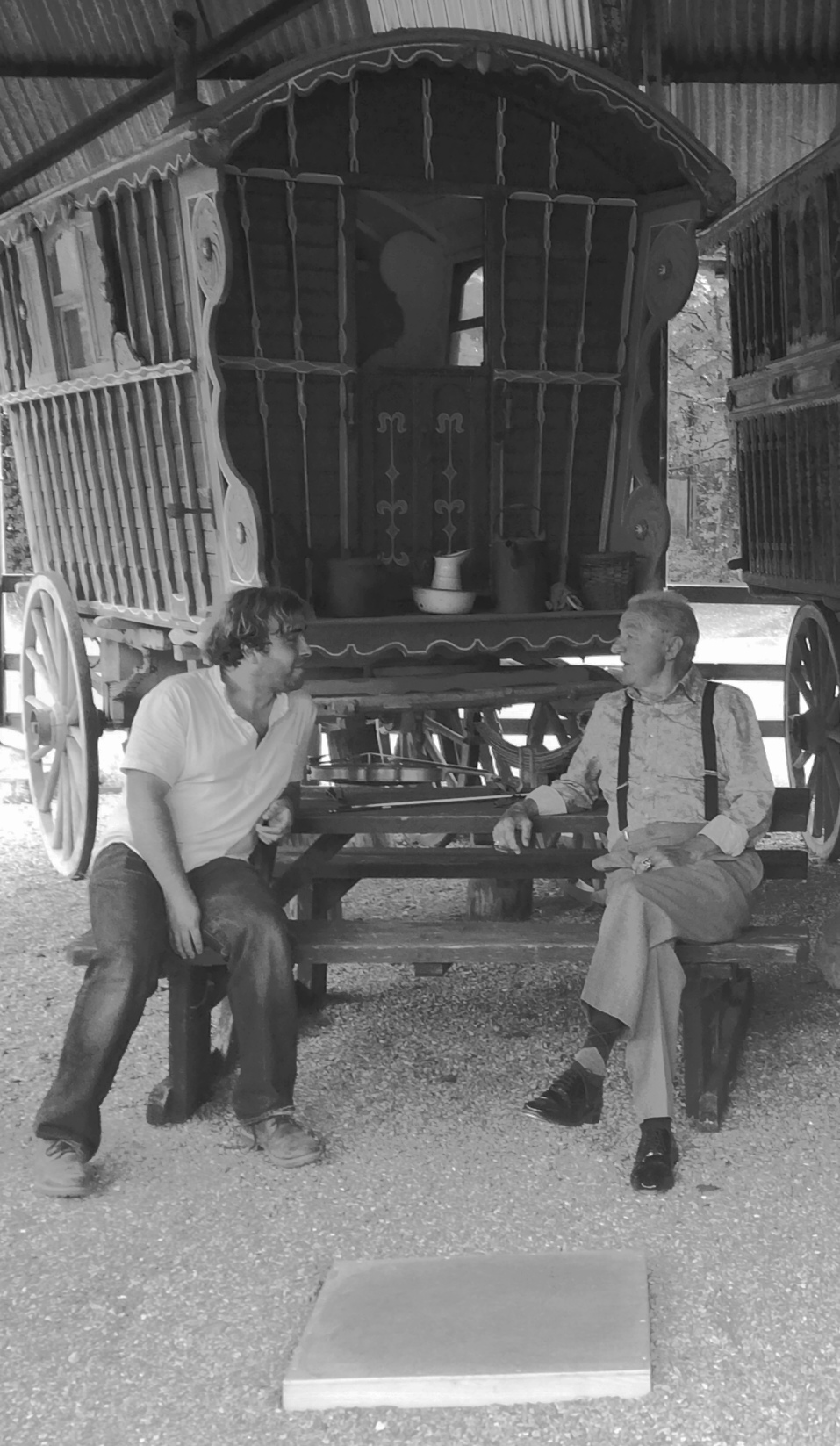 Lennie Whiting and Steve Matthews (credit Alf Matthews) in Brome, Suffolk
Erin Brown and Michael Czarnobaj (credit EATMT) in Upware, Cambs
James Delarre and Mo Allum (credit EATMT) Essex dancer at the Museum of East Anglian Life

The Jig Dolls project in Stowmarket Care Homes has also undertaken a rethink and we hope over the early Autumn to produce a short video tutorial thanks to EATMT founders Katie and John Howson. With Katie providing a tutorial and short talk about the dolls, we hope we can provide a link for care home providers to access as well as loan out the box of Jig Dolls to provide entertainment over the Winter months whilst we envisage strict guidelines to be in place.
A collection or four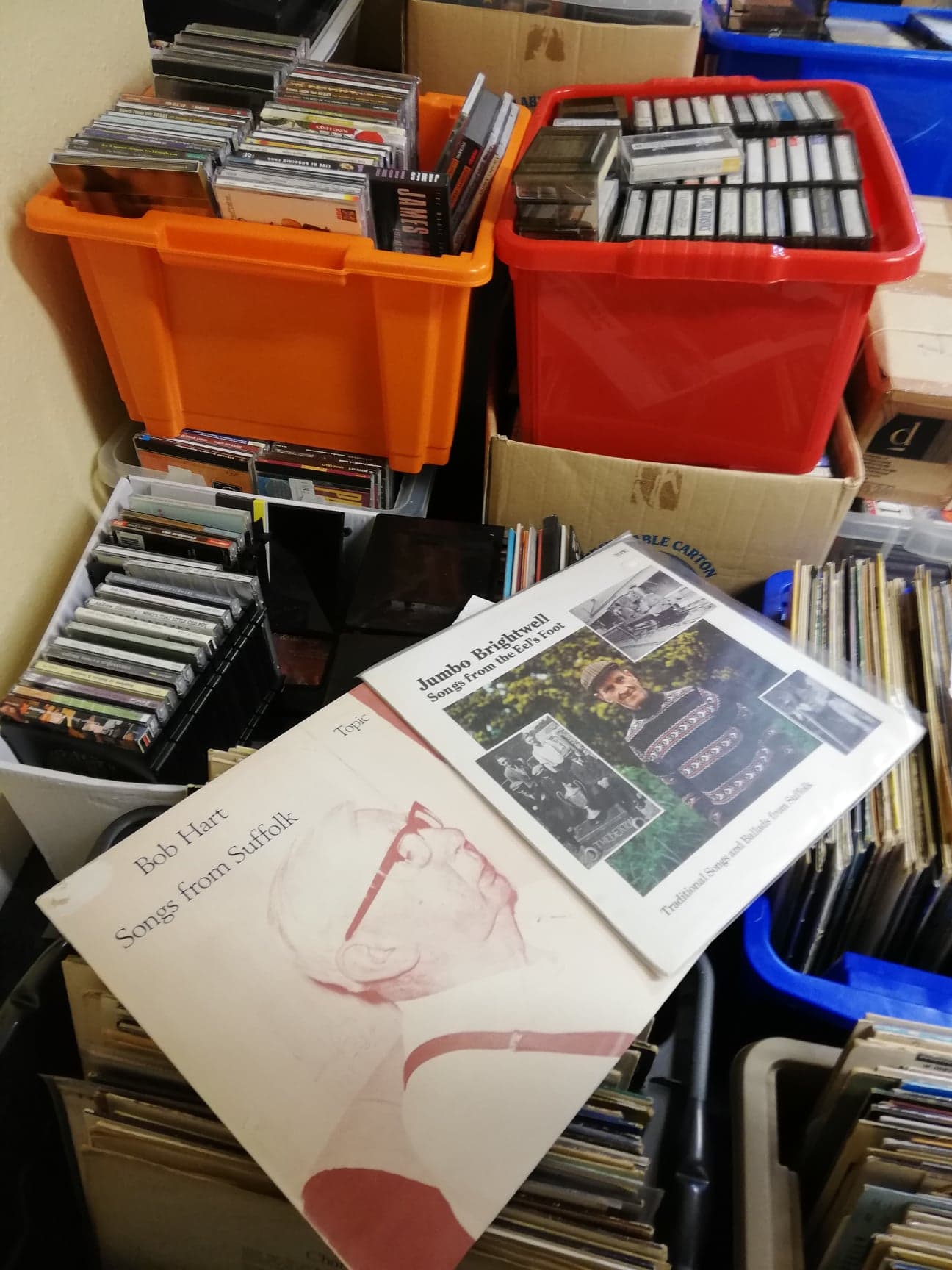 Over the Summer months the Trust has been gifted a number of books and a music collection.
When Lockdown started to ease, Administrator Alex Bartholomew and musician and volunteer Megan Wisdom went to visit local collector, author and musician Neil Lanham in his garden in Botesdale, Suffolk. Neil very generously sent us away with a bagful of CDs, DVDs, articles and books that he has produced over his fifty years of recording in order to put into the Trust Archive. You can read Neil's article about his Oral Traditions here. We have listed the donated items and included several sound clips so you can "try before you buy" from his website.
We have also taken receipt of gifts from past Friends and Volunteers John Halliday, Ian Prettyman and Dave Cooper. It is Dave's collection which has prompted the Trust to temporarily rent an additional room in Stowmarket to house a rather large record collection. This includes Dave's own recordings of Folk clubs he ran over the last fifty years. We're not sure quite what we have got yet and are still at the box sorting stage. However, if at the mention of "mini disks" you DON'T roll your eyes, and if you happen to have some time on your hands, then we might have just the job for you!
Our extra office is situated at Red Gables in Stowmarket and is in the attic. If you don't mind stairs, and would like to lend a hand, please do get in touch (info@eatmt.org.uk).
Website News
We are currently undergoing some site changes and we know there are some anomalies that need ironing out, so please bear with us.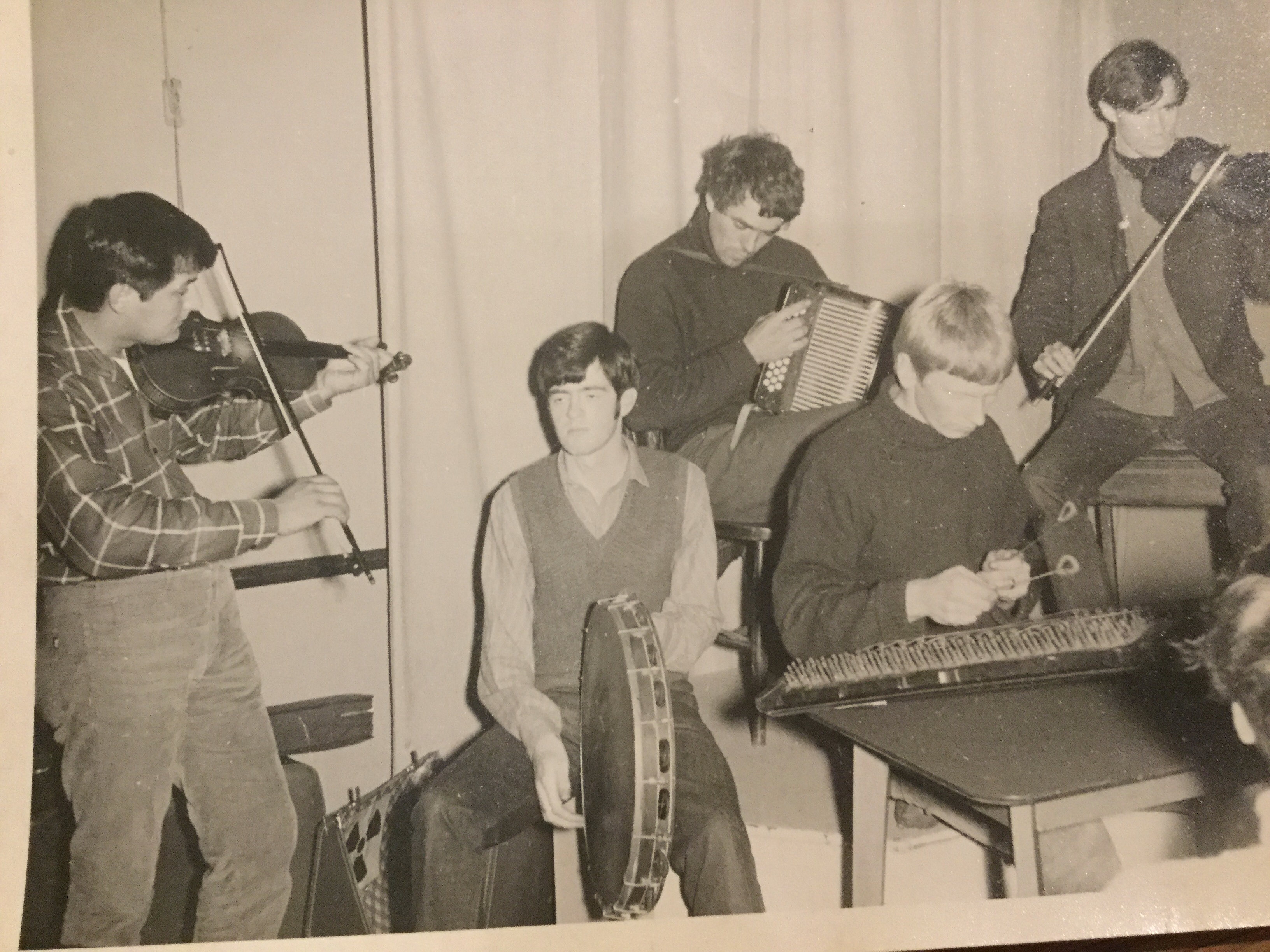 The mere mention of this band triggered so much feedback to the Trust that we've produced a Preview article which you can read here.
This incredible feedback is partly with thanks to Mardles and also the newly formed Uncle Walter's Folk News (also published via Mardles) which has been created by journalist, Brian Gaudet focusing on Traditional Music in Norfolk. With past band members making contact and their groupies, we've been given some lovely memories and a wealth of information on this popular band. Alex has now passed this information over to the man behind the idea, Alan Helsdon, to pull this information together. He is waiting for a couple more people to finish passing on their memories so the full article can be finished. Alan has also been given several tape recordings of their sessions in Chelmondiston and Cromer which we hope, with permission, we can turn into a CD. Watch this space!
Stepdancing Pages
The stepdancing page has been worked on over the summer, with a page about Stepdance Day and the start of archives of past days being added slowly. Jayne Delarre has kindly given us more information about the creation of Stepdance Day back in 2000 and we have added more information about the Percy West plate.
Musicians Profiles
Ian Prettyman's profile now appears on this page with thanks to contributions from his friend Keith Skipper, Ian's daughters Susan and Carol and Katie Howson. There is also a delightful audio of Ian's singing within this profile.
The profiles that appear on the website cannot be added without the help and research and knowledge of other people and we are indebted for time taken by others to help preserve the memory of people who have contributed to the East Anglian Traditional Music scene.
We would like to try to include more influential and respected musicians from across the region so if anyone feels they might be interested in contributing to an article on this page, please do contact the Trust – info@eatmt.org.uk.
Archive Collection
The John Brown Tune Book (was originally titled Goff) is now added along with the audio files and downloadable pdfs of sheet music for the 27 tunes found in this collection.

The Watson collection is currently being worked on – with 25 of its 70 odd tunes having been catalogued so far.

The Music Box Archive had its obvious set back in the early Spring but Megan Wisdom is back out with her recording device and is gradually adding more singers to this archive. Do keep looking at this page as Megan is working to get her latest singers added before heading back to Newcastle to continue her University degree.
Eammon Andrews, Judy Andrews and Derek Simpson are Megan's latest interviewees
For those who have already contacted her, please be patient! Megan would like to focus on Suffolk initially because it is her home county and during Lockdown this focus has been more helpful to her. Once she is happy with the format of the recordings, she will look at the neighbouring counties.
Pat Pickles' Jig Doll Archive

Record sleeve photograph from the Pat Pickles' Archive
Now that the office is more accessible following Lockdown, this archive is now in the process of being digitised. Once photographed, it will be viewable online though there's some way to go yet…
Book sales and Instrument Hire
Now is a great time to gen up on those tunes or read or both. Check out our online shop.  Or how about learning an instrument?  With access to the office, posting books is not an issue and neither is sorting out melodeon, concertina or dulcimer hire.  Now has never been a better time!
For those of you who have a copy of the Trust's tunebook, Before the Night Was Out, there are now some downloadable pdfs which include an addendum sheet which is for a page that was accidentally omitted during publication and in addition to this page, an erratum page which has been designed to be cut out and stuck in and over the incorrect sections in the book. Many thanks to Steve Dumpleton who was involved in the publication of the book for updating this. You can find these additions HERE.
Lockdown Learners
It is noticeable how many younger people have taken up instrument hire over Lockdown. A year ago, a Friend and supporter of the Trust donated on a long term loan basis a Hohner Accordion which it was hoped could be loaned to young people giving them an opportunity to learn a new instrument. During Lockdown, the accordion found its way to a houseboat moored in Woodbridge and below is some video footage of young Eden who is the first recipient of this instrument.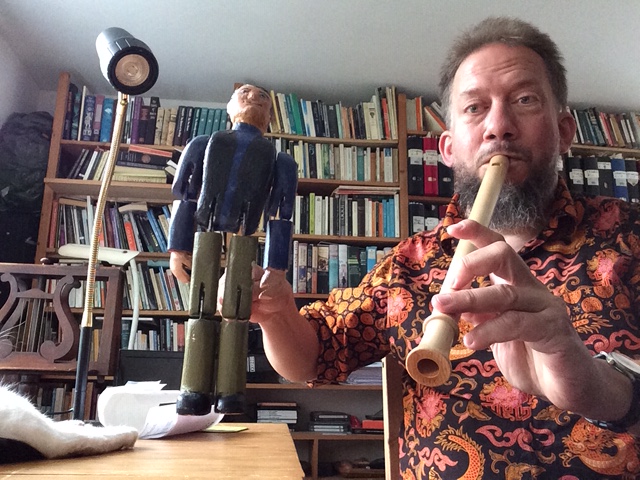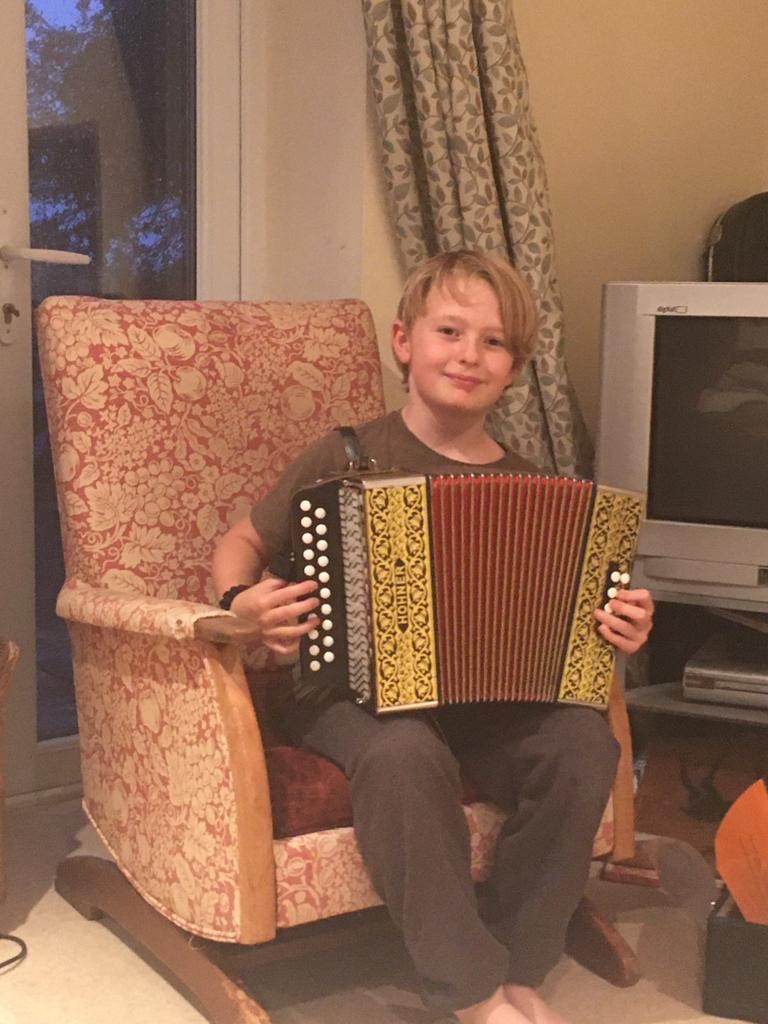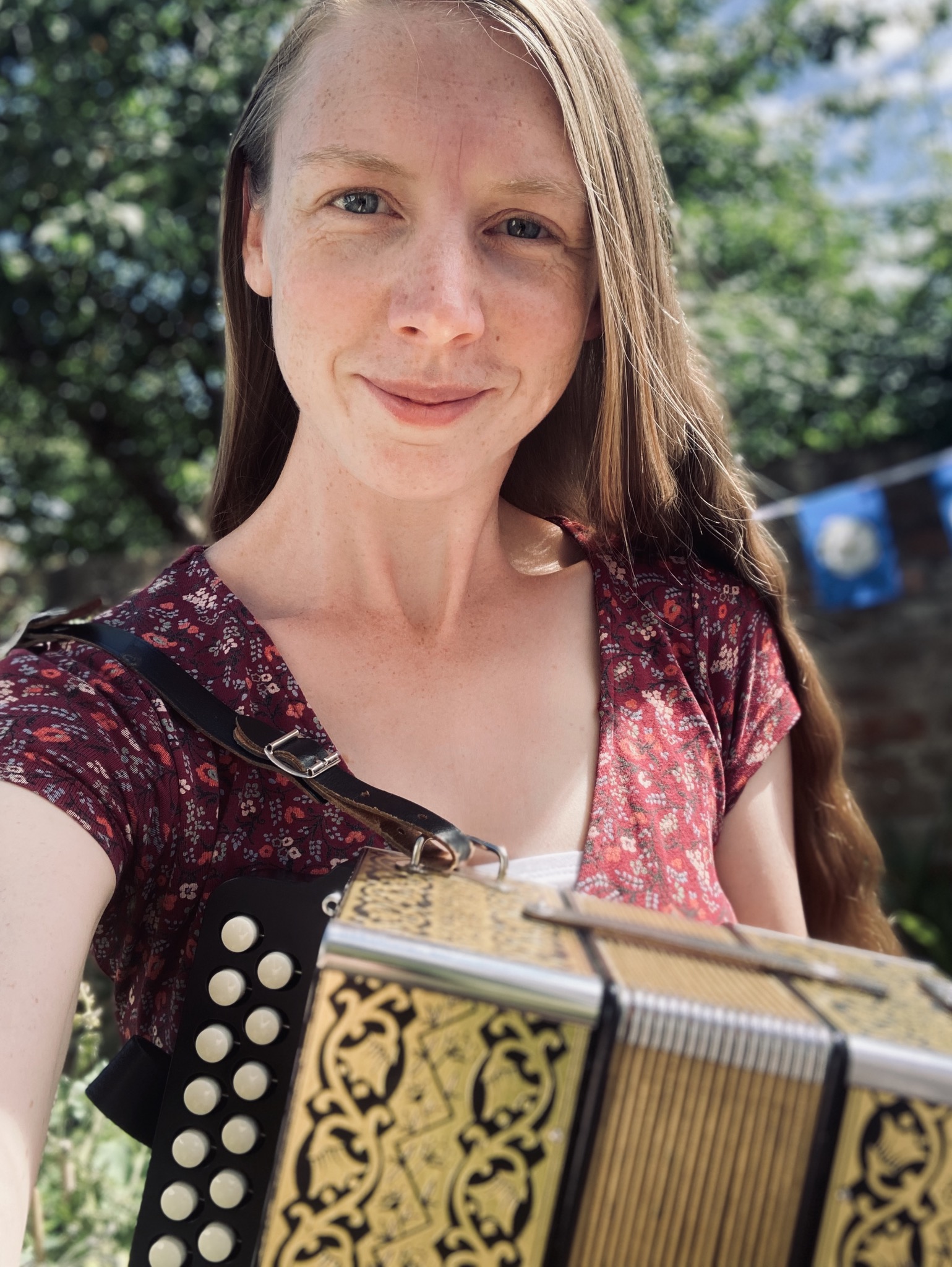 Other hirers include Will who, along with a jig doll hire also bought books and is learning pipe and tabor; our youngest hirer, Fin, aged 9 who is very keen to get back learning with his teacher, maestro Tony Hall and Rachel who has been learning Morris tunes on the D/G box and has noticed a huge improvement in her playing since Lockdown.
Events
In July the inevitable decision was taken to cancel September Song which was due to run in Stowmarket.

In September the next Trustee meeting takes place where we will be discussing the potential workship day in Cambridgeshire which was due to run in March 2021. We will make a decision about this and will announce it on the website in the coming few weeks.
2020-2021 Support
We have just learned we have been successful in securing a small discretionary grant from Mid Suffolk and Babergh District Council which is in addition to the grant they awarded us earlier in the new financial year which they honoured despite being aware that it will be unlikely we would be able to fulfill our planned events for this financial year. We were also supported by Stowmarket Town Council earlier in the year as well as being supported by the Scarfe Charitable Trust earlier in the year.
Supporter thanks for 2020-21
The Scarfe Charitable Trust
The Alfred Williams Charitable Trust
Friends and Supporters of EATMT

Friends
As ever, we are extremely grateful to our supporters who have taken out a Friends' membership with EATMT. This is an annual subscription of £15 and since its existence has been a vital part of our income. In addition, we are able to claim back Gift Aid through this scheme. Your support is invaluable and is very much appreciated. If you're not yet a Friend or if you are a lapsed Friend, please do consider joining/re joining. You will benefit from cheaper event tickets and early bird booking as well as knowing that your contribution to the Trust helps keep traditions alive. Find our Friends' membership form here.
Please also be aware that if you are a Friend and pay by standing order, if you have been affected financially by the current circumstances, then you will need to contact your bank to cancel this if you feel this is necessary. We hope it isn't but sometimes, needs must.
Other ways to help
EATMT is a member of Recycle4charity. If you are working from home, you will likely be using up the ink in your home printers far quicker than normal. These can be recycled. If you would like some envelopes for you to send your used inkjet cartridges away in order to raise extra funds for EATMT, please get in touch and we'll send some in the post to you.
Please do get in touch if you would like to get involved. We rely heavily on volunteers but more than that, we rely heavily on your knowledge based input. We'd love to hear from you!
As ever, the final words are of thanks to the volunteers who help keep the Trust and staff in buoyant mood. Not all are mentioned in this newsletter, but you know who you are!
Stay Safe
Alex Bartholomew, Administrator and the Trustees
Traditional Music Day September 4th 2021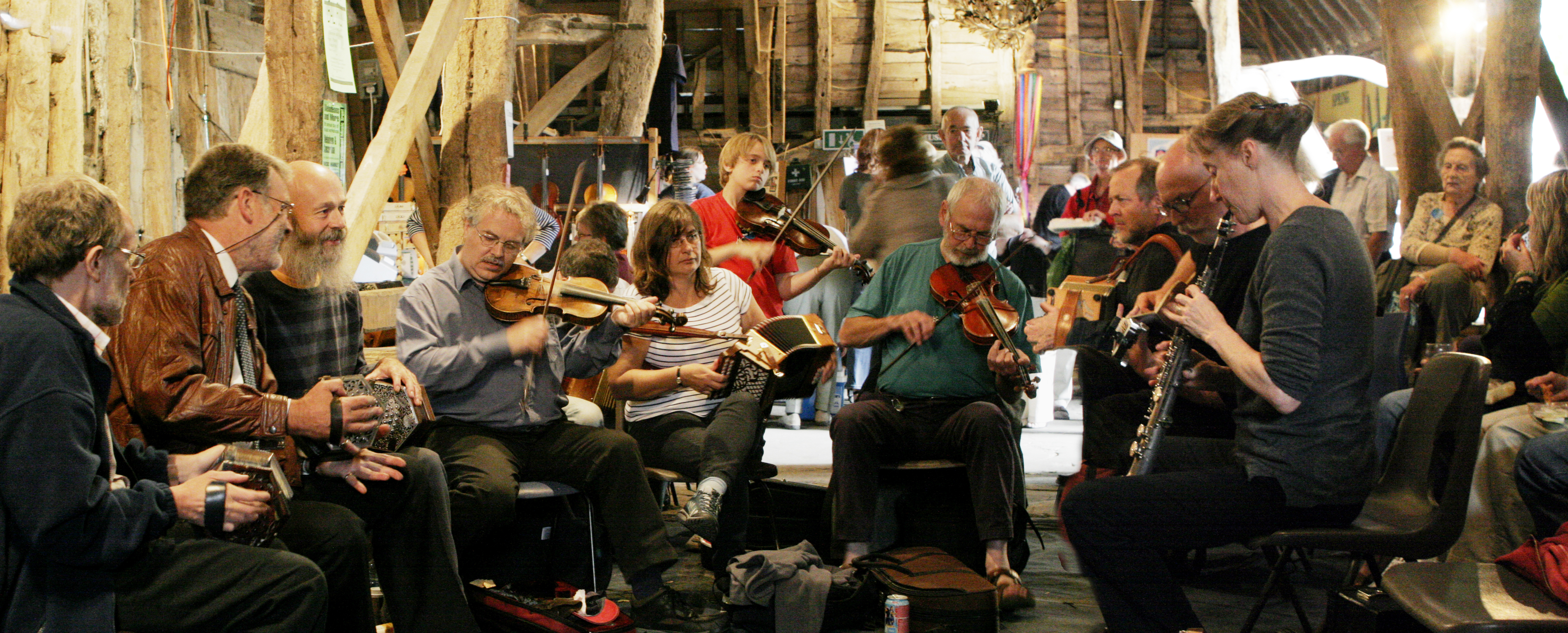 Photo C Gill