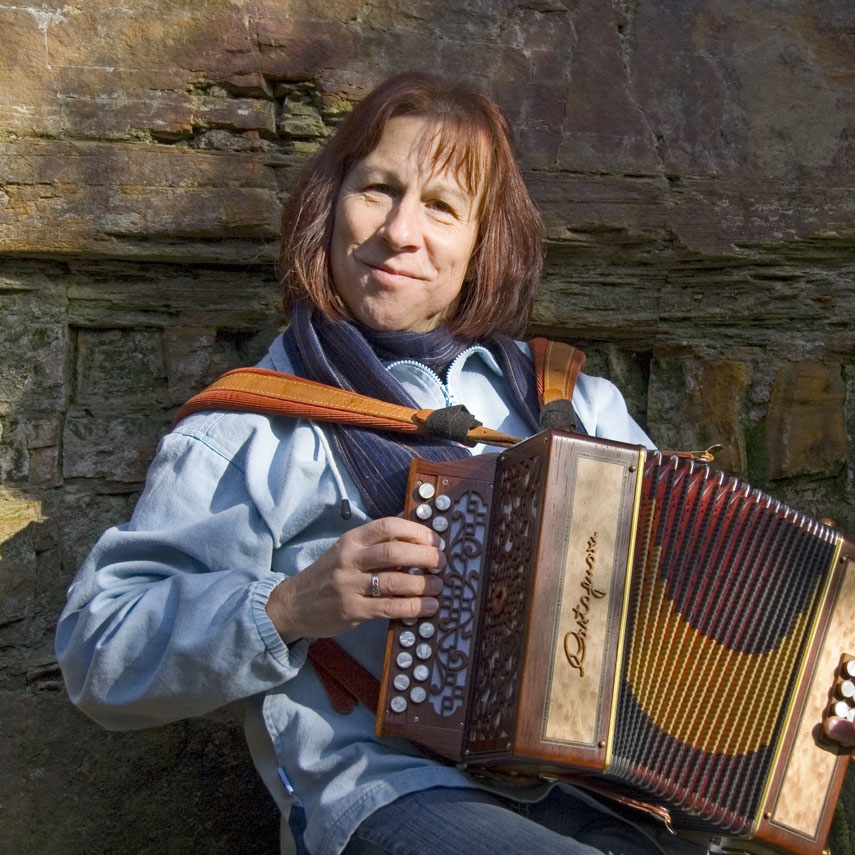 It was with deepest sadness that we learned of the sudden death of the loveliest of friends, Steve Dumpleton, who passed away on Sunday 2nd May 2021.
Steve's wife, Jan contacted EATMT and asked us to share this sad news with the EATMT wider community and lots of people were given the opportunity to virtually attend the Celebration of Steve's life on Tuesday 8th June 2021.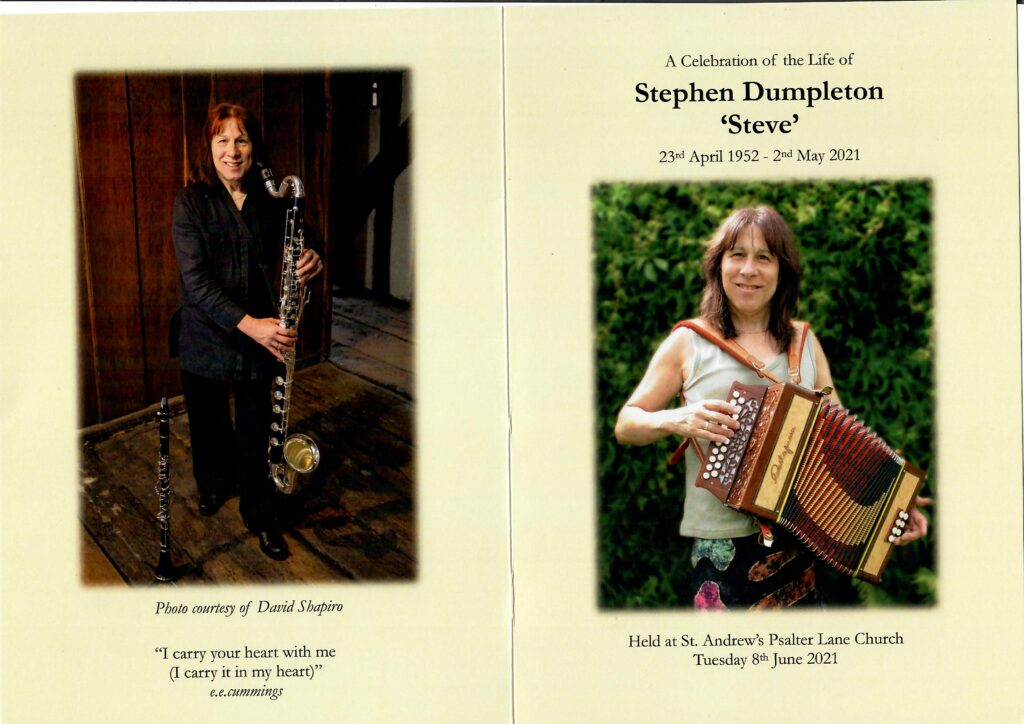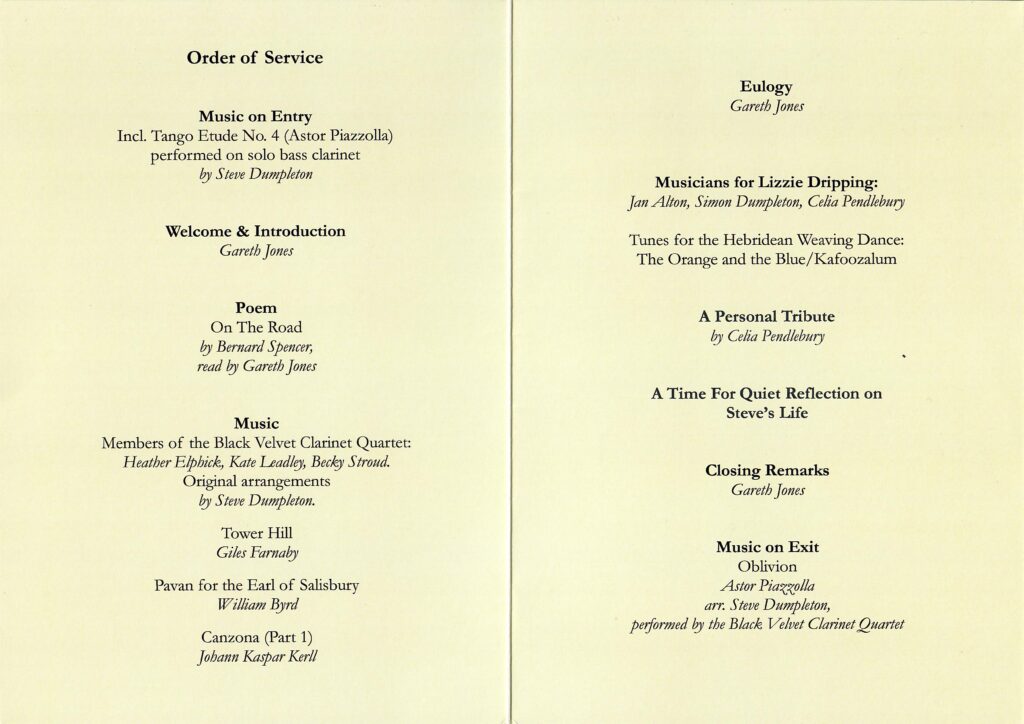 Katie Howson, friend and fellow musician has written a tribute to Steve on behalf of us all at EATMT:
A light has gone out. A big ray of sunshine we have seen at many EATMT events has been extinguished.
On 2nd May, Steve Dumpleton collapsed suddenly whilst walking in the woods near his home in Yorkshire and died immediately, shocking not only his family and close friends, but everyone who had ever met him, and many hundreds more who had never met him in person, but had come into contact with him through folk music.
Steve and his wife Jan have been regulars at many EATMT events, coming first as regular attendees from 2003, but soon becoming part of the fabric of events such as Melodeons and More and Traditional Music Day. Steve ran workshops for EATMT on a number of occasions, from 2007 (whose first melodeon workshop at Melodeons and More was titled "Tunes from Wales") onwards, and also built a one-row melodeon during our Melodeon Makers weeks with Emmanuel Pariselle, not just once, but twice!
His interest in all things East Anglian came from a family connection in Cambridgeshire, and he had a long-held desire to move to that area, which sadly never came to fruition. He picked up the local melodeon style very naturally, and his analytical mind and attention to detail meant that he was of inestimable help in the production of "Before the Night Was Out" – the EATMT book of tunes from Norfolk and Suffolk which was published in 2007.
I first remember Steve from about twenty years ago, when I was teaching a melodeon group at Hands on Music in Witney, Oxfordshire. One of the group members found themselves unable to cope and departed from the group very suddenly, leaving the rest of the class (and me) feeling quite disturbed. Steve's smiling face and supportive attitude helped both me and the class, and I now know that those two attributes were totally typical of Steve's lovely character.
During the Melodeon Maker weeks, John and I would host a social evening at our house for all the participants. One year course leaders Emmanuel Pariselle and Marc Serafini volunteered to cook Confit de Canard. I explained that there were some vegetarians in the group (Steve and Jan being two of them). "Pas de problème" expostulated the Frenchmen. But I was a little worried, and bought in a couple of vegetarian tarts in case they were needed. What were they going to dish up for Steve and the others? I stopped them just before they added the duck stock to the French beans, when it became apparent that was the only veggie dish on offer …!
EATMT followers may not have been aware of some of the other aspects of Steve's life, in which he was equally talented and influential. In his professional life he was a geologist, working for some time for the National Coal Board. This work took him to Wales where he lived for four years, during which time he became involved in folk music more seriously. After being made redundant from the NCB in 1990, he worked for the British Geology Survey and also taught in adult education. In addition to playing several distinct models of melodeon, concertina and the Northumbrian pipes, he was also an exceptionally talented classical musician, playing the clarinet and bass clarinet. For many years he played with the Sheffield Chamber Orchestra and then founded the Black Velvet Clarinet Quartet for which he both composed and made stunning arrangements of other pieces, such as Astor Piazzolla's Tango Étude No. 4, which was played as the opening music at Steve's funeral service on 8th June.
This was a beautiful service, which many of us attended virtually, and that opening music was actually a recording of Steve himself playing, on the bass clarinet. Music was also played by his wife Jan Alton, son Simon Dumpleton and friend Celia Pendlebury as well as the remaining three members of the Black Velvet Clarinet Quartet. Poetry and tributes were read by Celia and the celebrant Gareth Jones, who perfectly pitched his words to reflect both the spiritual and social sides of Steve's life.
On social media the outpourings of emotion were quite stunning for someone who in many ways kept a low profile in the folk music world. People from far and wide, some who had never met Steve, but who had benefited from his enthusiastic and caring approach to fellow musicians, were clearly genuinely upset and shocked at the news of his passing. Two short quotes from the funeral service will have to stand for the many many words that could be said about Steve. Steve was formerly a Quaker, and a quote from the Quaker writer George Fox is absolutely fitting: "Walking cheerfully over the world" and finally, a lovely tribute from Jan, to describe their relationship: "Nothing in the whole world was lacking" (from the poem On the Road by Bernard Spencer). Our thoughts and condolences go to Jan and Steve's family, for whom there is something hugely lacking now.
Katie Howson
July 2021
The Trip to Stowmarket
Several years ago, Steve presented a tune he had composed and dedicated it to Katie and John Howson. We thought this was a fitting place to share that.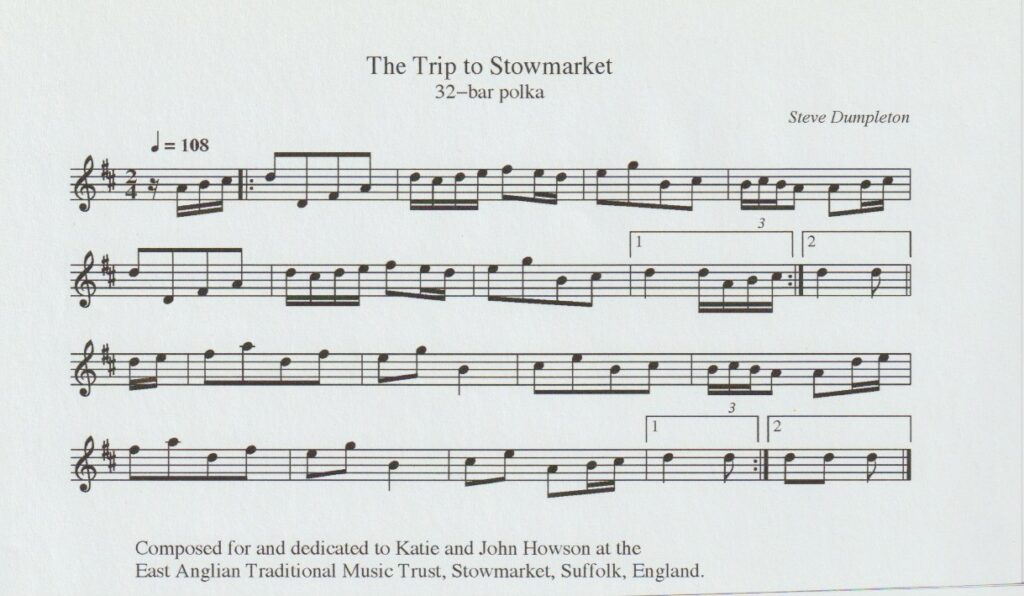 In the early spring of 2021, Steve contributed to the EATMT website with an article about the Melodeon.