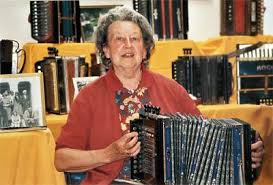 Can you help!?
The Trust was recently approached by FolkEast organiser John Marshall Potter.
"I bought an old melodeon a few years ago at a local car boot sale and it had an issue, so it ended up standing on a shelf until this year when FolkEast ran our socially distanced event in August at Blaxhall. One of the artists playing was a good friend of ours, John Spiers.
He had a look at the box for me and when he opened it up we found an inscription inside saying 'Ruth Askew 1980 for the Blaxhall Ship'".
Ruth was born in 1929 in Devon and started playing the melodeon at 5 years old. She moved to Northamptonshire in the early 1950s after she married and then in the late 1950s moved to Hampshire.
Despite not living in East Anglia she did visit the area and played at the Blaxhall Ship in the late 1970s early 1980s with Oscar Woods and also played at other local pubs.
On doing some initial research, there does not seem to be much information documented about Ruth playing in Suffolk though she and Oscar playing in Hampshire is documented in the late Paul Marsh's book "A Maid and her Music".
Jack Saunders was the landlord of the Blaxhall Ship from 1963 until 1980. John has recently spoken to Jack's son who was around 14 at the time when he remembers Ruth at the pub. He recalled that his father used to regularly drive to Benhall and pick Oscar up to come and play in the Ship and Jack would often take his son with him. He recalled that one time a "lady" came with Oscar who turned out to be Ruth.
Having gone upstairs for the evening, at some point his mum called up the stairs for him to come down and listen to this amazing lady play. Even at that young age, it was clear to hear that Ruth was in a different league to most of the players, but Ruth and Oscar created a special instinctive bond playing together.
He thinks that Ruth came to the Ship a few times during 1979-1980.
John continues "My hope is that there is someone locally that was at one of the sessions when Ruth was there and can recall this box. My instinct says that Ruth probably gave it to the Ship as a Pub box and that it was from her collection.
I have no idea how it came to be at a car boot sale but I am very glad that it was. John [Spiers] did make it playable again, it is in a High G and is a simple German one row made around the early 1900's.
It would be fantastic to find out who Ruth gave this box to and when".
Blaxhall Sessions restarting in 2021
Alan Bearman and John Marshall Potter are planning on restarting the Blaxhall Sessions in January 2021. As things currently stand, they can only have a live audience of 24 in the village hall so they will be live streaming the gigs. The first one is Eliza Carthy with Saul Rose and Dave Delarre on January 15th 2021.
As the streaming will be live, during the interval in the hall we intend to insert a short pre recorded film for the streaming audience that will be Blaxhall based. One of the films will be called "The Blaxhall Box" and I intend to tell the story so far, show the box and the inscription inside but also ask any one watching for any information they might recall.
Planned sessions 2021
Jan 15th Eliza Carthy with Saul Rose and Dave Delarre
Feb 12th Martin Simpson
March 19th Jez Low
Apr 16th Katherine Priddy
Keep up to date on the Folkeast website or their Facebook page.
Anyone with information about Ruth's visits to Suffolk can contact the Trust at info@eatmt.org.uk or message with the FolkEast facebook page.