Pam and Ron Ross are singers and multi-instrumentalists from Norfolk. They have been participating in song, music and dance in East Anglia since the 1970s, which they discuss with me over the course of their interview in between singing and playing.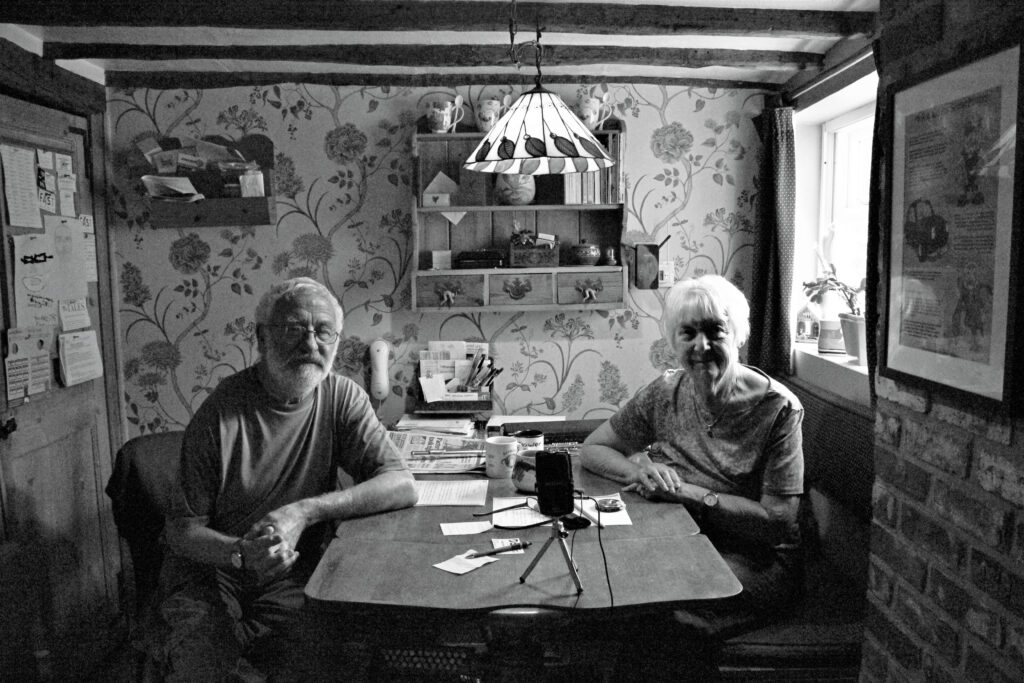 NB: These recordings were made in August 2020 during the COVID-19 period. They were undertaken with social distancing measures in place according to government guidelines.
Title: From the North (I Wish I was in Lancashire)
Performers: Pam and Ron Ross
Date recorded: 28.8.2020
Location: Shelfanger, Norfolk
Recorded by: Megan Wisdom
Composer: Lyrics: Cicely Fox Smith, Tune: Gary and Vera Aspey
Notes: Title track of Gary and Vera Aspey's 1975 album. A setting of a poem from a collection of Lancashire Hunting Songs (1909) by Cicely Fox Smith.
Interview Keywords: Suffolk, 1973, music, folk music, folk club, Ipswich, Norwich, teaching, Swindon Comprehensive School, Doncaster, guitar, Robin and Barry Dransfield, Dave Burland, Shagpile, mouth organ, Eric Nunley, Pete Hyde, John Bryant, Scole Inn, Juice of the Barley, pub, singing, Americana, beer, fire, roast lamb, Orwell String Band, Roger and Chris Gambol, Don Shepherd, daughter, Wickham Skeith village hall, Graham Sessions, teaching physics, Solihull, Eye Show, melodeon, morris dancing, Hoxne Hundred Morris, Beccles, Cotswold Morris, Northwest Morris, clog dancing, tunes, self taught, workshops, piano accordion, Danny Scoggins, may day.
Interview Keywords: Hoxne Hundred Morris, 1983, clog dance, Heather Bexon, Stow Folk, The Kitchen Girls, fiddle, piano accordion, harmony singing, Over Blown and Highly Strung, Stowmarket, ceilidhs, mayday, celebration, John Spiers, chocolate, Mike Bexon, Haggeneth Morris, Haughley, North West Clog, tap dancing, Reading Cloggies, Sam Sherry, Pat Tracey, Ian Dunmuir, The Flets, Whitby, Newcastle, personalities, tunes, new tunes, instruments, song, stories, industry, history, provenance, Graham Miles, Mike O'Connor.
Interview Keywords: Performing, version, Hugh Williams, I Can Jump Puddles, tunes, playing together, concerts, tune swap, speech rhythms.
Interview Keywords: folk music, flute, Winster Gallop, Folkworks, David Oliver, Ian Stephenson, 422, Sam Pert, The Hut People, The Rat Pack, sessions, books, CDs, Towersey Folk Festival, Whitby Folk Festival, travelling.
A summary of the first three interview sections can be downloaded above.
Notes: Winster Gallop is a traditional Morris dance tune from Derbyshire. Jamie Allen (c.1734-1810) was a famous Northumbrian smallpipes player who lends his name to this tune. Salmon Tails or Salmon Tails up the Water is a popular traditional tune. Some attribute it to Jamie Allen.
Interview Keywords: David Oliver, Folkworks, Heather Bexon, Leather Away the Wattle-O, Tradition Magazine, Jo and FI Fraser, polka, melodeon, Mendlesham, The Old Swan Band, step dancing, Hoxne Hundred, Steve Dickinson, Anglo concertina, harmonica, antique shop, Diss, Thornham, concertina band, Laschenal, Mexburgh Concertina Band, Swinton Comprehensive School, brass band, Gyppeswick Garland, Mike Barclay, Northwest Clog dancing, ceildh, country dancing, books, East Suffolk Morris.
Interview Keywords: Ramrug, St Albans, cricket, clog dancing, Whitby Folk Festival, daughter, son, guitar, magazines, guitar tab, Bow Weevil, Acacia, Adrian Lever, Keds, Xim, flute, bass guitar, Strom, Waswash, piano, music festivals, children, The Young 'Uns.
A summary for the last two interview sections can be downloaded above.