Old Hat Concert Party
by Katie & John Howson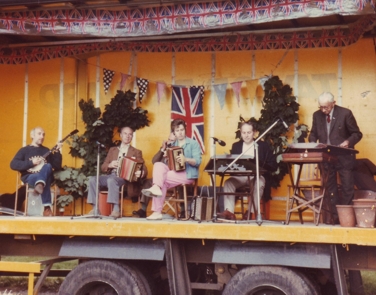 This is rather different to the other articles in this series in that it features (a) a group and (b) the co-founders of EATMT!
Many previous articles in this series have mentioned the Old Hat Concert Party in passing, and in the year (2010) when Katie & John Howson were awarded the EFDSS gold badge, it seems a suitable time to give a potted history of the concert party for those of you who don't remember it.
The Old Hat Concert Party was formed by John & Katie Howson and Reg Reader in the early 1980s when we were often asked to take groups of singers and musicians from Suffolk and Norfolk to events around the country. The idea was to recreate a night in a local pub, with John Howson as compere and music led by Reg and Katie, interspersed with songs, stories, tunes and stepping: the line-up varied from event to event, but always included the three founding members.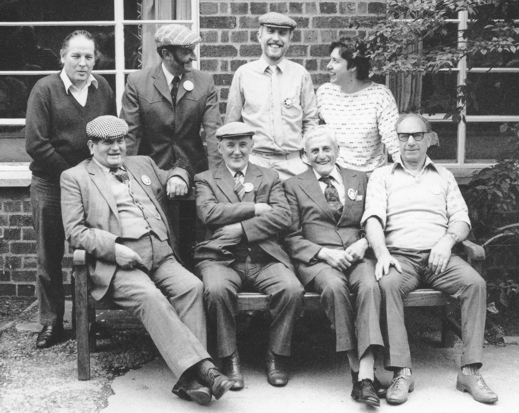 One of the earliest outings was to Sidmouth and Dartmoor Folk Festivals in 1982, with Oscar Woods, Billy Bennington, Font Whatling & Ted Chaplin alongside Katie, John, Reg, Adrian Turner, Jeannie Harris and Katie Millard.
Abiding memories from that trip are of the minibus getting stuck at the bottom of a steep Dartmoor hill and Font Whatling and Dartmoor's Bob Cann trading tunes and steps.
Other outings took in the Islington Folk Club at the legendary Empress of Russia, Chestnuts Folk Festival in Walthamstow, the National Folk Festival near Loughborough on several occasions and Whitby Folk Festival, where Ted and Font allegedly got each other's false teeth mixed up overnight!
As you can no doubt gather, such outings were always full of fun, and John always made sure, as compere, that this good-natured atmosphere came over, however formal the setting.
During the 1980s & 90s the concert party often featured singer Tony Harvey and the multi-talented Cyril Barber on stepping, melodeon, songs or stories. On some occasions we had stepper Dick Hewitt, singer Charlie Stringer and his mate Clem Pearson on mouthorgan, or singer and comic Hubert Freeman along to add to the proceedings, and singer, musician and stepper Simon Ritchie joined us on a memorable trip to Gateshead Garden Festival, where we have great memories of the blank looks on the Geordie audience's faces at the jokes told in (to them) impenetrable Suffolk accents!
After Ted and Font died in the late 1990s, we had a bit of a hiatus, but were revitalised for a few more years by the addition of Reg's grandson Tom Knight, David Chilvers and his granddaughters Jessica and Amy, Steven Matthews, Ray Hubbard and steppers Lenny Whiting and Percy and Doreen West.
In a review of the album, written in 2000 when it was issued on CD, the late Barry Callaghan described the concert party thus: "a truly remarkable and enduring piece of participant research, carried out with total respect and support for the musicians of the area, which brought a great deal of happiness to a considerable number of people later in their lives."
Although most of those "old boys" are now gone, there are far more people playing and singing the local material, and in many cases playing tunes in sets originated by the concert party, and there are certainly far more stepdancers!
There are "Personal Portraits" for several of the individual members of the Old Hat Concert Party:
Oscar Woods
Billy Bennington
Tony Harvey
Hubert Freeman
Ted Chaplin
Font Whatling
Cyril Barber
Reg Reader
Here are some links to YouTube film of varying quality of Old Hat Concert Party performances:
Felixstowe Folk Weekend 1987 (John & Katie Howson, Reg Reader, Ted Chaplin, Font Whatling, Cyril Barber, David Webb, Glyn Griffiths – on stage at the Spa Pavilion)
Felixstowe Folk Weekend 1989 (John & Katie Howson, Reg Reader, Ted Chaplin, Font Whatling, David Webb – informal performance in the bar of the Spa Pavilion)
Swindon 1983 (1) (Billy Bennington, Oscar Woods, Cyril Barber, Reg Reader, Katie & John Howson, Ted Chaplin, Glyn Griffiths).
Swindon 1983 (2) (featuring Cyril Barber stepping)